Team San Manuel Yamaha's Larry Brooks set to Debut on The Motoworldracing.com Moto Show Tonight! Yeah, I'm excited…are you?
Team San Manuel Yamaha's Larry Brooks set to Debut on The Motoworldracing.com Moto Show Tonight! Yeah, I'm excited…are you?
One of the most accomplished team managers in the history of our sport is set to speak tonight on the debut episode of the ground-breaking Motoworldracing.com Moto Show. Larry Brooks, team manager of James Stewart and Josh Hill, comes on the show tonight to talk about Anaheim 1, his past accomplishments and maybe, if we're lucky, Ultracross.
"Tonight is the first episode of the Motoworldracing.com Moto Show and we couldn't be happier having someone like LB on the show. He's a controversial figure on the message boards and hopefully some of the critics will call in and get a chance to ask Larry the question they've always wanted to" said co-host Steve Matthes
" As a former team owner in the sport, I have tons of respect for what Larry has done and I also know that with A1 six days away, we're lucky to have him as it's almost D-Day for guys like him!" remarked co-host Paul Lindsey.
The guys will also talk about Anaheim 1 and who they think are the contenders and pretenders for the title. This will be just like a bench racing session with two hosts who know the sport inside and out!
What you'll want to do is visit this site tonight at 6PM PST/9PM EST and click on the Motoworldracing.com Moto Show banner up above. That will take you to the live stream of the show and that's where you can also text-chat with other listeners or download the Ventrilo program, plug in your headset and you can voice-chat with others.
You can also reach the show by calling 702-586-7857(PULP) and talk to the hosts to give us your feedback on the upcoming sx season. Larry Brooks will also be taking calls so now it the time to tell him what's on your mind.
There will also be tons of giveaways tonight and throughout the season as we reward our loyal listeners with a discount on a purchase at Motoworldracing.com, Rockwell watches and gift certificates, EKS(X)Brand Goggles and tons more!
You can access the show archives on ITunes soon as well as a re-airing on Sportstalknetwork.com on Wednesday at 10PM EST and can download it from there.
Motoworldracing.com is one of the country's leading on-line retailers since 1999. You can trust the guys down there to outfit everything you need for your bike, ATV, UTV or body. Check them out at motoworldracing.com and stay tuned to the show for a special discount code for 10% off your order.
So be in front of your computer Monday nights at 6PST/9EST for an entirely new way to get your moto information. See you there!
EKS(X) Brand goggles is the product of over 25 years in the goggle business. Check out the new colors and lines of the GOX and GOX Liquid goggles now at thexbrand.com. EKS(X) Brand is exclusively distributed by MTA, located in Southern California.
Rockwell Watches are adorned on some of the top action-sport athletes around the world. Rockwell has a massive line of watches for every occasion. You can read more and see more at Rockwelltime.com.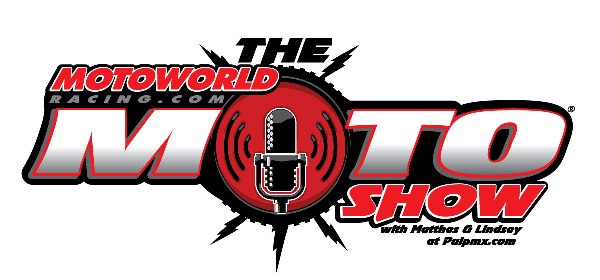 Pulpmx.com is hopefully going to blow up tonight. Not literally though, that wouldn't be good.