This years American MXDN team selection poses a unique problem but it's not like this hasn't happened before.

This years American MXDN team selection poses a unique problem but it's not like this hasn't happened before.
Getting chosen to ride for Team USA at the Olympics of Motocross (otherwise known as the Motocross des Nations) is a very prestigious honor. After taking a few years off in the late 70's and coming back in 1981, there has only been thirty-six riders that have been selected for the team since 1981 (USA did not field a team in 2002 and 2004) so as you can see, it's a great honor to make the cut and wear the red, white and blue.
I've been to four MXDN's-three as a media member and one as a mechanic for Team USA (I worked for Tim Ferry in 2003) and they have all been special. The way the Belgium fans freaked out at the site of any of the riders in 2003 was remarkable. The way that Ryan Villopoto rode at Budds Creek was certainly special as was my friend Tim Ferry coming through the pack after James Stewart crashed to secure another victory for America in England. Even though I'm Canadian and I like to think I can look at these things with a little more objectivity than the average American motocross fan, it's still pretty cool when Team America wins.
So with the event once again on our shores (Lakewood, Colorado on Sept 25-26th) the debate about who makes it on the team hasn't been this controversial or exciting in a long time. In the past, you would pencil in Ricky Carmichael, the top 250F rider and then the next best 450 guy and that would usually do it. Replace RC with James Stewart and you're still looking pretty good. The European riders, long considered doormats in the 80's have been working hard on their skills and I would say that, to me, the gap between the best over there and the best over here has never been slimmer. When I went to the German GP or a MXDN in the last few years, it amazes me that these guys can all scrub jumps, ride aggressively and for lack of a better term-look American out there on the track. Just like at Budds Creek in 2007, I believe that the home track advantage will be huge for Team America but they'll have their hands full when it goes back to, say, Lommel, Belgium in a few years.
American motocross is going through a bit of a transition in the last few years with the slow departure of the AMA from the inner workings of the sport. Obviously as the sanctioning body and being recognized by the FIM as such means they will have a role in selecting the team but some of the people I spoke to in regards to the selection of Team USA have no real idea who will be doing it besides the obvious choice of team manager Roger DeCoster. Davey Coombs of MX Sports (the outdoor national promoters) says that he has no say, Roy Jansen (consultant for DMG-the company that bought the series from AMA) says he doesn't know who's doing it and I was unable to track down an AMA representative to find out how much say they have in this process. The USA team is usually selected by now but in 2010, there are some different circumstances this year as I explain below.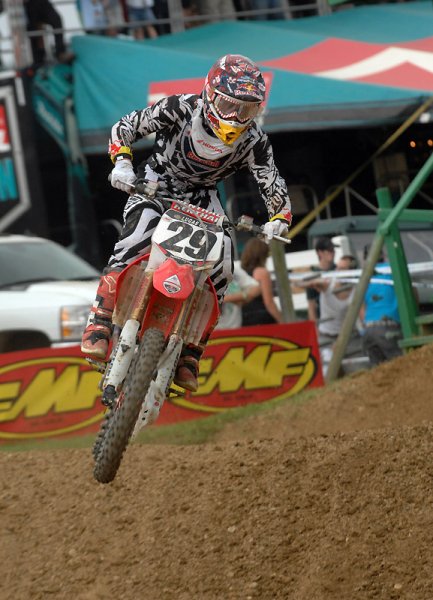 Some people think Andrew Short's a no-brainer for the 2010 MXDN team, others think not so much. Photo by Carl Stone
Obviously the pressure to win on your home soil will be huge and in that respect, this MXDN may be as important as ever for the red, white and blue. Two of the selections for the team shouldn't be up for much debate as Suzuki's Ryan Dungey has been on fire this season in his rookie year winning the supercross title and will most likely have wrapped up the outdoor title in a couple of weeks. He's a rookie in the 450 class but don't forget that he rode a 450 last year in Italy at the MXDN and did just fine. Well, he's a better rider than last year and will be the man to beat in Colorado.
As far as the 250 class goes, last year's MX2 rider Jake Weimer did a great job in helping USA to victory but has struggled this outdoor season. He's in ninth place in the points and only the sixth American so I would think he's out. The selection committee (if there is one) has in the past definitely put an emphasis on past experience (think Ivan Tedesco in 2006. Ivan was coming off an injury yet was still selected when Ricky Carmichael pulled out due to injury. The team said IT's past experience played a big role in his filling in even though he was, by his own admission, less than 100%) but one would think that Weimer has no chance of being selected this year. No, the logical choice would be GEICO Honda's Trey Canard who has won three nationals this year and is second in the points. Canard is the choice it seems to go over there and really, no one could question this selection. Since starting the season a little rough, Canard appears to be peaking at the right time.
I asked Canard about the chance of representing America and he had this to say "I really hope so, it's been a dream of mine since I was little. And especially to go to Colorado, your home country and represent your country would be amazing. I'm hoping it happens, if they (selection committee) believe I'm good enough then that would be awesome."
So we got our two no-brainer selections right? This is where it gets tricky as making a return to nationals is San Manuel Yamaha's James Stewart who no one would argue with as being the fastest rider in the world right now. Stewart has rehabbed a broken wrist since the third week in January and is up to speed and ready to hit the last four nationals in an effort to show everyone that he's worthy of being selected. James personal sponsor is Red Bull and in case you didn't notice, the MXDN is called the Red Bull Motocross of Nations. Yes, it's that big of a deal to the charging red bull and therefore, it's a big deal to James Stewart.
No one knows how Stewart is going to do when he returns to the outdoor series starting at Unadilla but it's a good guess that he either wins outright or runs with Dungey the entire race. That's pretty much a given and this return to racing is surely the reason behind the delay in announcing the team that's going to take on the world.
And to his credit, Stewart doesn't want a gift from anyone and has made it clear he's not a charity case telling me in a recent podcast that if he goes out and finishes "3rd to 5th then do NOT pick me." He also mentioned that he thinks he could make a call to get himself on the team but he's not going to do that and if he's not one of the best guys then do not pick him. Stewart, it seems, just wants the best riders to go and is anxious to show that he will be one of those riders. In James' world, it is black and white as in either you're fast and you go or you're not and you don't.
If Stewart were not making a return to the nationals, the third choice for Team USA would surely be Honda's Andrew Short who has consistently been a top rider over the last few years. Short has finished 3rd, 3rd and 2nd the last three years in the motocross series and is currently in second in the 2010 450 outdoors despite a rough start where he barely scored any points in the first three motos of the season due to crashes and bike problems.
Oh and did we mention that Andrew is from Colorado and is intimately familiar with the Lakewood facility and goes very fast there? Shorty is a fan favorite and many people would consider him being selected to the 2010 MXDN team to be his triumphant homecoming. In any other year, with the usual circumstances in play, Andrew Short would be going to the 2010 Motocross des Nations. In public, Andrew has been saying all the right things that James is going to go and that he's happy for him and that he'll be there to cheer on the rest of the guys no matter what but you have to know that deep inside, this is probably killing him. After all, how many chances does a rider get to represent his country when he's already been passed over a couple of times?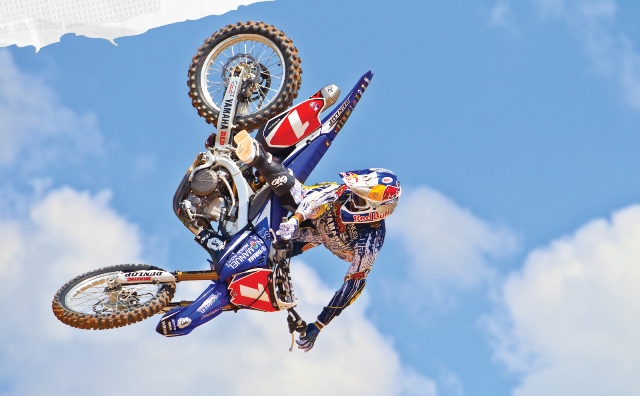 Here is the guy that's lurking out there waiting to see if he gets picked. James doesn't want to be a charity case. If he's fast, he goes. Photo courtesy of TWMX
Opinions in the paddock range from of course Stewart should go to he should only go if he comes out and wins to no way, he shouldn't go. The riders that have raced all summer deserve to go say these people and besides, America's going to win anyways with or without James Stewart. Just know this though, there is no one willing to take the bet that James Stewart is not the fastest rider in the world when everything's said and done. So if that's the case, shouldn't he go?
A long time ago when the MXDN first came to America and was held at the historic Unadilla circuit, America faced a similar situation with the newly crowned 1987 125 national champion Micky Dymond. Dymond was a rising star in the American motocross world and despite winning the title the year before in '86, he was passed over for the more experienced Johnny O'Mara. But now, after winning again in '87, it was surely time for The Mick to go right?
Uh, no. Seeing as how it was at Unadilla and seeing as how there weren't too many people faster than Bob Hannah at that track, the decision was made to send Bob as a member of Team USA (along with no-brainers Jeff Ward and Ricky Johnson) but in a really curious decision, Hannah was made to ride the 125, a bike he hadn't raced competitively on for decades. That was it; Dymond was left out in the cold both years when he probably should've gone.
"I'm not bitter, I understand what they did and why they did it. I deserved both years to be there I thought. Johnny went and had his great ride in '86 and I can't say that O'Mara and Hannah didn't deserve to be on the team" says Dymond years later "I do wish I had a chance to experience it no doubt about it. I crossed my fingers and hoped that I would get a chance to go. I had won the GP a few weeks before in Brazil and I went there thinking that if I won, I would have a chance to go. I killed them there, I rode myself into the ground trying to show that I wanted to be selected."
As far as Hannah getting to ride the 125 and then complaining about it Micky says with laughter "I would've ridden a 125 from California to New York to have been a part of it! I would've pushed it!"
And to end the conversation, Dymond exhaled and repeated himself "I just wish I had been part of it, no bitterness or anything like that but I wish I got to experience it."
This could easily be Andrew Short in ten years.