The South African talks about his comeback season, the mxdn, nationals vs GP's and much more.

The South African talks about his comeback season, the mxdn, nationals vs GP's and much more.
In 2008 Tyla Rattry was fresh off his childhood dream of winning the World Title and could've stayed over there to gain greater heights of fame and fortune. But the friendly South African took a big risk in getting out of his existing KTM contract and heading over to America to race for Pro Circuit Kawasaki. And at first, it didn't look like that risk was going to pay off as after skipping supercross due to a late arrival, Rattray somewhat struggled in his first season over here.
After a strong opening round, Tyla muddled around the 5th to 6th place range until injuring himself at Red Bud and missing a number of races. When he came back he won a moto at Southwick and seemed to get some spark from that. Another injury caused him to miss the 2010 sx series and an opening round struggle at Hangtown caused some to doubt whether this whole plan of Rattray's was going to work. But the second round at Texas was a turning point for the man they can "Ratters" as he snaked an overall win in the competitive 250 class and with that, he was off.
One of the more fitter racers in the class, Tyla charges through the pack and ends up near the front by the end of the motos. He needs to work on his sprinting speed and also needs to show everyone what he can do in supercross but by and large, he's shown that he's for real. Sitting fourth in the 250 points with second within range, I called up Tyla to get his take on the season and his future.
Me: Tyla, thanks for doing this. Talk about your season so far.
Tyla Rattray: It's been going pretty good, definitely on the right track compared to last year. I think last year I put too much pressure on myself and this year I think I came into the year just thinking that I had to have fun. And so far, it's paying off. I'm a little ways off from Christophe (Pourcel) in the championship but we have some races left, I'm working hard and we'll see if I can get this title.
Your new mindset of having fun didn't seem to work at Hangtown, what happened there to make some people think that it was going to be another so-so year for you?
Hangtown is a weird track, hard to pass there and I was getting frustrated because I couldn't get by guys that I would normally blow away. I was getting frustrated and I got eighth in the first moto and the second moto I crashed, couldn't re-start, and only managed a sixteenth or something like that. I was a little disappointed after Hangtown but that is probably the worst track for me on the series and it was good to get that one out of the way. After that the ball started rolling and I was in contention for wins and overalls.
It has to be rewarding for you because you came here as a World Champion and didn't show that kind of skill last year so for you to be doing well this year has to feel good right?
Yeah, for sure. I feel like I'm been having fun this year because of been up front and doing well, last year I wasn't having fun at all. I always got bad starts, I was trying to push and I was getting frustrated the whole time. This year its way more fun being in the mix.
How much do you knowing the tracks this year have to do with your success?
It's got quite a bit to do with it but Washougal was my first time being there, I got decent starts and went 4-3. I caught up to Christophe there in the second moto and, yeah, Trey was on another level there for sure but I felt like I rode pretty good considering I'd never been there before. To get a podium there was good, like I was saying I've been going to the races to have fun and it's working. I just have to sort out my qualifying because that's not very strong and it's not helping me out.
Do you mentally feel like you did when you won the World Title? Like every time you roll up to the gate now, you know that you could win or for sure be right up there?
That's pretty much exactly it. When I go up, I have the same feeling that I had in 2008 and even in 2007 when I raced the World Championships. Where I knew that I would be there all the way to the end of the season.
I think everyone would agree that you're one of the fittest guys in the class, you're always charging. Is anything different from last year for you?
Not really, over the years working with different trainers and I've come to know my own body. I know when I'm being lazy or when I'm tired, I've learned my body and know when to do a lot and when to not do anything at all. The main thing is I'm fresh going to the race on Saturday and I know it's going to be a good day for me.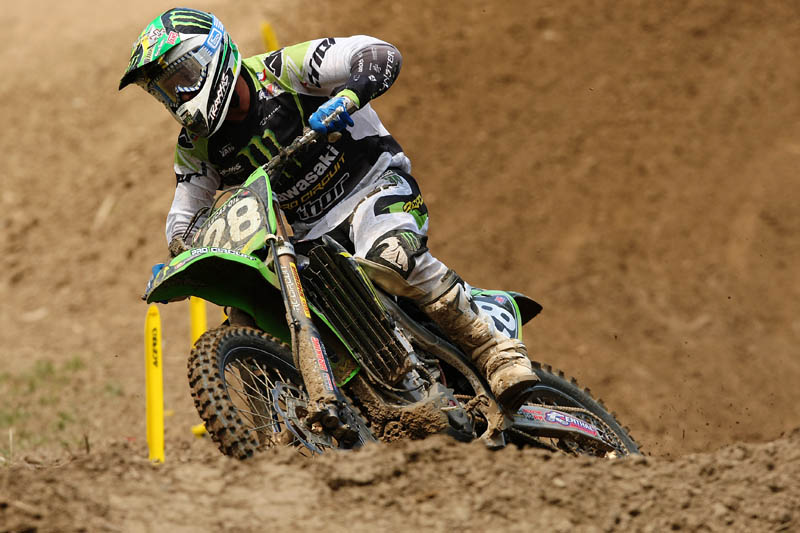 I can't figure out if "Styla" is a cool nickname for Rattray or not. I'm on the fence really. Photo courtesy of TWMX
You haven't raced supercross yet over here because of various reasons so what do you have for supercross game?
Yeah I think I've got some! I've been riding it at the test track and it's been going good, lap times have been good and hopefully when we get to the races, I can get good starts and win some indoor races as well.
Mitch Payton told me he was pleasantly surprised by your skills on a supercross track this year…
It was a bummer with that crash, it took forever to heal. I wanted to come back and race some but the injury took a long time to get right. I damaged some nerves in my shoulder and had to wait. I was really looking forward to it. The tracks I grew up on in South Africa are sort of like supercross so it's not like I didn't have any jumping skills to begin with. I'm looking forward to racing for sure, supercross is a big show here in America and it's really big. I'm going to look forward to it and maybe take my preparation a little easier this fall so that I can make it to the races.
And rumor has it you're close to signing with Pro Circuit for 2011, how's that going?
Yeah that's my plan to stay with Pro Circuit. Everything's going that way and they're busy negotiating right now. So that's the plan, I like Kawasaki and hopefully in the next week or so, everything will be done.
For a couple years or…
Just for one year right now, I want to ride 450's the following year outdoors. I'm not sure about sx on a 450, we'll see how my season goes from there. So yeah, just a one year deal with Mitch and we'll take it from there.
You definitely have to be one of the favorites in the 250 motocross class in 2011, what's it like racing in America for you? Has it been everything you dreamed it would be?
It's been awesome racing here in America, obviously its run a little different professionally-wise than in Europe but I prefer it over here to be honest. The people are great, the tracks are good. I did have a lot of fun racing Europe, I met a lot of people over there that are my friends and it was sad to leave them but it was my goal to come here and win championships in America. Racing here is really big and professional, especially in supercross, and my goal is to come here, race and win indoors and out.
What's been the biggest surprise for you in two years here in America? Something you didn't think about.
I think that coming to a race, only on Saturday, last year it was the first time they had done that and you show up, get two fifteen minute practices and then you go race. That's been the toughest part for me. I'm so used to doing it the way they do it in Europe with a forty minute warm-up twice, then a qualifier race and then a twenty minute warm-up, then you race. Here it's a couple short practices and you're off.
I think that's hurt me a bit here, because my qualifying wasn't good because by the third lap of practice you have to be on it and throwing down qualifying laps. For me, that was a big shock and there I was, on a track I didn't know, trying to pin it and set a good time. This year has been better, I know the tracks and I know the riders.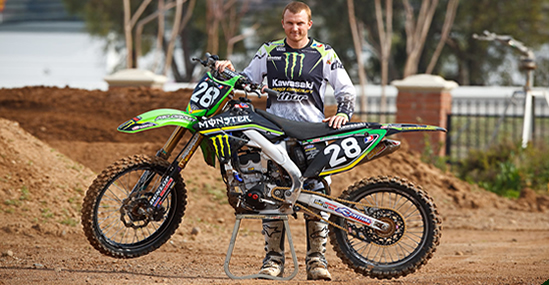 Rattray's riding this year in the nationals has to be one of the bigger surprises.
How much do you follow the GP's now?
I follow it pretty closely; I look at all the results and read about them. I don't get up at the crack of dawn to watch them or everything but I go through and check them out. It looks like the young guys are getting good over there and I think the MXDN this year is going to be interesting.
What's your take on the never-ending debates of fans about which series is better, who's tracks are better and all that?
I think the tracks in America, they do a good job. I think the main thing in Europe is that before the races start, they put so much water on the track, it's so slick and that's where we get the guys cruising at the beginning of a moto and then after fifteen minutes the tracks getting better and you can start pushing from there. Here they put just enough water on the track to make it tacky all moto and you can push the whole way from lap one and on. In America, the depth is a lot deeper than what it is over there. Over there I think there are two or three guys that can go and win a GP but over here there are six or seven guys that are capable of winning a national. And the guys that are just outside of winning are still real solid over here.
And then you have the amateurs over here that are ready to go right out of the junior ranks. Those four lap races that they do, they bring that intensity over here for the whole moto. So I think the depth and the intensity are much more over here.
The one thing I like about over there is that you have mud races, deep sand races, hard pack races and to win the World Title, you have to be a very well-rounded rider whereas over here you could run the same tire at each track except for Southwick and that's not even a real sand track compared to the Euro ones.
Yeah, that's exactly right. I know that's a cool thing about being over there. One weekend you would have a deep sand track and then go to Italy and it would be a rock-hard track that you're racing on. Here they are all the same, they get rough in the turns and all the bumps develop the same. And yeah, like you said, in Europe Southwick is a just a soft track. What I raced over there, Southwick's a hard-packed track. I wish we had some of those really deep sand races here! The reason they have them over there is that Belgium and Holland, that's all they have is that kind of sand because they are below sea level. That's why they are so sandy and otherwise, every track in Europe is hard packed. If we had a real deep sand track over here, it would be great, a track like Lierop would be cool.
You raced here back in the day at Millville on a KTM. From what you can remember, is the racing here the same as back then?
Well it's pretty much the same. I didn't get to race because I got hurt. I flew over early and rode the track on Wednesday and then I rode practice on amateur day to make some suspension changes. I woke up on Sunday morning and was hurt so that put an end to that. Back then Ryan Villopoto was the man and the young kids were coming up to race, I think that was Ryan Dungey's first race and I was looking forward to seeing how I stacked up against all those guys. It would've been awesome to race but it is what it is.
And your former teammate Ben Townley coming back and being so strong over here has to make you happy right?
Yeah, for sure man. It's been good, I'm happy for Ben to be back racing, being healthy and getting good results. He's a good guy who has to have been frustrated, when he came over to Europe we were on the same team in, like, 2001 and it's good to see him back up front.
Another guy that you battled for the World Title and looks to now be heading home is Tommy Searle. You guys were rivals and came here both hyped up. What's your take on his struggles over here?
I think, for me, coming here I had to have the same mentally that I did when I left South Africa for Europe. I was 10,000 miles away from home and I had to make it. I couldn't go home and work. To make money in South Africa you have to be a big business man and I had no way of doing that and I wanted to have a good life. I had no other choice, I had to make it as a racer and win the World Title to come here. When Tommy was racing in Europe he was based at home, he lived with his parents, he had his friends and everything was comfortable for him there. He came over here and he had nothing, it was like me going to Europe and I was fourteen years old.
To be living in America is obviously a lot easier than over there, everyone speaks English, to meet people is good, the weather is awesome. It's raining a lot in Europe, the weather was shitty all the time and for me, America is a lot like living in South Africa. So for me, this is more like home and for Tommy, maybe it's not. I think he'll do pretty good in Europe, that's where he's from and he'll be comfortable there. I think he'll be a top contender there in the MX2 class.
You went to Europe when you were 14? Wow, that had to be tough.
(Laughs) Yeah man, I left my family and friends when I was 14 to head to Europe. Man, I worked hard over there. I got so homesick all the time and I just knew I wanted to make it as a racer. I went over in 2000 when Grant Langston was World Champion and I knew that he did it and he was from SA and we come from the same background. Neither of our parents had any money or anything like that and if he did it, then so could I. I knew for sure I could win the World Championship and I did in 2008.
He did have his uncle and his dad with him though…
Yeah, I went over with my step-dad and he helped me out a bit. That was pretty much it, we stayed with another rider from South Africa named Gareth Swanepoel and a guy that took us over was named Tinus Nel who was paying for everything and if it wasn't for him, I don't think I could've ever made it. He's definitely been there for me and I knew going there, I had no option to not make it.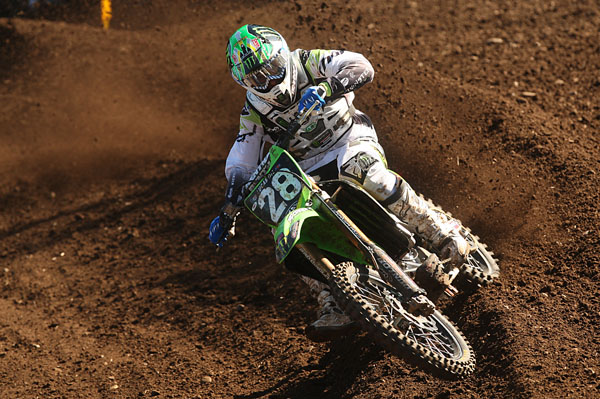 Rattray sits fourth in the points but isn't far out of second. Photo courtesy of TWMX
Where you're saying for Tommy, it was all new to him, to not have a support system in place and for you to come here, it was like old times when you first showed up in Europe?
Yeah, exactly. I was 14 when I did it the first time so when I came here, I was used to being on my own. I've met a lot of friends here now and it's easier for me to make friends here than in Belgium because they didn't speak English. Well, they did a little bit but it was hard, people over here have a good sense of humor and you can get along with them rightaway. So for me, it's a lot easier here in America. I had a good time over there and met a lot of good people there and this is my second career over here.
Your MXDN team will be you, Langston and Kerim Fitz-Gerald I assume?
Yeah, it's looking that way. It will be us three, that's pretty much it. I think we could have a good ride this year.GL needs to get back and have a few good races here in the nationals and Kerim has been doing pretty good up in Canada. I think a top five would be really, really good for us and that would be great. I'll race MX3, Grant will be on MX1 so he'll have a bit more time to recover in between races. My condition is fine so I'll race the back to back class, I think there's 45 minutes in between my races so that shouldn't be a problem for me.
What do you think about the way MX Sports runs things in the nationals as opposed to the way Youthstream runs the GP's? Good and bad each way?
I was just speaking to Davey (Coombs from MX Sports) about that the other day, about how they run things over here. I think they do a great job over here, I really like the way it's run. Everything done in one day on a Saturday, you come in, get your practices done, line up for the motos and you're done. I think it's better for the fans as well because they can come out and have a few beers, watch the races and then not have to go to work the next day. So they can get rid of the hangover and go to work on Monday. I think the way they run things over here is great and getting more professional all the time. Look at the mechanics areas at the nationals now, they are much improved and getting better. The TV is good, it's great the races are live now and I think he does a great job here.
The GP's are a long weekend, most of the riders drive to the races so they leave on a Thursday to get to the race. Some races they leave on a Wednesday and in some ways, it's a five day event where here you can fly in Friday night and sometimes even get a flight out on Saturday night. I enjoy the way things are run here and they're getting better.
I like the fact that you could've been the man in Europe with a number one plate, you probably would've made more money in Europe yet you gave it away to come here and race. You did take a hit in the salary department to come here right?
Yeah, I knew I was going to take a hit because I was coming here to race for Pro Circuit and at PC, you make your money up in bonuses from performing. I just wanted a good bike, a good team and I knew that I would do well. They've won so many races, the plan was always to come here and race for Mitch. They've been the dominating team in the Lites class and I think it's could to come here, sign for a little less and have a good bike as opposed to signing a big deal and not having as good of equipment. If you're doing good at the races, you can set your career.
I definitely took a cut in the paycheck department but when you're winning races here, you make that up. I just want to win some more nationals here before the season ends.