In honor of Madden '11 being released today, I came up with the ultimate supercross/motocross game.

In honor of Madden '11 being released today, I came up with the ultimate supercross/motocross game.
If you're a video game dude, then today is definitely a day that you look forward to as that's the day the goliath of sports video games, Madden 2011, is released. Over the years, partly because it's been a great game and partly because it has an exclusive license with the NFL, the Madden videogame crosses lines and unites people around their console in the quest to be the best pixel player one can be.
The game is simply phenomenal as far as graphics, performance and realism. At times you forget that you're not watching a real NFL game until the ball is snapped and your buddy is celebrating his long bomb going for a TD. Now, I'm a bit of a gamer when I have the time (I have had MLB The Show '10 for 3 months and have played it for a total of 20 minutes), I enjoy the Call of Duty series (who doesn't?) and, of course, Madden but I one of my life's wishes (besides being a rock star and being capable of flying) that there would be a accurate, real live game based on our favorite sport- supercross!
Sure the guys over at Rainbow Studios have done a great job with MX/ATV Reflex (or whatever it's called) as that game reinvigorated me towards moto games and got me back into liking them. For the first time since ATV Fury (Sweet Jesus, did I ever kill some brain cells playing that game back in the day. I think my wrist is still sore from trying to preload some sections) I was into playing video games again. Yeah, all of us supercross junkies have to put up with ATV's, trucks, freestyle, buggies, spaceships and whatever else they have in there but the guys got it close.
But not quite perfect.
If money was no object and you didn't care about catering to anyone else but the hardcore fans I thought that, in honor of Madden '11 coming out, I would put down on virtual paper what I thought an absolute perfect video game about the sport of supercross/motocross would include.
-Never mind racing the race, I like being a General Manager in Madden as that's the real fun stuff. So my game would be simulated racing (you can take control of one of your riders in a race if you want to) but the real challenge comes where you're the owner of a brand new supercross/motocross team. This is where the real strategy and knowledge of the sport comes into play.
-So now you're an owner and you get to choose the equipment you want (250 or 450) to try and win the supercross crown. But be warned, if you choose to run Suzuki's 250F program, the game automatically switches to cutaways of Motoworld Suzuki, Bill's Pipes Suzuki, Primal Impulse Suzuki, WBR/Rockstar Suzuki and others to remind you that you suck and will probably fail. Then the game shuts off.
-If you choose to work with KTM, be prepared to have the riders you hire immediately drop in overall rankings and possibly get hurt unless you enter "1989 retro" mode and choose to hire Mike Fisher. This has nothing to do with the machine though, it's just the way it is.
-If you want Hondas, that's no problem at all but a guy in a wheelchair named "Smitch Smayton" comes on the screen and reminds you to just prepared to have them yank all support from you as soon as you start winning.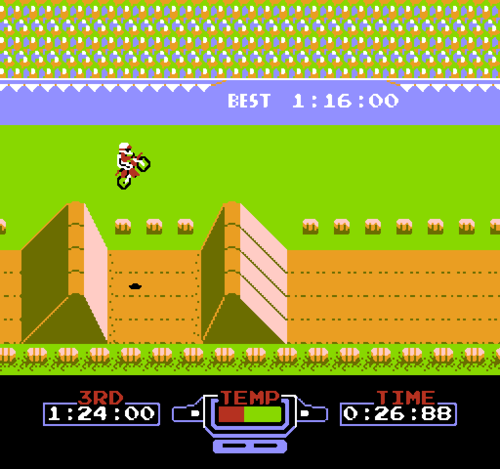 The original Excitebike is still very high on the fun factor. I still play this.
-Once you choose an OEM to partner with, you have to secure someone to help pay the bills. If you choose the "Energy Drink Company X" as a potential sponsor, you are shown a picture of a dead horse with a bunch of dudes standing around beating it. You are then forced to be creative and think outside the box. Some of the proposals that are out there include an Indian Casino (yeah right!), a company that makes an Extreme Burrito (you think I'm joking? Wait.), Jagrmeister (a bonus perk- your team gets Jamey Grosser to help it out at the after-parties. The bad part of a Jagrmeister deal is that you get Jamey Grosser helping you out at the after-parties) and many others. Sadly, EZ-Wider elected to not participate in the game which is a curious decision considering the stereotypical gamer. Reportedly the most upset person at this decision is a guy named Bill Dill.
– Ok, you have your OEM selected, you have your sponsor onboard and now it's time to hire your team manager. A guy named Pavid Dingree is available, he raises your riders overall level but be warned, he'll probably quit on your team to become a male escort fireman come the nationals. There's a multi-time World Champion from Latvia named George BeCoster who's a magician at running to the podium when your rider wins. His weakest skill is "Communication when your rider doesn't do well" and there are also a ton of ex-riders to hire as well. The manager has to order parts, hire the monkeys (or as some people call them, the mechanics), suspension guys and motor guys. He also has to work with the riders to get them out of bed in the morning, make sure they don't hook up with their fellow riders on the team's girlfriends and some other menial chores.
-Hiring the right manager is very important to the success you're going to have in the game. You have to pay the money to get a guy who's going to command respect within the team, keep everyone in line and make it happen. There's a button on there that says "Hire yourself Mr Rich Guy or better yet, hire your buddy who knows nothing to save money" but do not, I repeat do not push that button. In the thing we call real life, plenty of morons have and it doesn't work.
-Now it's time to hire some riders. The game gives you a budget you have to stick by. (If you chose to run Kawasaki's 250 program, you have very little money for contracts but a high "Desirable" factor) One thing you have to do is deal with the agents in a very tricky series in the game where you mash the buttons together to come up with a number for a rider. In the end, even with all the button mashing (up-up-down-down-B-A-B-A-Start) and all the furious negotiating, you end up paying exactly what you would have for a rider anyways.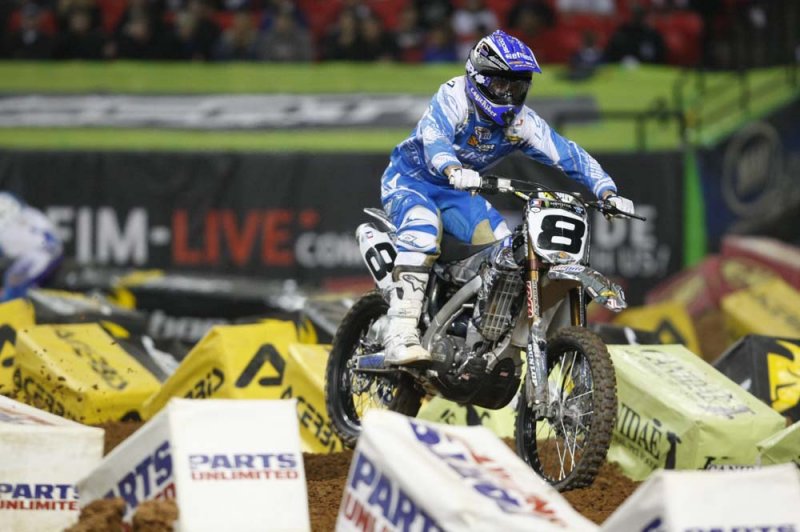 Be very, very careful of Langston's "Injury" rating, it's pretty high.
-There's an Easter egg hidden in the game that, when you get in there, you and an agent for GWM Agency get together to sign one of the top riders but he completely blows it for his rider by calling you names that get you so mad, you turn the game off.
-All the top riders are there, all available to have depending on your budget, your sponsorship dollars and how attractive your team is the particular rider. You can sign a James Stewart because, after all, his raw speed rating is 100 (next closest is Chad Reed and Ryan Dungey at a 92. Coming in last among all riders is Jason Thomas with a 38. Fortunately for JT, his compete level is an 87 and his endurance level is a 90) but be warned, he might eat up your entire budget. One thing to pay attention to is his "Jumping Skills in Traffic" isn't very good but that probably won't matter much because James is always in front right?
-The ratings system is very intricate and unique to our sport. You have to scan each and every one to make sure you get who you want. Included in the game is a PITA rating. What's that you ask? Pain In The Ass rating or simply, what you're going to have to deal with on a day to day basis. This rating is based on riders moodiness, his drive to excel, his ability to listen and remain grounded despite success and how his parents are. Like I said, the ratings are sport-specific. For example, Mike Alessi's PITA rating is 187. You might be asking, "Hey Steve, don't the ratings only go to 100?" and to that I say, yes.
– So the lower the PITA level, the more manageable the rider will be and the more consistent the results will be. Important stuff to remember when selecting a rider for your team. Jason Lawrence's PITA rating is pretty high as well but his speed is a pretty good 85 and he'll sign cheap because he needs money. What might be troubling for you in regards to hiring him for your virtual team is his "Show Up" rating. It's a 4.
– Every rider in the game comes preloaded with a set of excuses. You can't avoid it, you just have to see what they are when you sign the rider and be prepared to hear one of them at some point after a race when a rider doesn't do as good as you, the owner, think he should have. Every single rider comes preprogrammed with "My bike is unrideable" excuse-you can't get away with that one. If your guy says that after the race, the game flips to a hire/fire mode where you can decide what to do with his mechanic and your other team personal. Generally speaking, firing the mechanic makes no difference in the game.
-Some of the excuses that you will see are "I'm sorry, I crashed" for James Stewart, "I didn't get the start" and "I'm scared of my dad" for Mike Alessi, "Screw you, I have Eff You money and don't need you or your team" for Chad Reed, "I didn't like the position of the stars tonight" for Lawrence, "I know I suck, I will just work harder and harder for you" from Trey Canard, "My happy got in the way" from Andrew Short and you'll get "I got to give it up to my team, I've been working hard and I'm super-pumped" as an excuse from Ryan Dungey but don't worry, your game is not broken. He just always says that.
-As you go along and race the sx/mx series, your riders earn you money which you can then put back into your team to upgrade it. Things like "Better Motor Package from Smitch" and "The Connection Factory" suspension upgrade are all available. Be warned though, if you race the 250 class and you want "Smitch" to upgrade your motor, a pop-up of Mike Brown appears to warn you that maybe that's not the best idea.
-You can increase your riders "Happiness" by getting them a team masseuse or team doctor. They'll ride better for you but nothing gets you maximum happy points than the "Manfriends for Everyone!" purchase. It's the priciest upgrade but it's well worth it.
-So you navigate through the 17 supercrosses and 12 nationals to try and get the best results for your team. Along the way you encounter some of the things that real team owners do. Things like your truck driver wrecked the semi, your truck driver complains non-stop and your truck driver tries to run the team.
-If you hire a rider that has a high PITA factor, be warned that after some bad races, the virtual dad will pop on the screen and start chewing your ass out for not providing a good enough machine for his boy, he'll ask you to call SPEED TV and get his kid more air time, he'll accuse you of trying to sabotage the machine to hold your kid back, he'll blame the riders new girlfriend and he'll end up bringing your rider down by taking a lot of his money. In other words, I'll program the game to be just like real life!
-Be warned that if one of your riders gets hurt (be careful of Grant Langston's 100 injury rating) you'll have approximately 429 messages afterwards from agents looking to get their rider on your machine. Some will even off you their wife for sexual favors for the ride. Please be advised.
This would be the coolest video game ever no?