The owner of Team Two-Two motorsports talks about the upcoming year.

The owner of Team Two-Two motorsports talks about the upcoming year.
It's a cruel world that the guys that make their living racing the AMA supercross series live in. Imagine that year in and year out you contend for a championship, manage to win two titles and work your way up to third on the all-time supercross wins list. Then one year, you break your hand, miss most of the series, come back and still finish inside the top ten at the races yet you lose your ride, are unable to latch on to another factory team and are forced to start your own team to be able to race.
That's exactly what happened to Chad Reed last season, for many reasons (injuries, ineffectiveness and new blood coming in) Reed has been written off as someone who could win the 2011 title. It's amazing that people forget this guys percentage of sx podiums to races lined up in is astounding. For 2011, Reed started his own team, on the bike he wants to be on and according to many, is an underdog (although you'll read that he doesn't agree)for the 2011 supercross title. I caught up to him 26 days away from another new chapter in his career.
This is part one of a hopefully four part series of interviews with Reed, Stewart, Villopoto and Dungey. I haven't heard anything back about getting a hold of Dungey or Stewie so if they don't happen, you know it's not for lack of trying. RV will run later this week.
Me: Chad, let's talk about your frustrating off-season where you were looking for a ride. Did it ever get to a point where you thought about hanging it up?
Chad Reed: I don't think it ever got to the point where I was going to hang it up. At one point I had to at least be honest with myself and think about it for sure. That's not something I wanted to do but you just don't know. I talked to a lot of great teams and great people but nothing jumped up and grabbed me to go out and make the effort that it's going to take to win the title.
Forming Two-Two Motorsports was something that I felt the need to do, I wanted to race and that was first and foremost. At a certain point when the riding stops, I had a tough year and a lot of things happened to me. I had to take it for what it was and think about it but at the end of the day I wanted to go motorcycle racing. So I realized that I was committed to it and it says something about my commitment to create my own team and go ahead with all that. I'm excited about it.
We're maybe a month into your team getting started and just how much work has it been for you riding/managing and trying to train?
Yeah, we're about a month into it and I think that at the point where I am in my life, my career and all the things that I've seen and done have helped with this team. I had a small role in bringing supercross to Australia; I've seen this industry from a different, uglier point of view. I think that's helped me be an owner of a team and I would say that I'm scary good as an owner (laughs). Everything is going to plan and there's a list of boxes and we're checking them off. There haven't been any major red flags thrown at this point but I have been told no on some, what I thought, were no-brainer moves. So that's definitely something that I need to learn about the industry. That you're only as good as your last race is something I'm learning. I think this year will be fun and maybe terrifying on so many levels.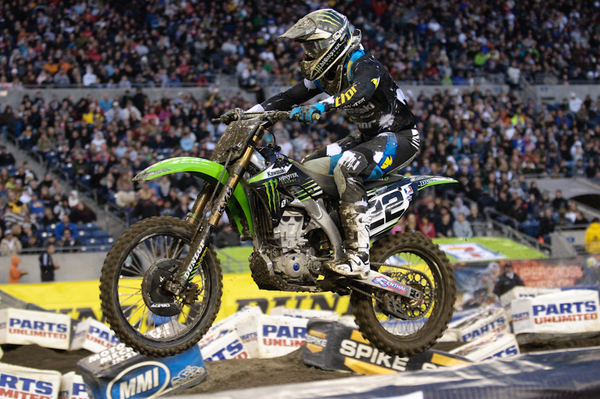 Reed had a miserable 2010 season besides his national win at Hangtown. Amazing that so many have written him off.
You stated early on that you wanted to ride a Honda. Why was that and talk about the decision behind wanting so badly to ride red?
I've been on all the teams except for factory Honda and in a perfect world, if the economy had worked out I would've stayed at Suzuki and worked with Roger DeCoster, Mike Gosselaar and Ian Harrison. I had an amazing relationship with the whole team. That was the feeling that I was chasing, I jokingly say but I'm as serious as ever in saying that Goose and Roger ruined everything for me. Going from Yamaha to Kawasaki wouldn't have been that hard, nothing out of the ordinary but with me being on the best team in the pits and on a team that, in my opinion, goes racing appropriately and for the right reasons. To go and do it other teams way which isn't wrong to me, it's just the way those teams do it and the way they know, but it isn't right for me and it ruined it for me. To anyone that leaves Suzuki, I promise you they are bummed.
I rode all the bikes and the Suzuki-feeling is what I was after, what I was chasing but going to Suzuki wasn't going to happen for a lot of reasons due to budget and situation so then I started riding all the bikes. The new Yamaha, I rode that and I'm sure it's great for some people but it wasn't for me. I heard that it's heavy but that it feels light in the air but that's a crock of shit in my opinion (laughs). It's big and heavy and it feels that way! It was a confusing bike and I think in a year or two or maybe three, it will be amazing but I don't think everyone has it sorted out. And especially at the level that I'm going racing at and especially with no direct factory support. I didn't want to put myself through that again. I could've gone with Hart & Huntington but they have a sponsor (Dodge) that conflicts with Honda. I rode the new KTM 350 and it had some great things about it but overall, I didn't feel it was the bike for me. I bought a Honda in Florida and with just a pipe that Pro Circuit sent out, it was fun. That's what you want it to be, fun. That's why we do this and it fit me the best and nothing was going to change my mind on it.
It's weird to say this but with all your titles and all your wins, you're somewhat of an underdog coming into this season. Do you feel like that?
To be honest, I don't feel like the underdog at all. I don't ever feel that way because in my mind, I'm challenging for a championship and there isn't one single part of me that doesn't feel like I can't win the title. This is why I put myself in this position and why I'm doing all this work, I'm not done yet. It's disappointing and disheartening a little bit to see what happened. I've been so consistent on being on the podium and being in title contention and then one bad year I have my first child, one of my best friends passes away and all of a sudden I'm done? I'm not worth anything? Sometimes I think the words 'bad economy' are used as an excuse, it's used way too frequently and is a poor excuse for people not wanting to be creative and not wanting to make things work. There are things that I knew about the industry that I've had confirmed. It's beneficial in the long run for me to do this, you live and learn and the fire inside of me is burning stronger than ever. I have an amazing program going on here and I'm ready to go fight for this championship.
Everyone is saying Ryan Dungey, Ryan Villopoto and James Stewart are the guys you're going to battle with for this title, do you agree?
I think at the end of the day you say that you worry about yourself and you certainly do but realistically there are people that are going to challenge week in and week out, there are guys that are going to be there on certain weekends and then there are guys that are going to be there for the title. The three guys you mentioned are stronger than the rest of the field and the guys that are the focal point for people to point at in terms of being able to win the title. It's going to be fun for sure and I think that James and I are guys that have been there, done that and then you have the two younger guys that are wanting to do what we have done. I'm excited for us, it's going to be cool and I respect all of them for what they can do. It's going to be a challenge and I'm looking forward to it.
What do you think of Antonio Cairoli coming over and trying to race some supercrosses?
I think it's going to be awesome but I don't believe it's going to happen. I think that AC has an amazing style, I respect him a lot and think he's really cool. I just think he's left it too long, he's in his mid-20's and making a push towards supercross isn't advisable for him. I just don't know the upside to it. I'd be surprised to see him do it but if he does, then that's really cool and I wish him luck. I think if he was 16 and trying to achieve goals then that's fine but he's older. It's a big commitment for him and he needs to spend a few months getting ready and racing sx in Europe isn't going to get you prepared in my opinion. The tracks are different and the way you set up a bike is different. The USA is harder and it's harder make your bike work and having Roger and Ian helping him at KTM would be great if he spent some months here getting ready. That would be my advice to him, come here early, get your bike set-up and ride with (Andrew) Short and (Mike) Alessi.