Did you know the term "mudder" is actually in the dictionary?
Did you know the term "mudder" is actually in the dictionary?
Did you know the term "mudder" is actually in the dictionary?
"mud·der (mud??r) noun -a race horse that performs especially well on a wet, muddy track"
Whodathunk that following a southern California SX race you could add Chad Reeds name to that definition?
SX Class
I must have blinked when RV pulled into the pits and swapped his Kawi for that futuristic MadMax dirt bike. He definitely turned lemons into lemonade, er mud into mud pies during the main event. A deceptively solid rebound in nasty conditions. RV took a stop in the pits and 20th position all the way back up to 7th. Thats solid.
Shorty is building confidence every week and it shows in the results. Consistency was never an issue for Shorty before this season and it's looking like things are working themselves back into the solid Shorty status quo.
Davi started off slow but he once again showed when the conditions get tricky, he's able to showcase his skills and once again make everyone ask, "where's this guy every other week"?
Ice Trey looked to be on his way to 2 consecutive wins but surprise surprise, the front end wash monster strikes again… and again. Yup Trey lost the front twice and after the second though it better to settle in and finish the race with respectable points. Two crashes and a 4th is damn good in this class. Trey has slowly begun to replace Dungey in all the pre-season talk of the top 4 guys.
Stewart was the highlight of my night. Not his track exploits but his heat race podium speech. Rain Dance? Hula Dance? Just proud to be an American? That smile as the camera panned away said it all, he's effing with people and I think its awesome. The more random the better. I hope to see more "Stroupy-isms" from James in future races. A bike stall in the main cost James a couple spots but he was happy to get out of San Diego on the podium in those conditions. I wonder if there is any thoughts about running a Rekluse in future muddy races?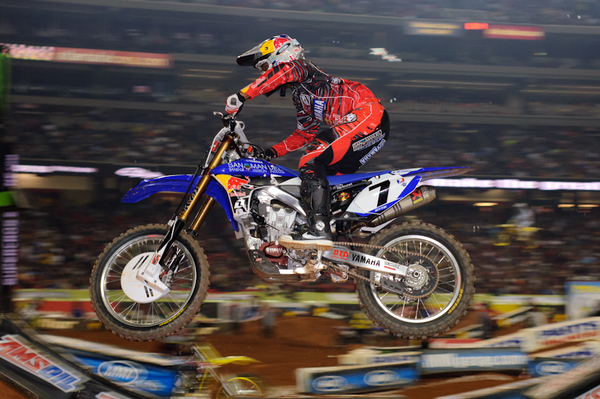 The Dunge rode a solid race bringing home 2nd. Please no more red boots. As my buddy said, the only person who could pull of red boots was The Hurricane. Thank you.
I know Matthes doctors up this phrase all the time but I don't care, it still makes me laugh every time I see it, mostly because it reminds me of how great Seinfeld was(that's where I first saw it). So without further adeu:
"His father was a mudder, his mother was a mudder…."
CR22 wins in 2011 answering a PulpMX Point/Counterpoint from a few weeks back. The big joke from a buddy when Reedy took the lead was "the struggling privateer needs to be out front because that's his only set of white gear". Har. I'm a fan of all racers at this level who dedicate themselves and dont take their situations for granted but I was genuinely surprised with how pump(sic) I felt for Reedys win. It's been talked about ad nauseam about how much Reed has rehabilitated his image perception by fans but it's true. I never disliked him as a racer yet I still feel even as someone who is usually very objective(yes other than Broc) that I was pulling for him to keep it on two-two wheels past the checkers. Great job Chad on once again proving that counting you out is ignorant.
SX Lites Class
Who else was coming up with comedic relief starring the mechanic for the dude who lost his seat in the first turn of the heat race? My friends and I were losing it coming up with silly hypotheses' as to either why the mechanic left the seat bolts loose(off?) or what he did when he saw the seat eject. Good times. That shit happened to me once on my '84CR125, it's pretty amazing how important a seat is to comfort even when your standing.
In his heat race Cunningham showed again that he is fast and then quickly reminded us why speed isn't everything, still crashy.
Jimmy Decotis was impressive all night. The Nor-Easter made it obvious that he's no stranger to mudders and rode aggressively. He may have finished where he typically does but he spent more time at the front and that's gotta help in the confidence factory.
By all indications the night show was going to be all about Roczen but if you've been listening to me as recently as last week you know better than to buy into practice and heat races. Trust me, it's as reliable as April Showers and May Flowers.
Eli Tomac apparently hates getting dirty and he did what he had to in order to keep from soiling his white Fox threads. Nobody had anything for Eli in San Diego. He's a quick study and it wouldn't surprise me in the least if Eli clicked off more than one more win when the series comes back west. Interesting that Eli was racing with earplugs. I assume that's all about focus when he's got a stalker. Didn't need them in San Diego though.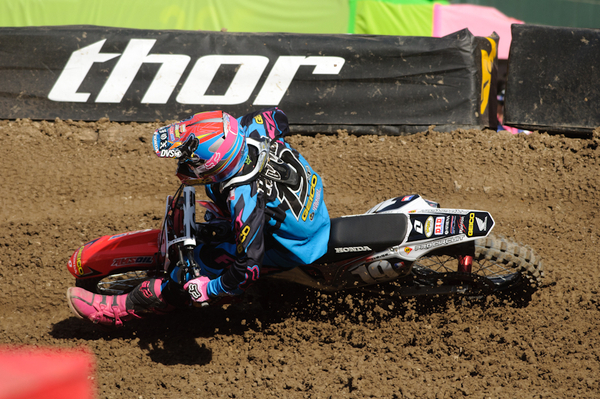 Rattray had a great rebound race after a few rough outings. Rattray gets that ultimate compliment, yup, he's a racer. Big fan of Styla. He held of Broc who rode a controlled smart race. These are the conditions where bad things can quickly and easily happen so reeling it in while simultaneously closing the points gap between he and Hansen is a good move. Of course I'd rather see him win but Eli was untouchable and Ratter's was solid. Seely was pressuring Broc most of the main and looked good again after some abysmal races following his win this year.
Hanny rode through the pain and salvaged a 6th place, a big step for Hanny who continues to show heart and determination which we hadn't seen from Hanny before this season. Yet again Hanny put an opponent on the deck, definitively. I don't know if there's bad blood between the two or if that move was simply Hanny's response to Cunningham showing him a knobby over the table but it was dirty. You know Im all about rough racing but that wasn't racing, it was a good old fashioned clean out.
Put the west coast on ice for a few weeks, were headed east for a while where we're sure to see more fireworks.