Free version of wildly popular iOS racing game hits the App Store.
Free version of wildly popular iOS racing game hits the App Store.
Hell yes, Im still addicted to this game even if Matt Lemoine and Leighton Lillie have made me their bitch many times lately.
If you're one of those people who just refuse to pay for App Store apps, this is your lucky day.
Morgantown, W.Va. (May 18, 2011) – Mad Skills Motocross, the smash-hit side-scrolling racing game from Swedish developer Turborilla, is now available in a free Lite version through Apple's App Store. Mad Skills Motocross Lite includes the first eight tracks of the game, as well as the opportunity to get two more free tracks.
"We're really excited to release the Lite Version of our game," says Turborilla's Tobias Andersson. "We think a lot more people will try Mad Skills Motocross now, and hopefully it'll be as big of a hit as the full version has been."
Mad Skills Motocross Lite is available in the iTunes App Store now for free and is compatible with the iPhone, iPod Touch, and iPad. To download, go to: http://itunes.apple.com/us/app/mad-skills-motocross-lite/id410657307?mt=8
For more information, visit the official Mad Skills Motocross for iOS webpage: www.madskillsmx.com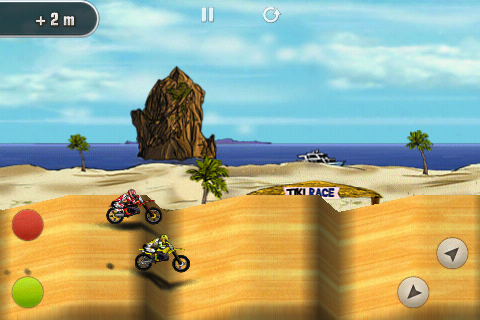 Same fun game but free.
Follow @madskillsmx on Twitter: www.twitter.com/madskillsmx
Get the official trailer here: http://www.youtube.com/watch?v=9X–W1x4nbA
For a complete media kit, including video trailer, screen grabs, and full game details, visit www.madskillsmx.com/media
About Turborilla
Turborilla (www.turborilla.com) is an independent game developer founded in 2006 by Tobias Andersson. Their mission is to work hard to bring joy into the gaming world and turn passion into games. Their office is located in Umea, Sweden, and is always open to anyone who wants to come by and talk about computer games.
About Racer X Online
Racer X Online (www.racerxonline.com) is the world's leading motocross and supercross enthusiast website. Since 1998 they've been delivering news, features, and multimedia covering the high-energy world of professional motocross and supercross. Racer X Online is the online counterpart of Racer X Illustrated, one of the motorcycle industry's most respected glossy magazines.