Thanks to James Lissimore for the cool shots from this past weekend's USGP at Glen Helen, chances are-you weren't there!

Thanks to James Lissimore for the cool shots from this past weekend's USGP at Glen Helen, chances are-you weren't there!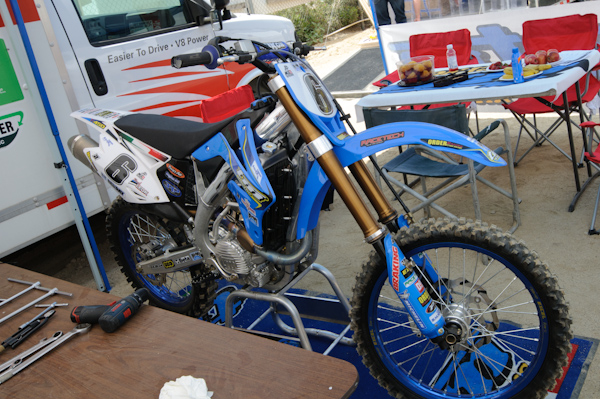 This is a GP so that means exotic bikes and exotic riders. LIke say, this TM of Tanel Leok. It looks like a little bit of a Kawi mixed in with a Suzuki with a light dusting of a Yamaha.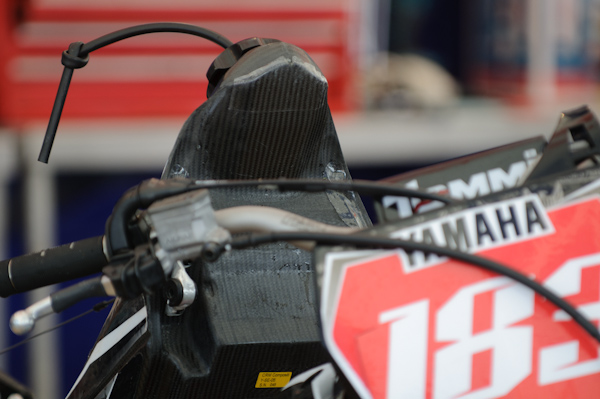 Carbon fiber tanks were everywhere, they were like candy.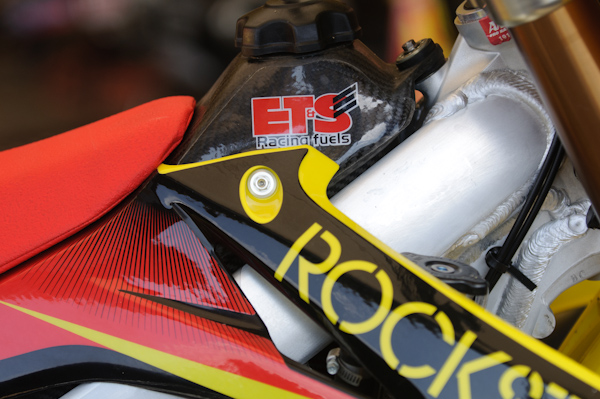 As I was saying…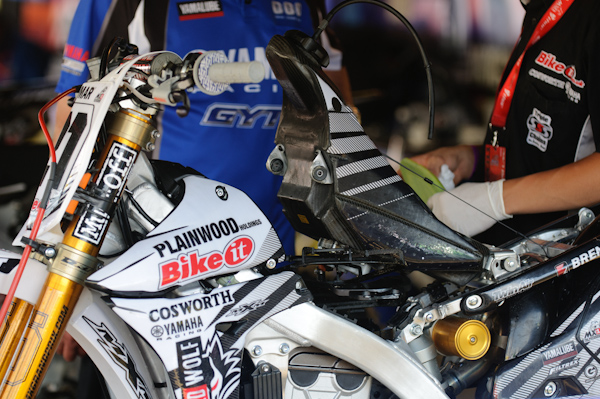 Bike It Yamaha is American Zach Osborne's team and is based in England.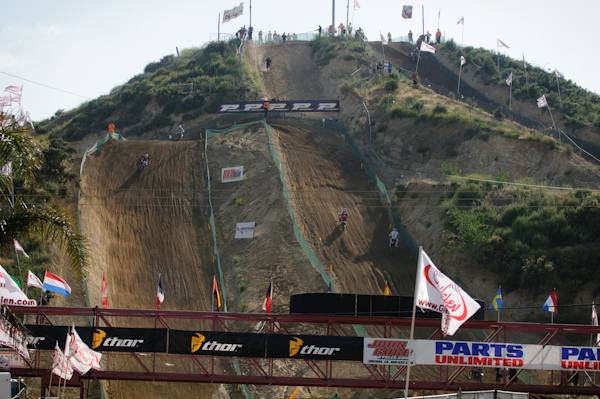 Glen Helen was done up in all its glory for this race and was its usual rough and tough self. A lot of Euro riders thought it was too fast and dangerous which makes them sound like a lot of American guys!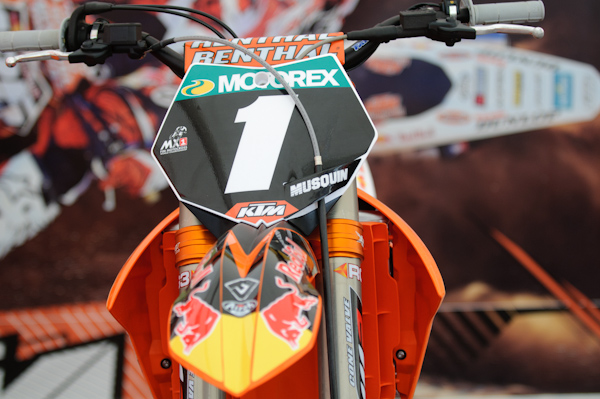 Last years champion Marvin Musquin is racing in America this year but came out to the USGP for preparation for this weekend's Hangtown national. Marvin got to race with the number 1 plate for the last time.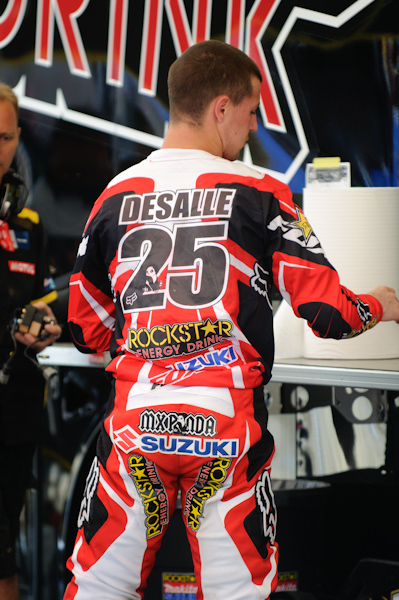 Clement Desalle was the man on Sunday going 1-1 and into the points lead. The MX Panda was very hungry and fed on the rest of the field.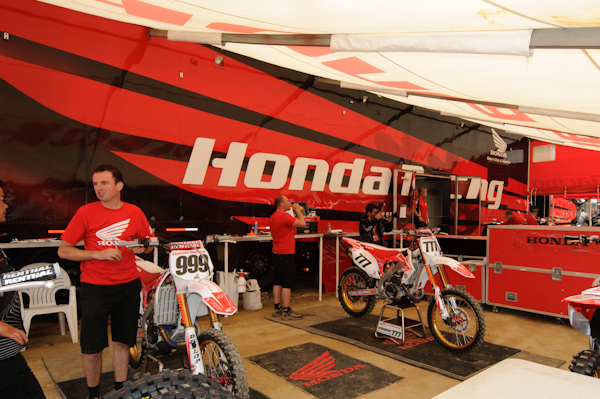 The American teams came out in support of their Euro counterparts. This Honda semi goes to all the amateur races and was the home for Martin Honda and when the rain was faliing, LS Honda as well.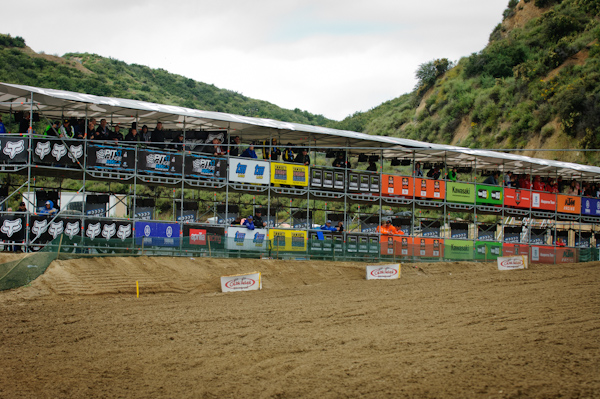 Now this would be cool in America, a two story pit lane building that has TV's and lap times on the screens. This structure is pretty cool and from what I understand, this particular one stays in America year round.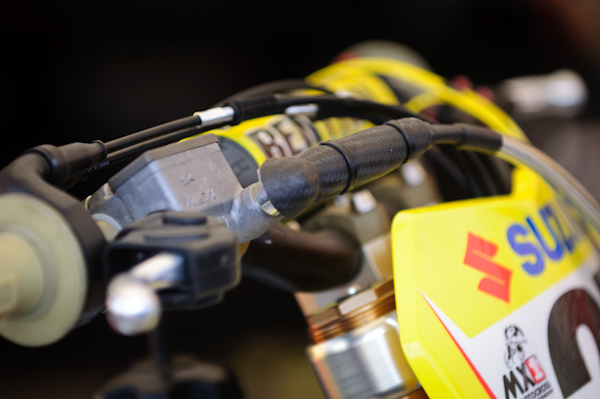 Carbon fiber was everywhere!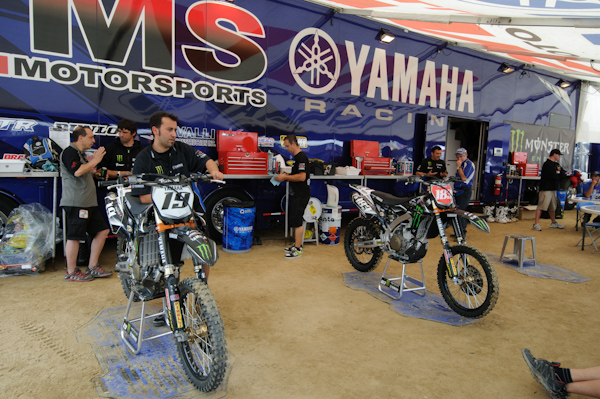 The former Factory Yamaha rig, now owned by Valli Yamaha housed the Rinaldi Yamaha team.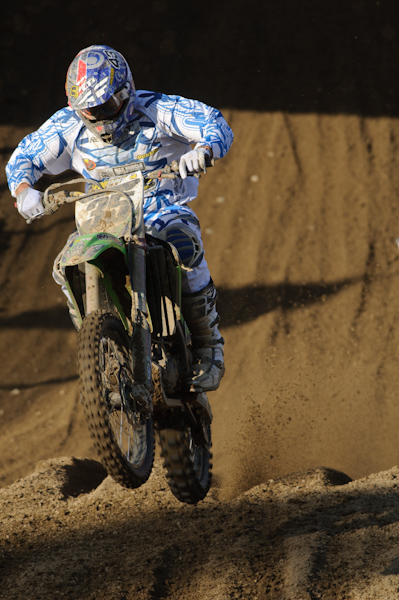 One of the only Americans there, Weston Pieck, struggled with the track and his switch to Kawasaki's. I thought he'd do better seeing as how he has top ten'd the GH national before.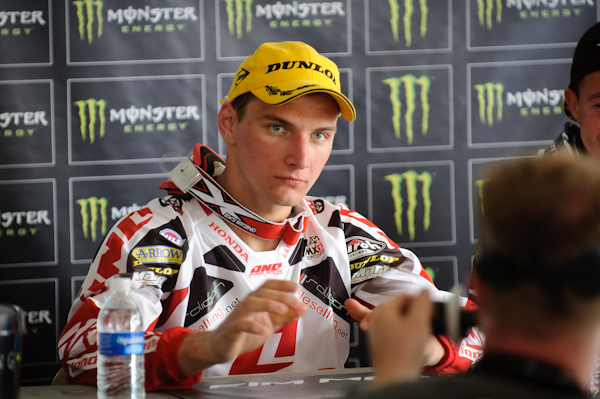 Martin Honda's Evgeny Bobryshev got his first career podium with the third and is the first Russian since 1978 to make a podium at a Grand Prix. I interviewed him after the race and he was a pretty cool dude. Nice goggles!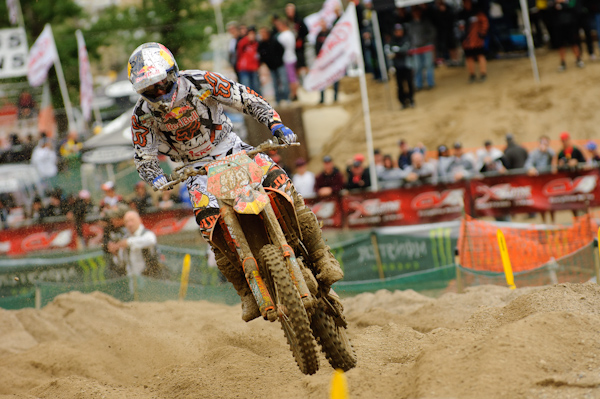 Kenneth Roczen was the man on Sunday going 1-1 and riding great. Roczen has so much momentum from his great season, it's like an avalanche of awesomeness colliding with a juicy fruit.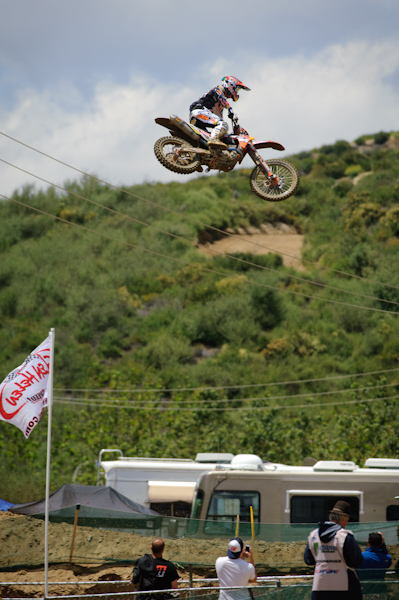 All around good guy and four-time champion Antonio Cairoli had a so-so day at the Helen. First moto he chased Desalle around until the end when he put on a big push only to come up a bit short. Second moto, he crashed early and was way back to start. He would end up fifth overall on the day, quite a contrast when he won last year.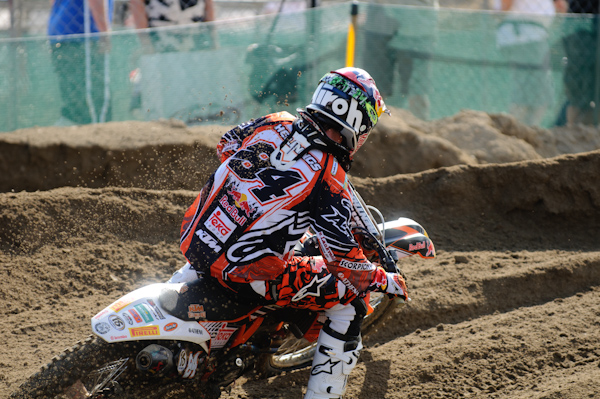 Sand master Jeffrey Herlings kept Roczen honest most of the second moto but was never really a threat to beat him. Still, the two kids were far and away the top two riders on this day and so far, in this MX2 season.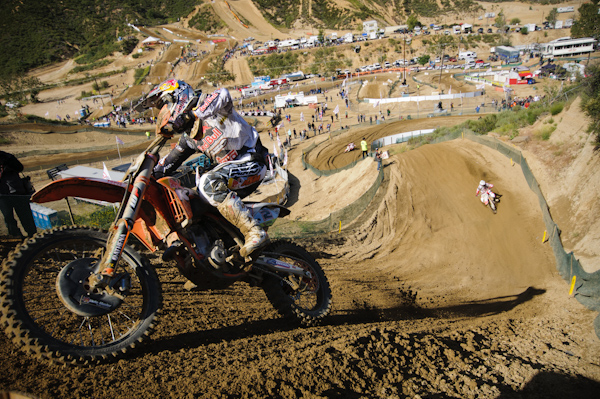 Ooooooo da Germans! Roczen's fellow countryman Max Nagl ended the day in second with some strong rides. Nagl is on the 350 for this season but they don't sound like the 350's that Mike Alessi rode last year- that's for sure!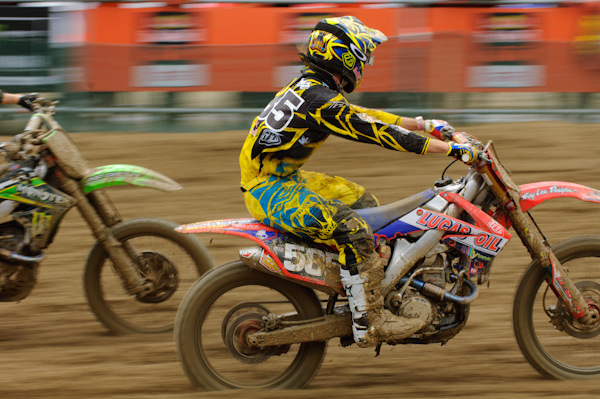 Travis Baker had a pretty good first moto and then suffered a flat in the second race. Baker and Osborne had a good battle going in the first moto for a few laps. Good to see TLD bringing the team out as 450 rider Christian Craig also raced.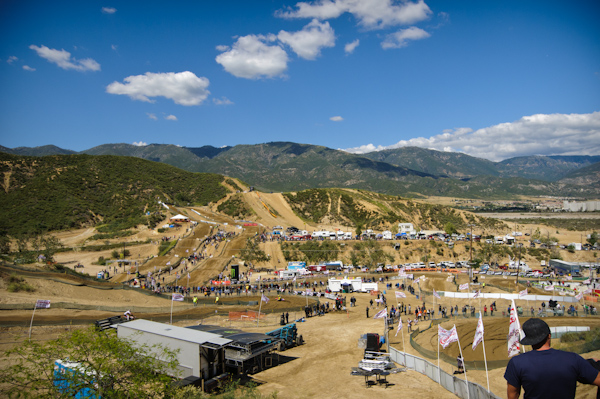 Glen Helen was kind of a ghost town all weekend and that's too bad, the USGP is goo race watching no matter who is out there. Some fast riders and some good dices but the fans stayed home. he claim that 22,000 people went through the gates is laughable but whatever helps you sleep at night.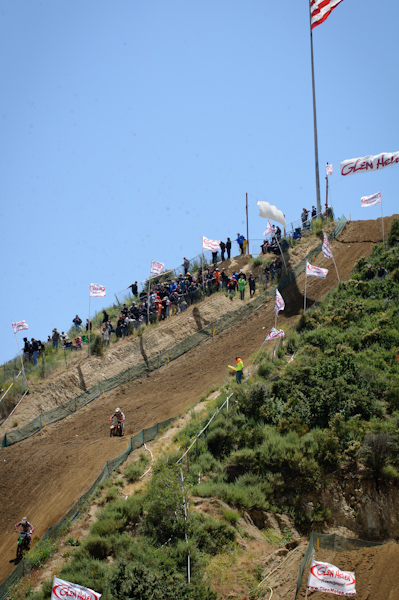 A few things to do before you die- watch Jaws in a movie theater, be friends with Timmy Ferry and ride down Glen Helen's hills. I've done them all.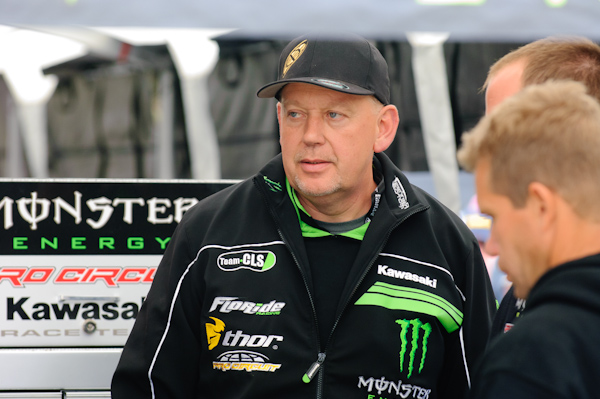 This is Harry Nolte crew chief for the CLS Pro Circuit team consisting of Tommy Searle, Max Anstie and Ben Townley. He was the motor guy when I was at KTM in the early 2000's. He is Dutch and likes Applebees and that's about all I know about the guy.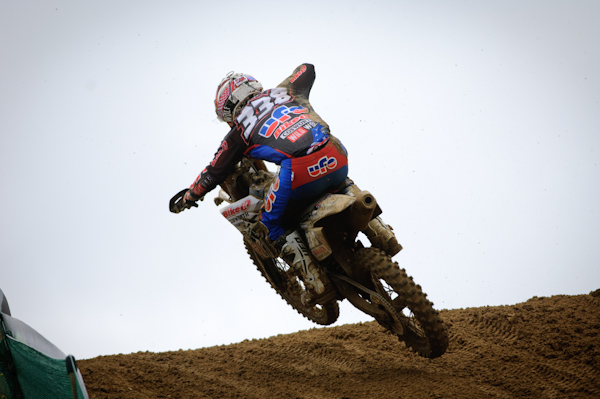 Zach Osborne had a good race despite his moto results which weren't as good as last year but he went down early in the first moto and was pretty much last. He came flying through the pack in the mud and slop to earn a hard earned top ten. Second moto out, he worked the entire moto to catch and pass Anstie for fourth. Great ride for the Zach Attack and anyone who was there definitely tipped their cap to him.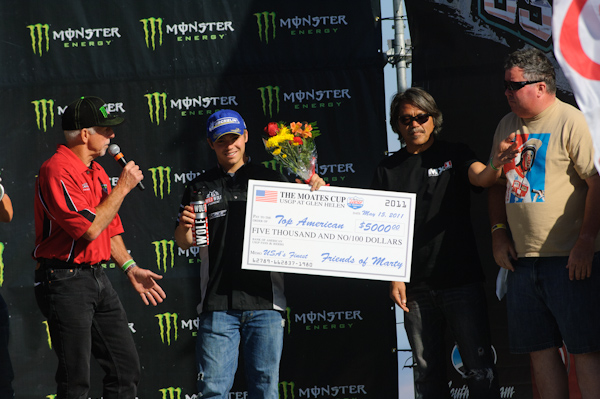 With his moto scores, Zach once again won the Marty Moates cup for being top American and more importantly, he won the 5K that comes with it. Rick Johnson donated the trophy.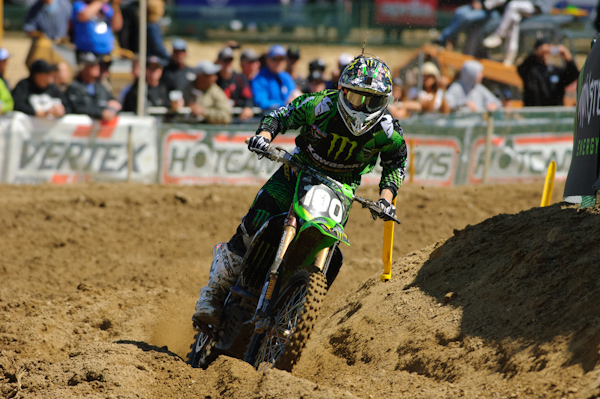 Tommy Searle got third overall in a good ride but he, and everyone else, is off the pace of the top two KTM riders. When I told crew chief Nolte that I thought the KTM's had something on his bikes in the motor department he said, "I'm too honest because I think so also. We will find more."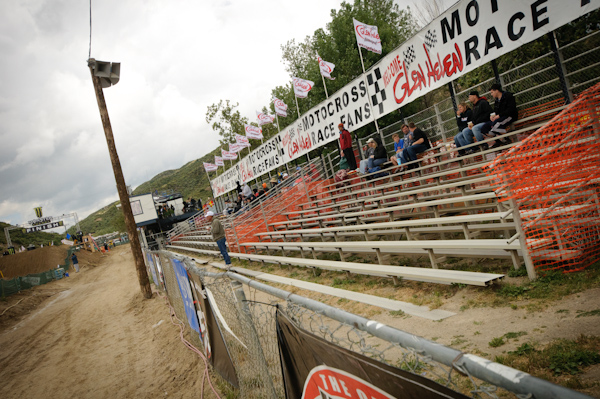 Like I said, there weren't too many people there and that's too bad. I can see this race going away and then a bunch of people saying five years later "Man, I wish we had a GP in America!"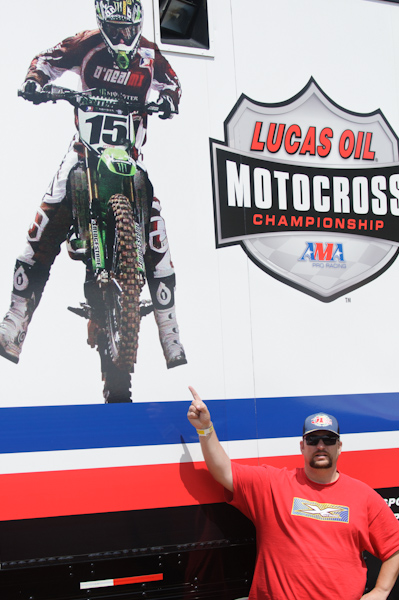 Never forget. The AMA hasn't!