Check out this Brazilian GP race report sent in by Jonathan McCready.

Check out this Brazilian GP race report sent in by Jonathan McCready.
Photos by: Youthstream
The Brazilian GP brought fantastic racing to thousands of colourful and delirious local fans who fell in love with World Championship motocross racing at the very warm and sunny Indaiatuba circuit.
Phenomenal infrastructure and packed grandstands galore left the teams happy to deal with the huge logistical undertaking that has been the last two weeks of the Grand Prix series. Riders also appreciated the setting and the enthusiasm of the large turn-out of fans, which proved quite a contrast to the almost apathetic nature of the US motocross fans not at the poorly attended US GP just one week prior.
MX2
Jeffrey Herlings took his second GP win of the year and maybe the most important win of his career so far. It is two GP wins each now for Herlings and Roczen and they battle in what appears to be an exclusive KTM fight for the World Title.
Herlings tried to stay with leader Ken Roczen on the hard pack track in race one, but Roczen was just too strong and it looked like no-one would be able touch the German superstar yet again.
Rocsen split the moto wins with his teammate.
In race two just like in Glen Helen Roczen holeshot and put in a blistering couple of laps,(using the techniques he picked up in supercross during his stay in the US to good effect) but Herlings began to claw back the few seconds lead Roczen had opened up. The German started making a couple of mistakes as Herlings got the gap down to two seconds. He continued to put the pressure on and this time Roczen cracked! Down went Ken and he handed Herlings a six second lead, this time it was Roczen s turn to play catch up and, forced to ride on the edge, Roczen crashed again! Herlings was left with a twenty second lead as Roczen had to fend off the attentions of Gautier Paulin who almost nabbed second from the KTM rider on the last lap.
An impressive Herlings insisted after the race, I knew it! I knew if I stayed on his back wheel he would make a mistake – he is only human! I didn t have the speed of Ken in the first moto, but I always feel stronger in the second moto, we battled until ten minutes to go and Ken had a little crash and that basically gave me the victory.
Paulin garnered his first podium of the year beating Tommy Searle into fourth and looks ready to challenge for regular podiums now he is fully healthy again.
Searle had great speed all weekend, benefiting from some special engine upgrades courtesy of Mitch Payton. However, after receiving outside assistance after a crash in his qualifying heat while running second, Tommy was disqualified and given last gate pick for the races on Sunday. Forced to come from outside the top ten Searle rode fantastic and nearly caught both Roczen and Paulin in the final moto to equal is fourth place in moto one.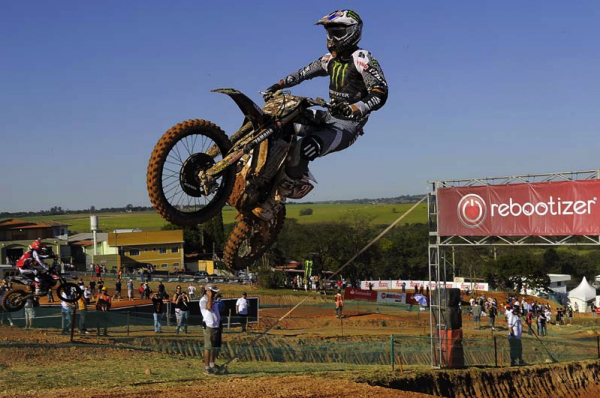 Gauthier Paulin had a strong ride in Brazil. Much better than his USGP showing.
Zach Osborne had two big crashes on Saturday and was still dealing with a painful wrist from the US GP, but it didn t stop the American from running up front. Osborne held third in the first moto but was forced back into fifth after his wrist made it hard to hold on. It was a similar story in race two but Osborne still showed good speed on his way to fifth place.
Max Anstie was sixth overall with a 6-7 scorecard, and although insisting he wasn t feeling well, the always smiling and friendly Brit needs to acknowledge he is still trying to find the speed to challenge for race wins and even podiums on a consistent basis over the course of a GP weekend on the varying styles of tracks.
Grand Prix of Brazil – MX2 Results
MX2 overall:
1. Herlings 47pts,
2. Roczen 47pts,
3. Paulin 40pts,
4. Searle 36pts,
5. Osborne 32pts,
6. Anstie 29pts,
7. Charlier 27pts,
8. Tonus 27pts,
9. Roelants 23pts,
10. Kullas 22pts
MX2 Championship points:
1. Roczen 191pts,
2. Herlings 177pts,
3. Searle 156pts,
4. Osborne 122pts,
5. Paulin 120pts,
6. Anstie 116pts,
7. Tonus 108pts,
8. Kullas 96pts,
9. Roelants 90pts,
10. Charlier 89pts.
MX1
MX1 delivered the best racing of the year so far. A three way battle in race one was initially led by Cairoli only for Frossard to take the lead, Philippaerts hovered right behind in third as Cairoli retook first position. Then, with a few minutes to go Desalle came from nowhere and passed both the Yamaha riders on one lap, then just as quickly he crashed and remounted back in fourth. Philippaerts regrouped from all the frantic action around him to try and get Cairoli but Tony held on to take his second moto win of the season.
Race two was more of the same, Cairoli holeshot again but Desalle moved his way to the front with Philippaerts second. Desalle tipped over yet again and dropped back to fifth. Ramon moved up to third and challenged Cairoli, but with three laps to go Cairoli dropped the hammer and put in the fastest lap of the race to get on Philippaerts back wheel on the last lap. But the 2008 World Champ responded and put down the fastest lap of the race on the last lap to keep Cairoli at bay and take the moto and the overall win!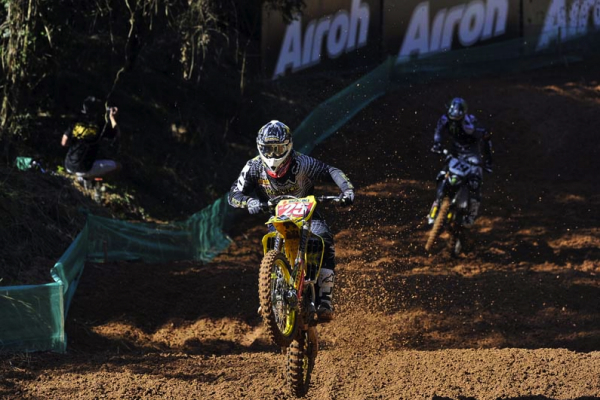 Desalle looked to be the man in Brazil but had a fall while leading.
An ecstatic Philippaerts was pleased to rebound after a poor US GP, I am very happy, the track was good, there where different types of corners and not every rider was fast in the same line. I had good lap times, but Tony was coming so I just focused on my lines and pushed to the last lap.
Steve Ramon showed his best form of the year, to take third in race two and that gave him fifth overall as he continues his comeback from illness.
Former Championship leader Stephen Frossard was fourth after nursing an injured thumb in race two, while Desalle s crash happy weekend still netted the Belgian Suzuki rider third on the podium and maintained his championship lead, but the rest are closing in!
Second in the championship Max Nagl had a poor weekend by his standards due to and ongoing back problem compounded by bad starts. A sixth place overall kept Nagl in the hunt and he will hopefully be fully fit for the next round in France where there are now five genuine contenders for the World title.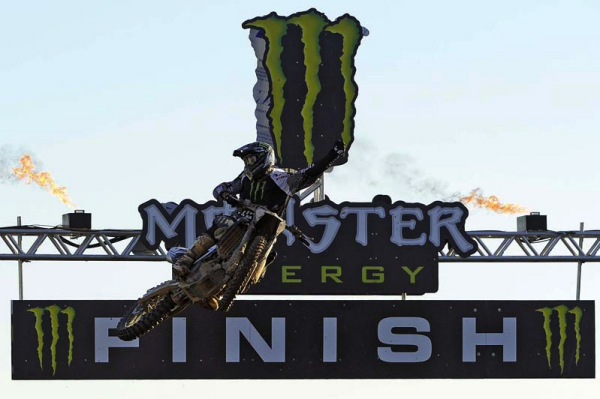 The Italian Stallion David Phillpaerts won the Brazil GP.
The Honda sponsored Brazilian GP was not Honda s best showing with both Evgeny Bobreyshev and Goncalves suffering crashes during the day. Bobreyshv took best Honda with tenth overall and remains sixth in points but lost ground to the title contenders. Ken De Dycker showed the speed everyone knows he has in Brazil and got Honda s best individual results with fifth place in race one.
Grand Prix of Brazil – MX1 Results
MX1 Overall:
1. Philippaerts 47pts,
2. Cairoli 47pts,
3. Desalle 36pts,
4. Frossard 36pts,
5. Ramon 36pts,
6. Nagl 31pts,
7. De Dycker 26pts,
8. Boog 25pts,
9. Strijbos 24pts,
10. Bobryshev 23pts.
MX1 Championship points:
1. Desalle 164pts,
2. Nagl 153pts,
3. Cairoli 151pts,
4. Philippaerts 138pts,
5. Frossard 132pts,
6. Bobryshev 110pts,
7. Goncalves 108pts,
8. Barragan 94pts,
9. Strijbos 92pts,
10. Ramon 90pts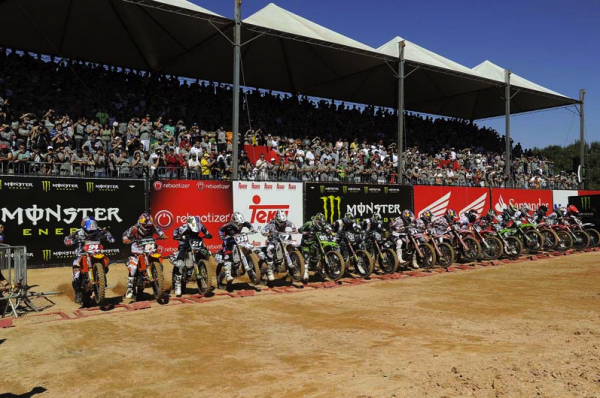 And the crowd goes bananas!