Am I missing something here?
Am I missing something here?
Photos by: Simon Cudby
Yeah I took the first week of the Nationals off. You see, Vegas SX ended at 4:30am at the Hard Rock circle bar and it has taken me until now to regain the clarity needed to pen this fine perspective, which nobody reads, known as Swizcorner. Ironically, the pressure to submit this column comes from the boss(who may read a paragraph or so if he's VERY bored).
There were a few compelling story-lines in play following the Hangtown opener but none which drew me to the keyboard motivating me to present my thoughts. This week in Freestone though, there were a few more occurrences which intrigued me and one occurrence, which has been discussed but left with an unacceptable conclusion in my opinion, has me befuddled.
377
Obviously I am referring to the double DNF of Christoph Pourcel.
First of all, if you're sitting out a full SX season based on an unacceptable risk/reward scenario offered by teams, that indicates you feel you are an elite racer of the sport. Being an elite racer in the sport, you also know that the rare natural talent you possess isn't enough to to endure 30+2 twice in one day.
The self admitted laissez faire training Pourcel adhered to in the Lites class wasn't going to cut it in the big bike class, he had to know this. If you're sitting out all of the SX season, with your sights set on rallying your career in the outdoors, why in the world would you not be instituting a seismic shift to your training schedule to assure your debut is "exclamated", not questioned?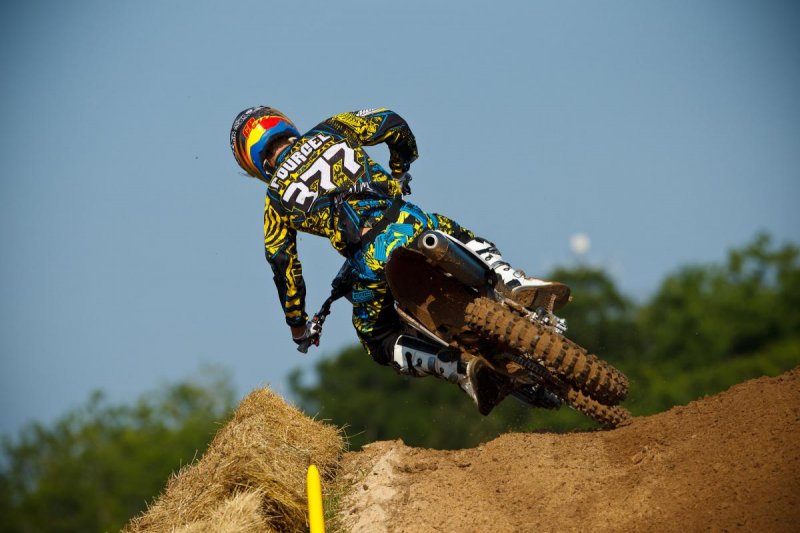 It doesn't get worse than Freestone '11 for CP377
Some would say he was caught off-guard with the strength needed to race the 450. That's laughable when you take into account that during his last two seasons in America, it's been noted time and again that he always practices on a 450. Even in the midst of his SX Lites titles and outdoors title chases, practice instituted a 450.
What about that YZ450F that is so polarizing? Christophe's long-time wrench at Pro Circuit Kyle Bentley has stated the Frenchman was very easy to setup a bike for. Christophe was not a picky rider at all and could just ride whatever he was given.
Whatever the case, I cant wrap my head around a guy who obviously believes he's in the upper echelon of the sport entering into a pivotal series for his career so ill-prepared. It's craziness! I don't care if he's only been on the bike 3 weeks, he has been planning(preparing??) on returning for months and you don't just pull out of a moto with no injury or mechanical issue. You suck it up and take your licks. Look at some of the hits Stewart and Reed took in SX and got off the ground to finish, even on bent bikes.
The second moto DNF is just bizarre to me. Did no one consider that a rock may be wedged in the linkage? Surely there are more savvy team members on Moto Concepts than radio host Steve Matthes! The quirky radio personality theorized it, so I'm hoping that the team did indeed look into that possibility before calling the second moto. Perhaps they did see there was a rock in there but it was just too jacked up to rectify timely and get back out there. Reports from Enzo were, nothing wrong with the shock.
Christophe endured quite the publicity shit storm relating to his sat out SX season and I would have expected his sole focus for this outdoor season to be to tough it out and show that he is committed to persevering and doing his team and sponsors proud. Never-mind worrying about his public image or what the fans think, those are incidental and will be repaired when and if he reassesses his level of commitment to his team, training and career.
450 Peripheral Perspective
I felt so bad for Dungey as I watched his bike slow to a crawl. There really is nothing to say about it other than, it sucks. It sucks for the whole team but even more for Dungey. Sucky for Mike Webb, because he's the Team Manager who now has more bike failures to his name in his first season than The Man did over multiple years with yellow. Sucky for Goose because he's an incredible mechanic who is associated with the failure but mostly super sucky for The Dungenator(he's the Predator indoors and the Terminator outdoors) who did everything a team could ask of a racer, was laying it down and simply got screwed by fate. Maybe it was due to the unfamiliar characteristics of EFI in scorching MX conditions(R&D in Texas anyone?)? Suzuki says, they had plenty of fuel left after moto 1 and they had no issues with fuel capacity last year at Freestone. Maybe just more wheel-spin in moto 2 for the Dunge?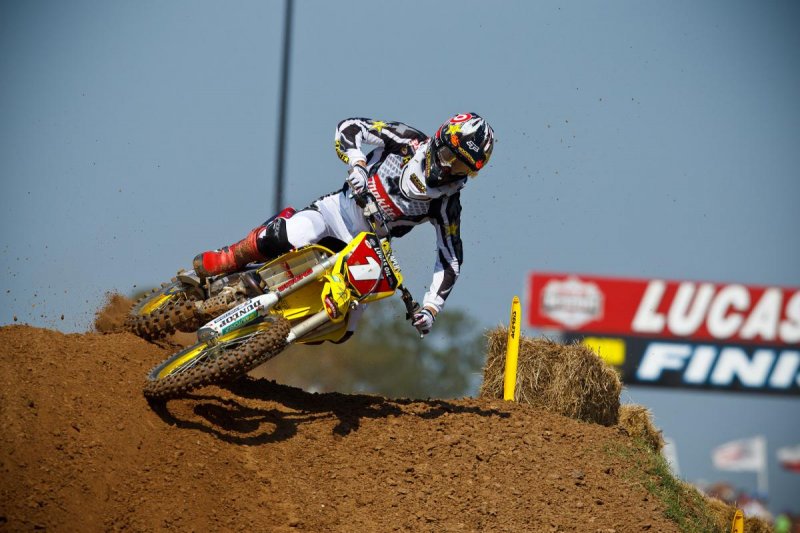 This guy won't let a DNF get him down.
It pains me to say it because I'm a long time Suzuki guy but Reed looks better on his Honda than he did on his Suzuki when he won the title in '09. I saw flashes of it at times during SX but it has really become apparent how comfortable Chad is since getting the Factory bells and whistles. I hate to agree with the radio host but it can't be denied that when you throw on the Factory morsels of weight savings and finite tune-ability, that extra step of bike personalization goes further in rider confidence than it does in actual performance gains and in moto we all know, rider confidence level is the X factor.
RV still looks a little off but "off" is a relative term at this point of the season, after-all, Dungey was a little "off" the whole SX series and came up 10pts short in the end. RV will be just fine, nothing to worry about here.
Millsaps looks better on the Yamaha than anyone in my opinion. It's a big bike, Davi's a big guy and he looks to be jiving with it much better outdoors than in. I hope he can keep this ball rolling, time will tell.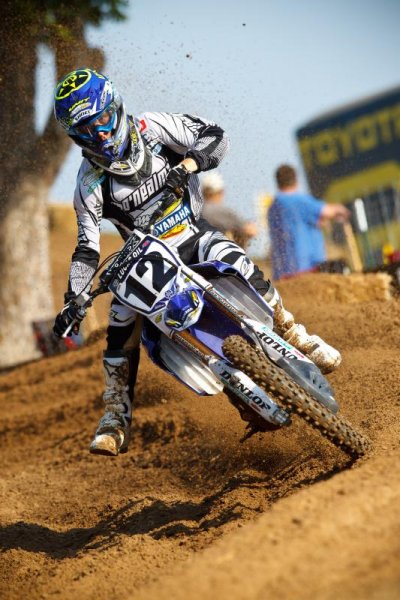 The Hahn bad luck needs to end.
More ridiculous misfortune for a Tommy Hahn. A gas cap? Really!? Somebody lend Tommy some karma, his is busted. It's gotta turn for him at some point, he's just way to good for his fate of 2011 to continue.
Super bummed for Chizz to go down hard. Such a good guy still working his way back to 100%.
250 Peripheral Perspective
On the PulpMX Show this week, Tits asked a question for me about the struggles Baggett has had following race wins. It was actually a tongue in cheek question directed at Dave Castillo in our "fantasy league" referencing his cocky remark about choosing Rattray after earlier having questioned his pick, not realizing Baggett was available. Anyhow, after Tits asked Steve on the show, I thought about it and realized it actually was a relevant question. Regardless of the cause, Blake has had issues in every race following a weekend he won. In Freestone, I picked BB57 certain that he was going to thwart this string of adversity following a win. Well, Swizzle got screwed by history repeating itself. Some day I'll learn…
The outdoors hasn't been the strong start for Broc I was hoping for. I was sure that being on that PC bike was going to result, finally, in hole-shots and starting from the front for BT20 but it hasn't happened yet. A mechanical in moto 1 at Freestone added insult to his injury sustained in Hangtown moto 1. Moto 1 at High Point better bring a stop to the moto 1 shit storm before it gets any further out of hand.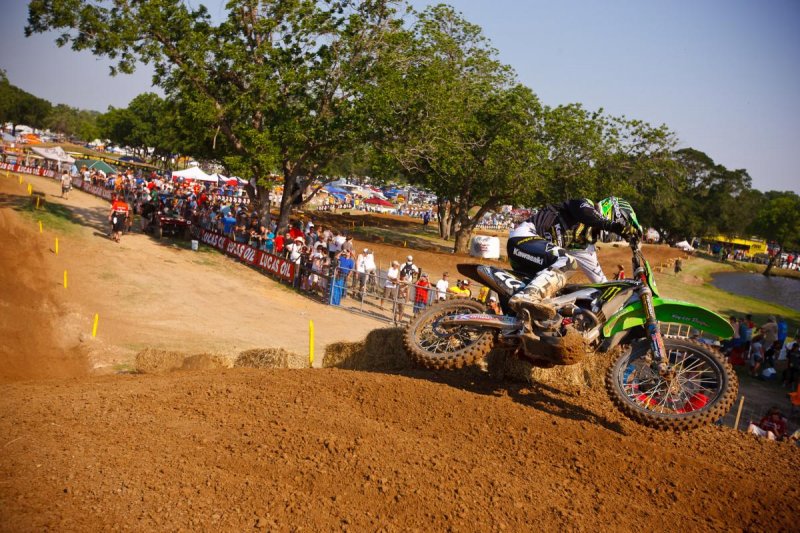 BT20 needs to put 2 good motos together.
As bad as 1st motos have been for Broc, I think Marvin Musquin would trade him in a heartbeat. The loss of Musquin to this series is huge. His moto 1 start, prior to nearly being decapitated by Barcia's rear wheel would have been a real treat to watch. Silky smooth flow out front with no traffic but like the whacky radio host says, "if my uncle had nuts he'd be my aunt"(seriously, he said that last show). Anyhow, what could've been, won't be, so "I go home and cry for a week".(First person to cite that reference in the comments below will get 2 PulpMX decals)
Props to Kyle Cunningham for thwarting his crashiness in Texas and getting it on the podium. Kyle sounded a bit spent on the podium. He had that "I could faint at any moment" voice going on. He kind of always sounds that way but in Texas it was really pronounced. We'll see if he can keep the momentum after the break, it would be great if he could, dude has serious speed.
Man, I really dig Tyla Rattray. No bells, no whistles, just kicks it in the ass when it gets rough and grueling late int the moto and moves past dudes. I'd be stoked to see Tyla win this title and I really think he will.
Dean15 may have the voice of a 14 year old but the dude clearly has some large balls. Jumping that wall late in the second moto is all the proof you need. As much as I love Broc and want Tyla to win, the speed and consistency Dean has shown through rounds 1 and 2 make it hard to argue against him.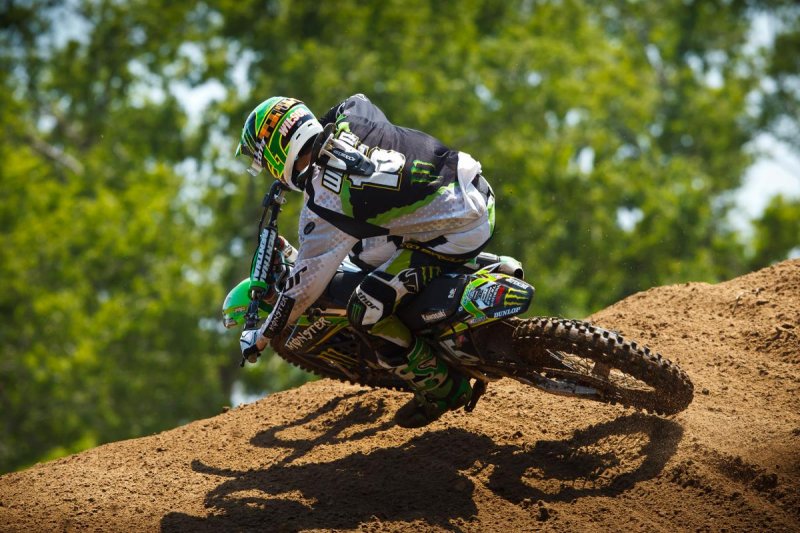 Willlsssooooonnnn. (Tom Hanks- Cast Away)
The one thing which may turn out to be Dean's kryptonite may be anytime he is in close proximity to Justin Barcia. Whether it's Barcia coming from behind or Dean making the move, the 15 always seems to end up picking his bike up when contact is made. Barcia has had a couple crashes through the first two races, just like Dean but his speed and ability to stay up when coming together with his adversary just might give him the edge as the series moves on.
Wrap Up
So here we sit, two rounds in the books, two classes with pretty clear lines of demarcation from the front group to the also rans. A week off is going to work wonders for everyone, some more than others and we could see a very different look at many riders when the moto 1 gate drops at High Point.
Pourcel tweeted something about making big changes after his Freestone debacle. I hope for him, his sponsors, team and the fans that that statement means what I know we all hope it does.