Matthes did an interview with RV after he won the title for an overseas magazine and we thought that it could run in this off-week.

Matthes did an interview with RV after he won the title for an overseas magazine and we thought that it could run in this off-week.
Photos by James Lissimore
It was at times an absolutely crazy supercross season with more ups and downs than a Mexican soap opera but in the end, Monster Energy Kawasaki's Ryan Villopoto ended up with the most prestigious off-road title there is in the world. The AMA Supercross championship is in the hands of Villopoto for his fourth AMA title and first in the premier class. There was the six wins (most in the class) but there was also a DNQ (did not qualify) in Jacksonville.
Villopoto is now at the top of the food chain in American supercross and with the outdoors coming up, is there any doubt that RV is in prime position to turn the trick as two-time champion this summer? After all, outdoors have always come easier for the publicly quiet and reserved Villopoto (he's brash and funny when the microphones are put away).
At times James Stewart was faster than him but Stewart couldn't keep the Yamaha on two wheels so you would have to say that the right man won the championship, RV was a tick off of Stewart's speed here and there and then there were other times that he was better. Chad Reed and Ryan Dungey? Both very fast but no doubt that Villopoto was better in 2011, the Kawasaki machine and Ryan himself both lost weight this year. The OEM spending money and even switching exhaust manufactures to try and get the weight down on the some-what portly Kawasaki KX450F. As far as Ryan, he went and hired trainer Aldon Baker who had worked with Ricky Carmichael and James Stewart before. Baker isn't cheap but it was an investment that RV felt he had to make after coming into the 2010 season heavy and having to ride himself into shape.
The hiring of Baker was huge for Villopoto as when he was laying in the hospital in Seattle waiting for the third surgery on his broken lower leg, it was Baker who took the point and led the way in what specialists needed to be seen.
A mere 36 hours after the biggest night of his life, I called Ryan Villopoto to see what his thoughts were.
Me: Ryan, here we are and you're the 450 SX champion- has it all sunk in yet?
Ryan Villopoto: It's pretty sweet I have to say. To win this thing is pretty special. Obviously, it's one of the biggest titles in the world. Now that it's all over and knowing that you won this thing is a pretty good feeling. It's pretty cool.
You clinched the title in Vegas but really, the Salt Lake race the week before where you won was key right?
That was the deciding race going into Vegas and determined that my life was going to be easy. The weekend off before SLC was great, I got to ride some outdoors. It was a little bit of everything, it was the rest and the motocross riding. Remember though, the first practice at Salt Lake didn't go so well. We made some changes, worked on some lines and then was second after that right behind James. That was a good night and I felt great out on the track.
You battled with Chad Reed, James Stewart and Ryan Dungey for this title, each guy presented his own challenges, who was the toughest?
I think that definitely it was Stewart. Those other guys were good but James was definitely the guy we all had to watch because he was the fastest guy many times. You had to make sure you stuck behind him to see what would happen because many times, he's pretty reckless.
Did Reed's speed surprise you?
No, not really. I think his bike at the beginning of the year was good but the stuff he got from Honda during the year was a bit better. I think that he did what he always does, what he's capable of doing. He's won a lot of races you know Matthes?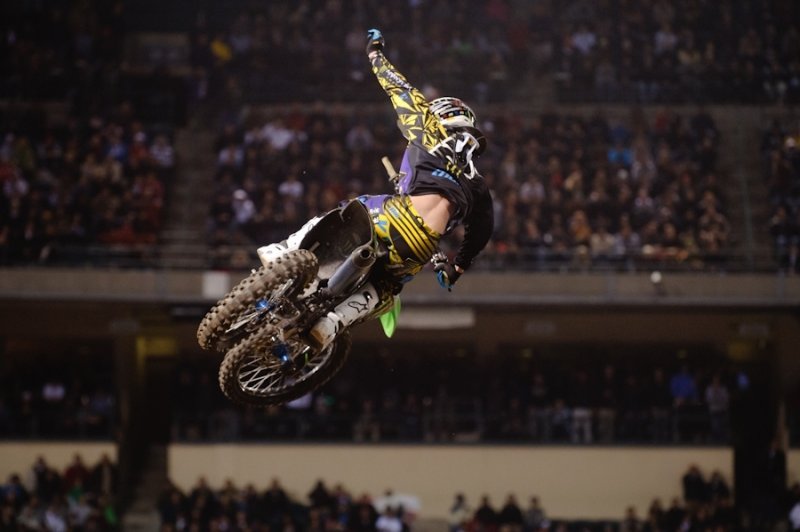 RV brought home the big prize!
Worst race of the year for you?
Jacksonville because I didn't qualify.
Best race of the year for you?
Either Salt Lake or L.A, both of those were pretty good. I rode pretty good at L.A, it was a nice track.
How big was hiring Aldon Baker for you?
Well it was huge for sure to work with a guy like that, he's been there with Ricky and James. He had just got done working with James so he knew what was going on over there. Him getting me in-shape and me working hard was the key, I already had the speed and skill but the missing part of the puzzle was being fit.
How hard was it for you to stick to his program?
It wasn't that bad actually, it wasn't as hard as I thought it was going to be. But having said that, it wasn't easy either!
What did you change on your bike as the season went on?
Couple clickers dude.
No you didn't.
Yes, I did- that was it. I promise you on that one.
So looking ahead to the nationals, how hard was it to just jump into it again and get into that pressure cooker again?
Yeah, it's cool. I'm a little more comfortable outdoors and I don't think that should be as hard for me to get used to. The transition is fine, I don't even notice it really. I'm used to it but for sure there's a little adjustment to the jarring your body gets and the thirty-minute motos.
How satisfying for you to win this after such a gruesome injury last year?
Yeah I guess so, for sure knowing that my injury was so bad and then coming back, it was a disadvantage coming into the season. To come in at the first race and get a win was really sweet. To know how hard I worked to get back to that level was pretty rewarding.
I feel like you stayed out of the drama this year with the other riders. You had Stewart and Reed getting into it here and there and some other guys were saying some things. Was that the strategy?
I think there's always going to be controversy between Chad and James, that's who they are and that's what is going to happen. I don't think you can avoid that?
Do you think that you were riding at a higher level than last year when you won seven races?
I'd say so, for sure. I think definitely Dungey got better than he was last year, not a ton but he's gotten better. Then there was James, Chad and myself- we seemed to all raise the level a little bit out there.
Were you surprised that Trey Canard was so good this year?
No, I don't think so because he got, like, four podiums out of five races last year when he raced so we all knew he was good. He's on a Honda and we all saw how good he was. Obviously he rode better this year than last because the level was higher this year.
What do you think about Roczen?
Definitely rides well, the kid got his win there in Vegas and that was cool. He's an up and coming kid and I think he's got more to learn in supercross as opposed to outdoors because he hasn't grown up racing indoors. He should be one of the guys for the indoors next year.
Can we talk about Tickle winning the west?
Yeah sure.
Ok go.
Hey he rode really well and he put his work in in the off-season I think. He's a good guy and I'm happy that Mitch (Payton) got a championship this year. That was a close race and a crazy main event. I thought he was tired and had arm pump or something like that, I didn't think he was going to be able to pull it off. Good for him.
Any chance we see you in Europe racing over there?
Probably not, we'll see how the season goes but it's really hard. Kawasaki doesn't like us doing that and it's a lot of work to get a bike ready and go race over there. I'd like to but I doubt it.