Matthes got a hold of Broc after he won the biggest championship of his life for an overseas magazine and we thought we'd run it now.

Matthes got a hold of Broc after he won the biggest championship of his life for an overseas magazine and we thought we'd run it now.
Photos by James Lissimore
It wasn't an easy climb to the top for Monster Energy Pro Circuit Kawasaki's Broc Tickle but his 2011 West Regional championship made it all worthwhile. The long-time Star Racing Yamaha rider was selected by Mitch Payton to come on over to the perennial powerhouse and the underrated Tickle rewarded the team with a west coast sx championship. Although not easy at times, Tickle came through at the final race when all the pressure was on. Quiet, reserved and not an amateur star, Broc is a humble kid whose emotionless podium speeches betrays a fire burning inside of him.
I caught up to him some three days after the biggest race (and night) of his life.
Matthes: Broc, it's been a few days since you won the title. Has the fact that you won a championship and your name is in the record books forever sunk in yet?
Broc Tickle: It's been sinking in here the last couple of days. Yesterday I had a little emotional moment and about started crying as I was driving out to the track. To have that feeling of accomplishment is, I don't even know what to say. It's crazy, I never thought it would happen or I would be in this position to make this happen to be honest. It doesn't even seem real still but when I put that trophy on the mantle at my house after Vegas, it was real nice to see it there.
You're not an amateur rider that won a lot of titles or was highly touted when you came in so this title is nice because it shows that a guy can come in, work hard and be successful. Do you feel that way?
Yeah, that's exactly it. I never came in with all this hype, I just slowly and slowly got better every year. I came in to the pros and finishes tenth my first year in the outdoors and slowly I got myself closer and closer to where I want to be.
In Las Vegas during the main event, it didn't look good there for a while but you didn't panic, got better as the laps wound down and eventually came out on top. Did you have any moments where you started to think it was slipping away?
No, and that's what crazy because I know everyone there watching it and supporting me was freaking out and until about lap twelve or thirteen, it was sketchy. For a little bit (Eli) Tomac was about two seconds ahead of me for three, four maybe even five laps. Then as soon as everyone got bunched up there, everything changed and it was a great race from lap ten on.
The weird thing was because if you look at it this way (Ken) Roczen was going for his first win, (Cole) Seely was going for another win and (Kyle) Cunningham was going for his first podium of the year. Then Eli and I were going for the championship- everybody was racing for something that they haven't gotten yet. Cunningham was on the gas!
A lot of people, myself included, counted you out of this championship because Tomac had all the momentum and your riding had slipped a bit from where it was when the west series started off. What did you do to stop the slide and ride so well in Vegas?
You know my goal was to be on the podium all season. The first four races were good for me, I rode good but then I started getting into a bit of a slump. I was trying everything and after I had those two shitty races (Seattle and Salt Lake City), the ones where I didn't ride anywhere near good enough, I started reading these positive thinking books. I was working on everything!
I wrote down everything that I needed to work on and that's what I did until Vegas and I'm not going to lie, I was thinking about the championship at those two races and I thought I rode too cautious at those race. Thankfully we had a week off and I put everything into focusing on Vegas and I don't know what I did but nothing bothered me in Vegas and I was riding my own race.
Your teammate Josh Hansen was at one point in the points lead but it seemed that there was some friction with him at times. How was it battling with someone who was in your truck every week?
It wasn't too bad really, it kind of motivated me a bit and I turned it into something good for me. There were a couple of times at the track where he did some stupid things like roosting me or whatever. To be honest, it motivated me because I know that if he was doing and saying these things, then I was in his head and he was worried about me.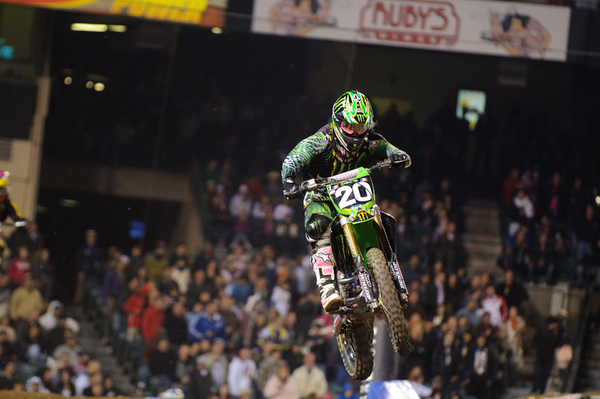 Tickle rode great in the beginning of the series, ok in the middle and great at the end to win the title.
What about the format in Vegas with your main event starting it off?
I didn't think the main event thing was that bad but to be honest, I think they should stick to the east/west format only because when it came to the shootout, I didn't even care. Well, I cared but it wasn't like "Oh let's go out there and prove to everyone that I was the champion". I didn't have that in my blood at the time. I won the title and everything was released right there and I imagine that it was the same for (Justin) Barcia as well. When you have some time to relax, you look forward to Vegas and wanting to race to show that you're the best but after the first main event, it was tough to get back up for it.
I got to give it up to (Ryan) Sipes and Seely, they were going for it in the shootout and Sipes has surprised me a lot, he's really been on it this year.
Do you feel like you're a little overlooked at times by the fans and the media?
I've always been that guy. I'm used to it. You know what? I'm ok with it, if no one wants to put me in ads, it doesn't bother me. As long as I do what I have to on the track and in my career, it will be there eventually. I think I think I should get in there a little more, I'm doing more radio shows and stuff like that so that I can pull myself into that world.
Can you talk about the differences between your old team that you rode for (Star Racing Yamaha) and the Pro Circuit team you're on now?
I think that now, Star has stepped their program up from last year. Going from Star to Pro Circuit in the off-season, everything was organized a little bit more. I felt like a change come over me because they (Pro Circuit) have the number one plates on their door and when you walk in there, you get goose bumps as a rider. You dream about being there since you were a little kid. It's weird, they just have it and they have always had "it". That gives me confidence and I do think the organization is a little better. I like how Star has stepped it up this year and me and the owner Bobby Regan talk all the time, I know everyone over there and talk to them all the time. I'm happy for those guys. I have nothing bad to say about those guys, those were doing everything they could do at the time.
It's more of an internal pressure to do well at Pro Circuit, Mitch hasn't put any pressure on me at all. I've made a smooth adjustment to being there and I have nothing to say negative about the team at all. The bike has a bit more power transition than the Star bike, it may handle a bit better as well. It's great and there are no complaints really. When I was on Star, I had never ridden a OPC bike so I had no complaints. But like I said, the Star bike has improved in 2011 as well and I haven't gone back to back with the new bike. I can't complain about either team to be honest.
What about Ken Roczen, he was certainly impressive in his first year over in America.
He's a good kid, I haven't had too much to do with him but I have talked to him here and there. I get a good vibe from the kid, he definitely has a huge potential to be one of those guys that will be a title contender. It's so weird because as soon as I started doing better and better, I started respecting every rider out there. Honestly, I used to get tenth and I know how it is. Roczen can certainly scrub, I've seen him with a couple of ones that were gnarly.