Stuffs going on behind the scenes. Let's take a look at some of the rumors floating around out there

Stuffs going on behind the scenes. Let's take a look at some of the rumors floating around out there
Photos by Simon Cudby
The silly season in professional motocross is in full swing right now with riders and teams scurrying around trying to find the right fit in salary and bike with each other. You know that's it's serious when the riders are seen wandering the pits after the races without their team shirts on so they are not easily recognizable to anyone while they cozy up to their favorite team manager.
Because the fans seem to love reading and hearing about this stuff, I thought I'd put together a little sheet of what's going on in the pits. Some of it true and some of it just rumors that I haven't been able to confirm but there's usually fire where there is smoke. Again, not all of this is going to happen and I'm sure I'm missing some people or teams but for your pleasure, here's what is going on and my best guess as to what we'll see next year.
As everyone knows, Ryan Dungey is the big fish out there for next year. Ryan's testing the waters with everyone from Chad Reed's Team Two-Two to Joe Gibbs Racing to Larry Brooks new adventure to be released next year. It's looking like Red Bull KTM is the favorite to land Ryan. He wants to go back with DeCoster, the man who helped him so much coming in from the amateurs. He doesn't want to ride the 350 and KTM is going to prepare him an EFI 450 for racing next year.
They already have an off-road model that they can maybe try to make it work. Or they can quickly build a 2012 ½ 450SXF for Ryan to ride next year. They cannot use the one-year Works Bike exemption rule because they already used it once with Lance Smail back in the day.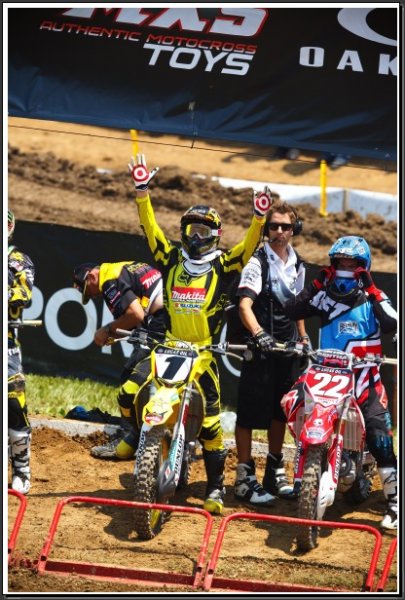 "I am Ryan Dungey and I can pick anyone I want to ride for next year. I'm going to be rich!"
JGR is in talks with Ryan as well and obviously they would relax their restrictions on living and training in North Carolina with a rider the caliber of Dungey. Larry Brooks has a new team coming together and made a pitch but it seems that Dungey's price was out of what he could do right now. The rumors are it's going to take north of two million a year to secure Ryan's services. Which is a nice jump up from what RD's at right now which is reportedly 750K or so. I'm holding out a little disbelief on this number but it's what I heard so I'm throwing it out there.
I'm pretty sure that Reed's Two-Two Motorsports is out of the running as they do want to run a second rider but can't get the funding together as fast as Team Dungey would like.
Reed has been approached by riders like Kyle Regal and Mike Alessi about next year but he's in a wait and see mode right now to see if he gets more funding. Reed's been quite vocal about riders riding too cheaply so kudos to him for turning some guys down for a fill-in spot at his team because he can't pay them anything. He's trying to change that for next year.
JGR themselves are annually looking at switching OEM's next year, they always do one year deals with Yamaha to see what else is out there. They have considerable amount of R&D into the new Yamaha YZ450F so it's a bit of a gamble to switch OEM's. There has been talk of Suzuki and JGR coming together but there seems to be talk of everyone and Suzuki as you'll read in a bit.
Both of their riders (Justin Brayton and Davi Millsaps) are up and if this Dungey deal doesn't come together, I could see both riders returning to the team.
If KTM doesn't get Dungey, team manager Roger DeCoster told me that he would be happy to bring the same team back next year because there isn't anyone else out there that can win in his opinion. GP star Ken Roczen will be here full-time and a team of him, Marvin Musquin, Andrew Short and Mike Alessi would be pretty good.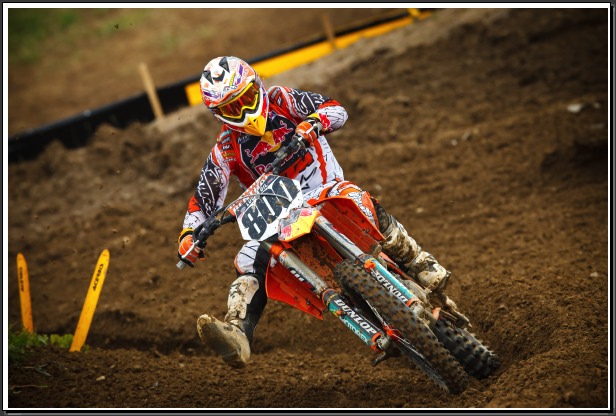 Mike's looking for a home and his good outdoor season is definitely helping him out.
Obviously there is a long standing friendship with Motoconcepts Yamaha owner Mike Genova and Tony and Mike Alessi. There have been talks about Mike going over there if he's not retained by KTM. The past tensions that were there between Tony and DeCoster when they were both at Suzuki seemed to have regressed and DeCoster has had nothing but praise for the way his second go around with Mike has gone.
As far as Motoconcepts Yamaha they too might switch brands or even be a run-what-you-want type of team, which we haven't seen since the 1996 Chapparal team. They are looking to put a 250 rider on each coast along with two 450 guys. I don't think Tommy Hahn will be sticking around over there and the jury is out on Kyle Chisholm right now.
Suzuki has Brett Metcalfe and it's a certainty that Dungey is not coming back to the yellow team. They need another rider or maybe perhaps they'll go with just Brett. Or maybe with the bikes they are rumored to be throwing around, they want out of the racing business alltogether and will place Metcalfe with another team.
JSE will most likely bring on team owner James Stewart's younger brother Malcolm to the team to ride alongside James. What class remains unknown at this time. James is not happy with his Yamaha and has entertained talks with Suzuki. There is one more year remaining on Stewart's deal with Yamaha and with the uncertain future of JGR and Motoconcepts, one would think that Yamaha would do everything in its power to make sure that James stays on blue and works through the problems.
I heard from a reliable source that we'll know soon what is going on with James and the color of his machine but one would think that hiring test rider Timmy Ferry and having him fly to California twice to test would mean the decision to stay blue has been made. There have been many people tell me that Stewart would try to break his Yamaha deal because of how technically it's probably with L&M Yamaha (which doesn't exist anymore) and depending how crazy everyone "lawyers up", maybe Stewart gets an out there. Or maybe Yamaha digs in, James realizes that it's a lot of money and support, gets Ferry to help and gets another kick at the can.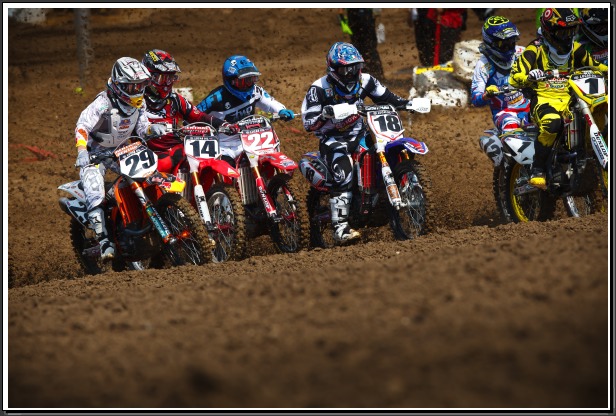 Three guys in this photo need a ride and three riders are all set for next year.
Either way, if James doesn't ride Suzuki's, maybe JGR's deal gets better with the yellow team due to all this money being freed up. Maybe JGR signs Dungey and remains on Yamaha's- either way, after Dungey figures out where he wants to go- JGR may be in the best position to get better OEM help.
Honda's a late entry into the Dungey sweepstakes from what I hear. Not sure how that will work but teaming Dungey with Canard will make a super fast and super nice team! It seems that ex-San Manuel Yamaha manager Larry Brooks will be having some sort of a team next year on Hondas but there hasn't been much confirmed just yet. He's not at the point where he's searching for secondary sponsorship so until that happens, we're not going to know too much.
I've been hearing that the Metal Mulisha keeps wanting to start a team every year so it's bound to happen that I'm hearing that again. Only this time I'm hearing that they will team up with Valli Yamaha. Which would definitely mean Josh Grant going to the Valli team if he gets let go at Honda because of MM being a main sponsor of his.
I think Wey will be back with the Valli guys regardless of what happens.
It appears that Broc Tickle may have pointed himself out of the 250 class and despite having another year on his Pro Circuit deal, may find himself on the outs. I've read the rule a bunch and any rider who is past his third year in the class and wins a championship is automatically kicked out. I've heard that the AMA is looking into changing the 250 class eligibility rules for the 1,873rd time.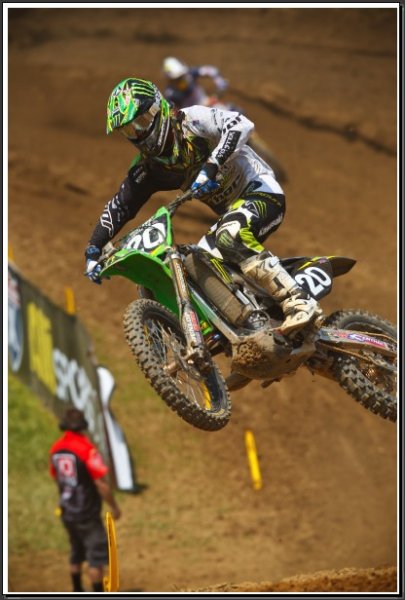 Does Tickle need to look for a ride? I don't know and neither does anyone else.
As far as Josh Hansen, it's my belief that he'll be moving on up to the 450 class. Most likely for a second tour of duty with the Hart & Huntington team but we'll see. Josh Hill needs to start riding soon or the H&H guys can void the second year of his deal. With Hill having yet another surgery last week, it remains a long shot for him in my opinion.
GEICO Honda is locked in with Justin Barcia, Wil Hahn and Eli Tomac for next year. Amateur kid Justin Boogle will ride the last few nationals for the team and they may or may not bring back Blake Wharton for next year. The team does want to have five riders next year for supercross which is an opening for the talented Wharton to find his way back.
Star Racing Yamaha has Kyle Cunningham and Ryan Sipes coming back for another year and look for the Rockstar Suzuki team to clean house for 2012. Maybe they won't give up on Jason Anderson and I imagine if the rules change, Ryan Morais could be back also.