Well the first race of my European tour came at Round 6 of the Maxxis British Motocross Champs, held at the famous Foxhill Circuit near Swindon. GO OSBORNE!!!
Well the first race of my European tour came at Round 6 of the Maxxis British Motocross Champs, held at the famous Foxhill Circuit near Swindon. GO OSBORNE!!!
Words by: Scott Wilkins
Photos by: Jason Watts
Foxhill has a pretty famous history, being a former GP venue and Motocross des Nation venue, most famous for some of the worst Mud races ever seen, a nasty Motocross des Nations race in 1998, which saw torrential rain hammer the circuit all weekend, causing most riders not to be able to get up some of the steep hills that make up the circuit, including Ricky Carmichael,
Stefan Everts destroyed the field that weekend, helping Belgium claim the weekend, and as a foot note, Josh Coppins was one of the only 125's to keep getting up the hills allowing him to put the Kiwi team on the podium for the first time ever at the Motocross des Nations.
After another GP that were destroyed by rain, Foxhill fell off GP calendar, however it is still used in the different rounds of the different series that make up the British Calendar,
The Track its self winds though a valley and has steep hills to both sides, with a good stadium sections with a good variety of step up, step down and table top sections, with a section of whoops which the riders jump though as well, the ground is extremely hard pack, with a lot of rocks, not uncommon in the European scene.
The format for the MX1 and MX2 classes would be a 30 min practice/qualifying, followed by a top 12 Super pole, super pole is a solo one lap qualifying, which sends the top 12 riders out one by one, and that lap decides their starting order for the day. Then 3 x 20 minute plus 2 lap races decide the points.
MX1
Tom Church was fastest in qualifying but only ended up with 4th after super pole which was taken out by Kristian Whatley.
Race 1
Started with an epic battle between Honda mounted Brad Anderson and CCM's Stephen Sword, a few very aggressive passes early had Anderson pull a small advantage, Sword pulled onto Anderson's back wheel every couple of laps but could not find the line to pass on, he kept the pressure up and late in the race got by Anderson, looking to make a quick repass Anderson made a small bobble allowing Sword a couple of seconds lead and a race 1 victory, A decent gap back to Kristian Whatley in 3rd chased hard by Tom Church.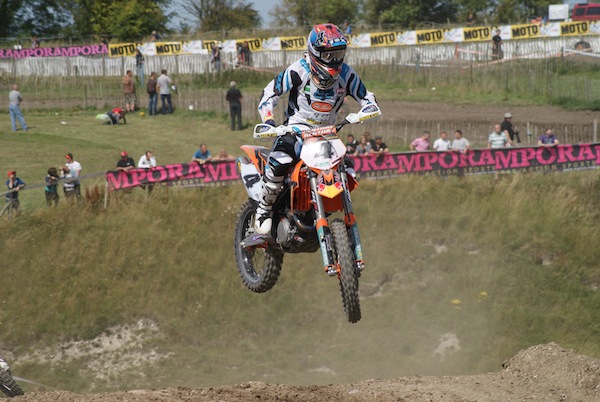 Tom Church pulled down 4th in Race 1.
Race 2
This again saw Stephen Sword and Brad Anderson get out front, Sword got out front early and looked comfortable but Anderson was charging hard, around lap 5 Sword slowed suddenly and looked to be holding his knee or leg, and retiring, Anderson then had a decent lead until the last lap where his front brake caliper sheared off, not being able to jump anything he lost a hell of a lot of ground, but used some aggression in the corners to try to keep his rivals behind him, he was able to salvage a 4th place finish, Tom Church ended up being caught by a start gate that bounced into his bike, and came from dead last to 6th by the end of the moto.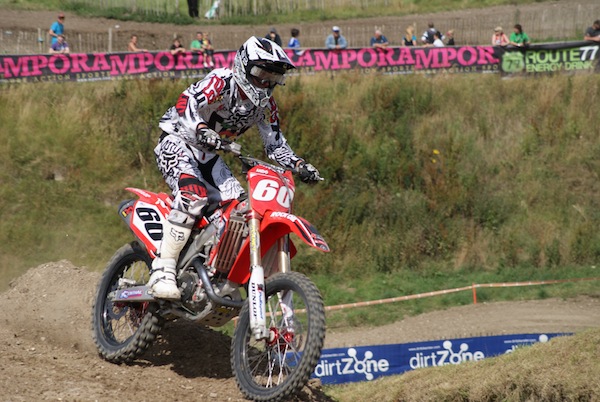 Brad Anderson led much of Race 2 until a bazarre mechanical left him in 4th.
KTM mounted Martin Barr took the win from Nathan Parker and Kawasaki mounted Alex Snow.
Race 3
Stephen Sword did not make the start in this one, Alex Snow holeshot and lead for the first 4 laps, before Martin Bar took over and ran away with another win, Brad Anderson had a small crash on lap two and had trouble passing former GP winner Gordon Crockard and only managed to come back to 6th place, Gert Krestinovrode a good race securing 2nd with Tom Church rounding out the podium in the last race.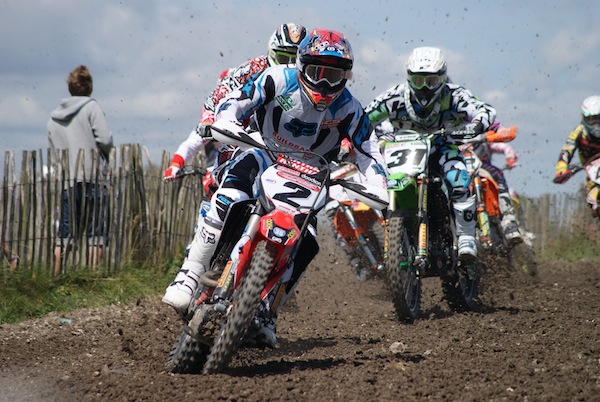 Stephen Sword didn't make Race 3 but he made this pic.
Overall
Martin Barr ended up taking the overall with a 10-1-1 score, over a very unhappy Brad Anderson with a 2-4-6, and Tom Church beat Alex Snow on a Count back for the final podium spot with a 4-6-3 totals. Brad Anderson stretched his lead in the championship.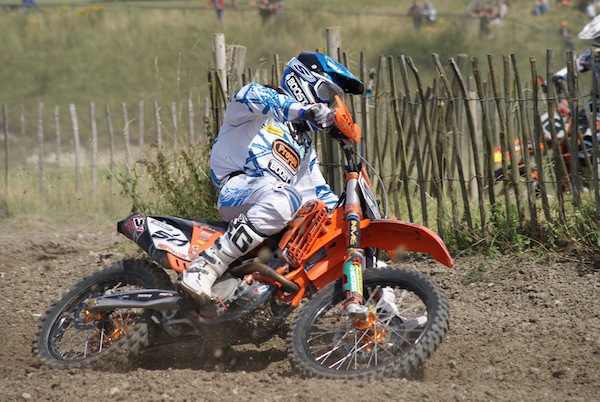 Crazy finishing scores of 10-1-1 brought the overall to Martin Barr.
MX2
Qualifying
Honda mounted Elliot Banks Browne was fastest in the first qualifying, but was pushed back behind the to Bike-it Cosworth Yamaha riders Arnaud Tonus and Zach Osborne in the super pole,
Race 1
Zach Osborne got out front early and put on a riding clinic, slowly pulling away from the field for an easy victory, looking a easily quicker than everyone else there, behind him only Elliot Banks Browne and Jake Nicolls were the only 2 riders to Keep Zach in sight, 5th was Arnaud Tonus who fought his way back from 24th at the end of the opening lap.
Race 2
With Osborne getting a average start and the hard pack track getting harder to pass on as the racing went on, he was up for the fight, slowly making his way through the pack, until a high speed very ugly looking crash on lap 8 ended his day, although it was mentioned on the podium later he was only banged up it was a nasty looking crash, he was on the ground for a while but did make his own way back to the pits. Elliot Banks Browne lead for a long time before GP regular Tonus ran him down to secure the win, Banks Browne held onto 2nd and Jake Nicolls held onto 3rd.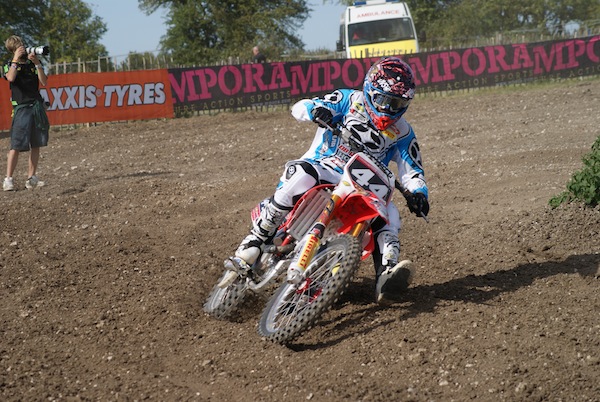 Banks Browne led much of Race 2, finishing 2nd.
Race 3
Osborne did not make the gate for the final race, so it was Tonus that took the lead early from fast starting Banks Browne, and took off for a good victory, Jake Nicolls also got passed Banks Browne later in the race, he eventually finished 3rd
Overall
Arnaud Tonus got the overall with a 5-1-1, with Elliot Banks Browne coming second with 2-2-3 scores, Jake Nicolls rounded out the podium with 3-3-2 scores.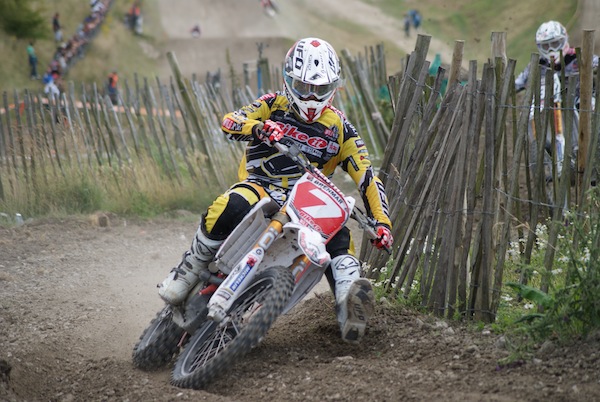 Arnaud Tonus secured the overal with 5-1-1 scores.
My first experience at a British National round was a good one, the racing close near the front with some very good teams, it reminded me of the Australian series a lot, with a few very fast riders but with out the depth of the GP's or American nationals, The crowd was reasonable but with very good vendor displays, The track although not really up to modern GP or US National level was challenging, and offered good racing and easy access to the pits and riders with a relaxed atmosphere that goes with this level of racing.