Some introspection from one of the nicest guys in racing who has introduced consistency to his always-present speed in 2011.
Some introspection from one of the nicest guys in racing who has introduced consistency to his always-present speed in 2011.
Photos By: Simon Cudby
(swizzle)Do you feel like you're having a good year, are you happy with your progress?
(Cunningham)Yeah, everything's been a lot better, we've made some bike changes and gone the right way with it I feel. I've just been working hard aside from getting a little bit sick before High Point and going through about 3 weeks of not being able to train and just having to sit around, everything's been good. Supercross started off a little bit bumpy, just getting caught up with other people and making some mistakes on my part but the consistency has been better the last few weeks with the 4th place over-all's that I've had. I had a 3rd in the first moto at Washougal so, I feel like we're making progress and I just need that one little thing to give me that breakthrough to put me where I need to be.
This year, toward the end of SX and continuing now, you ramped up your consistency. Yo pretty much kept your speed and got rid of the crashes.
Can you point to any one thing which was the lightbulb in your head that started that change?
I think the biggest thing was at the beginning of the year I was getting bad starts and getting caught up in the wrong place at, I guess the right time you could say. It just seemed like I was always in there, caught up with someone, trying to make something happen coming from the back. I went into the last three Supercross's with an open mind and Bobby(Reagan) told me, "these last three are really important, lets get everything rolling smooth and get some consistent rides in.
I went into Vegas really wanting a podium, that's where I rode good last year on the 450. I got a terrible start, around 14th and just put my head down and really charged and managed to get it on the podium.
I made a couple mistakes on bike setup coming into the outdoors; I went a little too firm on the rear shock and it just beat me up at Hangtown. It felt like it was one thing after another, first was figuring out the shock setup, then it was dehydration at Freestone, then I got sick and couldn't ride during the week. Lately, I've managed to put in more consistent rides and it's been working over these last 3 races, I've managed to ride my way into 4th in points and I'm really looking forward Unadilla. It was nice to have some time off finally but I'm looking forward to these last four, still hungry to win like I've always been. Things are coming around to where they need to be and week in and week out the speed is there; just need to clean up little mistakes here and there.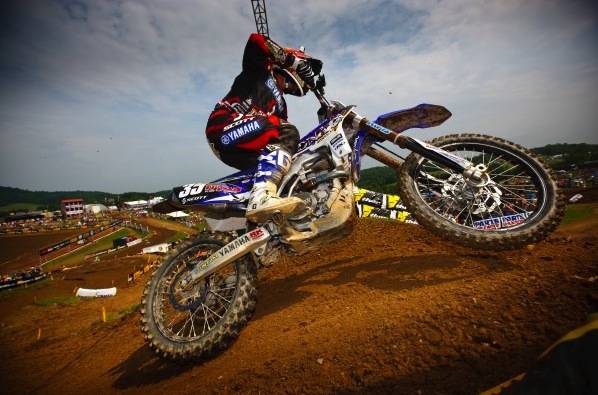 Bubye crashes, hello consistency.
How's the bike been? You must be happy with it since you already signed your deal for next year.
Yeah the program is really good. They've put a lot of time and testing into the motors. I feel like the Yamaha is a great bike, I have that relationship from riding with those guys as an amateur, Valli last year and Y.O.T. in '07 so, I've always had a great relationship with Yamaha. Bobby Reagan, Alan Brown, Brad Hoffman over at the team, they've done a great job with developing the bike. I didn't even have to really think about signing my deal for next year; I feel like all the testing we've done this year and the progress we've made is really going to pay off next year.
With only getting top 3 bonuses, these 4th's have to be a bit frustrating eh?
I guess you could say it's maybe a little frustrating but I've been working with Jerry Masterpoole at his new facility in Texas and we've made some small beneficial changes with my riding so, you can't look down on the 4th's you know, they've got me to where I am at 4th in points. I've had a few bad rounds lke 2nd moto at Budd's, I could barely hold on with how sick I was. Obviously to get those bonuses would be nice(laughs) but the most important thing is we're making progress still. I read a couple of interviews, I think it was Matthes who said I got my 459th 4th overall(laughs).
I'm racing a great group of guys too you know, the Lites class. I can't get down on my 4th places, I feel like I've done a great job, I know Bobby's super happy and I'm just glad I can get the results for Yamaha.
You were really impressive on the 450 in Vegas last year, any chance you'll race the Monster Energy Cup on a Star prepped 450?
I haven't talked to Bobby about riding a 450 there, I'd like to race there for sure. Racing in Vegas at Sam Boyd always seems to be nice to me for some reason. I told Bobby I'd like to race there if given the opportunity but whether its on a 450 I'm not gonna worry about, if I could go and race a Lites bike, I wouldn't mind doing that either.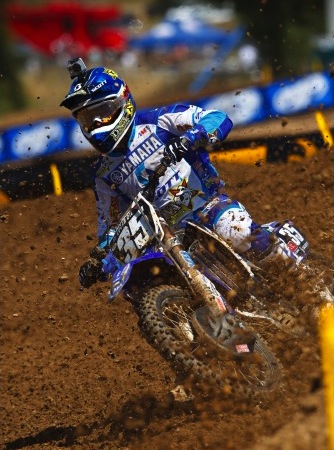 PC is bogarting the podium but Kyle is one guy who has a real shot at it.
How happy were you to have a Washougal that gave you a break from the crazy heat at those last few rounds all in a row?
It was nice, I was surprised because it was so cold in the morning but by the afternoon it actually got kind of hot. I've been staying in Texas this summer and just going out to the track somedays you think, "man, I just wish it would cool down a little bit(laughs)". You get the occasional gust of wind that makes the 108º heat index feel like, oh, maybe 98º. You get to Budds Creek or Millville and its just a completely different kind of humidity. It's always hot and humid in Texas but when you get to these other hot tracks it's just totally different.
Do you think you have everything you need to break into the top 3, in these last few races?
The outdoor season is preparation for looking toward next year but I want to keep swinging at this and get it up there on the box. I've been working hard and getting close like this last race at Washougal I put in a really awesome first mtoo and pulled down a 3rd. Second moto I was asleep on the gate but worked my way up from about 18th to 7th on a track which was very hard to pass on for another 4th overall. It's been nice to be able to get more seat time during the week after not being able to get seat time earlier in the season when I was sick.
I'm looking at the big picture, preparing for next year but we're also gonna come out swinging at these last four rounds. It would have been nice to back up that 1st moto start with another in the 2nd moto but I gotta look back at Millville too where I had two good starts and realize my starts are getting better, and I'm continually doing what I have to do to get up on that box before it's over.
Good luck the rest of the year Kyle, your'e a good guy and it's nice to see good guys do well. Now lets hear that sponsor list.
Bobby at DNA Shred Stix Star Racing Yamaha, Alan Brown, my mechanic Andy, Brad, Dunlop, Scott, Cosworth, FMF, N-Fab, Pod knee-braces, Sycuan Casino; they really stepped up for us outdoors so a big thanks to them.