Haven't heard of Minden Nevada's own "Tech One Designs"? Poppycock I say…

Haven't heard of Minden Nevada's own "Tech One Designs"? Poppycock I say…
The Background
Matthes asked if I wanted a pre-designed PulpMX graphic kit for my bike from new PulpMX Show supporters, "Tech One Designs". My '09 One Industries Factory Suzuki replica kit was beginning to look a bit beat so I figured, yeah, it's a good time to refresh. Jonathan from Tech One Designs sent me an email with wording that led me to believe I could design a fully custom kit and he would be on-board to print it up for me. Matthes was leaning toward me just running their predesigned kit, to get it some promotion and optimally sell more of them. My thinking was, why not take away the possibility of people focusing on the Tech One designed kit and make the focus on their durability, color reproduction and general quality of product. This way, if you think the kit looks like shit, it isn't a snipe at Tech One, it's all me baby and I'm fine with that. In typical Matthes fashion, he didn't care. If Jonathan was cool with it, then he was ok with it too.
Criteria for Success
When I unpacked the graphics from the package, I was immediately very impressed.
One of my biggest worries was the vibrant color demands my rendering required. I've seen many kits printed by lots of different companies who simply couldn't nail the vibrancy represented on screen. Being a designer, I'm well aware of not only the limitations of print colors compared to backlit screen mockups, but also moving from the RGB(Red,Green,Blue) of the screen to the CMYK(Cyan,Magenta,Yellow,Black) of print production. I can't imagine the printed color being any closer to what I designed on screen than what Tech One Designs delivered. That's concern number one obliterated. Score one for Tech One Designs.
The second biggest concern I had was the quality of the vinyl and adhesive used. This concern was nonexistant the moment I handled the graphics. They were what I consider a perfect mix of thick, more rubbery than rigid plastic, vinyl. When compared to the One Industries kit I was replacing(which was much more rigid and far less pliable) I was confident the install would be much less frustrating.
Sometimes when I install graphics I will score(not a goal but with a razor blade you hockey fanatics) a 1″ wide section down the center of the vinyl backing to align the graphic on the plastic. Other times I will just coat the plastic with a glass cleaner(some people use soapy water); this time I went with the glass cleaner option and it worked like a champ. By far, the pliability of the Tech One kit made this the simplest graphic install I've ever done. I always make sure to have a heat gun handy when finishing up to get the excess glass cleaner dried up so the adhesive can do its thing. Lastly, I set the plastic out in the sun one piece at a time as I move on to the next piece.
Have a look below. By all accounts I can honestly say, I'll be using and recommending Tech One Designs from this point on. One last thing which makes using Tech One a no brainer for me, Jonathan is awesome to deal with. He knows what he's doing and is passionate about it. What more could you ask for?
Check out Tech One Designs website for pricing and the selection of semi-custom kits; or do what I did and send him your creation and be amazed when you see it completed and looking as good as you had imagined.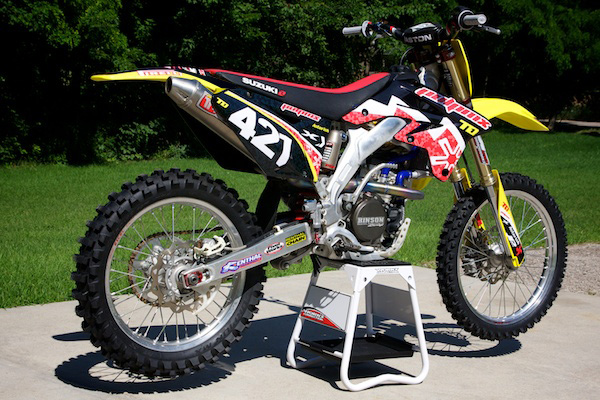 Passenger side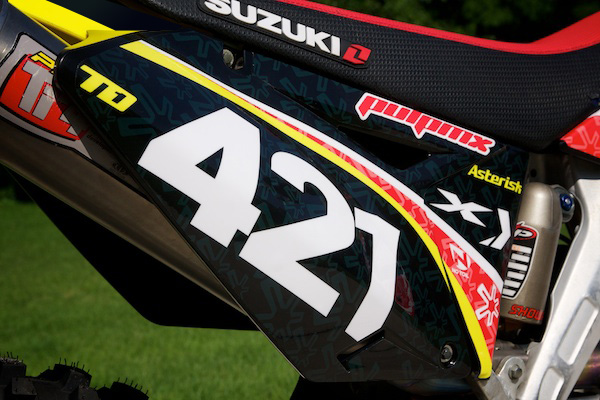 Note the ghosted Asterisk logo throughout the graphics.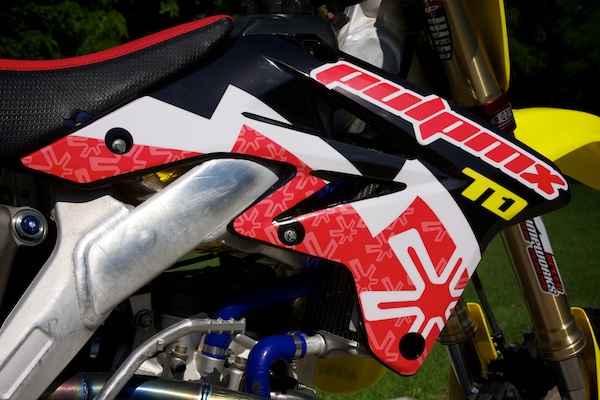 The die-cuts were damn good.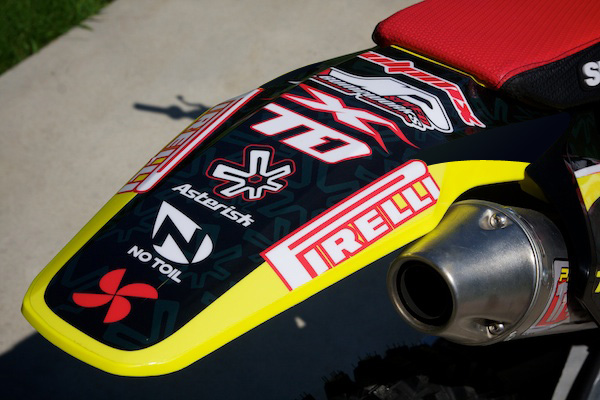 The tailgate.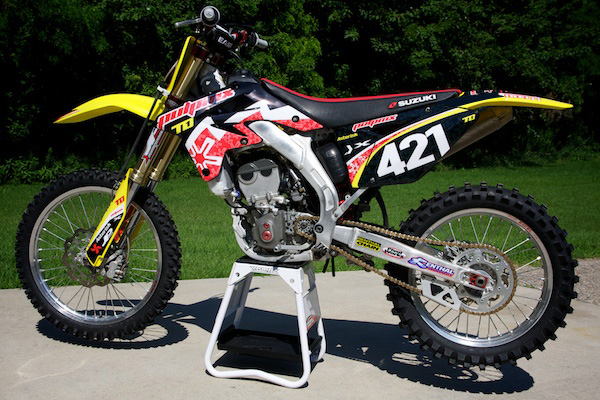 Driver side.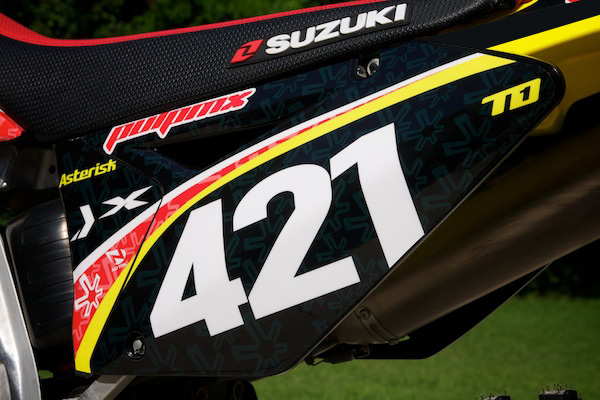 Tech One has a great logo too which looks great in any kit.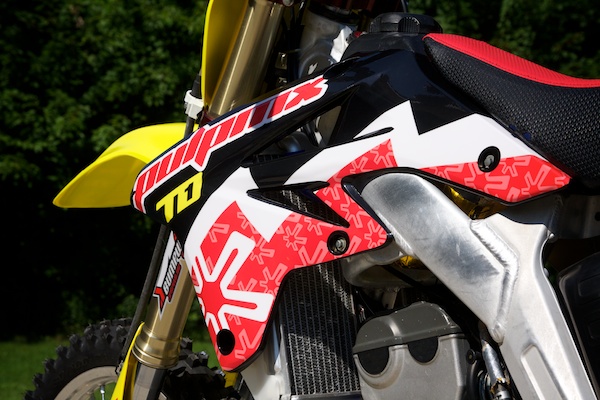 Get your PulpMX Superfan graphics now.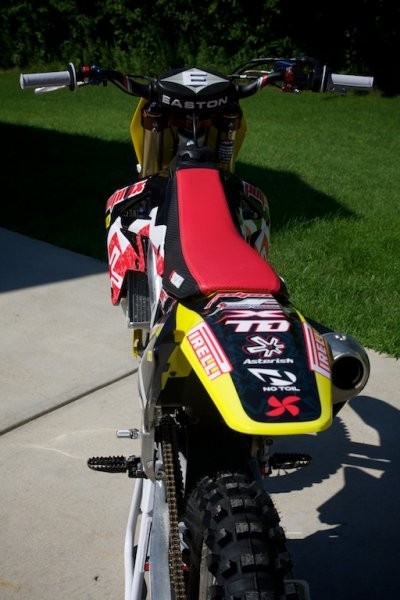 Cock-pit view.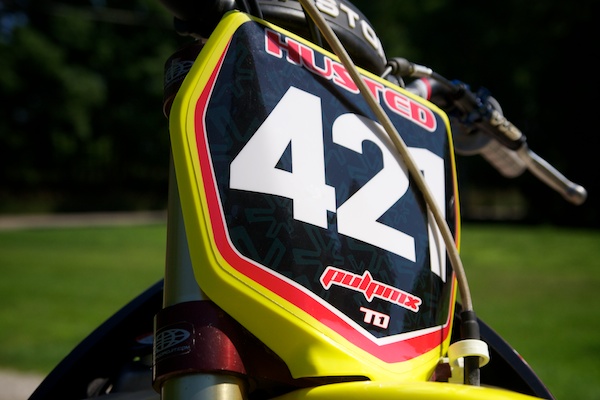 This plate never see's dirt. (uhhh yeeaa, sure.)