Pulpmx correspondent Mccready with the report right here.

Pulpmx correspondent Mccready with the report right here.
World Champions elect Cairoli and Roczen win the British GP !
Photos by Paul McCready
After two years without a British GP on the World Championship calendar, Great British fans finally got their wish when Matterley Basin, home of the 2006 MXDN, was the popular location for the return of one of the best GPs of the year.
A couple of showers gave way to mainly sunny skies shining on a track that was in prime condition throughout the two days, and one that Ken Roczen called the best in the World Championship.
It was no surprise then that Roczen took two dominant victories, holeshoting both motos, Roczen fended off early pressure in race one from Joel Roelants before opening up a comfortable gap, while in race two Jeffrey Herlings stayed with Roczen as best he could until back markers got in his way and Roczen rode to a ten second victory. Roczen now has a 43 point lead going into the penultimate round in Germany. Ken just needs to beat Herlings by seven points in Germany to win his first world title and do it in his homeland. In England Roczen couldn't walk a few yards from his tent to the press centre without constant requests for autographs, so if he wins the title in Germany it will be complete chaos!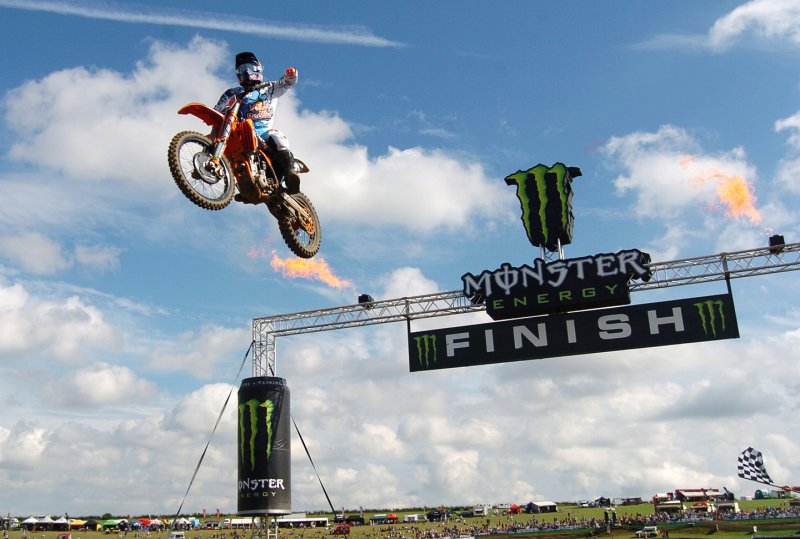 Once again, Ken Roczen was the man and is very close to clinching his first World Title.
Tommy Searle did all he could to win his home GP, he just couldn't compete with the starts of Roczen but still finished a popular second overall. In race one he was about tenth off the start but put in a scintillating performance, ripping his way through the field to the roar of the crowd on his way to a fantastic second place, it was Tommy Searle at his best, if he had got away with Roczen, Tommy would have challenged him for the win such was his speed. In race two Searle got away in the top five and got himself into third but he couldn't find a way past Herlings, until a bike problem for the Dutchman on the last lap let Searle through for another second place.
Fan favourite Searle was happy but frustrated after his first British GP since 2008, "It was good, I would have liked to have won, but it wasn't to be. I had a good first race, I had a really bad start which sucked, so I had used a lot of energy which set me back for the second race where I got a good start, but I wasn't able push because I was tired. The first race was great with the crowd, I had pins and needles in my body when I was making the passes, so that part was amazing. I was glad to be on the podium for the British fans but I would have liked to have won."
Third overall was Gautier Paulin, Paulin was fast on Saturday but fourth was the best he could do in race one even with a good start, while a bad start in race two still netted him another fourth place, but his lap times where right there with the top three, indeed his best lap was only a couple of tenths off Ken Roczen.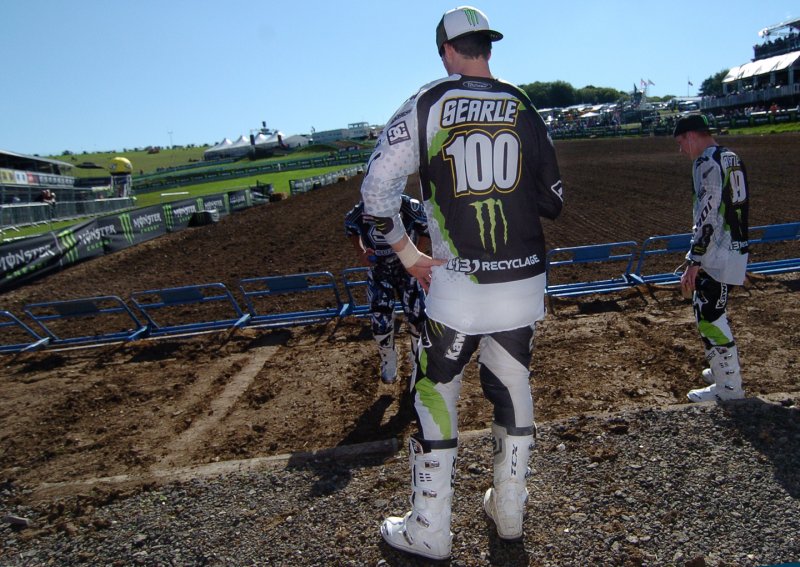 Tommy "Gun" Searle had a good race in his home country.
Jeffrey Herlings all but lost his chance of winning the world title in Great Britain. A first turn crash in his qualifying heat on Saturday left him with twenty second gate pick on Sunday, he made a decent start in race one and quickly moved up to third before struggling and going backwards again to seventh. Race two was more like it, a second place start saw Herlings stay with Roczen for half the race before back markers came into play, then with Searle still close, Herlings suffered a bike problem on the last lap demoting him to third, and leaving him off the podium in what turned out to be one of his worst GP points hauls this season.
Jake Nicholls rode great in front of his him crowd to score sixth overall while Anstie came from two bad starts for two top tens and eighth overall, in what was a successful weekend for the British fans in MX2.
Joel Roelants rode his best race of the year in race one finishing third and putting him in the frame for the Belgian MXDN team, only a mechanical on race two prevented a possible podium.
Another late season bloomer is Valetin Teillet, the young Frenchman is flying on the factory Suzuki and would have been top five overall if not for a derailed chain in race two, he could be a regular podium threat if he stays in injury free in 2012.
MX2 O/A: 1. Roczen 50pts, 2. Searle 44pts, 3. Paulin 36pts, 4. Herlings 34pts, 5. Tonus 28pts, 6. Nicholls 28pts, 7. Charlier 24pts, 8. Anstie 24pts, 9. Tixier 21pts, 10. Roelants 20pts
MX2 Championship points: 1. Roczen 590ts, 2. Herlings 547pts, 3. Searle 479pts, 4. Paulin 425pts, 5. Tonus 353pts, 6. Anstie 342pts, 7. Osborne 295pts, 8. Kullas 287pts, 9. Aubin 242pts, 10. Roelants 226pts
In MX1 it was Antonio Cairoli who won the GP and is within touching distance of his fifth World title, but it was Christophe Pourcel who announced his official return to form, while Stephen Frossard will feel he should have won the GP!
With both Evgeny Bobreyshev and Clemant Desalle missing due to their crash in the Beglian Championship just five days prior, it brought to five the number of factory riders missing in action on the Grand Prix circuit and four of the top ten injured.
Despite the absentees MX1 was crazy, it was a ding dong battle between Christophe Pourcel and Stephen Frossard in race one, the French duo continued their battle from the Qualifying heat, and just like on Saturday, Christophe Pourcel came out on top. Pourcel was ultra smooth and easy on the throttle as he stalked Frossard, but it was only when Frossard stalled that Pourcel could make a decisive move for the lead. Frossard restarted and closed the gap but ran out of time to retake first position. Pourcel took chequered flag with joy and was visibly relieved to be back battling at the front and winning.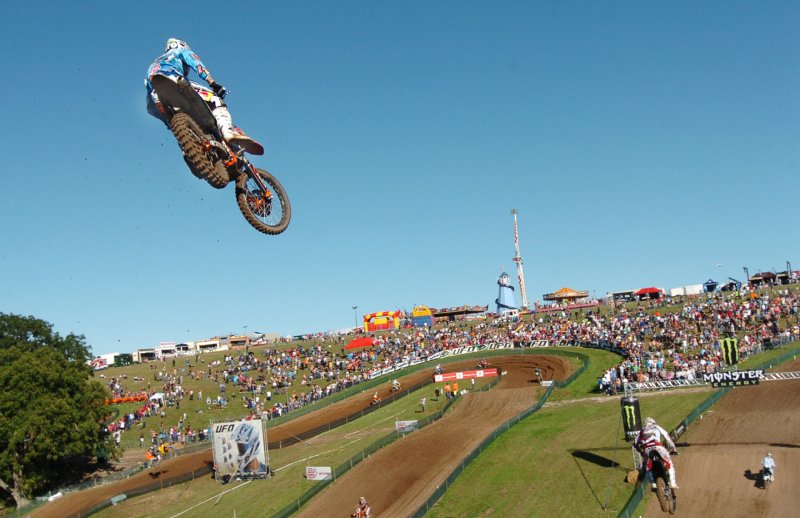 AC222 came through with the win but it wasn't easy.
Meanwhile Cairoli struggled with a mediocre start and slowly and safely navigated his way through to a distant third.
Billy Mackenzie returned to GP action and wowed the home fans by running third for fifteen minutes, MacKenzie would eventually finish seventh. While Brad Anderson and Shaun Simpson battled hard with Anderson eventually claiming ninth and Simpson sixteenth after nearly endoing behind Brad.
Race two began with Shaun Simpson taking the lead to the delight of the home crowd, Pourcel was sitting in second when he went down on a table top on lap one, he fell again while trying to remount and was not a happy Frenchman, as he pulled out with bike damage. Cairoli then crashed while coming through the pack and left himself outside the top ten. By this stage Frossard was in the lead and had the overall in the bag, while Simpson was having his best ride of the season on second, then disaster struck fifteen minutes into the race.
Moments after Xavier boog was carted off with a worrying back injury, Billy MacKenzie quaded the biggest jump in the track while Tanel Leok, who had just passed him, unexpectedly tripled, MacKenzie landed into the back of Leok in mid air and both cart wheeled to the ground. Leok stumbled off the track before collapsing trackside while Mackenzie remained motionless on the middle of the track. The red flag went out so the ambulance could attend the stricken Mackenzie and early reports suggest Billy was knocked out but has no broken bones.
The restart allowed Pourcel back in the race and Cairoli the chance to get his first good start of the weekend. Cairoli rose to the occasion and took the holeshot with Pourcel in his wheel tracks, Frossard quickly got into the third and the race was on for the overall between the top three in moto one.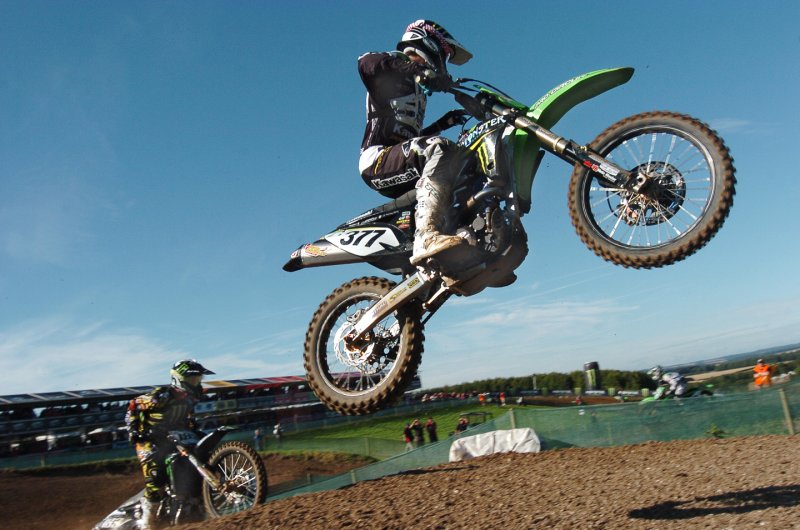 Pourcel finally broke through with a couple of good rides. Now the French have themselves a little MXDN controversy…
Shaun Simpson could not repeat his holeshot, starting sixth Shaun had used so much emotional and physical energy in race two part one that he could only survive the restart, and much to his annoyance, Brad Anderson ( who was selected ahead of Simspson for the GB Des nations team) passed Simpson on his way to a fantastic seventh and fine fifth overall and serving notice that the British Champion will be one to watch at the Des Nations in France.
Up front Frossard passed Pourcel and closed in on Cairoli, but as usual in the last fifteen minutes Cairoli upped his pace and pulled away. Cairoli took the GP victory, tying on points with Pourcel but with a better second moto result. Frossard was a frustrated one point behind, when it looked like he was on his way to another GP victory before the restart.
The big story was the return to winning ways of Pourcel and pushing for possible selection in the Motocross of Nations in a few weeks time. "On the first lap( in race two) I didn't want to go too fast, I was following Shaun Simpson and I made a mistake on the tabletop, I landed it bit short and had a big crash and then a second one (crash) and the bike was broken and I stopped. I wasn't happy about that because it was my fault. It was funny, because I was almost at the car and readyto leave because I was angry, but they came and said lets go and I ran all the way back to the track to get ready for the restart, and we made it. I made a lot of mistakes and crashed a lot this weekend and I need to fix this. I love to ride with Steven and Cairoli, I love the Grand Prix's now, it's good. The racing was clean and these guys have a good speed and it's nice to ride with them. The first moto the track was good, like in the US, but the second moto there were no lines, they could maybe make some changes between the motos, the second moto it was way too rough. I don't know about the MXoN, I am riding with Kawasaki for two more GP's and we will see what happens, I want to be on top in the last two races and we see what we can do for that race.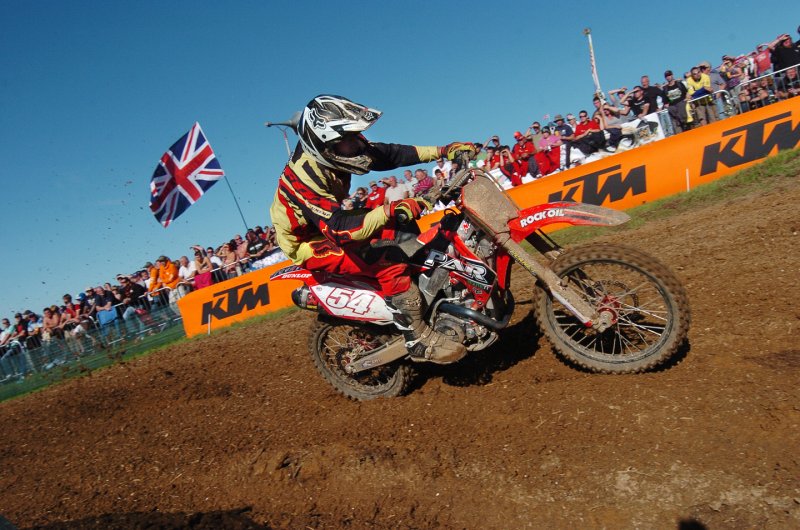 British champion Paul Anderson will be representing GB at the MXDN once again and had a nice right in his home country.
Cairoli meanwhile only needs to score three points in Germany to equal Roger DeCoster and Joel Smets as a five time World Champion. "I only need two points and I hope I can make an 18th place in Gaildorf," he stated tongue firmly in cheek. Cairoli admitted to riding defensive with the title on his mind, and looks forward to when he can ride free from pressure once he has clinched the series, but said he absolutely loved the track, "I loved this place, best even of the season, the organization was good and the track was good, one of the best I have ridden on. After Lommel it's my favorite track."
The series now heads to Germany in two weeks time, where history is very likely to be made as both MX1 and MX2 championship could be crowned!
A quick update on the seriously injured Steve Ramon, who suffered severe nerve damage at the Lommel GP and is very lucky to still be alive at all, as doctors believe the Leatt neck brace saved his life. According to a Belgian reporter and friend, Steve can now move his arms and while he can grip things with his hands he still doesn't have full feeling in them. Steve is still in hospital and needs painkillers in order to get to sleep in what is one of the most painful injuries you can have. It is anticipated it will take Steve at least a year to recover to being able to do normal activities, it will be a hard and painful road both physically and emotionally and we all hope he can make a full recovery so he can live a normal life. It was a horrible way for the silky smooth, quiet and humble two time World Champion and MXDN winner to go out, and at this moment riding a bike again is the least of his problems. Get well soon Steve.
MX1 O/A: 1. Cairoli 45pts, 2. Pourcel 45pts, 3. Frossard 44pts, 4. Nagl 32pts, 5. Anderson 26pts, 6. Barragan 25pts, 7. Boissiere 23pts, 8. Guarneri 23pts, 9. Goncalves 22pts, 10. Campano 21pts
MX1 Championship points: 1. Cairoli 554pts, 2. Frossard 472pts, 3. Desalle 461pts, 4. Nagl 410pts, 5. Bobryshev 387pts, 6. Goncalves 371pts, 7. Philippaerts 308pts, 8. Barragan 279pts, 9. Boog 272pts, 10. De Dycker 268pts