Yeah sure it's a lttle late but here are Pulpmx Superfan Moser's Moservations from his hometown national.

Yeah sure it's a lttle late but here are Pulpmx Superfan Moser's Moservations from his hometown national.
Matthes note: For some reason Moser thinks spelling "would" as "wood and "come" as "cum" is funny and despite me asking him to not do it, he keeps it up. Maybe he doesn't know the right way, I'm not sure. I do know that I'm not going through this and fixing all them like I usually do so in a sense, he wins. Whatever- just don't complain about it on the bottom ok?
All the behind the scenes Moservations from the Washougal national
by Corey Moser
Preface:
Long story short a group of like minded moto enthusiast friends go on two annual man trips the Seattle SX and the Washougal National, we have a really, really good time, I wood bet we have a better time then anyone else attending the race. If you want some more back story on our shennanigans search for Moservations "being there" on the pulpmx site and you can read about the 2011 Seattle SX trip.
The Players:
The group that attends these man trips varies in size depending on the year but one constant has always been my best friend @chris__holliday aka the Cryer, @Bigred140 aka the Ginger and myself aka Moser. We received a heavy blow when the Cryer's wife was a bridesmaid in a wedding this year the same weekend as Washougal and he wood be unable to attend. Although he broke the news months in advance we held on to some small piece of hope that maybe just maybe the soon to be bride and/or groom wood stray and the wedding wood be called off but it wasn't meant to be and the Cryer woodn't be joining us this year breaking a long standing tradition. To say I was heart broken, crushed, hurt, and had an upset stomach over the Cryer my BFF not cumming wood be an understatement. The only logical solution was pretty obvious, I made a cardboard cut out replica of my BFF and named it the Cardboard Cryer and brought him with us. It was a small group this year but also the most attractive group we've had, Ginger, Cardboard Cryer and Moser.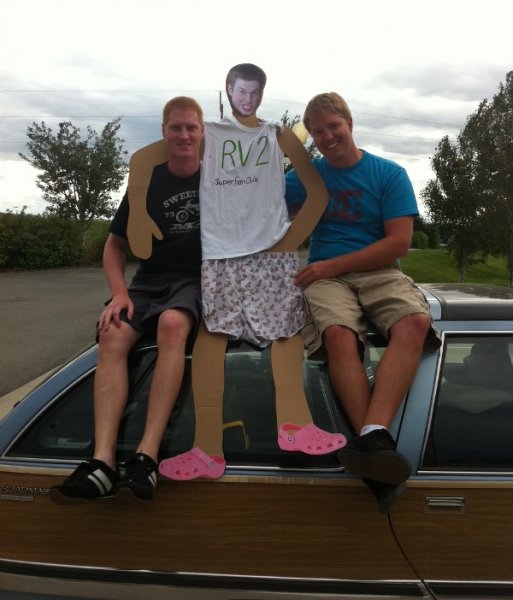 The three amigos. Or the two amigos and their cardboard cut-out.
Thursday:
The Nationals changing to a one day format was a double edged sword as we now miss out on watching practice and qualifying all day Saturday, on the flip side we also don't have the 7hr drive home on Sunday night and that was a brutal drive after watching the races all day. This left a huge hole in our weekend plans with nothing to do on Saturday, well as luck wood have it Portland a very short drive from Washougal also has a Brewfest beer festival the last weekend in July generally the same weekend as the National and this filled in our Saturday quite nicely. We've thoroughly enjoyed Brewfest for several years now it's becum part of our Washougal man trip weekend tradition, it's alot of fun I highly recommend it. Before leaving Thursday evening I randomly checked the Brewfest hours of operation and was dealt another heavy blow, because of some weird moon cycle, Mayan calendar something or other there was one more full weekend in July the weekend after Washougal. The trip wasn't starting off on the right foot.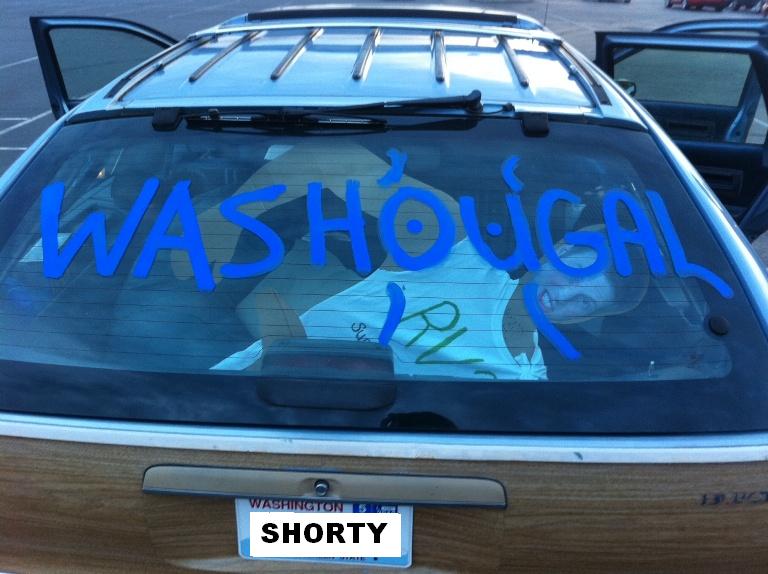 Washougal or bust!
The Ginger and I loaded up my Woody, 1991 Buick Roadmaster Estate Wagon (yes that's a mouthful) and as we jumped in to hit the road I asked Ginger to hand me a water out of the cooler having previously planted a Smirnoff Ice. Having now ICED the Ginger (if your not familar with ICING someone check it out onYouTube it) and setting the tone for the trip we hit the road. Cardboard Chris was stratigically placed to wave at anyone following the Woody. We started off our trip with the smooth and sweet sounds of Matthes and Watson's voice through the tape cassette to audio converter. We stopped in the Tri Cities appx. 2hrs into the trip for some dinner and camping supplies. The last few years the Ginger and I have shared a large pepperoni Little Caesars pizza at the steep cost of $5, that's $5 total, $2.50 each we splurged on some "crazy bread" also, we're real high rollers. We hit the local liquor and grocery store next for the weekends amenities, whiskey, vodka, mixers, beer, cookies, crackers, water, then it was back on the road again.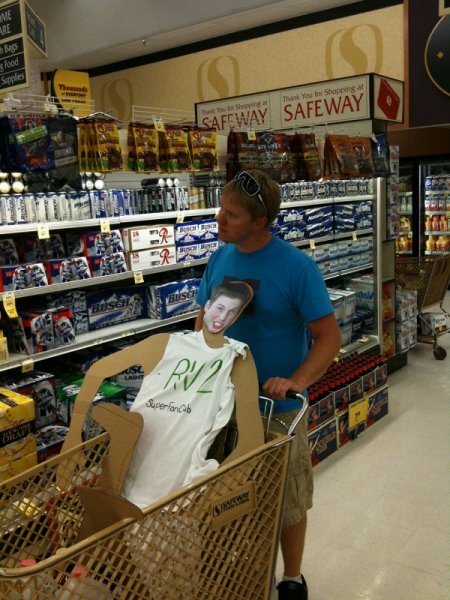 Shopping for the MENcessities.
Our preferred route is south through Washington across the Columbia River into Oregon onto Interstate I-84 it's a divided highway and makes for an easy drive. At this point in our trip it's now dark and as we cross the Columbia River you can see the lights in a small town of Oregon the town of Umatilla, it's becume tradition at this milestone in the trip to stop for at least one beer at the first bar you see on the right, the name escapes me at the moment but it also helps funds some type of community college scholarship program. We turned the woody down stream and continued our journey towards Washougal along the Columbia River.
The next leg of the drive we discussed and solved the current financial crisis then made a quick stop in the The Dalles to fill the Woody up and switch drivers. The quickest route to the track it to enter from the rear by crossing the Columbia River back into Washington over the Bridge of the Gods, it's an all metal bridge really high up in the air and you drive on those see through grates that always looks pretty sketchy. Now safely back into Washington the landscape changes to the license plate slogan of "Evergreen State" with dense forest everywhere, or as I like to call it Twilight country, so I kept my eyes peeled for Edward and Jacob. Mr. Andrew Short had been generous enough to offer us pit passes so we planned on camping out on the side of the road for the night and pick up our passes in the morning to avoid paying an entry fee, hey we're in a recession.
A previous year we had parked a car down by the Washougal River and we tried in vain to find this spot driving around at 1:30am to no avail so we pulled over on a side road on a somewhat flat spot on the shoulder maybe 100 yards from track entrance. The Ginger and I put down the back seat of the Woody cracked a few celebratory beers and an officer of the law drives by and promptly turns back around at the next driveway. The Ginger put on his best what can I do for you officer voice and after assuring him we weren't trafficking drugs he left us to our camp spot. We carefully set Cardboard Cryer on the dash after switching his face to Sleeping Cardboard Cryer and the Ginger and I climbed into the back of the Woody got cumfortable and it was lights out.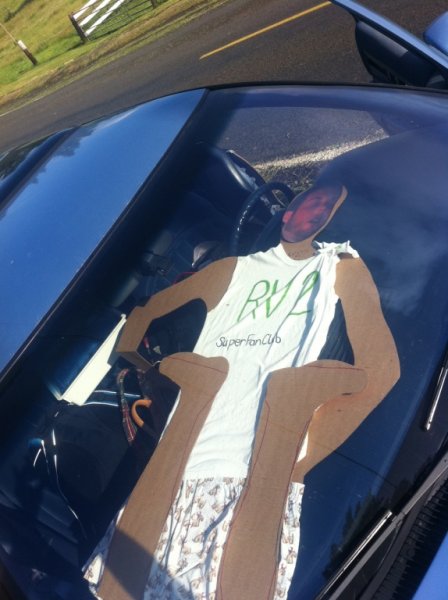 Sleepy Cardboard Cryer
Friday:
After waking up Cardboard Cryer we proceeded to strategically locate our beverages because the Washougal facility doesn't allow any outside alcohol, mind you I'm not admitting that we broke the rules but we've gotten pretty creative with hiding beverages over the years if I don't say so myself. Next up was the Will Call tent to pick up our passes. Shorty was flying in later that day and had not cum through Will Call informing them of his #1 fan's pit pass credentials, I appeared like a real straight shooter with my "@andrewshortmx29 follows me on twitter" tee shirt and the Cardboard Cryer in one arm, I can't imagine why she wood question my credibility. Lucky for the Ginger and I, my good buddy Max from Fly Racing (gear guy to the stars) wondered by and was happy to vouch for us on behalf of Shorty. Listening to Max describe how I was Shorty's #1 fan was pretty hilarious and more than once he was at a loss for words, he did say "borderline creepy" at one point. Max told me about some new 2012 gear he'd brought for Shorty just because it was my home race that I was really excited about. We thanked Max for his help and then breezed through the vehicle inspection with flying colors.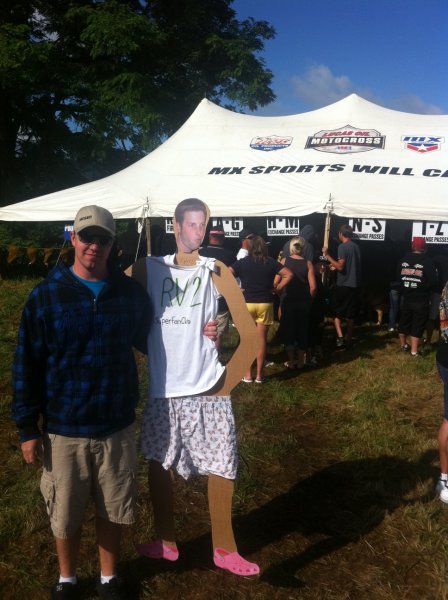 We're friends of Shorty's, I promise.
We camp in the same spot every year it's not particularly flat and it's kind of rocky, but it's shaded, a short walk to the track, and isolated enough nobody hassles us. We pitched a tent, blew up an air mattress and set up camp, soon realizing we had forgotten chairs so the cooler also doubled as a cozy bench for the Ginger and I for the remainder of the weekend. It was mid morning now and the Ginger was complaining about being hungry and something about low blood sugar but I cumvinced him to stroll through the pits before heading into town. Most of the teams were busy setting up their tents and pit areas which is best described as organized chaos. I had to stop by the KTM tent and sat hi to Frankie who was still relatively clean at this point in the day. Without much going on at the track we headed into Washougal for breakfast at Jett Burger. If you like truck stop food and beer there is no better place to have breakfast in Washougal, it's turned into our Cheers if you will as they remember us every year, I can't image why. This year we were even asked to sign a congratulations card for one of the waitresses on her newborn baby.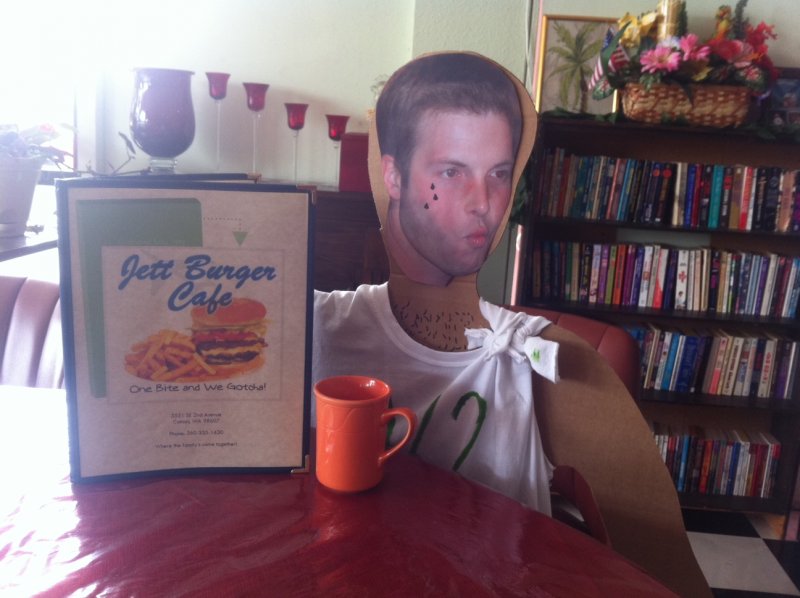 "One bite and we gotcha"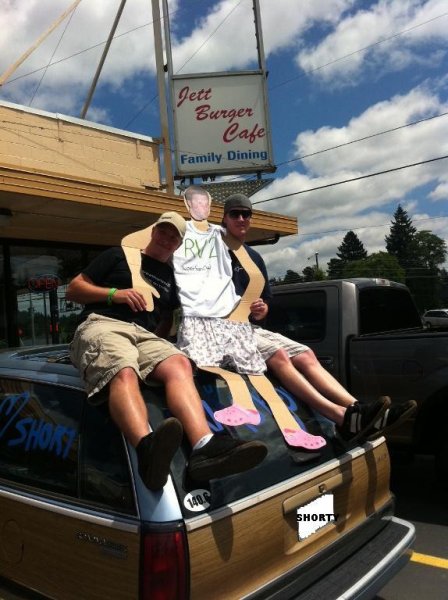 All done with the breakfest of champions.
Having adequately fueled our bodies for the day and without the Portland Brew Fest to attend this year we decided to see what else Portland had to offer and drove into town. The three of us enjoyed a beautiful sunny day walking around town stopping in at various bar's and café's to sample a different local pint. The Ginger spotted Russell Brand and Katie Perry walking down the sidewalk at a fairly brisk pace, I'm not that up on teen pop culture and was skeptical it was them until I saw the growing mob of teens chasing after them.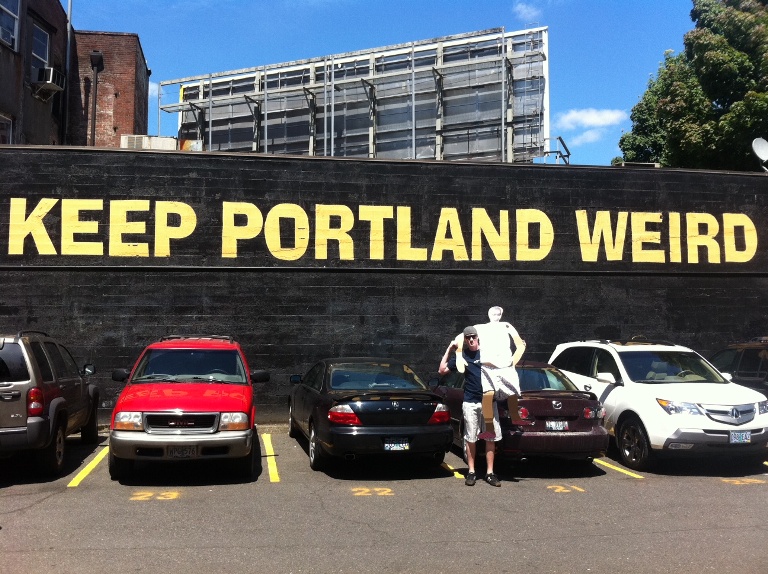 We did our part to help keep Portland weird.
Cardboard Cryer caused a bit of controversy when he was asked to please stand up leave the patio seating at the "Sauce Box" apparently his kind was not welcum there, usually it's the Ginger the gets discriminated against in our group, I wood ask you not support this establishment on your next trip to Portland and if you do I recommend you leave any cardboard friends at home.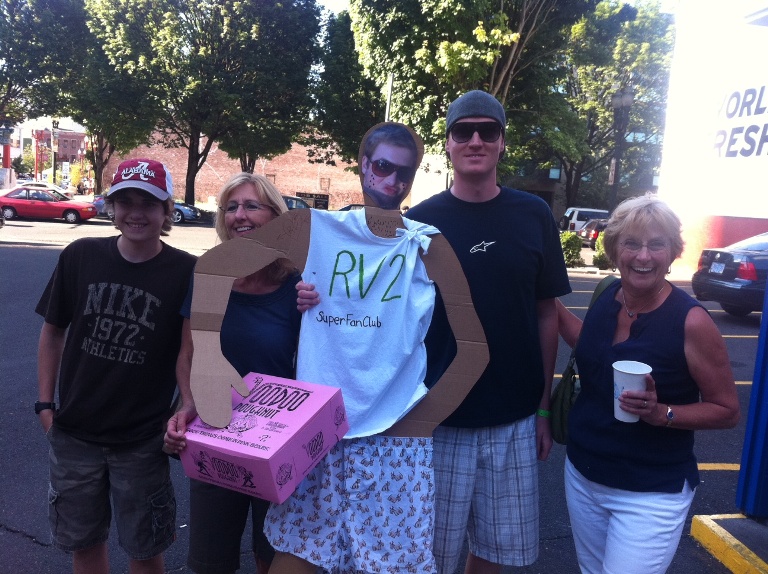 Voodoo Donuts- buy a bear claw and get married at the same time!
The Ginger had started ordering a glass of water with his glass of beer, Cardboard Cryer could no longer sit up straight and I had seen enough of Portland at this point. Seemingly on queue Shorty posted on twitter that the local dealership autograph signing was in full swing so we headed that way. I love driving my woody but I have no desire to sit in my car for several hours everyday and anytime I sit in traffic it amazes me that people are willing to commute like this, point being it took almost an hour and a half to get to the autograph signing and by the time I pulled the Woody into the dealership I had to double park behind someone because I thought I was going to pee my pants. Luckily the dealership had brought in some outhouses, unfortunate there was a line, good thing kids can be bribed and it only cost me $1 to cut the line. After a few minutes of bliss I was feeling much more cumfortable and came walking out of the outhouse with a little swagger. Who happened to by walking to their rental can directly towards me but Mr. Andrew Short himself. We made ideal chat and then he asked about my woody which I was more than happy to show him. While Shorty was posing on my woody Rodger Decoster came walking by and also touched my woody for a photo. The night had started off on a high note for sure it's not every day you get a photo of Shorty and the Man touching your woody. We thanked Shorty for the passes and he headed out to get some R&R for the big race.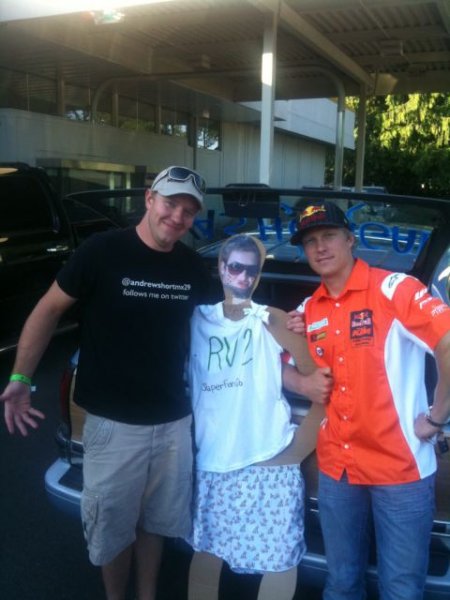 Shorty touching Moser's woody.
We walked through the dealership and Cardboard Cryer got his photo taken with RV which he was really excited about. I overheard a small kid tell his dad "that guy's shirt says Andrew Short follows him on twitter I bet he's lying" I politely corrected him and because Shorty is one of my favorite topics to discuss I chatted with him for a bit about how great a racer and person Shorty is. Shift has been trying to thrust there name back into moto and with Reed wearing it they've been making big strides. Shift hosted an event at this dealership called the "Ride Club" basically it was stock 50cc Honda pit bikes in the basement on a concrete oval track lined with hay bales and chain link fencing. The racing format was a relay race and was full of great take outs, ghost riding bikes and everything short of a fist fight. The bar was serving PBR so I knew I was going to have a great time and when I went to pay for my beer they informed me they were free, this was my type of event. Ginger and I ran into some old friends that we grew up racing with and hadn't kept in touch with and it's always cool to catch up and do a little bench racing. Jeff Emig was calling the racing action standing atop a hay bale with a PBR in one hand it was a cool relaxed vibe. The ventilation wasn't great but the PBR was cold and washed the taste of exhaust down rather well. After the racing rapped up we called it a night knowing that we had a long day ahead of us tomorrow.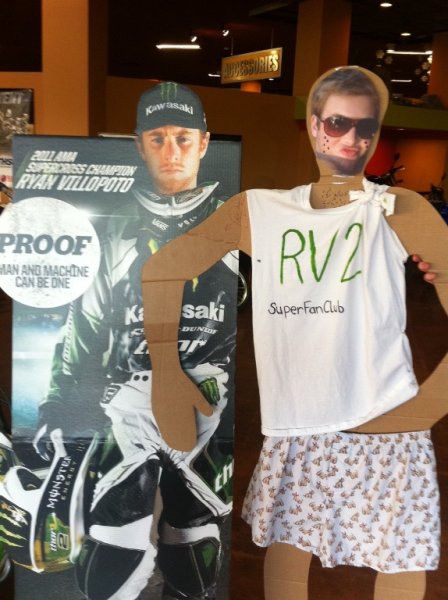 RV has a great poker face
Saturday:
MOTOCROSS MOTOCROSS MOTOCROSS, usually we wake up on race day morning at Washougal to the sounds of factory bikes being warmed up but this year I woke up to the Ginger snacking on Triscuits in the tent next to me. We slipped into our race day outfits, daisy dukes for both of us a "San Diego" shirt and lots of sunscreen for the Ginger, he's a day walker and burns easily, I wore a "A Short Manfriend" custom sharpie sleeveless tee shirt. My birthday generally falls on the same weekend as the Washougal national and this year was on race day, so to celebrate I had a delicious cupcake my wife Mrs. Moser had packed for us and washed it down with a tall can of PBR and we were off to the races. We watched some practice in the infield where the beloved Chuck Sun, Catchers Mitt Corner and Leaches Lump once stood before flattening it for industry seating which I'm still bitter about.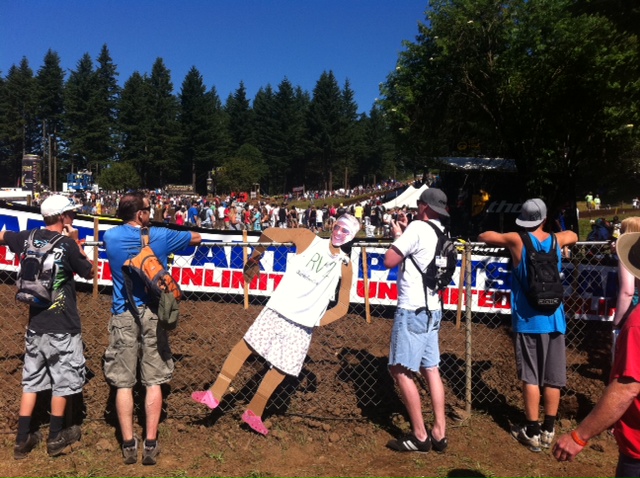 Cardboard Cryer and Ginger watching practice
A motocross fantasy league we're in had breakfast plans over near the tree section so we made our way over there and meet them in the beer garden. While drinking breakfast and watching practice we saw Josh Harris from the Deadliest Catch hanging out, he was a really nice guy and handed me a nearly full beer because he had to go do an interview for Speed, I told him there was no chance I wood be touching his beer to my lips and finally convinced someone else inebriated enough to drink it.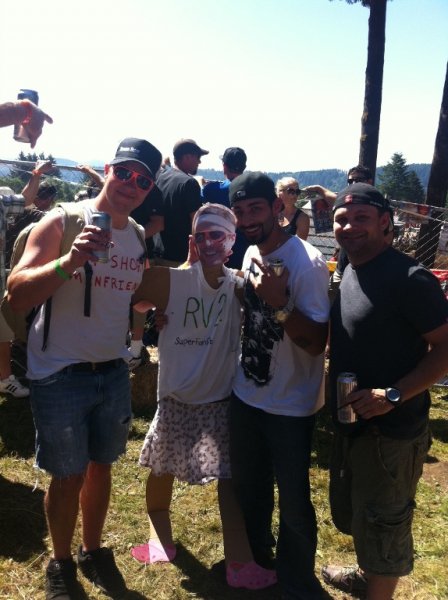 Got crabs?
The Washougal track is unfortunately not ideal for viewing so to get the full experience you have to walk/hike/crawl quite a bit to see each part of the track, we walk all day up and down the uphill and so it's important to stay hydrated. Weege and Jeff Emig where deep in coversation at the top of the downhill I wood assumed discussing rapes finishing wrestling move, but stopped briefly to talk with us and Weege requested a photo with Cardboard Chris so we obliged.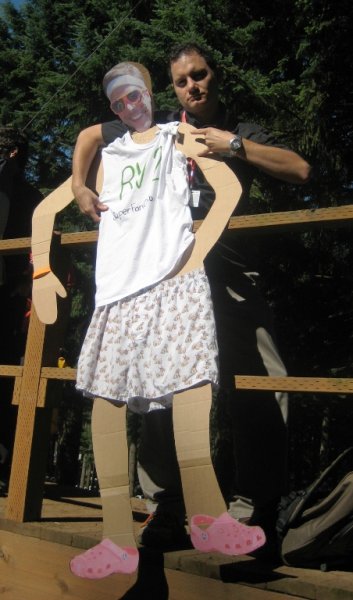 One of these guys has been raped.
After first practice we headed to the pits to discuss line choice with Shorty and bike setup with Frankie. Shorty always the gentleman even let me straddle his bike for a photo, my birthday was starting off great to say the least. Ever see those balls hanging from truck hitches, I brought a pair to hang on Shorty's bike, he may be from Colorado but he lives in Texas now and I felt they were rather fitting, thanks for zip tying them to the bars Frankie.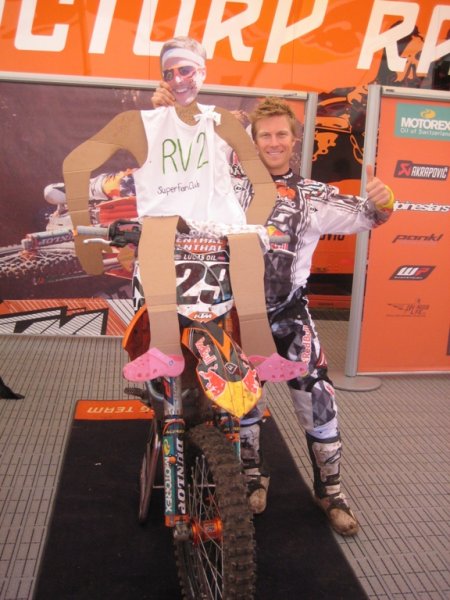 Two smiley faced assassins.
Frankie came to my rescue at the Seattle SX in the form of an iPhone charger and again took advantage of his hospitality plugging in one of my two phones into his work bench straight away, I wood cum and go through-out the day swapping iPhones off the charger thanks again Frankie for letting me invade your personal space.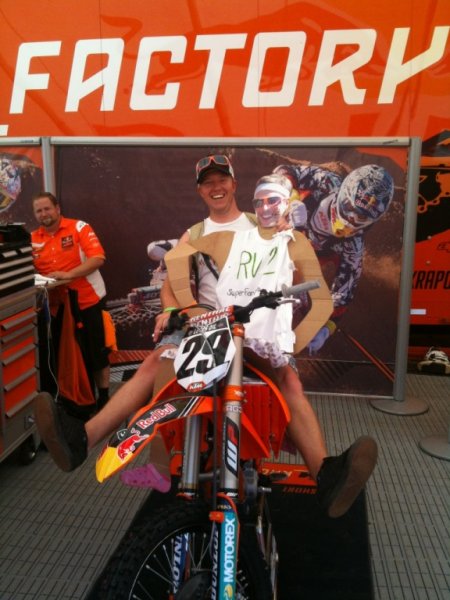 Happy birthday to me!
Next up we ran into Steve Cox who was kind enough to take Cardboard Chris into the Kawasaki truck to be signed by RV and let's just say RV not only signed him but left his mark…….on his ass. My nemesis the press tent was our next stop and with some smooth talking from Cardboard Cryer they were kind enough to let us in without the proper credentials. Matthes was busy pounding away on his keyboard and we made ourselves right at home next to him interrupting his work. Matthes then presented me with and gently installed the new RokForm iPhone case on my phone which I was super pumped on as I'm really hard on my phones and have broken more than one iPhone.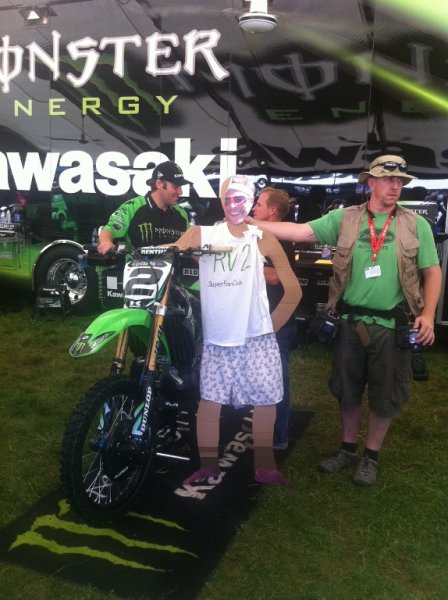 Cardboard Cryer got to second base with RV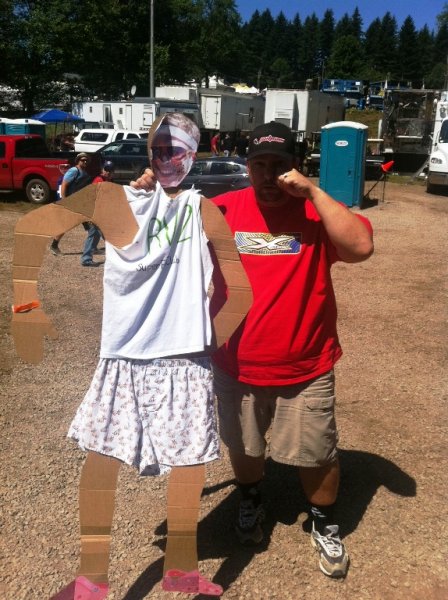 Since cardboard can't really cry, Matthes does it for him.
Mr. Dan Dunes was elbows deep in the press tent also but he stopped to talk with us he's a really nice guy who's just in the sport because loves it. Pulpmx Australian correspondent an expert in all things down under @itsORourke had bet me $100.00 (with the proceeds going to a privateer) I wood be unable to get a photo of Dunes and Cox together as they're not exactly on good terms. I explained this to Dunes and he was all for it he's tried to move past the Cox debacle and is a big supporter of the privateers. I knew Cox was going to be a harder sell, he marches to the beat of his own drum, he's a nice guy but unique. Cox having just "donated" $500 each to Albertson and Lemoine after losing a bet to Kenny Watson was fairly responsive to the idea he had a list of demands that wood rival a celebrity, no eye contact Dunes must stand in front of me 2' to my left, he's not allowed to say anything etc. etc. I promised him the world got the photo and then watched the fireworks as Dunes tried to shake Cox's hand with Cox doing his best to ignore him, awkward is an understatement. Having now stolen $100 from @itsORourke children's college fund, we headed back out to watch second practice.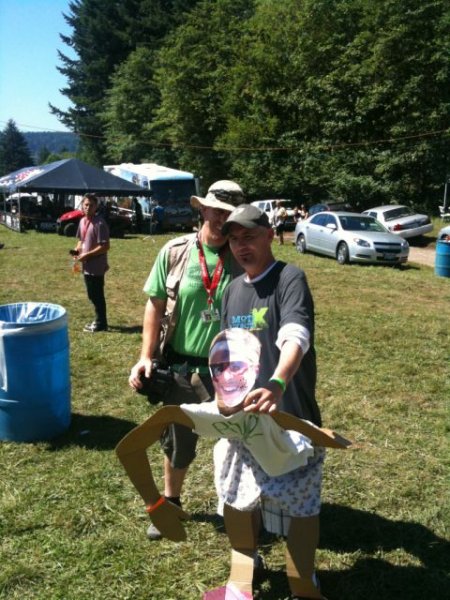 Screwing the pooch.
Practice was rather uneventful beside the obvious that Shorty was looking great out there. On television they talk about how great the dirt at Washougal looks, very loamy but in reality is very slippery underneath, that is true except for in practice before the track gets broke down the dirt really is as loamy as it appears but by the end of the second practice sessions it was already getting slick and the hot sun wasn't going to be helping matters. After practice we hit up our campsite to get some refills, remember hydration is key. The pits are open to everyone prior to the races starting and it makes for some great people watching, long autograph lines, kids running from semi to semi. My favorite are the kids that have on a specific riders hat or shirt like RV2 tee shirt for example and have all the riders sign it, Reed, Dungey, Short etc. ignorance is bliss. When stopping to wish Shorty luck for the 3rd time we meet Tony Alessi who had heard of me, no doubt from my other Moservations columns. As we made our way through the pits towards the starting line we ran into Cox again and we covered a variety of topics, moto, dogs, photography, porn stars, not necessarly in that order.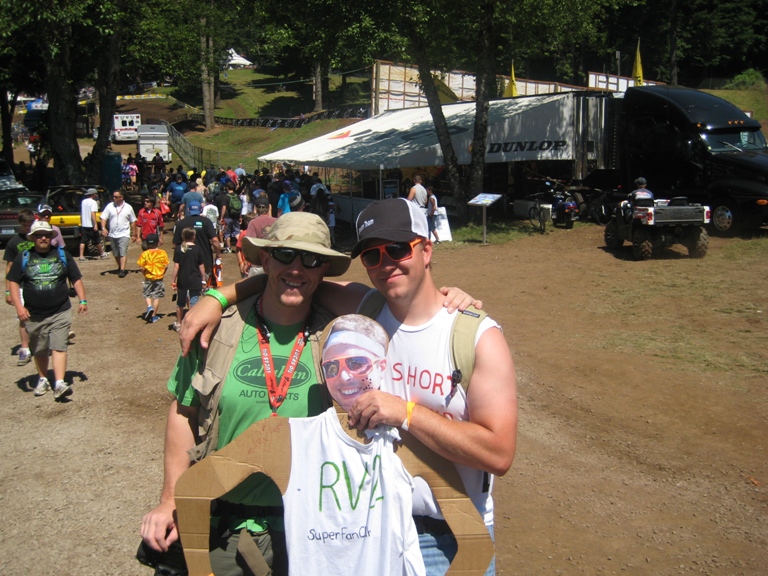 Happier times before Cox blocked me on Twitter.
The 450's began staging so we made the long walk back up to the top of the uphill. Shorty had one of his best starts of the season, I was happy to be of service. I woodn't say there was alot of racing action but Dungey stalked RV the entire moto and it definelty looked like he was going to get him before the checkers, but it wasn't to be. Poor Canard had a good solid race but he was so sooooooo far behind RV and Dungey and so sooooooo far ahead of 4th place whom I don't recall at the moment it was like he was riding by himself. The temperature was heating up and one of the water hosers was kind enough to cool down Cardboard Cryer and myself. Cardboard Cryer's face didn't hold up well to the water and it kind of had a melted look but he toughed it out. The 250 moto's didn't have much racing action either, Ryan Sipes looked great for about 3 laps before dropping anchor and Wilson put on a good charge after starting last more or less and was making passes the entire moto.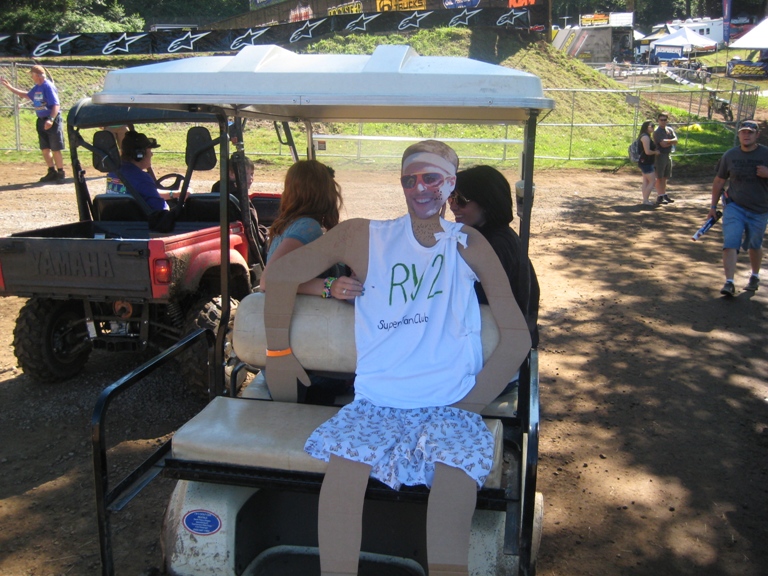 Cardboard Cryer getting the VIP treatment.
After the 1st moto's we replaced Cardboard Cryer's face so he looked a bit more presentable and headed to lunch, also know as the KTM hospitality area. We beat the rush by showing up exceptionally late and literally dined by ourselves which was nice not having to wait in line for food. When Frankie wasn't looking I stratigically placed several Big Mac boxes in his tool box and on Shorty's bike and post a photo for Ken Roczen on twitter who gave Frankie the nickname.
At this point the Ginger had for sure grown very tired of hearing my say "hey it's my birthday (insert request here)" but before the second motos started up I convinced him to walk back and refill our drinks yet again. While roaming the empty pits as everyone was relaxing between moto's I ran across Weege, Fro and the TV crew walking to the start line for some TV magic if you will. Cardboard Cryer and I naturally fell into step behind them as I made idol conversation and tried to "blend in". We walked about half way down the start straight and they got Weege and Fro positioned the lighting correct the camera angle right this was quite the process to watch it took awhile and I was getting thirsty because the Ginger had not returned yet. I attempted to be professional standing behind the camera man as Weege tried to hit his lines but it was short lived after Weege cracked a smile and Fro politely motioned for me to get the hell out of the way. I then lined up against a fence still entertained by watching the process and Fro again motioned for me to move this time appx. 4' to the left so Cardboard Cryer was in the background shot and got his 15 minutes of fame, thanks Fro Daddy, and thanks @itsORourke for the photo.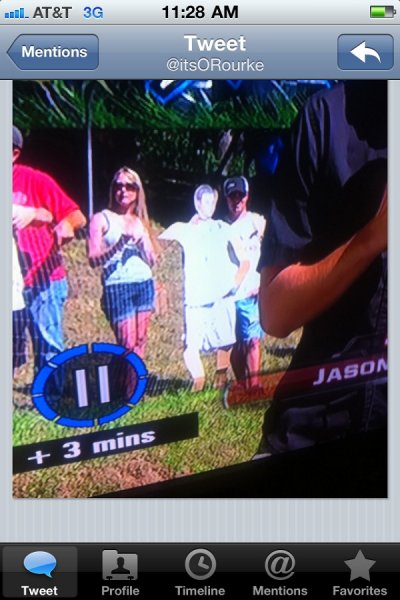 Cardboard Cryer made TV.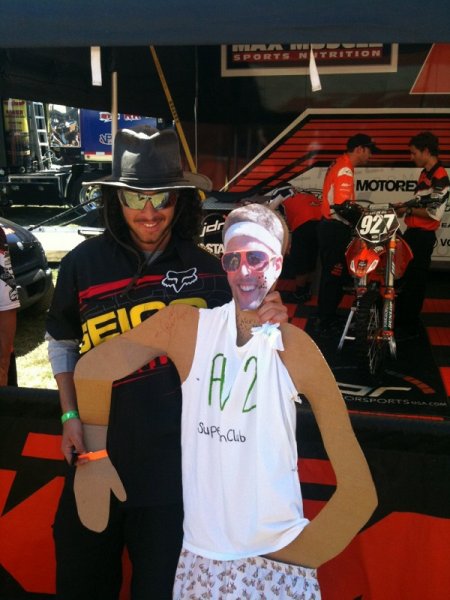 Cardboard Cryer's 15min of fame keeps going.
The 450's took there parade lap and lined up for the second moto. On the far outside was local privateer hero and Winners Takes All inspired rider Greg Crater who was rocking some sweet retro UFO gear. As the 30 second board went sideways I noticed Crater sit up straight and put he bike in neutral as the gate dropped, his clutch perch was so loose it wood fall down. His mechanic snugged it up and he was off to try and win the hard charger award. The Ginger and I managed to find one another again and were making the walk up the hill yet again when the red flag came out after Canard hit the deck again breaking his leg, a real bummer I had meet his mom Carebear in the press tent earlier in the day and they seem like good people. The restart didn't go well for Short so I hydrated accordingly through-out the moto. While the 250's took there parade lap Cardboard Chris and I rested our eyes for just a minute. Through-out the second 250 moto we walked around to different parts of the track making sure we saw it all, satisfied with our track coverage we made one last trip back to the pits.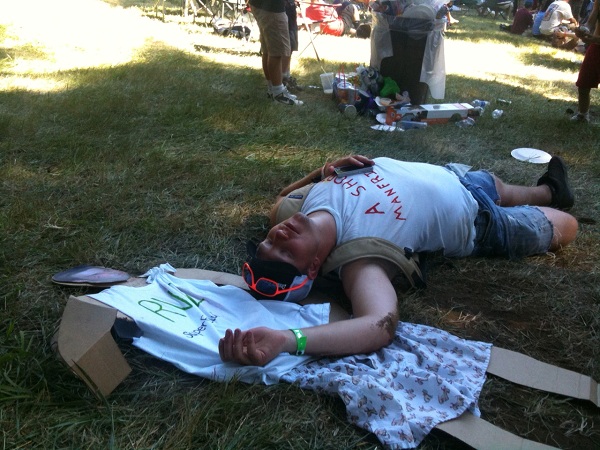 Some guys just can't handle Washougal
I stalked down Shorty I mean tracked down Shorty to get a post race podcast with the help of Matthes for Pulpmx and found him hanging out at the KTM truck. We hung out talked about the race, and waited for Matthes to make the rounds. I had been trying to think of appropriate questions for the post race podcast all day, my goal was to cum across professional but with some Moser humor well it didn't go exactly as I'd planned but it could have gone worse, Shorty aways a swell guy was a good sport about it. Next time I'll write my questions down on my sweaty palms so I don't forget them mid interview. It took all day but I finally got Short to sign my tits for my birthday at this point I was properly hydrated and had accomplished by goals for the day. We thanked and congratulated Shorty on a solid race day.
The pits where quickly packing up and we followed Matthes back to the press tent which was empty except for the legendary Fireman Rob, Weege busting out RacerX video content with TeenWolf and Matt Francis and LeBig whom I meet when Cardboard Cryer almost knocked the table with his computer and camera equipment over. We did some bench racing and LeBig gave me a sticker apparently because I found it in my woody a week later. Everyone was leaving so we said our goodbye's and headed back to camp we grabbed our remaining liquid's and food, then hung out campfire style (minus the campfire) with some old and new friends.
Sunday:
Suprisingly I wasn't feeling that great when I woke up, the Ginger looked like he felt better then I did but we found Cardboard Chris laying in the dirt face down and not looking like he'd been drug around all weekend. We reluctantly broke down camp and tossed our soiled stuff into the back of the woody. Ginger was kind enough to take the first leg of the drive home, while I concentrated on not dying. We stopped for lunch in Hood River at the Full Sail Brewery knowing a little hair of the dog was just what we needed to feel right as rain. Cardboard Cryer didn't get out of the Woody for lunch last year and this year was no different he stayed in the Woody and slept.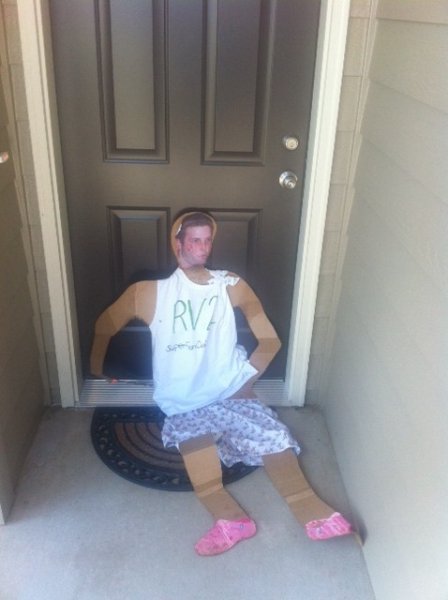 Home sweet home.
After fighting through the hangover with a beer and some food we hit the road again. The drive home is always quite except for when we start laughing so hard we were crying. Cardboard Cryer forgot his keys so we left him on his front door step to wait for his wife to cum home. Ginger and I had a great time but we both decided there is no way were dragging around a Cardboard Cryer ever again it was entirely too much work. Thanks for reading my long story long and please send any complaint's to jasonw@racerxill.com
Here's how you make your own Cardboard Cryer in 3 easy steps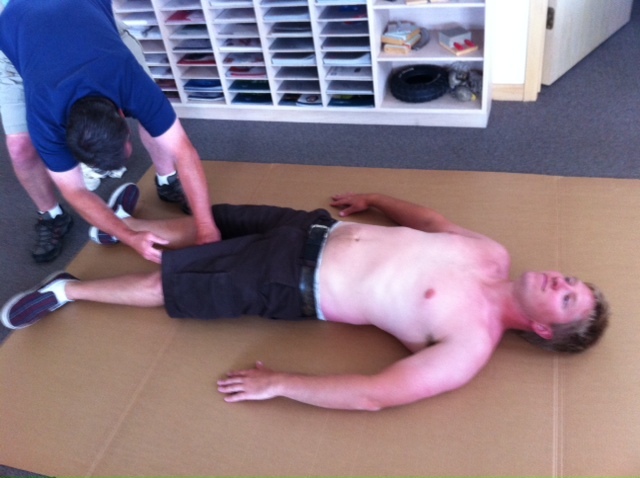 Step 1- Trace out the shape of a real man.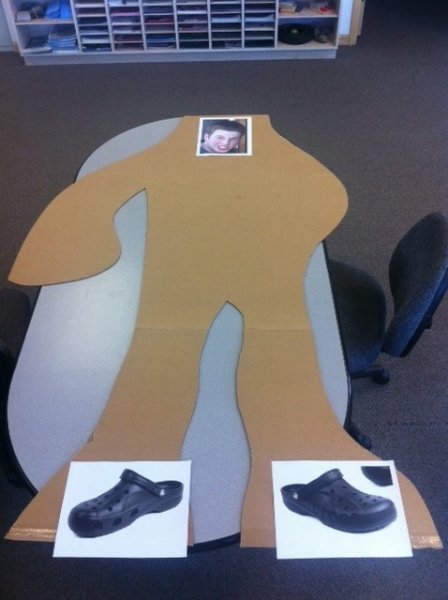 Step 2 Cut it out and print the face and the shoes you feel are best for it.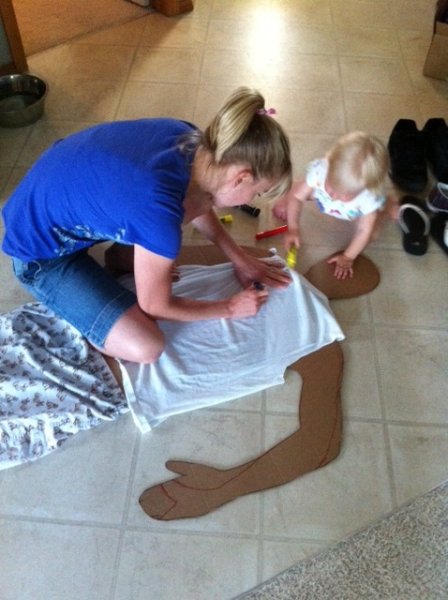 Step 3 Have your wife and daughter finish out the details while you supervise with a beverage.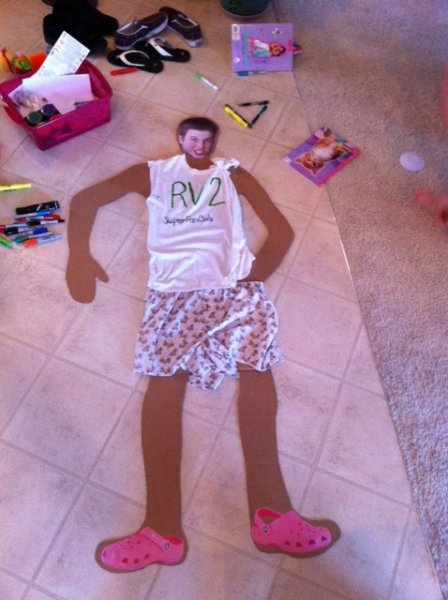 Step 4- All done! Thanks for reading.