All of those people who have been talking shit on Dungey can suck it.
All of those people who have been talking shit on Dungey can suck it.
Photos by: James Lissimore
In the last Swizcorner I made a claim that Barcia would earn his first overall 450 win in Southwick, a race he had won on a Lites bike, near home after a confidence inspiring debut at Unadilla. Well, despite one of many motor's giving up the ghost, no doubt guilty of the standard "electrical issue", Barcia made a valiant effort to make me look like Ms.Cleo. No one should be surprised that Barcia was able to put the bike issue from moto one behind him and just focus on keeping it up-right and walking away from the field on his admittedly favorite track. One thing is certain, "Barcia" is now a permanent addendum to the master plan before both Villopoto and Dungey. One week could be a fluke but a follow-up like Barcia displayed at the Wick kinda puts him in priority status when planning for the next race. Barcia's addition to the 450 class for the rest of the season is shaping up to be a title deciding factor. Reed's speed deficiency at Unadilla and bike issues at Southwick only make Barcia's presence more interesting looking forward to Steel City and Pala. With Barcia putting himself ahead of Reed, he is able to focus his aggression completely forward whereas with a title-contender Reed(long-shot or not) ahead of him, the thoughts of racing reservation creep into Barcia's head, ever-so-slightly but at this level, it's a game of millimeters which separates the top 5.
So yes, Reed's title hopes lie realistically somewhere between Matthes committing to a consistent "lithical" training schedule and GiGi's return to the PulpShow. Sure, its technically as possible as ever but highly unlikely. It's a real bummer too. Following a heroic performance to garner 7pts in moto two at Millville after a legendary ejection, Reed has faced bike issues, mental blocks and a battered body to find himself slowly losing sight of his second 450 outdoors title. It's weird, for a racer who has long been termed a "sx guy", Reed has been damn convincing that he is a well-rounded rider outdoors as well. We all suffer by Reed struggling as this series winds down. This title chase has gone from a three-man dog fight to a battle of attrition where Dungey's bike troubles again prove to be the biggest short-coming in his program. All the while, Ryan Villopoto continues to squash theories on his program's short-comings week after week. First he was actually sick following his SX title, the theories began to float about Aldon training him into decrepitude. Then focus switched to him and the bike not jiving which apparently had some merit as the team made a drastic call to switch to the '12 bike which garnered RV2 his first 1-1 on the season. All the talk quickly turned to RV for the first time this season looking like the RV2 of old in the motocross series. Remember, the dominating Lites career and his sole appearance in the 450 class when he straight laid wood to the field at Glen Helen in 2009, poor starts and all.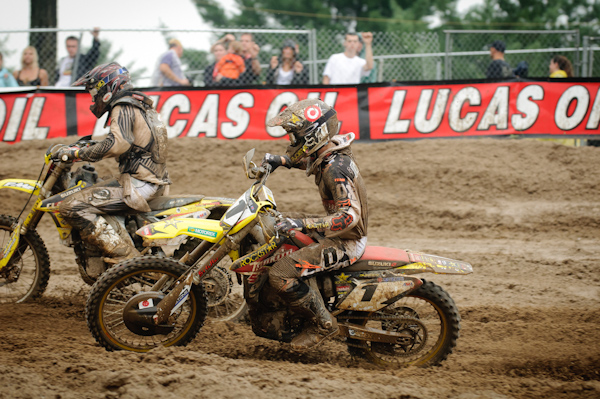 Fortitude.
Then comes Southwick where Dungey grabs his first holeshot of the season and turns it into a wire to wire win with RV2 in tow. The title was still shaping up pretty predictably. Beyond the top 2 positions though, the names and finishes were pretty unique for this outdoor season. Third was the always strong Metty. Fourth, the Cunningham of the big bikes in 2011, Mike Alessi. Fifth was the stellar finish for Canadian Colton Faccioti. Sixth, another solid ride for Jake Weimer, seventh was held down by Justin Brayton, eighth was a great result for JGR fill-in rider Les Smith, ninth was filled by old faithful, John Junkyard Dog Dowd and tenth belonged to Robby Marshall. Yup, standard unpredictable Southwick.
Factor 41
No, this isn't a reference to Trey Canard, it means beyond the 40 rider gate was the 41st combatant for the field, Irene. Everyone knew she was coming and the chances were good for her visit to bring dire conditions and have an undeniable affect on the results and possibly the title. And she did. Another mechanical DNF for the 22 as well as 10 other racers. Above and beyond all story-lines in the second moto was the drama surrounding the current MX Champ, Ryan Dungey and his missing steed preceding the gate drop of moto two. Scratch that, following the gate drop of moto two, Dungey was still waiting for his machine! Andrew Short knows exactly the feeling Dungey's stomach and brain were experiencing as the bikes were revved and riders focused on the gate pin. I hope, I know it's not gonna happen but I CAN hope, that all the ass-clowns out there who question Dungey's head strength and resolve will finally Shut. The. Eff. Up. Dungey gets started mere seconds before Barcia completes his first lap which would seal Dungeys fate not allowing him to join the race, and finishes 7th!!?? Seriously, if you ever question Dungey's mental strength again, please become a fan of swamp boat racing or the like because you're own mental fortitude is the setup which deems questioning; not the kid, yes kid, who has won or been in every single title he's contended down to the final race of that series for 3 seasons! Let me emphasize again for you who question him, Dungey has won every series he has contended since 2009 save for a 3rd in 2011 SX where a derailed chain was HIS difference between the title and 3rd(yes each rider had a race like that so the point is moot but interesting nonetheless). By the way, I've been a critic of Fox gear for a few years now, aside from the Red/White retro ensemble debuted at Daytona this year, I though Fox was way off the mark of other gear brands for designs I felt were working or intriguing in the least. Maybe it was the lengthy look which gave me time to consider it but Dungey's Fox gear in moto 2 was some of the best I've seen since the early-to-mid 90's AXO and Fox gear worn by Chicken and The Beast. I'm actually really stoked on it, well done Fox. Back to the point at hand though. I'm sure all of you recall Villopoto's public and repetitive criticism of Dungey last year during the outdoors when an understandably frustrated RV2 watched with all of us as Dungey pretty much slaughtered the class save for a few stellar rides by Grant, Metty, Windham and the always solid Short. Do you think RV2 still feels the same after battling with Dungey this season? Not a shot in hell. He may not be buddies with him but you bet your ass the respect is there now and he doesn't dare underestimate him.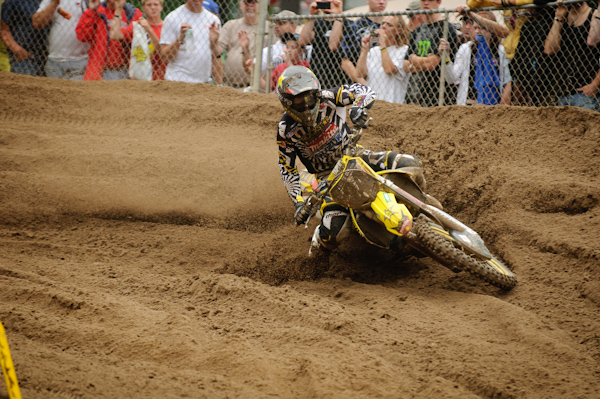 Metty was owed this.
When all was said and done, Dungey lost one point to RV2 in the title chase. One point. From as last place as you can possibly be, to one point lost.
Southwick, the great equalizer, coupled with a natural disaster as well as a handful of mechanical disasters, makes looking toward Steel City more exciting than it has been in years.
Bonus Pts.
Great ride Kyle Chisholm! Obviously the kid can breath again, that's a relief because his future is still on the rise.
Everyone, and I mean EVERYONE says the 450 suits them better, for Barcia it is undeniable. When he steps up full time, wow.
Streaks are meant to be broken and Swanepoel stepped up and got it done. Seriously, South Africans liking sand has long been a racing cliche' but it's uncanny how true it remains year after year.
Congrats to Brett Metcalfe for finally pulling down and O/A outdoors. It's been a long time in the making and few deserve it more. One of the hardest workers year after year in the sport. A true "Rudy" of moto(though Metty has much more talent but I love me some Rudy).
Lastly, how about that "parade lap" in the second 450 moto, the most intense parade lap I can recall.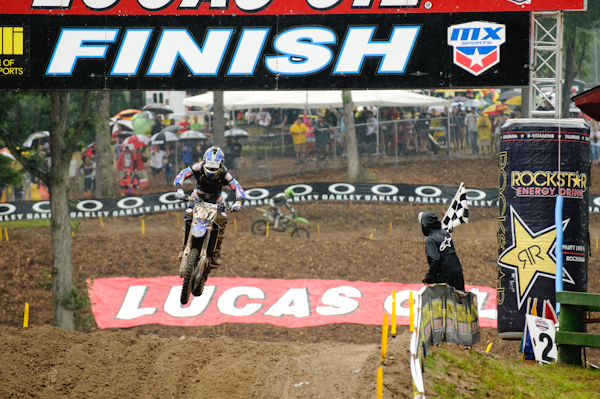 Those sand lovin' South Africans.