With JT$ sleeping through meetings and Adam Cianciarulo flat out rejecting the prospect; riders unions are fighting an uphill battle.
With JT$ sleeping through meetings and Adam Cianciarulo flat out rejecting the prospect; riders unions are fighting an uphill battle.
Photos by: MX Sports
You've see Adam Cianciarulo for years now. Even though he's only 14yrs old, the kid ooze's charisma and is more comfortable with who he is than many twice his age and beyond. Having just signed an unprecedented multi-year contract at 14, the future is looking bright for this "phinom". I wanted to see how his future looks from his perspective and true to form, Adam was a great interview.
Swizzle-Matthes was wondering if you ever dream about racing, figuratively?
Adam- Well I've definitely always grown up looking up to the guys who did well in the amateurs, especially the younger guys who are doing really well in the Pro's right now. Guys like Villopoto and Weimer you know, it's cool to see them come from the same spot I'm at now and I look forward to getting to that point; I've always wanted to race pro, I've gotta admit, I've had a few dreams about it but nothing too crazy.
You just signed an unprecedented multi-year deal with Team Green and Pro Circuit; Was that an easy decision for you or did you really consider some other offers before signing?
Yeah, I had other offers but honestly ever since I started riding I've wanted to ride Kawasaki's. I believe in Kawasaki and I believe in Mitch. I definitely think they have the best program there is; so yeah, there were other offers but at the same time I knew they were the best option moving forward. They gave me a good deal and I wanted to be there, it's an unbelievable feeling knowing I've been dreaming about that since I was a little kid, seeing all the best guys on Kawasaki's and later the Pro Circuit Team and now to have the opportunity to be on that team is pretty amazing.
Are you excited to ride a 125 2-stroke or do you just wanna get on a 250F as soon as possible?
Really the 125 is cool, I'm already riding it a little bit and just getting into the flow of it. I'm not really sure when I'm gonna go big-bikes full time but as of right now I'm still on Super-Mini's so, really just focusing on now but I'm definitely looking forward to the 250F too. If it's anything like the 125, which obviously the 2 stroke to 4 stroke difference is gonna be big but I like the bigger bike and I already enjoy that so hopefully the 250F will be even better.
How is it riding with RV's crew? Do you feel like it helps you more mentally or physically?
Man, I gotta say both. I have Aldon Baker in my corner which has been amazing. I've had him for a few months now and being around guys like Weimer and Villopoto is crazy. Obviously their speed and style you can learn from but also their attitudes. They really love what they do and they want to win and you can see that. I enjoy being around guys that want the same things I do, on a different scale obviously. It's really cool to be with them, the track gets really rough so I never have to worry about getting tired at amateur Nationals so that's always a plus.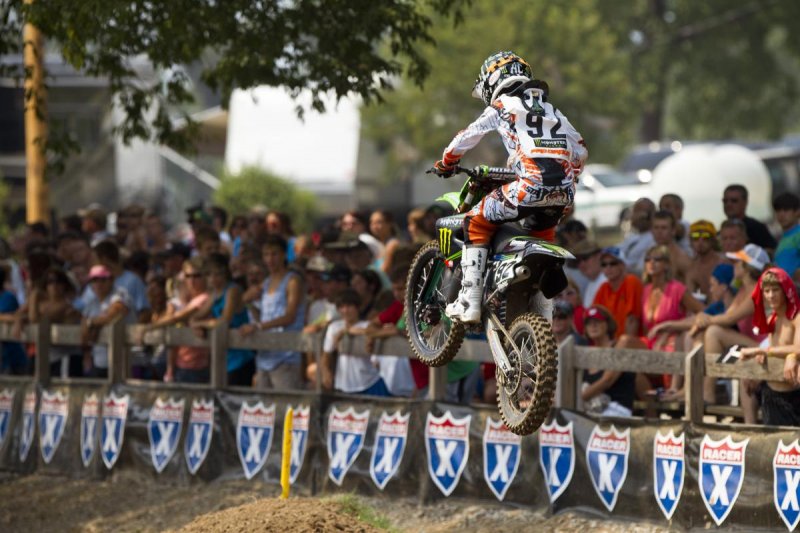 AC is one of few who get to sport Alpinestars gear in the US.
You're more socially well adjusted than some current pro's, and home schooled even. Do you just have that natural "talk show host" persona or what?
I'm not really sure, it's always come naturally. I just am who I am, I don't put on a show or anything. I just say what I wanna say no matter what, pretty much. People say that I'm good socially and stuff but I'm just myself you know, my Dad has always been a huge help with the interview thing. Honestly, I just try to be myself and usually it works out, people say I do good so I'll just keep rolling with that.
Have you had any thoughts of hitting some GPs before you're legal to join AMA pro racing?
It depends on how I grow and with the way the contract is setup, it could be at 16 or 17 that I could go Pro depending on how tall I am, when I grow and how my speed is. Who knows, it could work out to where I come in for Supercross, or maybe outdoors, or yeah, that could be a possibility but its not really a set thing so I'm not sure right now.
What are the chances of getting you into metal and punk music by the time you're pro? Moto needs a top-rider who's an ambassador for aggressive music again. Any chance of that being you?
Nope, it's not gonna happen.
Please at least tell me you're not only into rap.
No, not just into rap. I like rap but I like "clean" rap. I'm not a hardcore rap guy, like I don't know all the guys' names. I know Eminem and that's pretty much it.
Country stuff is probably 2/3's of what I listen to because on the way to the tracks and on the way back, that is what my Dad has playing, which, a little Kenny Chesney never hurts.
I listen to a lot of in between stuff, not metal but not Beiber either. Some happy medium in there but I don't really listen to much music though, I just watch Supercross.
You always seem to have high spirits, as we know in moto, it's common for a riders confidence to rise and fall based on their results. Do
you work the same way or are you pretty even all the time?
I would say for the most part that I'm even. Usually when something bad happens I just think, yeah I probably could have done something to fix it but I believe everything happens for a reason and just keep the faith that that was what was supposed to happen, most of the time anyway, unless I was just slow or something.
Usually I just focus on the next race, even when I win I try to enjoy the moment, enjoy the win but at the same time you need to focus on what you gotta do the next moto and what you can do to get better. Otherwise your competition will catch you for sure.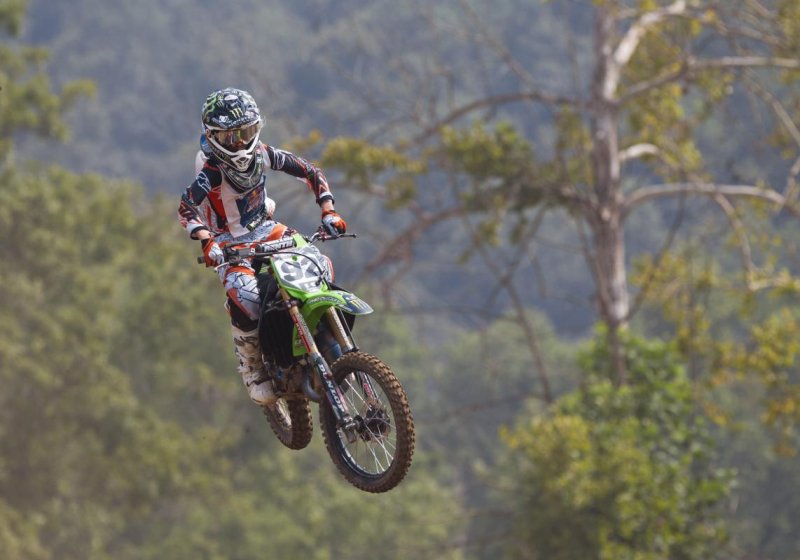 The sky's the limit for AC.
So what is your focus for the rest of 2011? When do you kiss the mini's goodbye forever?
Well right now I'm looking forward to the Monster Cup. I think we're planning on heading to California around Pala, so we'll check out the Pala national, maybe ride some supercross, then there's Mini'O's in the end of November and that's pretty much it for the year for me in amateur nationals.
Just going to focus on right now and getting better on the Super-Mini. You know, I could grow here over the next couple months and be on big bikes by Mini'O's but at the same time I could ride mini bikes all of next year again so it's up in the air and I'll shoot you a text when I grow. (laughs)
Let's end this with some fun. I'm organizing a Twitter riders union to stand up against all the lame RT requests for birthdays, validate my life, favorite rider ever blah blah blah.
Will you join in a display of rider solidarity?
No. I will not, I enjoy when people get a kick out of me retweeting someone so I'm not gonna join that union, I'll be honest with you. I like the people.
Darn-it, another failed attempt at a riders union. (We both giggle like school girls,me more than Adam)
Brain exercise time with some word associations. First word that pops in your head when I say the following words:
Mitch
Awesome
PulpMX
Umm…. nothing comes to mind… Talk show.
Twitter
Better than Facebook.
Union
Civil War, Northern Army.
Bieber
Sister.
350
Slower than a 450.
Cianciarulo
Long last name, obnoxious to spell.
Thanks Adam, now is the time where you thank your sponsors.
Thanks to Kawasaki, Monster Energy, Pro Circuit, Bell Helmets, Scott Goggles, Alpinestars, DC, Dunlop, my trainer Aldon, my whole family, my mechanic Brett and the Lord for everything he does for me.