Sour grapes make for a slick track and a undesirable character attribute.
Sour grapes make for a slick track and a undesirable character attribute.
Photos by: James Lissimore (bless his soul for putting up with my forgetfulness)
"Choke artist haha"
Like every Swizcorner, I write about what I found most compelling with the weekends race. Unfortunately this week, the thing that has me most interested in writing isn't what happened on the track but an occurrence which resulted from the first 450 moto result.
A few weeks back, following Lakewood I wrote about how bummed I was for Josh Grant and a couple other riders who had exited stage left from the series due to injury. I felt especially bad for JG who has been dealing with consecutive series ending injuries dating back to the SX of 2010. Compound those hardships with being a new father which brings heightened responsibility and there is no worse time to find yourself facing struggles which affect the ability to support your family. Frustration is the tip of the iceberg when it seems like no matter how hard you work, inevitably it seems, your effort is met with unforeseen situations(or vindictive long standing rivalries) that end in failure.
I get it.
What I don't get is, immediately following Villopoto's amazing last corner pass for the win, Josh Grant tweets "Choke artist haha". Really?
I mean, REALLY?!
Now maybe Josh was watching a new comedy just out on DVD I'm unfamiliar with called "Choke Artist"? Or maybe he was watching the Oxygen channel and they had one of their crime drama's on where the villain painted the faces of his victims following their demise? Either of these options are far less preposterous than the notion that Ryan Dungey chokes under pressure.
I don't want to get into rehashing last weeks column on Dungey not getting respect and how ridiculous it is given his accomplishments in his short career on the big bike; but shit man. A great man once said(JT$ as a matter of fact, and yes, great men can come in pint-sized packages) the best thing about twitter is, people who really shouldn't be using it, use it and abuse it. This has nothing to do with whether I am a Dungey fan or if Josh isn't a Dungey fan.
(*Truth be told, I don't pull for any rider in particular. I pull for any rider who honestly busts their ass to be the best they can be, not those who go through the motions and rely on excuses for their shortcomings. Don't interpret that as me implying that Josh is the latter. Josh, in my opinion lies somewhere in the middle. He's got so much damn raw speed that he can relax on the gnarly training and his biggest gains come from seat time. I digress…)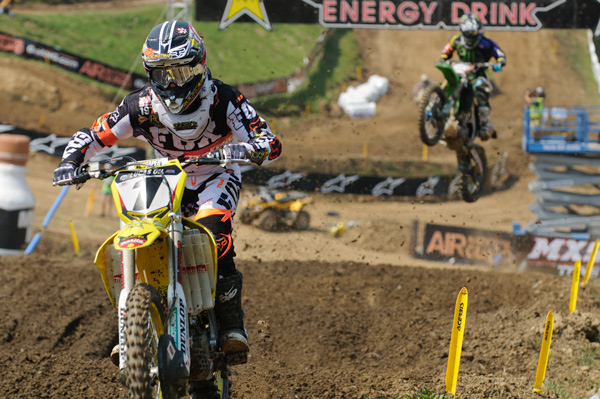 The Dunge leading in moto one.
So why do it?
It makes Josh look bitter, childish and just plain silly. For whatever reason, JG made the decision to disparage Dungey publicly, though completely baselessly. Maybe JG is posturing for a Green ride in 2012, who knows? But to claim the 2x MXoN winner, '09 SX Lites, '09 MX Lites, '10 SX and '10 MX title winner as a "Choke artist" following a last corner pass by the current points leader brings nothing positive into your world.
There are a lot of fans who have always felt JG was a "punk" due to his Mulisha hand jive on the podium and things like that. I've always thought that opinion was bullshit, he is who he is and as long as you're a good souled person nothing else really matters. I still like Josh and hope he re-visits the thought process which lead to that tweet and realizes the blatant flaw in the logic.
Of course, JG was just tweeting his personal opinion of Dungey and as we all know, opinion is seldom rooted in facts and logic. Keep that in mind as you read Swizcorner, which is always just my opinion.
Big Bikes
If Steel City sold tickets for seats, you definitely would've only needed the edge of it, I know, I was mere centimeters from falling off the sofa for all 35 minutes of moto one. That damn moto was so good, I can only imagine some of the travesties occurring all over the country as RV2 and RD laid waste to the field. I'm sure there were toddlers eating crayons, dogs pooping in the house, bath water spilling over, pizza getting cold and beer getting warm. Eyes were glued to the tube.
Seriously though, the race was great in the sense that the Ryan's were just laying it down, neck in neck from gate drop to checkers flying. The pressure involved with running that close together for that duration at that level is insanity. Think about it. Most one on one battles in moto last sections of track or maybe a lap or two, then one racer bobbles or the other switches up a line and separation occurs and extends. We've seen a few races this SX season where multiple riders battled at the front for lengthy durations which was great but to me, a one on one dog fight for 35 minutes trumps all.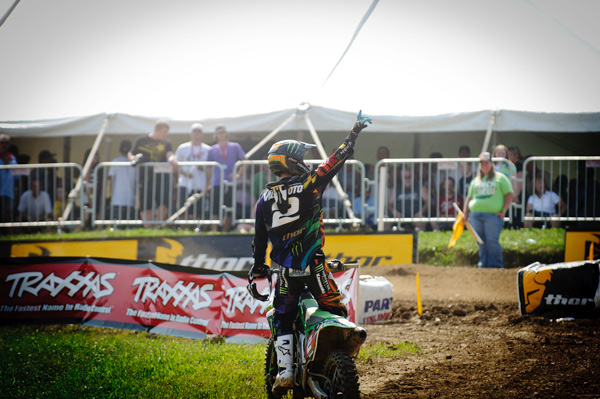 RV stalked and devoured RD at the checkers.
As the laps wound down to three to go I was convinced, this moto win was going to go to the guy who didn't go down. I expected both Ryan's to push as hard as was necessary to bring it home. Screw comfort level, screw the edge, this moto was going to the guy who rode over the edge and flipped it off as they motored by. Dungey over jumped the big table before the finish, an indication of his urgency and RV sniffed that and responded as well actually drawing closer. I got nervous as I watched them devour the lapper's preceding the finish but as it turns out, it came down to RV simply being more aggressive and shooting past the Dunge on the OUTSIDE!! If there was ever any question as to how bad Villopoto wants this title, there's your answer. RV's exuberance following that first moto win was awesome to see. He looked as though he had just sealed the title with that pass and moto victory.
Dungey has no one to blame for that loss but himself. It came down to an element of racing which has been his bugaboo for as long as I've seen him race. Aggression. He's just too nice on the track and it has cost him more than one victory. At this level of the sport, it's a game of millimeters. We see it time and time again, seemingly insignificant changes to a program result in tangible gains. Dungey is the smooth, calculated, text-book technique rider while RV is the wolverine who punishes the track and anyone who gets in his way as he moves forward. It's a stark contrast with very similar results and as this title draws to a close, aggression is sure shaping up to be the trump card.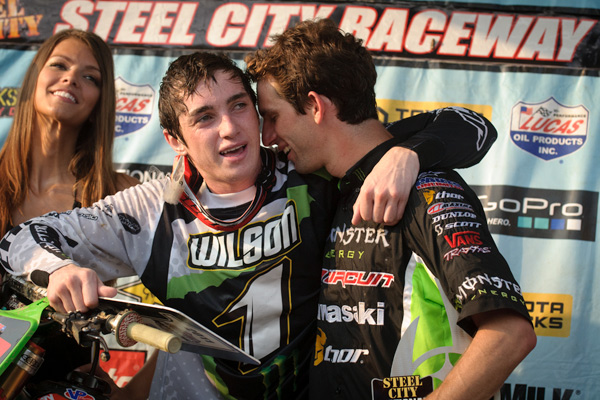 There's no doubt in my mind, Dean-O wanted and appreciates this title more than anyone.
Bonus
Congrats to Dean Wilson who simply dominated and secured the 2011 Lites title. Go Sconadia!
Has any Pro Circuit rider ever had more bike problems in an outdoor season than Broc this year? That's a rough follow-up to a great SX season. I honestly think Broc's going to make a better 450 rider so here's to looking forward to a new chapter. And thanks to the AMA for screwing him and all the other riders who have been eff'd by their baffling rules over the years; it's only their future's at stake.
Judging from rider response, I'm thinking Steel City is the Penn track getting the axe when the new southeast track comes on-board.
Thanks for taking the time to read.