Not really a Swizcorner, enter the Swizzle Season Rankings.
Not really a Swizcorner, enter the Swizzle Season Rankings.
(Most) photos by James Lissimore
It's been a rough silly season but I'm happy to say I have indeed come to terms with Matthes and will be returning to PulpMX in 2012. Much like the Chizz, it took till the last second and offers were sparse(but don't tell Pauly Jenkins that).
Negotiations got tenuous at times but who are either of us kidding, being complete opposites in almost every sense aside from work ethic and a love of moto, I guess it's true opposites attract #nohomo.
(Matthes note: This "talks" were news to me and I think they were all in his head to be honest. That's ok, I'm happy to have him back.)
Following the signing of my 2012 deal, I've decided to lay out my thoughts on the 2012 shuffling of teams and riders and take it a step further and make myself look like a real idiot by taking a shot in the dark as to where these new recruits will finish at the end of each series they compete in. My rankings came about in a theoretical vacuum where all participants race every round and are not taken out of the series by injury. Realistic? No but I don't want to get into predicting injuries. That's jacked up.
Some of the rankings look WAY off but there are no ties in MX so.
I'm sure to be called a hater by some, drinking the kool-aid by others and Castillo will call me an ass sucker. I'm fine with all of that.
On with the rhetoric.
Ryan Dungey to Factory Red Bull KTM.
Here's the grandaddy of them all. The move that was talked publicly as far back as the day Roger DeCoster announced his departure from Suzuki at Southwick in 2010.
On the surface the move doesn't make much sense. In 2010, Dunge obliterated all who didn't exit the series with injury, then in 2011 while not winning remotely as many races, he was in both title chases down to the final round and again claimed victory at the MXdN.
Beneath the surface though, RD5 wasn't happy and in this sport when your mental state isn't at 100%, you can bet your ass EVERY part of a program is fair game for change and that includes what many believed was the best bike in the pits.
Dunge wanted a change and he got it. A world of pressure on his shoulders from KTM to prove they are a winning brand. Pressure to make the move from Suzuki to KTM look like a smart choice and a new dynamic with a new wrench. But, he's also going to feel more comfortable than he did all of 2011 with Ian and the Man again by his side. That could very well trump the negatives as a sound mind may prove greater than any hardware deficiency.
SX- 4th
MX- 2nd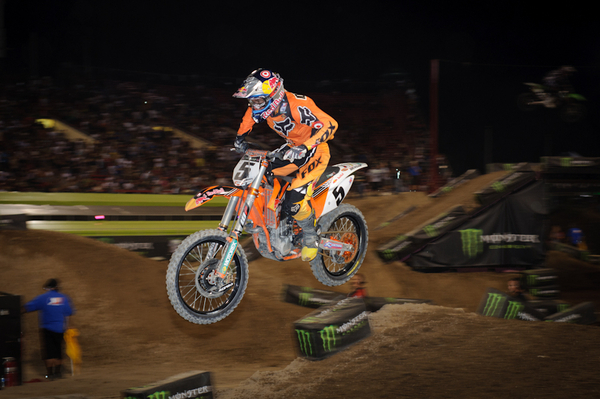 With very little time to prepare, Dungey on orange seemed to be a lot like Dungey on yellow- fast.
James Stewart to Muscle Milk/Toyota/JGRMX Yamaha
Long thought to be going yellow, money, errrr cough, I mean the incredible JGR offerings won over Stew and he will again be mounting a blue steed in 2012, though hopefully improving on the consistency. I will personally guarantee James will be better on the JGR Yamaha than last years bike but I think the days are gone of JS7 flat-smoking the class. Apparently the blue 7 will be racing motocross again in 2012 and that is fan-effing-tastic for us fans. I say apparently because as is usually the case in all things related Stew, it's his call at a later place in time to make it official. Is there any such thing as a "binding" contract in moto?
SX- 3rd
MX- 3rd
Justin Brayton to Muscle Milk/American Honda Racing
Talk about an upward spiral. Justin Brayton has been putting in work, quietly of course, and improving every year and it has finally paid off with a Factory Honda ride. Justin has even claimed himself that this is the year he's been working toward and waiting for. If he can't make the next big step this year, it's all on him. He's got every resource at his disposal, so it's either step up or bow out. Justin's a quiet, humble kid and I think it's gonna take him jumping out of his comfort zone, not stepping, jumping; to yield the advances he's expecting in 2012.
SX- 9
MX- 8
Andrew Short to Larry Brooks/Jeremy Mcgrath/Honda
How sweet it is. Honda foolishly let Andrew go for 2011 replacing him with an injury prone, though insanely talented Josh Grant. While the "350 experiment" didn't pan out the way Shorty hoped, it still worked out better than JG's year at Honda. Facts is facts.
Andrew is stoked to be back on Honda, working with friend and mentor, MC again and interested to see what LB can pull out of him that maybe he hasn't tapped into on his own yet. I think of this is both a rebirth and redemption for Andrew and I can't imagine a better situation for him to enter 2012 in.
SX- 5
MX- 5
Broc Tickle to 450 Pro Circuit/Monster Kawasaki
I'm very surprised this isn't getting talked about more. This is the realization of the rumored, theorized and wished Mitch Payton 450 Pro Circuit team from ohhh the last nearly 20 years! Sure, Mitch has prepared big bikes on occasion over the years but this is the first foray into a season long commitment where results count. Don't get it twisted, though Mitch's focus has been Lites racing since PC began with Peak Honda's, this means a lot to him. This isn't a half-hearted experiment where he just pats Broc on the back and says "go get 'em tiger"! This is THE proverbial next step.
Back when Broc first tweeted that he was heading out to practice on the 450, I mentioned that I was extremely intrigued by the thought and while I didn't think a ridiculous SX Lites rule would put him in this situation, this early in his career; I honestly have always felt Broc's steady, measured technique suited him better on the big bike. He's going to be very solid and I think Pro Circuit's maiden 450 voyage for the full series is in ideal hands with Broc at the helm. Here is one instance where, injuries by others could easily see Broc even three positions higher.
SX- 7
MX- 7
Darryn Durham to Pro Circuit/Monster Kawasaki
I feel like this signing was the "feel good signing" of this silly season. I mean, who ISN'T a fan of DoubleD? Red Dog loves him, Billy Ursic pretty much wants to head to San Francisco with him for a "getaway" and fans across the nation are mesmerized by his smooth style. Darryn did more out of a flat black box van probably anyone in the sports history… and he was DRIVING it! The downside to DD signing with PC is we're probably not going to see anymore shots of his bruised nutsack on Twitter which was hilarious and frightening all at the same time.
As part of the PC program, this is going to be the perfect dichotomy of structure and a laissez faire personality. Awesome.
SX- 2
MX- 4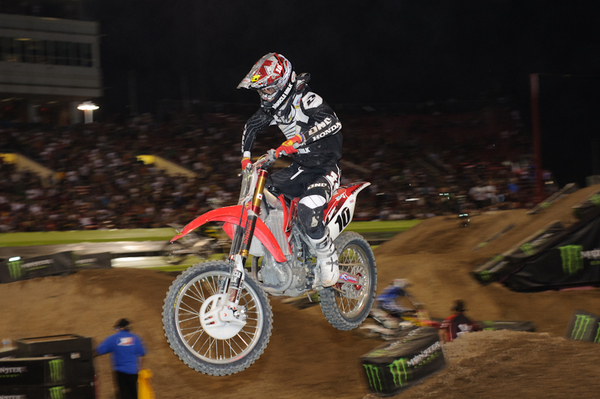 Although the ME cup didn't go the way Justin wanted it, he'll be strong in 2012 on red.
Josh Grant to JWR/San Manuel Kawasaki
Man do I ever want this season to be a turnaround for Josh. It's painful watching all that talent get sidelined series after series by injury. It's going to be interesting to see Josh on a Kawi after a career on red with a dash of blue.
It's hard for me to rank Josh based on his ability because I've become so accustomed to considering the injury factor with him but here goes.
SX- 6
MX- 6
Kyle Chisholm to JWR/San Manuel Kawasaki
The King of Bercy settles on green with Jeff Ward Racing for 2012 and his redemption following that horrific Houston crash. Kyle's sporadic outdoor appearances may not have shown well on the results sheets but what they did do is help him determine further medical assistance was needed to fully recover early enough to guarantee a 100% recovery for next year.
Kyle's heading into what could be a career year, his equipment is going to be up to the task, so it's all up to the Chizz.
SX- 8
MX- 10
Josh Hansen to Dodge/Hart&Huntington Kawasaki
Honestly, heading into the M.E.Cup I thought Matthes was nuts for thinking Hanny would be a risk for H&H. I mean, the guy has talent coming out of his ears. I just figured, with another shot on Hart's team and all that talent, there's no way he wouldn't be a podium threat in 2012.
Who knows? Maybe he was just going through the motions at the Cup and he really will be what I thought he'd be when the season rolls around? We'll see but this ranking is based on his past on a 450 and the Cup.
SX- 12
MX- NA
Kyle Partridge to Dodge/Hart&Huntington Kawasaki
I was glad to hear KP admit he realized at the M.E.Cup that he needed to work harder instead of making excuses. Accountability goes a long way and is rare in this sport.
SX- 17
MX- NA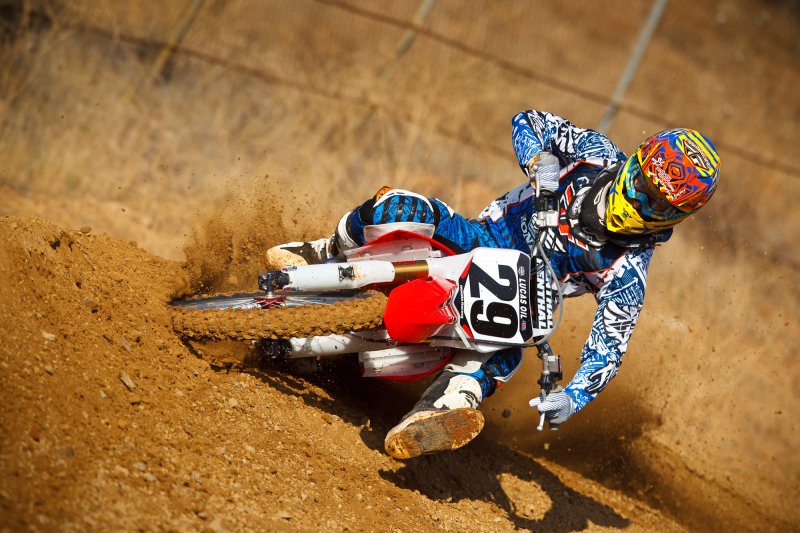 Andrew's back on red and looking to get back to where he once was. Photo by Simon Cudby
Josh Hill to Dodge/Hart&Huntington Kawasaki
It doesn't get anymore intriguing than Josh Hill's return to racing. He started out the 2010 season battling for wins, then broke some ribs which never healed during the season and then as we all know, a tragic backflip attempt led to almost a year off the bike. The H&H team did Josh a solid and invested in him while he was still out of commission with the expectation that he would work his ass off and return to the racer he recently was.
Everything points to Josh doing exactly that. With a focus like Rocky Balboa himself, Josh has narrowed his vision and cut out peripheral distraction with one goal, be at the front of the pack as quickly as possible.
For Josh to come back from such a catastrophic crash and return to the elite level of pro racing exemplifies the very definition of mental and physical fortitude.
SX- 10
MX- NA
Matt Moss to JDR Motorsports KTM
Hopefully this stateside trip turns out better than the last for Matt. He's obviously got loads of talent, lets see if the other pieces of the puzzle will fall into place this time.
SX- 5
MX- 12
Malcolm Stewart to JDR Motorsports KTM
Mookie heads into his sophomore season aboard orange. Interesting choice. Were other teams not calling or is young Stew stoked for the opportunity to ride there?
I don't know but I look at this like Matthes looks at Hanny on H&H; in the end it'll either look genius or like the most obviously ill-fated pairing ever.
SX- 4
MX- 8
Ryan Marmont to JDR Motorsports KTM
I got nothin'. He raced here last year for the JDR team and was ok. Hopefully for him (and the team) he figures it out.
SX- 8
MX- 18
Blake Wharton to Rockstar Suzuki
Who? Just kidding. Until Blake's shoulder issues became un-ignorable last year, he was my east coast pick. I'm looking for Blake to prove once again that those Rockstar Suzuki's are as good as Austin Stroupe made them look two years ago… shortly.
SX- 2
MX- 6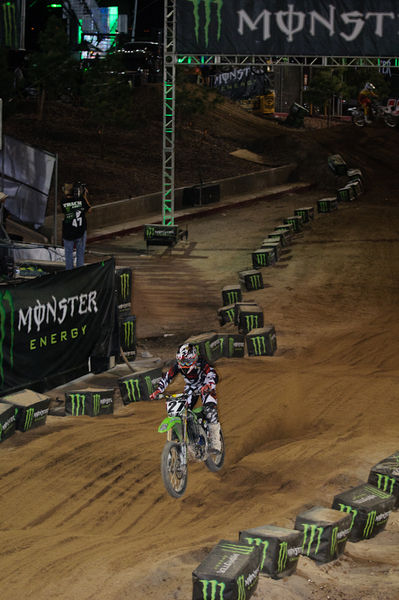 Nick Wey says once you've gone green, you'll always go back.
Nick Wey to Michigan Mafia/Kawasaki/MSR
Tricky is back on green and that's a damn good thing. My janky friend Jeff reminds me often of a race at Portland(Mi) where I first saw little Nick RIPPING on a KX125 in the jr class and I proclaimed, "you gotta come watch Nick Wey, he's going to be a legit pro one day". Well, it's come full circle. Nick Wey on a Kawi #MichiganMafia team. Pea's n carrots don't go together any better. Peanut butter and jelly? Nope.
Even though Nick cool guyed me when I asked about #Mafia decals; I ain't mad atcha.
SX- 11
MX- 11
Nico Izzi to Valli Motorsports Yamaha
Another Michigan bred rider, one of the most talented ever. But that effing heel injury reset the course of his moto career, probably irreparably. I'd love for Nico to recapture what he had on that RMZ250 but a smaller guy on a Yamaha isn't a great formula to start with.
SX- 16
MX- 14
Ryan Morias to Valli Motorsports Yamaha
Interesting move by Valli to comprise their entire team of injury prone riders. Perhaps it's a tactical move where they don't really have the money to go racing all year and their roster will feed that prophecy?
Mo is a good down to earth dude(at least Matthes says so and he's Shorty's bro-in-law so I'm a fan). Regardless of finish, I would just like to see Ryan go the full season with no injuries. That's a start.
SX- 12
MX- 11
Mike Alessi to Motoconcepts Suzuki
Tony Alessi unbridled. What more needs to be said. It's moto reality TV gold. Who's gonna step up and make this mini-series happen?
SX- 10
MX- 9
Mike's going to Motoconcepts for 2012.
Matt Lemoine to Hansen Racing Kawasaki HRT
Finally. Matt is out of the van and once again focusing on preparing for the races instead of checking the oil and pulling all-nighters driving from track to track. He showed flashes of brilliance last year but the occasional inopportune crash hindered him more than once. He's got the skills and the drive again; and now he has a solid infrastructure to pull it all together.
SX- 3
MX- 7
Nick Myers to Hansen Racing Kawasaki HRT
Nick isn't well known yet but he flat hauls, has a great program around him and riding with Matty L gives him a real gauge of what he needs to focus on to keep in the mix.
He's a funny mofo too.
SX- 8
MX- 13
So there you have it. As I said, many of the rankings look ridiculous but in this ranking vacuum there are no injuries or ties so everyone has to finish somewhere.
Compiling this list and my thoughts really brought to light how insanely stacked the 2012 season is already shaping up to be. This is just a list of the riders who have switched teams and it's plain crazy! If you thought we had a lot to look forward to heading into 2011, the math equates to an even more nuts 2012! Stay safe while practicing guys.
Regardless, I'll look like a doofus when all is said and done and that's par for the course.
I encourage comments, disparaging remarks and or praise at all times. Send me an email at swizcore@pulpmx.com and let me know what you think.
Thanks for reading.