TLD Honda's Cole Seely talks about stuff.

TLD Honda's Cole Seely talks about stuff.
Photos by James Lissimore
Me: Cole, thanks for doing this and I notice you have an 805 area code and that's the same as mine. It's rare you know.
Cole Seely: Yep, we're 805 brothers.
The only other person I know who has an 805 number is Johnny O'Mara so that's quite an elite group of three that we make.
Well actually our truck driver on TLD Corey Martin has one. So does the truck driver for Muscle Milk- he's got one also. We're now a clan I guess.
So anyways, what's up with you? You're riding west coast 250's. Are you ready?
Yep, I'm ready and I'm riding west coast 250's for Troy Lee Designs Honda and I'm excited. We've been testing quite a bit with Honda and Pro Circuit. We've got more support this year from PC and Showa and the suspension is going to be more dialed in than it ever had before. Matty (Jory) our engine guy has been going wide open to make the bikes the best they can be. He's got some good stuff we've been working on. Things have been awesome.
When you say more support from Pro Circuit, did Mitch pull the blanket off a magical piston and camshaft that he was holding back?
Not so much on the motor side but more on the suspension side. We got added support from those guys and Showa to get some new suspension related parts that work great. More time testing as well and more settings to try than we've ever had.
Do you have that new fork that Bones at Pro Circuit has been working on, the one with the single spring?
I haven't actually tried that yet. The dual-valve thing or whatever it's called.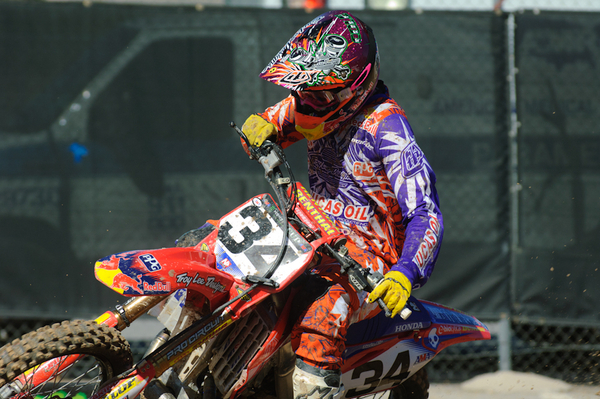 Seely filled in on a factory Honda last year for a little bit and we hear at Pulpmx think he's going to make a good 450 guy.
Everyone says their new bike is so much better but for real, is it?
Yeah, it really is. You read that all the time that someone says their bike is so much better or whatever but I'm three years on the team and the leap forward has been huge. Everything is better on the bike.
You were pretty good last year in supercross but what do you feel you need to work on?
Mainly my fitness. It was good last year but it can never be too good in supercross. I've been doing a lot of mountain biking, working hard in the gym with my trainer Charles. I've been working with Justin Brayton in the gym, on the bike, being more mentally tougher- all sorts of stuff. He's got a lot of experience and a lot of time on the bike. Anything he says I listen because he's been there and done that. He's made me look at things a different way.
Your old mechanic Rich used to work for Brayton and loves him as much as a straight man possibly can. I'm guessing that's how you met JB?
Yeah, he was the hook-up for that. He was his mechanic at MDK KTM and they are tight. It's real organic meeting him and Rich knows me as a person and he can tell if I have problems with my bike or if I'm having an off day. He can help me out- whatever it is. When I'm doing good things, he can tell me what I was doing that day or whatever to try and help.
What about Jeff Ward? I know he's busy with his new team but I also know you guys are tight- does he still help you out?
He's been busy for sure with his new team but he's around. I do talk to him here and there and just last week I saw him at the track. He's got his own thing going on but we're still tight and we'll talk. He tells me what's up and what I'm doing right or wrong.
You signed a two-year deal before last year even started and it was a bit of a surprise to me because most guys at your level in the 250 class want to keep their options open in case GEICO or Pro Circuit team calls. What made you want to commit to Troy Lee Honda for two years?
You know, I feel like I found a home here and I really like the people here and the environment. Everyone always says that their team is like a family but ours really is. When we're not at the shop, they're my friends and we all hang out. It's really big for me and also, Troy's team is always growing and they're getting more support along the way. I'm growing as a rider as well so I figure that we're kind of the same. I'm looking like we can grow together and I got them their first win in supercross and obviously, I'm really fond of the team.
I'm happy to ride my entire 250 career with Troy Lee no doubt about it.
That's admirable. I feel like your outdoor season wasn't as good as the year before…
Yeah I didn't.
Let me give you my theory on why that maybe happened. This past year you won some races, had a good year and you had another year on your contract so maybe you slacked a little bit. It's not just you, it's a theory I've heard ex-riders admit to.
No I don't think so. I've been trying to figure it out also. I think we usually have that two-month break after the west coast to test and train for outdoors but this past year I got an opportunity to ride for the best team on the planet in factory Honda for some supercrosses. I didn't have to take the ride but as if you're going to say no to something like that. I took that and I didn't get the testing and training that I would have liked to have gotten going into motocross and I'm not going to say that was the reason but it's something that I've thought about.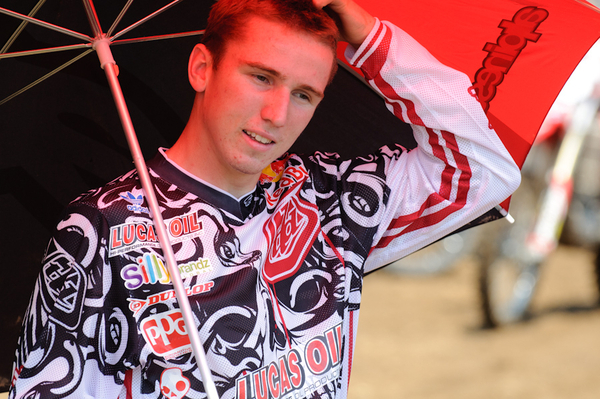 Cole gets some shade and thinks about stuff at RedBud.
I've heard that you have a hard time concentrating doing motos over and over and you have ADD or something like that. When you think about training for outdoors, it's a lot of repetition over and over whether it's riding or training. Is that maybe a problem for you?
Well yeah it's true but it's mostly practicing- not at the races. I've had a hard time focusing and concentrating the whole time. But I've been working with Brayton on that and it's kind of helped me to keep my mind on track during our workouts and training.
Yeah maybe Justin can help you try to break down that each lap can be a challenge in itself and that can help.
In our training, it's a lot of mental toughness stuff and I think that's one thing that I lacked.
How was your time on the factory Honda CRF450?
I thought it was awesome. That opportunity only comes once in a lifetime and to race for them and see all the assets that they bring to the table was cool. If anything was wrong or I wanted to make any change, they knew exactly what to do and how to do it. They were great and I was pumped for the chance.
When I watch you ride, I think that you're a very technical rider and you're not a hang-it-out rider, which makes me think you're going to be better on a 450. Do you agree?
Yeah, definitely. I have a 450 that I practice on and it's like, when I'm on it I feel pretty good on it. It's fun to ride one and I'm excited for the years to come. I always think of it like the more out of control you are, the more energy you use and I try to stay in control. The 450 is easier to do that on.
You've come a long way from the Fun Bike Suzuki team…
(laughs) yeah I mean I have and that was in 2007. I even quit racing at came back at one point.
What's up with you and the MXA Wrecking Crew? I don't see anything about you in the magazine anymore. Did you skip an REM race or something?
They still are. I talk to (Jon) Basher a lot and it's been a long time since I tested bikes for them so maybe that's it. I enjoyed riding and testing the bikes, it was a lot fo fun and it actually helped me because I can kind of know what a bike does and what to change. It helped me out as a pro racer.