The start of the 2012 Supercross season is less than a month away, anticipation along with speculation is on the rise. Reader Paul Quesnel sends in his look at the 250's.
The start of the 2012 Supercross season is less than a month away, anticipation along with speculation is on the rise. Reader Paul Quesnel sends in his look at the 250's.
Photos by: THE James Lissimore
As hard as it is to predict what will happen in the 450 class, the 250 class is much more difficult. With most teams not divulging which coasts their Lites riders will compete in until just days before Anaheim, it is very challenging to foresee what will take place in the small bore class. Adding to the excitement is the fact that the depth in the 250 class has seemed to have reached an all time high. Between all the foreign riders migrating over here to try their hand at American Supercross, the talented kids coming in trying to become the next Villopoto, and the veterans that have been in the class for a few years, the upcoming season is shaping up to be as spectacular as it is suspenseful. With just weeks left to speculate before the new season starts, let's take a look at a few of the expected front runners, how they performed this past season, and weigh in on what they will need to do to win a title in 2012.
Dean Wilson
Dean Wilson had a very up and down season in 2011. After losing the Supercross title to an unbelievably consistent Justin Barcia, Dean would go on to win the 250 MX title in what was a great war of attrition between he and his teammates. Dean seems to have a very different mentality then most riders. He's more laid back and upbeat than the majority of the 250 class. When you look at guys lined up at the starting gate, most of them have that tough look on their face like their about to go into war. But when you look at Dean, he's smiling and joking around in an attempt to keep the mood light. During the middle of the series, Dean showed real initiative by deciding to pack up his entire program and go down to Florida in order to stay with Chad Reed, all of which was by his own dime. The time he spent in Florida obviously helped Wilson with his results, but he also gained a great mentor in Reedy and Dean will most likely lean on him for advice for many years to come. During the outdoors, he showed great determination by refusing to lose hope when Baggett was running him down on a regular basis. After we saw him struggle to string together solid finishes in Supercross, he finally figured out what was wrong with his starts and his consistency would get drastically better as a result. Wilson has said that this will most likely be his last year in the 250 class and it's obvious that he would want to win an SX title before he graduates. To win an SX title in 2012, Deano should continue to draw knowledge out of the wisdom well known as Chad Reed. He will also need to make sure that his starts are on point for that was his downfall during this past SX season. After winning the National title just a few months ago, Dean has to be more confident then ever so look for him to be up front and battling for his first Supercross championship next year.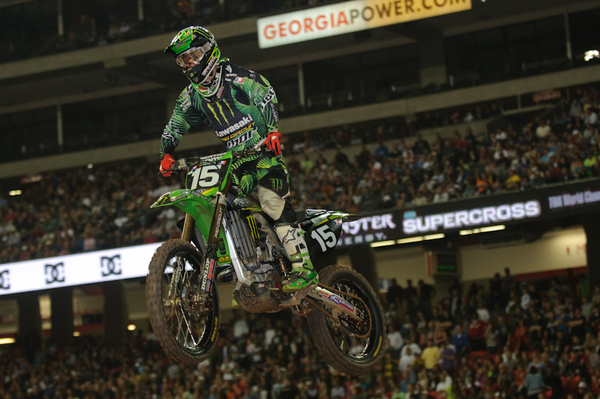 Will Dean carry his outdoor momentum into the domes in 2012?
Justin Barcia
Justin Barcia had the best series of his young career in the 2011 East coast championship. After breaking two bones in his hand at round two, Justin ironically clicked off one podium finish after another en route to his first title in the 250 class. To everyone's surprise, the injury turned out to be more of a benefit than a hindrance as it would force Justin to not ride so aggressive and in turn make him more consistent. His outdoor performance wouldn't be as remarkable though as mononucleosis would leave the native New Yorker struggling to get good finishes. That would all change when Barcia would get the call to replace the injured Trey Canard on the Factory 450. Justin would impress everyone by showing that he had enough speed under the hood to jump into the 450 class and run with guys like RV and Dungey on a regular basis. Bam-Bam has a really bright future in the sport. It seemed like jumping on the 450 was a breath of fresh air for him and he's most likely chomping at the bit to take Canards place at the opening rounds of 2012. It's not often you see a 250 guy jump up and be that competitive right away in the 450 class. But how will he react to being on the 250 again? The 450 seemed to really smooth out his style so it'll be interesting to see if Barcia tames it down a bit on the 250 or will he just continue to be the same old Bam-Bam? Only time will tell. At this point he has to be the odds-on favorite heading into the East coast and if he can find the same speed and consistency he acquired last year, he will be very tough to beat.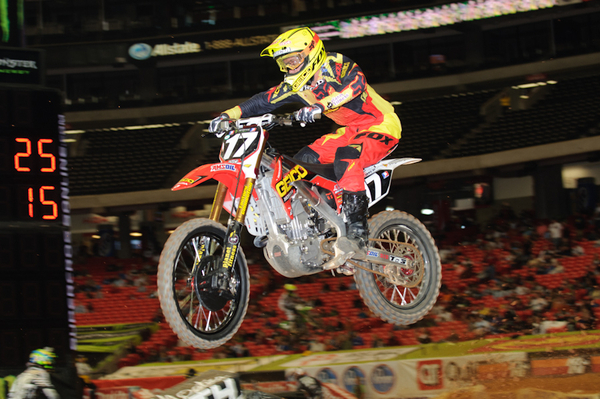 Can Bam Bam repeat?
Blake Baggett
At the beginning of the 2011 season, no one quite knew what to expect out of the newly signed Pro Circuit rider in Baggett. He would finish fourth in the East coast with a couple wins and a handful of podiums, but the outdoors is where Baggett would really show everyone what he was made of. During the first half of the series, Blake showed some ridiculous speed that no one could even come close to matching. The only problem was, the speed didn't come with much consistency. Blake would be unbelievably fast at one round, but then struggle to get top fives at the next. He finished the series third in points which had to be disappointing due to the fact that he had the most overall wins and when he was firing on all cylinders, no one could touch him. Blake is an extremely talented young rider whose full potential we've only seen a glimpse of. He is a member of the Aldon Baker training camp so his fitness is as good as or better than anyone else's on the track. During the outdoors, he depended on his endurance to get him to the front no matter what position he was started in. If he wants to win a Supercross title in the upcoming year, he will need to depend more on his skill rather than his conditioning. He's going to have to learn that he can't start in tenth and expect to get to the front like he did during the MX season. Blake has already showed that he has the skills to win races, but if he wants a title in 2012 he will need to win with a little more consistency.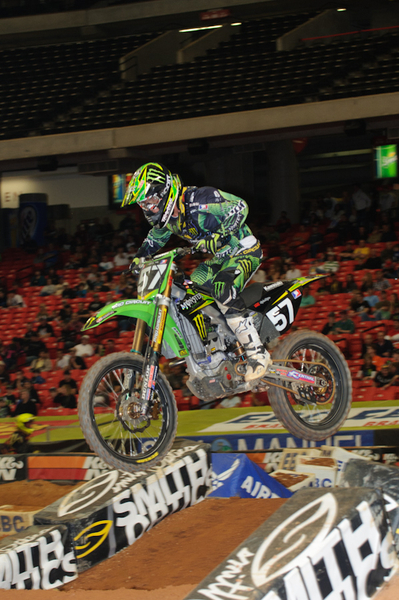 Will Baggett be able to improve on consistency while mantaining lightning speed?
Eli Tomac
Eli just barely missed out on an SX title in 2011, his rookie Supercross season. He would ultimately come up just a few positions short of winning the championship in what was one of the most controversial races of the year. It must have been absolutely heart breaking to the nineteen-year old Colorado kid. From there, Eli would struggle through most of the National Circuit. He would get a few podiums here and there, but it looked like Eli was slowly starting to lose confidence in himself as he watched the Pro Circuit team dominate every week. Eli a soft spoken kid and it's hard not to be a fan of his. He comes from a great family and it seems like he has a good head on his shoulders. It's going to be interesting to see how fired up he will be coming into the upcoming season. He can't afford to have a slow start to the season like he did last year if he has any hopes of winning the championship. Eli has just as much skill and fitness as anyone in the 250 class, but he needs to realize that confidence is only built by overcoming trials. And if he wants to erase the memory of losing the 2011 SX title by winning the title in 2012, he will need to keep his head on straight and just keep believing in himself.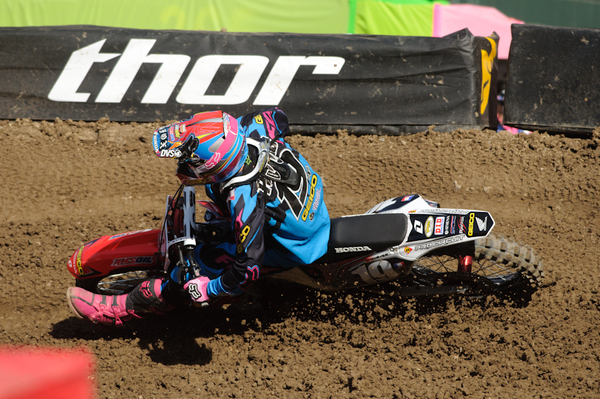 Tomac is looking to wipe the bad taste created in Vegas from his mouth.
Ken Roczen
Even though he didn't do a whole lot of racing in the U.S. this past year, you just can't deny this kids talent. There isn't another rider in the sport today with as bright of a future as Ken Roczen. The seventeen year old German rider is just a phenomenal talent that you don't see come around very often. This year was his rookie season here in the U.S. and while he had many flashes of brilliance, they were often surrounded by spectacular crashes. It would take him a while before he would learn how to smooth out his riding style, but he eventually would get his first SX win at the finale in Las Vegas. From there, it was back to the GP's where he would do what everyone expected him to do by winning the MX2 World Championship. Kenny has a ton of upside and there's a good chance he will become one of the big star's of the sport in a few years. He's fast, he's friendly and he's good with the media. He seems to mesh well with the KTM 250 and he is learning from two of the wisest men in the sport, Stephan Everts and Roger Decoster. KTM is quietly putting themselves in a position to become a global superpower in the world of motocross and Ken Roczen is their wonder boy. It's just a matter of time before Roczen wins a title here in the states. But if he wants to win one in the upcoming Supercross series, he will need to continue to fine tune his SX skills and learn to avoid the big crashes like he had in 2011. He should also utilize the time he gets to spend with Ryan Dungey and try to learn a couple things from the former 450 champion, mainly consistency.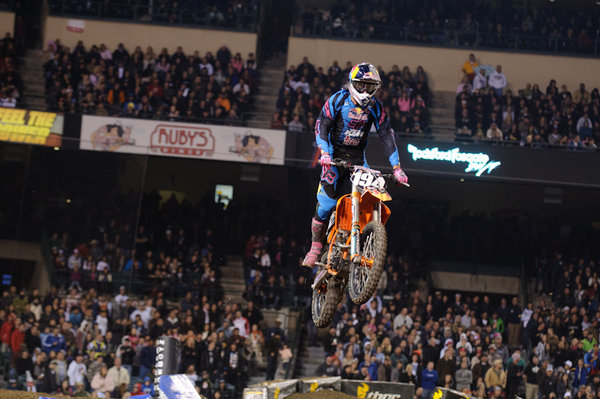 This is it. The beginning of a commitment to American racing, Ken Rocz. Will HE fulfill the hype?