A1 came and went and thanks to a radical change of pace in terms of track design and the tighter than ever depth of talent, the season started with a bang and tells us less than ever about where the season is headed.
A1 came and went and thanks to a radical change of pace in terms of track design and the tighter than ever depth of talent, the season started with a bang and tells us less than ever about where the season is headed.
Photos by: THE James Lissimore
The Peripheral
First things first, can we get a petition started or something to get those headset interviews to be mandatory? I don't even need to explain how much better they were than having Erin interview them, you saw it. The riders are more comfortable because she isn't awkwardly stumbling on her questions which are always the same but strangely reworded. Who better to ask the riders their thoughts, a stumbling Erin or the guys in the booth who have valid questions and the riders answering the questions have respect for? NO BRAINER. Get this done Speed.
Nobody and I mean NOBODY(actually, H&H does) gets publicity like JGR. How long will it take for those making the important decisions for the direction Supercross will head to realize that their kung-fu grip which strangles non-series sponsors is killing the growth of the sport?!! That JGR commercial was the epitomy of what the Supercross promoters need to embrace. How many brands were shown in that commercial? Monster, Toyota, Yamaha, JT Racing, Answer, Red Bull… sure most are JGR alignments but one of the most obvious, front-row brands represented was The Bomber wearing JT gear. It's GOOD for EVERYONE, including most-importantly the growth of the sport. It's apparent, Feld runs Supercross with an eye solely on year to year whereas if they ran Supercross with a view of 5-year growth segments, it could be so much more. It always comes back to those wise words from Mitch Payton, "if you sign for money that's all you'll get but if you focus on the improvement and results you'll get both"- I'm paraphrasing of course but the point remains the same.
The Track
It's a weird dichotomy when the riders universally voice their disgust or simple disapproval for a track design. Usually reasons for hating a track vary from dangerous or poorly built obstacles to it being one-lined or having no rhythm. Well last night the riders pretty much just thought it was a piece of shit. The dichotomy is, that "piece of shit" usually makes for pretty awesome racing because nobody is comfortable. They are all struggling with setup and fighting a track that, lap after lap, is a struggle to nail down a smooth flow and minimize the mistakes that seem to never end. I'm not saying I want to see a season of tracks like that but the first race of the season seems like the best place to really mess with the riders preconceptions because no one has an advantage on a track like that.
250's
What the hell was up with the gate drop? I missed the memo where the 5-second-board became a "15-second-hope-your-bike-doesn't-seize-before-the-gate-drop lottery". I mean, that was almost justification for a red-flag restart. Nobody was ready for it, it screwed everyone's focus and many of them physically.
Well maybe one person has an advantage on a track like that, and that's Tyla Rattray. Tyla is universally agreed upon as being an outdoors specialist who isn't expected to see an indoor win. I'm sure he, his wrench and Mitch expect it but aside from them fans know he's a bulldog and will wrestle stadium track for all 15 laps. Usually ending up near the podium and sometimes on it. On last nights track though, everyone looked like Tyla Rattray(except for one, more on that later). They were all lacking flow during the night and Tyla just put his head down like he always does and nearly pulled down the W. Later in the race it was apparent no one was going to get in between "There's just something about him" Cole Seely and victory, ultimately leaving Tyla alone in 2nd.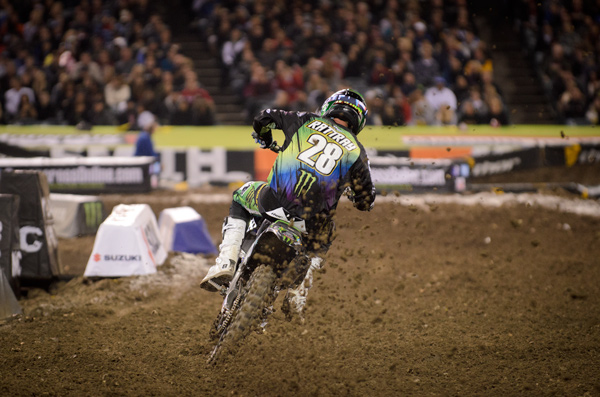 Tyla's bulldog technique was right at home on the A1 track.
I find Ping's description of Seely interesting. It comes off as a kid who's developed a program around fighting burnout in the prime of his career where he still pulls off wins! Think about that. He committed himself years ago, it became mundane, he took a hiatus, came back faster than ever and fully aware of his need to keep it fun by not engulfing himself in it 24/7. That's very respectable for both him to realize and the team to allow him to thrive with a program that flies in the face of the industry norm where you're told to "just work harder, more laps, more laps, more laps!" It's relative to the "I took a week off and came back refreshed and motivated" but instead of random spurts, it's a program built with moderation as it's core. Keep it up Cole.
A1 greeted Eli with a metaphorical smack to the back of the head. A …ahem… takeout in the beginning of his heat, relegated him to play catch up till the last lap when his, now non-Pro Circuit, prepared engine gave up the ghost. He dominated the LCQ and following the jacked-up start collected his focus and charged his way forward. Eli was putting together a triple that few others did all night and that was a big time scrubber, especially in the "MX2" class. When Eli went to make his move into 3rd on Dean-O, Wilson's front end washed on a jump-face resulting in one of the "goonier" crashes we've seen from an elite rider. That made spodes like me rejoice everywhere.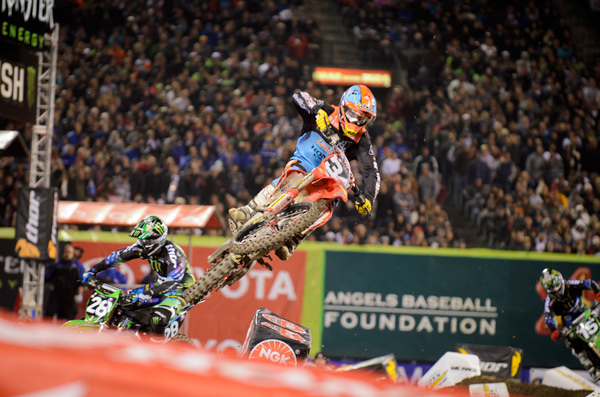 The enigmatic, Cole Seely.
Not the debut Dean, or anyone really was expecting but for the 15, he did his best to minimize damage and this race by no means created an insurmountable deficit to overcome.
In what was certainly a quiet ride, Musquin finished 4th. Hard to say if it was the atypical track or maybe Marvin just has atypical Frenchman style, because he used way more body english than were used to when the fast Frenchies come over.
Wil Hahn looked great in his heat winning ride but he was jacked like many of them on the start and had a kind of helicopter-style crash that could have rung his bell a bit. I'll be shocked if this isn't Wil's worst finish of the year.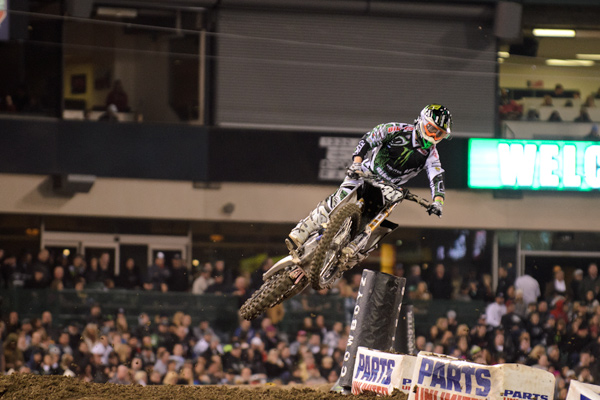 Zach O had a better day than that 9th place shows.
450
So here we come to the point I mentioned earlier where not one rider could put together lap after lap of "typical" SX flow. RV straight murdered out there. I thought James was going to pull out some flashing lights and arrest RV for… yeah yeah yeah, tired joke. Much the same way RV doesn't let wins or losses get into his head and affect his approach to the next week, he doesn't even consider the fact that a track might suck. Whereas other riders are more affected by a track disappointing them, RV is a black and white kind of guy. It's either "good track, lets do this", or "yeah this track is whack, time to get to work. He doesn't let anything that is out of his control affect him, it' the most over-used phrase in the sport, "it is what it is" and RV ingests it and craps out results. Others seem to ingest it, let it stew in their belly with a bit of a stomach ache, maybe get a little butt hurt and leave them with a headache and complaints of a hangover.
RV definitively squashed my concerns of his motivation, he looked the best he ever has when compared to a field who collectively were struggling all night. Although we have yet to see if when confronted with adversity, he retains that ferocious intensity, he looked so good that it's apparent, RV is not going to lose focus or drive.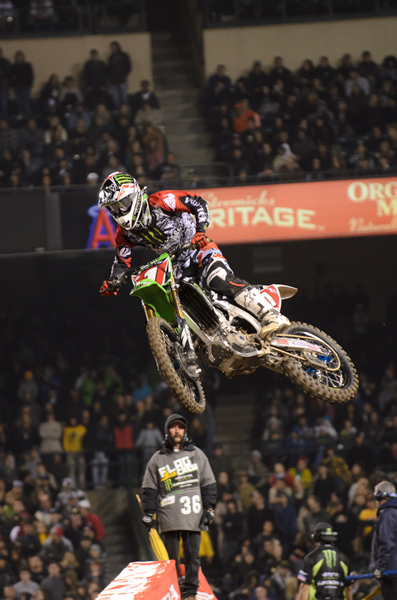 An A.P.B. has been issued on RV for slaughtering the field.
Reed is one of the guys who isn't afraid to let people know if he's bummed on a track and while he is honestly and openly vocal about a track sucking, it doesn't affect his determination to make the best of it and and get max points. It's like their are three tiers of riders and "shitty" tracks. The first is RV, the second is Reed, who complains but forges on and won't blame a poor track for a bad night. The last is those who race it but all the while have that little seed of excuse planted in the back of their head which they fall back on when struggles and a poor result occur. You may be right but it was the same sucky track for everyone so why waste time dwelling on it and change your game up to make the best of it.
Chad comes out of A1 looking much better than a year ago on a much harder track to look good on at all.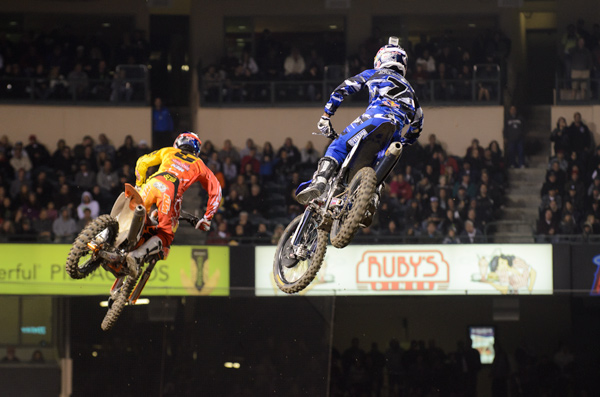 KTM gets their first podium and JS7 struggled in the main.
Dungey finally ends the KTM podium drought but it wasn't a slam dunk until Stewarts JGR Yamazuki lost the front 2-times in the main putting him on the ground and teaching JGR and James a couple things. One- make stronger shrouds and two- you may be able to improve the ergonomics of the bike but it's going to take more than that to cure the issues James has with the Yamaha. James looked pretty terrible in the main and still was this close to keeping orange from the podium. Man do I ever want to see Dungey assert himself, that cat changing his stripes at this point are pretty unlikely but if he is able to work up some curse words for Barcia at Unadilla, I'm holding out hope that maybe if somebody T-bones him someday, he'll return the favor. Dungey could become a game-changer if he introduced even a touch of assertiveness on the track. The top riders all know when they get around the Dunge that all they have to do is lean into him a little and he'll relent. It's a stigma and a reality that he can only put the kibosh on by acting out and proving he's nobodies bitch.
Brayton is the biggest surprise of the night coming in 4th from the LCQ! Brayton is a lot like Rattray in my eyes. Can work out a flow but really excels on the flow-less bulldog-type tracks. Still, I didn't expect for a second for him to fill in that top 4 spot. Well done Justin, even though you didn't stick with Eks Brand.
Following Brayton is the second biggest surprise to me. Weimer in 5th. Here's the crazy part, Jake should be here in fifth. A former MX2(hehe) Supercross Champ who has been struggling both indoor(albeit abbreviated last year) and out, Jake needs to start finishing where he is expected on that Factory Kawasaki. He's got the skills, he just needs to borrow from his team-mate and friend, RV2's mental game. He finally delivered on his guarantee to Berlutti on the PulpMX Show from last year, "I can guarantee you I won't be an 8th place guy". Keep it up.
Shorty is back to his old Red self. His main event finish wasn't indicative of his full capacity but it's obvious he's better than he was on that experimental bike from last year. He's not 100% yet and he still managed a 7th on a track that can't be easy with less than ready-to-go arms.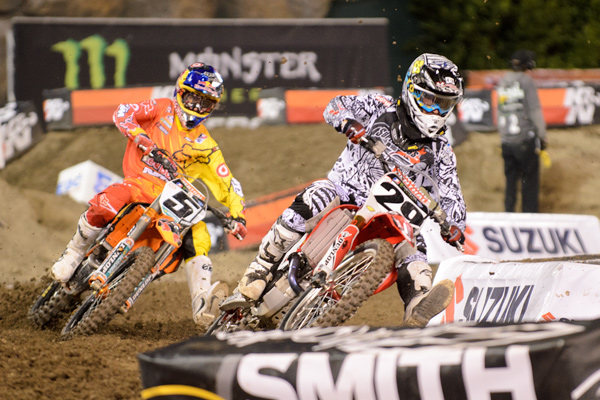 Shorty appears to be resetting the clock to 2010.
Hanny's 10th impressed me. Leading up to the race there was talk of Josh already complaining and setting himself up for excuses for not performing well. Well, although I believe he is fully capable of more than 10th, it's a solid starting point. Especially considering Hanny is the polar opposite of a bulldog like Rattray. He excels when a smooth rhythm and flow track is plentiful, not a choppy, stop and go track like we had at A1. The Hanny project is starting off solidly and I see it getting better from here. The PulpMX Show should be a walk in the park this week, no worries yet Hazbeen.
I'm giving Broc a mulligan, first race struggles, some crashes, is much faster than his finishing position indicates and he'll be fine. I still expect him to pull down a 5th, possibly even a (gasp) podium.
I like Ivan Tedesco. You know why? Because that sonofabitch races Stewart with everything he has every-time they come together. I'm so tired of seeing riders… cough Dungey… give Stewy a freeway to pass when he comes up on them. Ivan just says, "yup, you may be faster but I'll be damned if I'm going to give you this spot". Ivan races Stewart with contact and it's not dirty, it's good old 90's era dirt bike racing. I don't know what Hotsauce jacked up when he crashed in the main but I hope its a quick healer.
Josh Hill was the most disheartening part of the night. Each time he exited the track during racing I felt terrible. I want to see him succeed more than anything else this year. It's so depressing to see how one split second action has forever altered his future. Obviously I don't know for sure what kind of pain he's feeling but I do know about nerve damage and that pain. I had an ACL replacement three years ago and it had complications in the healing stages which has resulted in nerve damage and ultimately skin grafts and a completely numb to surface-sensations state. At the height of the nerve damage and resulting blood flow constriction, I can say without question, I've never felt such intense pain in my life. This coming from a guy who took a 8" reciprocating saw blade punch to the face, through the chin, into the mouth and cracking a tooth(don't ask). The pain of blood flow constriction was a feeling which would bring me to almost passing out when standing and my knee literally felt like it was going to explode like a grenade. Enough about that- the fact that Josh is out there at all is commendable, his will and determination is the direct result of his back being against the wall, realizing this is make or break for his racing future. I'm praying for a success story.
End
So we leave A1, the race everyone claims doesn't mean anything because they just want to get through it. With a track like this years A1, it means even less than any year opener before it because the track was a monkey wrench for everyone and proved very few things. Look for some drastically different finishing positions moving onto Phoenix.
Remember in "The Prequel" when I noted how shocked we would be at the names not making main events this year? It's begun and the list is only going to get longer and more unbelievable.
Thanks for reading.