The LCQ racing action in Phoenix was a mirror image of the 1987 action blockbuster The Running Man, 20 of the best men don't race for a qualifying spot they race for their lives.
The LCQ racing action in Phoenix was a mirror image of the 1987 action blockbuster The Running Man, 20 of the best men don't race for a qualifying spot they race for their lives.
By Moser
Photos by: THE James Lissimore
Although we're only 2 races into the season the LCQ's have already proven to have some of the closest, desperate, aggressive, encroaching, uncivilized and suspenseful racing thus far and with the class so stacked I'll be writing about the heartbreak of the 3rd place LCQ finisher, right here each and every week.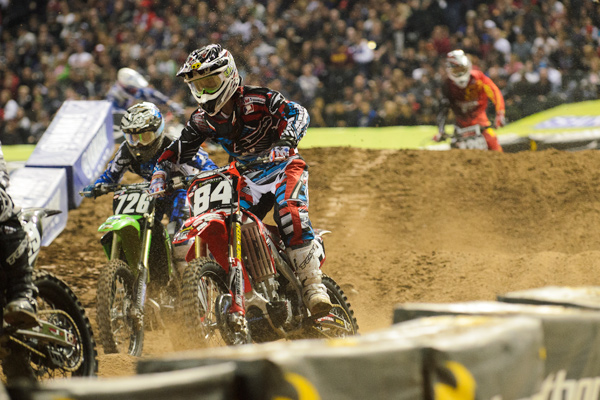 It's a long hard task to start in the rear.
#84 Killy Rusk – RockwellWatches/Team Fire Police/Raceteen/Rusk Racing
Decals/TCX/Wiseco/Torcl/Handlebar/No Limit MX/Hinson/Renthal
I'm sure everyone knows Killy Rusk, I for one have been watching this kid for quite some time. For those of you not familiar with Killy I did some investigating (what did we do before google). After sifting through the many search results for Killy, looking at lots of photos of a very very flexible Killy and after watching several short video clips of another Killy I finally found whom I believe to be thee Killy Rusk I was looking for. Born 7/10/92, Height 4'9″ Weight 80 pounds, raised in Aztec, New Mexico, blond hair, blue eyes, I'm assuming he's a bit taller now and probably heavier as these stats are from 2005 but that doesn't make them any less important when describing a mans character. Killy also raced in the KTM Supercross Challenge in Phoenix, AZ in 2001, it would be an interesting stat to see how many of the KTM JR riders made it to the pro ranks, I'm sure there is a 1/2 dozen or so I'll have Weege look into it. Not to get to sidetracked here but it's a real shame they stopped the KTM Supercross Challenge it was a crowd favorite and had a little bit of something for everyone, the emotional aspect for the women, the comedy factor when the kids got stuck, the racing factor as a close battle was always to be found somewhere on the track and the crash factor for the douche bags that get off on that sort of thing. Killy qualified in 21st position which puts him right on that bubble where he has the speed to make a main event he's just going to need a good start and a little luck. That good start Killy needs and was looking for in the heat race didn't happen and he only finished 5 laps of the heat race, a crash a mechanical problem or both could have been the cause and we'll probably never know. Finishing last in your heat race doesn't help your chances of getting an even more crucial start in the LCQ with last gate pick. Killy is a fighter though and much like Tomac at A1 he ripped a good start from a bad gate. Heading into the last lap Killy needed a little help to get into a qualifying spot and he got it when Moss hooked a right turn into Sipes and caused me to spit my beer through my nose, but it wasn't quite enough help. At A1 Killy finished in 7th in the LCQ so Phoenix can be looked at as an improvement, something to build on as "they" say. I wish Killy good luck and hopefully he can get into a main event this season.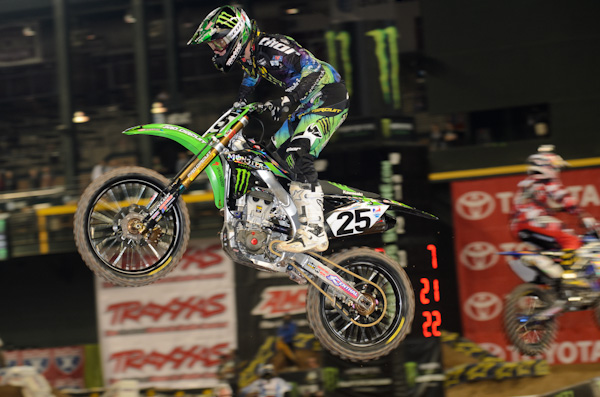 Ryno would approve of how Broc's hips are unlocked.
#25 Broc Tickle – Monster Energy/Pro Circuit/Kawasaki
Tough night for the 2011 West SX Lites Champion, after finishing a solid and respectable 12th at A1 in his 450 debut he had to watch the main from the stands in Phoenix. Broc qualified in 17th and to give you some idea of how fast that is Shorty qualified 14th soooo 17th is pretty legit. I don't have any type of insider info but I'm willing to bet Broc has been practicing starts, over and over and over this week. You can safely assume I'll be mentioning the importance of starts every week right here in Just Short. Missing a main event used to be more or less universally frowned upon, it wasn't unheard of (take RV and Brayton last year for example) but it was the equivalent of getting caught master-bating by your dog, he still loves you and realizes it was an accident (wrong place wrong time) but he's never going to forget that image either. With such stiff competition this year we're going to see more notable guys missing the main events than ever before and I suppose it's similar to owning like 4 bassets the chanicibilty of the dog catching you in the act are just higher it's simple math really. I don't know Broc personally and I've been a little critical of his public speaking in the past. I called into the pulpmx show and asked Mitch Payton what he could do to help Broc with his podium speeches, less than 29 seconds later I received several upset text messages from Broc's biggest fan I won't say his name but it rhymes with Drizzle. Mitch answered my question (which was only proposed in good fun) by saying that we need different personalities in the sport and just wants Broc to be himself and I would agree. I get sweaty palms just waiting on hold to talk to Shorty when he's on the pulpmx show so I can honestly say I don't know what Broc's been through, especially in regards to public speaking. Broc seems like a genuinely nice guy and Swizzle is a friend of mine and Swizzle is a friend of Broc's so by default I'm friends with Broc but that's where I draw the line with 1 degree of separation. Behind any good man is a better woman insert Chickle here, the newly wed's seem to make a great team. When Ping described Chickle as "an orange girl walking through the pits" I instinctively laughed but we shouldn't fault people for taking there Vitamin D intake seriously. I know that Chickle has bent over frontwards and backwards in the past to help out Broc in anyway she can and after missing the main last week maybe it's time to bring back some type of incentive program, whatever it takes to help get Broc into the main events where he belongs. Broc did have the best seat in the house to watch Grant and Albertson battle and was almost close enough to capitalize on it but as "they" say he just ran out of laps. Expect Broc to rebound next weekend with another top 15 ride, stamp it.
Honorable mention: Congrats to Wey and Leib who came up Just Short at A1 but both made the main event at Phoenix.
Thanks for reading this Short recognition of the guys that almost made it. See you next week. Moser
Please send any advice on plunging toilets or double flushing and complaints to jasonw@racerxill.com