What if you were super rich? What if you could sign any rider out ther but it had to be for five years? Here's what you'd do.

What if you were super rich? What if you could sign any rider out ther but it had to be for five years? Here's what you'd do.
Photos by James Lissimore
Pretend for a minute you're a billionaire. See, this games already fun right? Now pretend that you're super interested in solving the world's hunger problem and fielding a top-notch 450 supercross/motocross team. You don't need sponsors, you're super loaded and every single factory is dangling works bikes in front of you because, well, you're loaded.
Everyone wants to work on your team as well because the low-end salary is $500,000 to start. That's just for your shop guy. So because of this ALL the best mechanics, engine guys, suspension guys, truck drivers are flooding your office with resumes. But because you're so rich, you don't care. You're just going to hire everyone. Every single rider's contract is up at the same time (just amazing isn't it?) and guess what? Because you have the equipment and the right guys, they ALL want to ride for you. Not even your promise to run flat black bikes and gear persuade these guys to stop calling you. Not even when you say that not only are you going to blast AC/DC "Back in Black" with ten foot high speakers during the pit party, you are going to actually get AC/DC to go to every round and play "Back in Black" over and over on top of your truck. Like I said, you're stupid rich.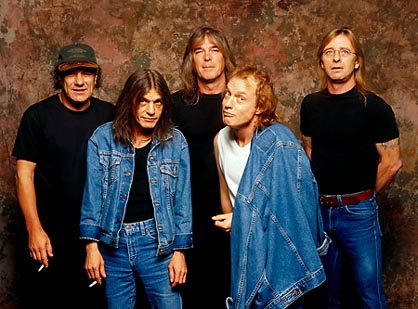 These guys are my team mascots.
Ok, you get the idea. The biggest question you face is- what riders should you sign? Because you're rich and no one has ever told you no and you've never had a disappointing thing happen to you in your life, you have to win. You crave winning and no amount of blow you do off a hookers back will satisfy that thrill you get from seeing your rider cross the finish line first.
So the short-term goal is to win and the long-term goal is to, yup, win. You have to find those riders that can win now and win in the future. And because not every rider's contract will be up every year (this year is just a massive coincidence) you have to make your choices that will work now and work later. You're signing these guys for five years and they need to win for the whole five.
So knowing all this, who would be the best riders to sign right now for winning in 2012 and winning in 2017? I asked Hales, Moser, Swizzle and Hansel to give me their thoughts and here are mine:
1-Ryan Villopoto- he's still young and is winning right now in the big class. Why wouldn't he keep on keeping on? He'll be 29 when the contract ends. The only thing that would scare me is he has had his share of injuries since moving up but hopefully, he's shaken that bug by being in better shape.
2-Dean Wilson- Wilson's going to be a player in the big bike class. He's moving up next year, he's got an outdoor title under his belt and he's a hard worker. Yeah, he's silly but his base is good and his body is also good for a 450. For the next five years, I think Wilson will be right there.
3-Justin Barcia- Now that Bam-Bam's sticking with Stanton and learning the ropes, he would be my next pick. Pure raw, nasty speed with a bit of an edge. I like it and I'll deal with the fines and upset riders later. Probably just buy them off actually.
4-Ryan Dungey- He's one year younger than RV and already has a butt-load of titles on his mantle. I don't like him in a sprint if the above guys are all healthy and ready to go but I like him to win titles. Here's the thing though, I like winning races. I want to win them all. Because I'm filthy Richard-Branson-rich.
5-James Stewart- Stewie would be 31 by the time my contract with him ends and I'm not really sure he'd still want to race. He's the most talented rider on the track (yeah, I said it) but as we've seen this year, talent doesn't always get it done. He would be off the Yamaha (because let's face it, if I sign James, he's not selecting the Yamaha again) and would be better but five years from now? I'm hedging my bet.
6-Justin Brayton- Brayton's young enough that he would still be a factor five years from now and even though he hasn't won yet, I'd like to think that the pressure I would put on him and the incentive program I would have for him (like the keys to the state of Iowa- I'm rich remember?) would maybe propel him to the top. Plus with Justin, I'm not going to have to deal with any whining or excuses. I'm too rich to hear that crap.
7-Ken Roczen- I am a little worried about King Kenny Roczen this year but he's got some good reasons why he's not winning right now. The kid is still so young, he'd be just getting into his prime when our deal would end. Roczen's got some skills and he's already won a World Championship which is big in my eyes. Winning a title like that ain't easy and Kenny's done it. That counts. Actually, switch him with Brayton- I'm too lazy to copy and paste.
8- Trey Canard- I'd put him higher but remember, my deal is for five years and I need a guy who's going to win for me every single year. Canard's got serious speed, we've seen that but what we have to see is how he recovers from his latest injuries. Will he have the same fire? Will he have the same skills? I'm betting he will but he gets knocked down a few spots because of his propensity to get hurt and my questions about his recovery. The fact that I've hired Tim Ferry to manage my team (I've actually signed Ferry to a $10 million "personal services" contract and of his duties is to manage my team) might be enough to help Trey get back.
9-Eli Bogle- Yeah I know there's no rider named Eli Bogle but I couldn't pick between Eli Tomac and Justin Bogle. Maybe I'll buy some machine that can meld them together and make a super rider? I love Bogle's skills on a bike but I love Tomac's dedication, hard work and level head towards this motorcycle racing stuff. Both riders have their flaws but I feel a combination of both riders would be a super racer that I could then unleash on the world. Just have to figure out a way to hide the bolts in the neck of my Eli Bogle-monster. And hope he doesn't throw any little girls into any lakes.
10- Jake Weimer- Weimer's got podium speed man, podium speed cannot be bought or gathered like acorns. It can only be acquired through hard work and many laps. I like the fact that Weimer, who doesn't make a ton of money, he doesn't have EFF YOU money by any means, goes out and hires what might be the most expensive trainer in the pits (Aldon Baker) relocates to Florida for half the year because that's where Baker and RV go. That's putting your money where your mouth is and I feel like if I had Weimer on my team, he may not be winning but he'll be working hard to figure out why. Plus he's pretty funny and I like having someone around to make me laugh dammit.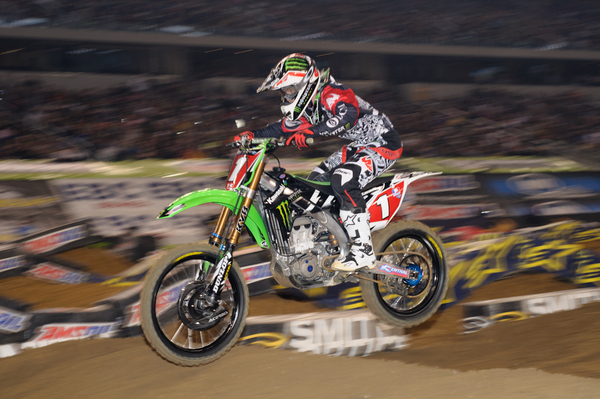 Any dope knows this guy is at the top of the list.
Haley Whisennand, Racer X Intern
I had fun with this. Can you tell?
1. Ryan Villopoto – Obviously the leader of the "young guys" right now.
2. Ryan Dungey – Was riding really well, especially on the unproven KTM.
3. Justin Barcia – Self-explanatory.
4. Eli Tomac – No bias here. Strong rider proved his worth on his bike. He'd probably fare well on the bigger bike, too.
5. Dean Wilson – Has the right idea and knows what he needs to do to win.
6. J Brayton – Potential, even if he isn't showing it right now.
7. James Stewart – Still fast, but inconsistent. He would be higher otherwise.
8. Cole Seely – Proven he's fast on any bike. Good kid, too.
9. KRoc (Roczen) – Plenty of time to learn and grown and lots of raw speed. Always ready to try something new.
10. Zach Osborne – Overall good guy and proved himself in the US, even if it was only for a couple rounds.
11. Josh Hansen – Been riding consistently. His media appearance isn't always super-beneficial, though. That was taken into account.
12. Marvin Musquin – Potential, but not really a front-runner. Maybe over time he'd grow to become one, but he isn't there yet.
13. Davi Millsaps – Like his teammate, inconsistent at times. Not really a fast guy.
14. Blake Wharton – Shown what he's made of, but had little time to prove it after being out for so long.
15. Darryn Durham – Super fast and super chill. A good combo, along with drive, for a budding rider.
Didn't Make the List:
Trey Canard – Prone to injury. No time recently to prove if he can be a front-runner for a whole series.
K-Dub and Nick Wey – Age and speed. Both really good guys, but not front runners and limited time.
Chad Reed – Getting to his age limit as well. He himself admitted he's thought about retiring.
Mike Alessi – Don't wanna deal with Tony. Plain and simple. Plus, Mike doesn't have the spark he used to.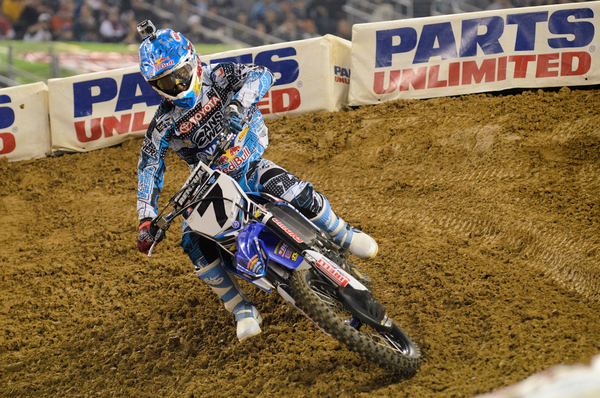 Pretty sure anyone signing JS isn't going with blue bikes.
Aaron Hansel, Racer X Online
Ryan Villopoto – Duhh
James Stewart – See above
Ryan Dungey – See above
Trey Canard – Has a history of getting hurt, but is one of the few guys that can consistently run at the front of the pack. Some of his injuries have been freak things, and I'm not ready to hang the Black Cloud of Ben Townley above Canard just yet.
Dean Wilson – Very young, extremely talented, has won supercross and motocross races, and is the reigning outdoor Lites champ. Easy decision.
Tomac – Very young, very talented, hauls ass. Tomac could have easily been listed in front of Wilson had he not floundered a little last year during the nationals. Tomac strikes me as the type of rider who is going to continue to learn and grow at a fast rate. He's also a super nice dude, and both the fans and media love giving him attention, especially when he does well. Great face for the team, and is the kind of guy that attracts sponsors.
Justin Barcia – This is a no-brainer. The fans that love him, REALLY love him, he's the reigning Eastern Regional Supercross Lites champ, and he's currently dominating the 2012 season on the East Coast. He's also shown that he can haul ass on a 450, which is something you love if you're signing him to a 5-year deal. Had he consistently had more success outdoors, it'd be easy to list him ahead of Tomac and Wilson.
Justin Bogle – Very fast amatuer, and he's followed it up with some great rides so far in the pro ranks. He probably won't win any championships this year, but as soon as he gets the kinks worked out, he'll become an instant contender. I've also interviewed him a couple times, and he came across as very intelligent and humble, while still sounding very confident. You gotta love that in someone so young, and if he's this smart this young, how smart is he going to be with a few years of professional experience under his belt? This dude has a bright future, I'd love to have him for five years.
Andrew Short – Let's be honest here. In all likelihood, Short isn't going to deliver a championship. However, when you're signing people for the next five years, you're going to end up with a bunch of youngsters on the squad. You need to have at least one veteran who gets along well with everyone, has frontrunner experience, and can still haul ass. That's Short. Also, from what I hear Short is an awesome tester, something every team needs.
Jake Weimer – He's been up and down for a couple years, but let's face it, the dude can haul ass in supercross, and he's no slouch outdoors most of the time. For some reason, it seems like everyone has forgotten how he cleaned up in the Lites West in 2010. Also, this is his first full year on a 450 in supercross. He's had a few bad races, but all things considered, he's not doing that bad. I'm putting him on the team because he's still young, and I believe there is massive potential there.
Blake Baggett – He's very fast. Sometimes. Inconsistency is a major turnoff for me, which is why Baggett very nearly didn't make my list. However, the wins he did have outdoors in 2011 were amazing, and had to be soul-crushing for the competition. When he was on, nobody, and I mean nobody, was able to match his pace. It's worth trying to figure out a way to tap into that speed consistently.
Ken Roczen – Another really fast dude that hasn't quite become one of "THE" guys yet. Yes, he's won a supercross race and is a world champion, but to me, he hasn't quite dazzled us with magic performances yet. Then again, it's only his second year here, and he hasn't even raced any outdoor races in America yet. He's on the team because of his incredible potential. That, and any team Roczen is on will always have a huge crowd of women crowding around.
Zach Osborne – Another rider who is on the team because of his potential. After not riding supercross for several years, Osborne came out at the beginning of the season this year and showed that he was a competitor right off the bat. Think how much faster he would have been if he had been testing and dialing everything in for supercross with a U.S.-based team several months in advance!
Tyla Rattray – He's on the team because from what I hear, he works his ass off and has unshakeable determination. I think he'd set a great example for everyone else on the team, and I can't help but think he's still got a very real shot at the 250 title outdoors.
Davi Millsaps – I'm probably going to catch some grief for picking this dude, but people forget that Millsaps is one of the few guys who has gotten podiums and race wins in the last few years. I don't know why he doesn't do it on a regular basis, but I still believe he can get up there from time to time. He's also very young still, and has at least five quality years left ahead of him. Next time you're at a supercross, watch him in practice. He is always one of the guys who is first to jump a tough rhythm lane or try something new and fancy on the track. For some reason, people either don't notice it or talk about it. Bottom line, he's very talented and at worst, is an over-qualified second stringer. At best, he's a consistent podium guy.
There was a lot of other guys I wanted to pick, but I just ran out of space. For example, you want to have guys like Chad Reed, Kevin Windham, Nick Wey, Justin Brayton and Ivan Tedesco on your team, but we were talking about five years here.
I'd also love to have guys like Blake Wharton, Kyle Cunningham, Cole Seely, and Broc Tickle, but like I said earlier, consistency is a major factor for me. Even though it hasn't always been their fault, these guys have had issues demonstrating consistency.
Wharton ALMOST made the list, but I think he needs to have a season in which he podiums consistently to get up there. He's a super nice guy, very fast, and always ends up cracking me up whenever I talk to him. I hope he makes me look stupid by not putting him on my team.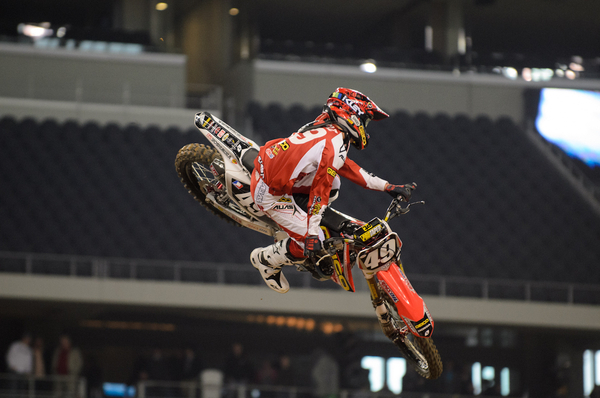 This spring chicken's future looks bright.
Corey Moser, Seattle heated floor magnate
I ranked the riders based on highest chancibilty of championships, wins, current and/or potential fan following, it's all about selling motorcycles right?
Each of the following 4 riders easily has a championship or 3 left in them, I think 5 more years will start the downslope of their careers (obviously Reed doesn't plan on riding that much longer but his fan following alone (aka Windham) wood justify signing him for 5 more years if he was willing). Also having a seasoned veteran on the team to show the kids the "way" is invaluable.
1. Ryan Villopoto
2. James Stewart
3. Ryan Dungey
4. Chad Reed
The next 4 riders I consider the next big thing, one of them is going to win a 450 title, flip a coin or spin a wheel to determine which of them it will be.
5. Justin Barcia
6. Dean Wilson
7. Eli Tomac
8. Ken Roczen
9. Trey Canard – The frequent injuries are lowering his net worth, I'm losing faith he can stay healthy for a full season let along multiple seasons. But he's amazingly fast, great personality and good with fans.
I rate the next 3 guys a little less in my Moser rating system, but lots of potential in the next 5 years.
10. Cole Seely – Smooth riding style, but can he figure out the outdoors? Reed and MC did.
11. Marvin Musquin – Smooth riding style, pretty consistent.
12. Blake Baggett – Consistently inconsistent so much so I question if he's ever going to figure it out, head case.
Best of the rest
13. Andrew Short – I tried to be as unbiased as possible when placing Shorty on this list, I think he has 5 years left in him which wood put him at appx. Windhams age. One of the most consistent riders on the circuit, good test rider, you know he's going to do the work off the track, zero drama, team player, solid fan base, winning smile.
14. Justin Brayton – seasoned guy who is usually pretty consistent but now that I think about it he has actually been crashing quite a bit the last couple years. Puts in the work during the week, no drama but lacking in personality.
15. Jake Weimer – has the speed needs the consistency and needs to pick it up outdoors.
16. Darryn Durham – speed, style and personality, all these things sell bikes
So whatever I have 16 riders I can't bring myself to cut one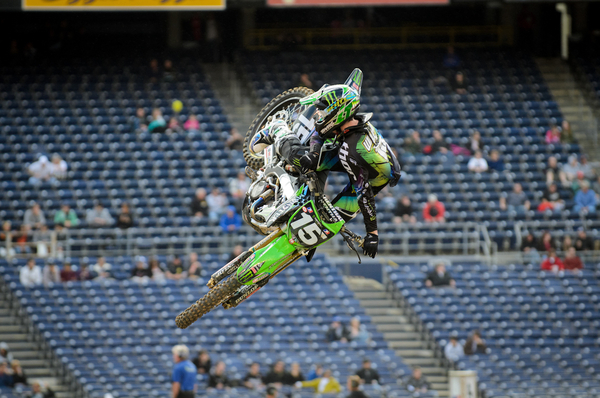 Signing Dean up is a no-brainer.
Swizzle
This scenario has been setup to essentially force us to look forward to the young crop of racers. A 5 year deal?! Sorry Reed, K-Dub, Shorty, Nyk, Ivan and others; the boss has conceptually eliminated you from the running. The formula I used for this list was simple, current speed + pure hatred for losing, multiplied by pi and graded on curve taking age and future potential into account. It's science and you can't argue science, moto-heads.
1. Ryan Villopoto – Do I really need to clarify? He's the current champ, is more of a little ball of hate than Pat Verbeek ever hoped to be, is still a young gun; therefore the future is a blank canvas prepped specifically for RV's stroke.
2. James Stewart – Yup James Stewart on my team and definitely not on Yamaha's would be a force to be reckon with once again.
3. Ryan Dungey-The Dunge is only 22 bro! A kid who gets plucked out of the B class and progress faster than Jeff Goldblum in "The Fly" is a special thing. He's the 22 of the next millennium.
4. Justin Barcia –Bam Bam's placement is a carbon copy of RV's aside from the already claimed titles. Justin has one-up on RV though and that is a complete disregard for what his competitors think of him or how he rides. That means no reservations in any situation. Those racing him don't appreciate it and he doesn't give an eff. I like that.
5. Dean Wilson –Dean would have been higher but seems to get overcome by emotions at times and I prefer a team of automatons who bury their emotions in the their black hearts, not on their sleeves.
6. Eli Tomac –Eli won his first pro race he ever entered and granted, he's had major trouble figuring out the outdoor work flow so far but look at this kids Supercross prowess and considering who his Dad is, he's going to figure it out. When he does, I'll be glad I signed him.
7. Trey Canard –Trey would definitely be higher in this list if it weren't for his exceptionally long injury list. The talent is there, I'm just waiting for the luck to catch up before I lay a 5yr contract on the table.
8. Justin Bogle –Leg-swag. What else do I need to say. This guy has more style and charisma without even trying than 77.35% of everyone else qualifying for the night show. Hey, he can ride too.
9. Ken Roczen –Ken's not afraid to say he sucks when he sucks, shit, he even says he sucks when he does pretty good. That kind of honesty with oneself will go a long way in this sport.
10. Jake Weimer –I think Jake is going to figure it out and be pretty damn good. Get out of your head Jake and take no prisoners.
11. Darry Durham –Durham gets a deal because he could pull out a win any day and everyone would be like, "I knew he could do it". That's special. It' doesn't hurt that we could hit up some punk shows and throw some elbows together too!
12. Marvin Musquin –Every team needs a "crafty Frenchman", this one just happens to be a super-swell guy and fast as balls too. The Martian is a great pick.
13. Zach Osborne –Ozzie would be higher but I'm placing him low just to light a fire under his ass to get him motivated to come back to the states and work for this 5yr deal. He shocked EVERYONE in his temporary SX2 stint, just wait till he gets on a team accustomed to setting up Supey bikes. Maybe the Monster dudes will actually talk to him too?
14. Broc Tickle –I honestly can't wait for this season to end just so Broc can clear his head and truly start fresh. There is no possible way next season could go so wrong for Broc. I happen to fancy myself as a great motivational speaker and I think that alone could turn around this 2012 nightmare for Broc. I would actually write that into his contract.
15. Blake Wharton –Every team needs an artist formerly known as Prince. Blake's contract would require he jam out the entire Purple Rain album each week before opening ceremonies.