I've written this slowly as I know a lot of the PulpMX readers can't read fast. Let's get straight into it shall we.
I've written this slowly as I know a lot of the PulpMX readers can't read fast. Let's get straight into it shall we.
By: Steven Thomson (@whosthomo)
Most of my junior days (amateur) were spent with parents and little brother. We didn't have all the greatest equipment but our results were punching well above there weight. I still remember crank cases in the oven and big end bearings in the fridge. Moto is something I can't get out of my system and thanks to the Internet and especially the efforts of PulpMx I get a great fix of Moto much to Mrs Thomo's disgust. I don't remember any of my bikes being lemons. I think only a pro could tell a lemon from a good bike. To me and my level of skill a lemon could only be a bike that was unreliable so I don't get how a lot of people say "oh that bike was so bad" when really they didn't know.
Well I hope you enjoy my little look into "The Bikes of My Life"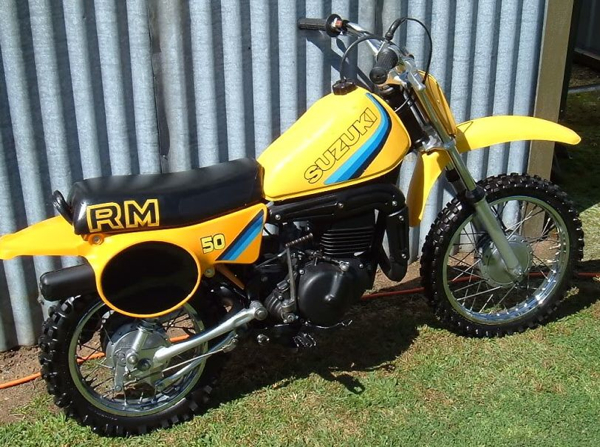 Look at this animal of a bike.
1982 Suzuki RM50 this thing went like poo of a slingshot, after all it was my first bike. I remember my little brother getting this bike before me as his 1982 Honda Z50 was stuck on the wharfs due to a Stevedores strike. I don't remember too much about this bike except I wish I had it still to this day. My one bit of advice to those who might read this is to keep your very first bike and maybe hand it down to your kids as I wish I could.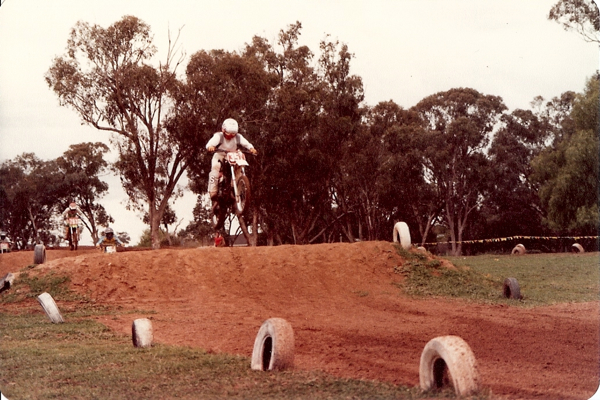 Boot gators, open face helmet with JT mouth guard and Joffa body armour.
1983 Yamaha YZ80K I'm a roller now, radiator, Mono-X stickers on swing arm etc. I got this bad boy for X-Mas and remember my dad having the first ride to see if all was right. Well all was not right as it blew up without me having a ride, as the shop had put straight fuel (gas) in it and not pre-mix. This is a problem I will not come across these days with the great 4-Stroke. (Here go's a Vital 6 pager)
84 no new bike as I wasn't riding due to a bad school report. I did become more popular with the chicks at school though.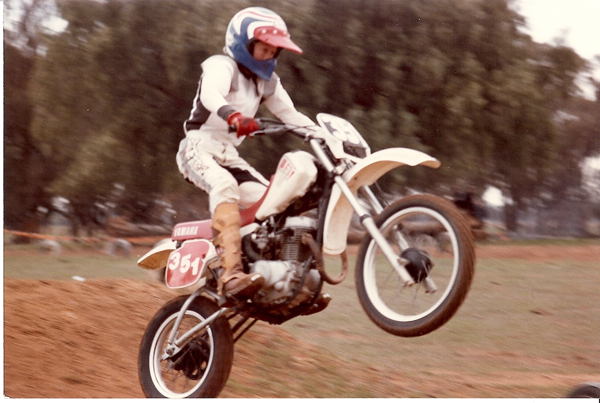 Av Gas, hot cams, hot heads and for some reason no goggles. Note the header pipe which looks similar to current CRF's. Damn pioneer I was.
84/85 Did however land an YZ80 framed XR80 which we ran in a special class. Hot cams, pistons, straight out megaphone exhausts and severely modified heads were the order of the day and let me tell you these things were as temperamental as a lady going through a bad menstrual cycle. These bikes with a full grid drew the crowd to the fence as they were loud and always had the throttle to the stops.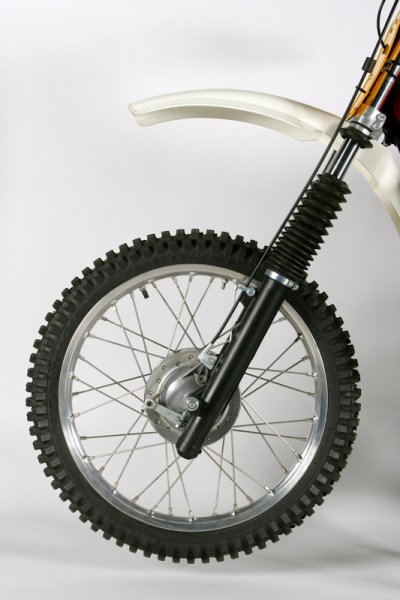 Great times at the Xmas period 5 day motocross camps and 40deg C temps.
Yamaha YZ80N 1985 with 85cc big bore. The difference between the 79cc (which was std capacity in OZ) was night and day. 1985 was the start of living life as a moto family for us with I think we raced about every weekend for 10 months with 4 bikes. I got my first box step (2nd) at a state title on this bike in the C-Grade 80 class.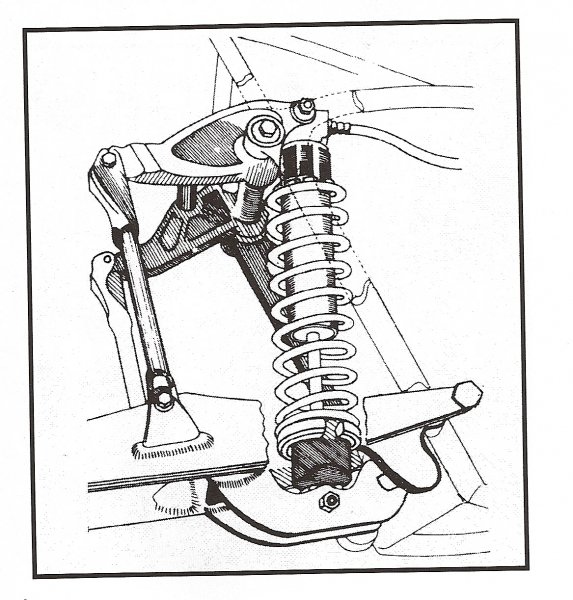 You could really lay this bike over in the corners as I demonstrate perfectly here.
Yamaha YZ80S 1986 A whole new look for this model and a disk brake I thought you could stop kryptonite with those puckers which was good as the racing got more serious as I moved into "B"grade (intermediate) It was a real novelty having the disk as I could do endos. I remember photos of Bradshaw on this bike and looking at my photos man we looked good. (dreaming again)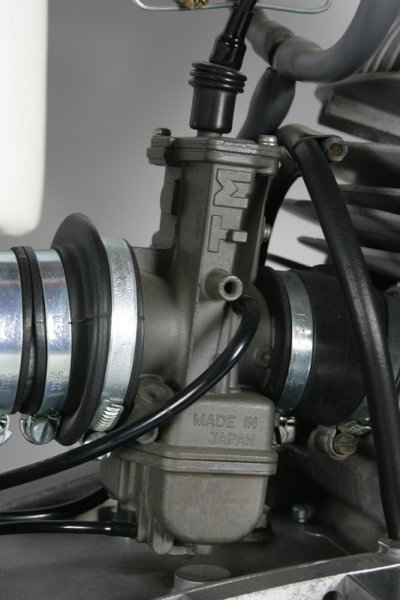 On my way to what it thought was a 2nd overall at a national. Feeling special with the Brad Lackey helmet JT gear and always rocking the Carrera goggles.
Yamaha YZ80T 1987 stepped up to "A" grade but underpowered compared to the Hondas and Kawasakis. I nearly got 2nd overall at the OZ titles in Alice Springs on this bike except I got taken out by a back marker. If I can remember I came through the field from last to 7th which wasn't good enough as I needed a 5th who I finished directly behind.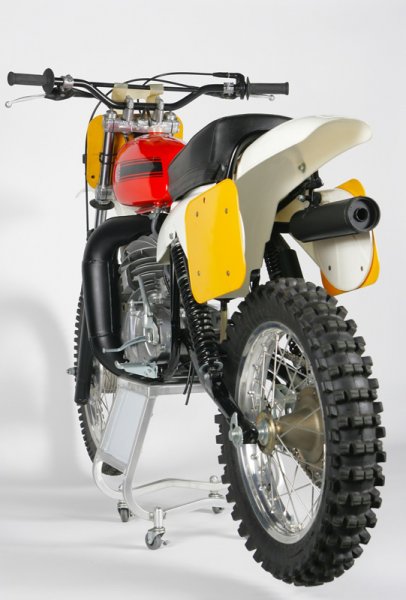 The sweet popping KX80 and Too Tall Thomo at the helm.
Kawasaki KX801988. I remember seeing the photos of this thing before they were released and thought it looked like a works bike. Like Matthes I too was a giant on an 80 but was the same weight as a wet fart, although I didn't have 4 Manitobans. This bike got tricked out with a Pro Circuit exhaust but kept the same silencer which had to be cut and a sleeve added to slip the Pro Circuit into. I remember this bike used to pop a lot at high RPM. Now having a bike like the Jones's I was ready, well unfortunately the Hondas were just to fast.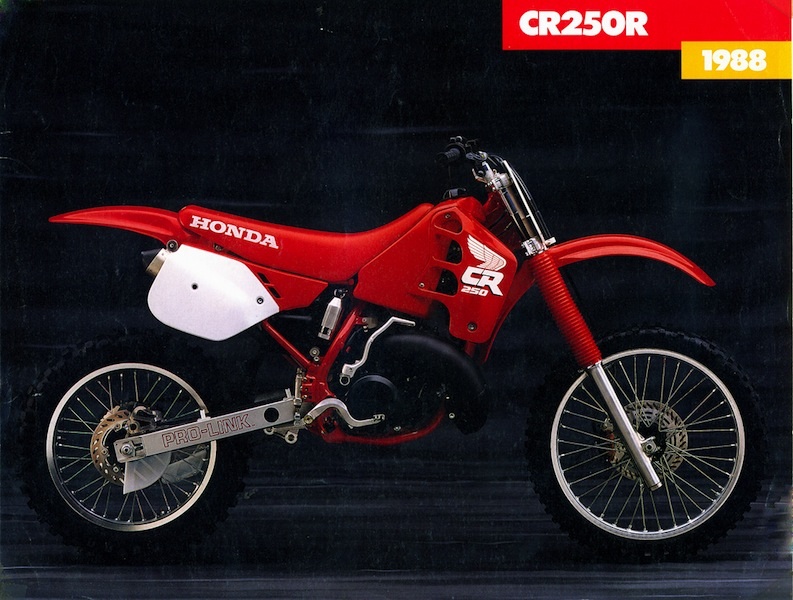 8-Rocking some sweet silver "go the rat gear" which I still have today. It's a bit tight these days though.
Yamaha YZ125 W 1989. Time for the big boys or as Carmichael once called it the buck and a quarter class (we have no quarter in OZ but do have a 20 cent coin instead). I thought I was the Beast from the East on this bike. It had the usual engine hop ups but I went a different route on the exhaust pipe. Instead of a 1989 FMF pipe / silencer I went the 1988 pipe / silencer combo and the difference was night and day. It was a great engineering move by me and the fact they were practically throwing it out at a great price as well might have had a lot to do with it. I remember my grandparents bought me this bike so I could go to the Xmas motocross camp on it. The stators were a real problem on this model and 2 days into the 5 day camp the stator lunched its undies.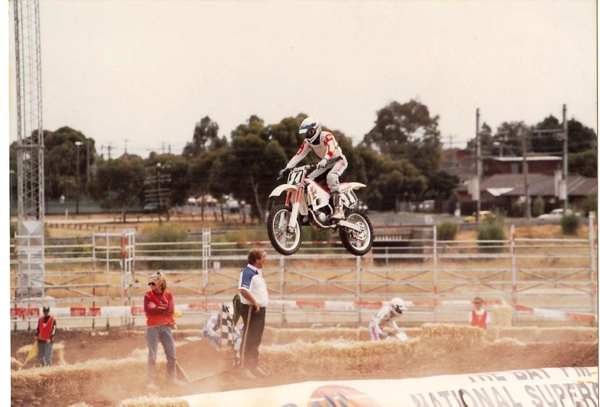 SX at the end of the season in which I think I finished 6th o/a in pro 125. A true privateer I was paying for everything except jerseys. I'm rocking some more go the rat gear as well and a sweet Bell Moto 5 which my father brought to Oz for me from the States.
1990Yamaha YZ125A. Well on this bike I got a little closer to being the Beast from the East as the guy who did the motor did some testing with Bradshaw over in Japan and come home with 1991 YZ125 model specs which he applied to my cycle which was awesome and come in handy since I didn't get the 91 model. This guy came (insert Moser spelling there) from an extremely well know name in the F1 world as his dad built the F1 championship winning engines for Sir Jack Brabham in 1966 and Denny Hulme in 1967. I had some decent results on this bike and if I remember correctly placed 6th in Pro 125 at a big Supercross race in OZ at the end of 91which had every Pro there. After finishing Yr 12 High School (which reminds me, can u have an affair with your teacher if your home schooled.) and passing I started training a lot. Unfortunately I trained to much and ended up with stress fractures in both of my lower legs and put a huge dent in my training that and I was legal age to drink and disco.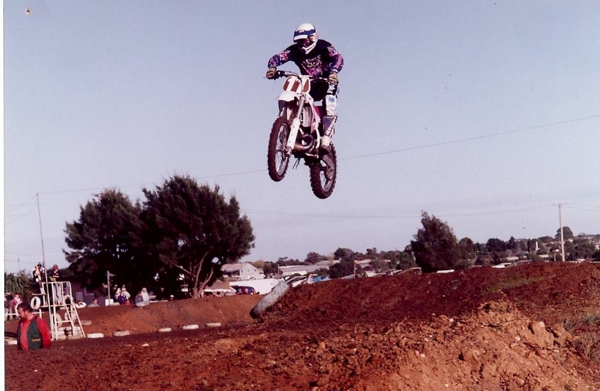 Hit the big time now and still dreaming of being Bradshaw. Got some sweet Fox barbed wire gear on here.
1992Yamaha YZ250D. Well hold on for dear life as these things went harder than a 17yr old boy alone in the shower. This bike I kept stock. One thing I remember with this is being able to stay with the top guys for 2-3 laps but a lack of fitness, riding and the track getting rougher stopped my hero status. In 92 I also started a trade in aircraft structures and sheet metal which put a severe dent in my riding and the fact I had to start to pay for most things myself which sucked balls. Sponsorship never came my way but then again I never seeked it either.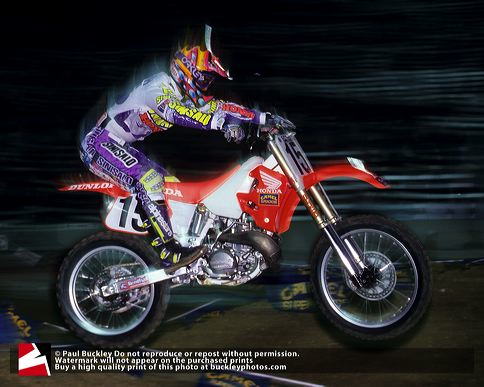 My favourite bike and one I don't have any photos of. (Paul Buckley Image)
1993 Honda CR250. The end of my Yamaha affair which would not re-ignite until 14yrs later. This bike was the ducks guts a feeling McGrath shared with me. Everything about this bike I loved and once I had it hopped up by the same dude who did my 1990 YZ125 and went for the strange pipe /silencer combo of a FMF fatty and Pro-Circuit silencer this bike was a weapon and sounded more awesome than the sound of knocking the scab of your first stubby (beer) on a hot day. My results were ok on this fine steed but the list of mods is what I loved about this bike with most internals not bearing any same resemblance to standard and the smell of AvGas and Castrol. The carbie had a 1" in circumference aluminium dowel attached to the carb bowl which increased the fuel capacity in the carb bowl. This mod always aroused a fair amount of questions by observers. One of my strongest memories was this bike lunching itself in a huge way destroying everything from the crank, rod, pistons, head and bore of the barrel. Strangely this is my favourite bike and I can't find any photos of it as it was tricked out just sweet. It was cosmetically the same as McGraths but didn't have a Camel sticker but had the US flag instead. (these colours don't run man)
1994 no new bike as the 93 CR was all the goods needed. Just ask McGrath.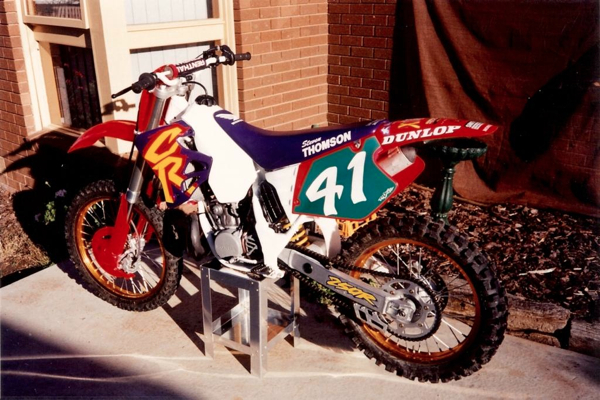 A little bit of detail went into this bike. If I remember it was a good bike and looked the part.
1995 Honda CR250. This was a nice bike and only had suspension work done to it and some cosmetic changes. I raced a few SX's on this thing including the Melbourne tennis centre which was severely tight racing. These SX's are where Reedy and Burner cut there teeth. I didn't know it at this time but this was the end of an era for me as after the 95 year it was time to hang up the helmet as they say. The next few years I relaxed and had fun in the bush (forest) on some XR's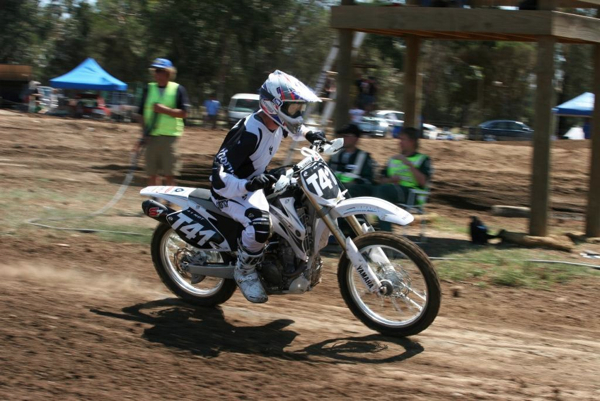 Back into it this was my first race in 12-13yrs and only had my first ride back 3 days before. My hands were a mess like that lonesome 17yr in the shower.
2007 Yamaha YZ250f. Fast forward the odd 1 or 13yrs here and the spark for moto is back and so is my love affair with the tuning forks. Mrs Thomo told me if I lost some weight I could start to race again so I hit the gym harder than an Idaho thermometer hitting the negatives in January and not once did it with the help of a lythical. Well a drop of 12kg's (26 lbs) and I'm back moto-ing. The only thing I had left over from the old days was an easy up so it was a rather expensive exercise. The 250f on my 1st ride I remember revved to the moon. It only had suspension mods and an Dep S7 exhaust system. I got a few race podiums but not overalls in the state series. My wife used to laugh at the commentators as they used to call me "young" Thomo, only if they new I was older enough to be most of the riders dad. This bike was to be the 1st bike I had a serious accident on with the result being 6 broken ribs (2 in 2 places) both lungs punctured and a lacerated liver. After a few months of the bike it was time to get back on the steed. I kept this bike through 2008.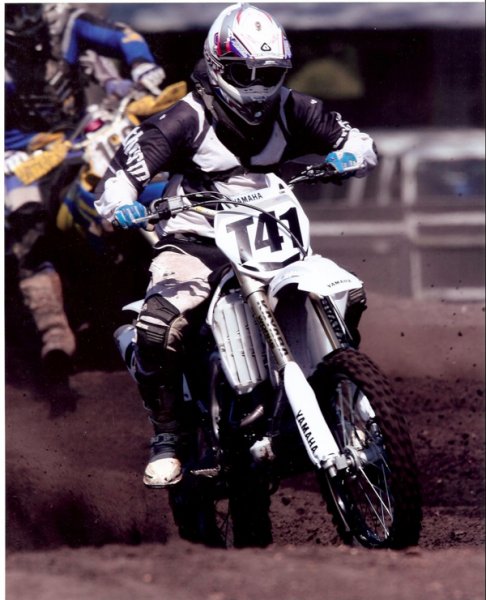 Really liked the white bike with black wheels and the new found love of more power
2009 Yamaha YZ450F. Holy sheep poo batman this thing was a beast and gave me a great appreciation for the top riders who can easily go 30+ on these and riders like Zach Osbourne (@thereal338) who can step up from a 250F and excel. There was no need for anything on this bike except for a Dr.D exhaust system. This thing gave me blisters like that 17yr old alone in the shower. Once again I had some race placing's in our state series but no on the box overalls. I kept this bike through to the end of 2010. For me keeping a bike for 2 yrs is easy as I'm anal with my bike being clean and even wash them in between practices on a practice day.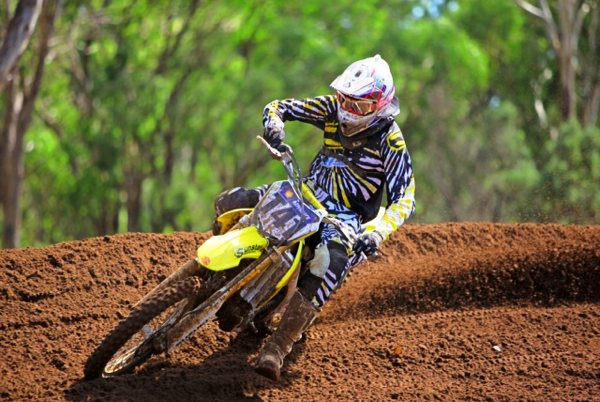 The love affair with the old girl has re-ignited.
2011 Suzuki RMZ450. Nearly 30yrs later and we've gone full circle in the bikes. Well the love affair with the tuning forks is over as when I sat on the new radical YZ450F it felt like I had Kirsty Alley between my legs. I really like the Zook and only added a Yosh exhaust system to it. At top end this bike is as nervous as your first root (sexual intercourse) with an actual girl and not a rubber blow up doll (did I just say that out aloud) and turns like a dream. I love the fuel injection as the response when revving it on the start line is awesome. As age gets on the significance of looking and sounding good when not going in a forward direction becomes more important. The good thing is now at the state series they have a Vets class for 35+ and in doing so placed 2nd overall in my class for the whole series. This year I'm going to be doing the 2 OZ national Vet rounds in the 40+ class (I got 9th o/a). It's going to be fun as I get to catch up with a good friend of mine and one who I've wrenched for, Cameron Taylor Lucky for Cam he rides the 35+ class who by the way is the 2 time vet champ. I've had some product support from @itsORourke as he's thrown some sweet product my way and also Cameron Taylor, who is the Tim Ferry of OZ motocross and who I've also wrenched to 2 national Vet titles and also 450 Pro podiums at the OZ nationals. (Check this YouTube clip of Camo out in the OZ SX champs 2010…….. http://www.youtube.com/watch?feature=player_detailpage&v=EPPWFVIgJvw)
2012/2013 I hope to purchase a Yamaha PW50 for little Thomo and have him experience what I had the pleasure of doing with my family. Motocross is a sport which is very unique combining beauty and terror. Remember this though I will scissor kick anyone in the cods who calls me a Peewee Parent.
I hope you've enjoyed my little rant on "The Bikes of My Life" and hope you feel the same way I do about bikes for motocross. As DV12 (@davidvuillemin) once said "motocross is an international language"
P.S Matthes didn't instruct me to put a Tim Ferry mention in here either.
Cheers
@whosthomo