We did the west side and now, Swizcore and I break down the east the best way we can.

We did the west side and now, Swizcore and I break down the east the best way we can.
Photos by James Lissimore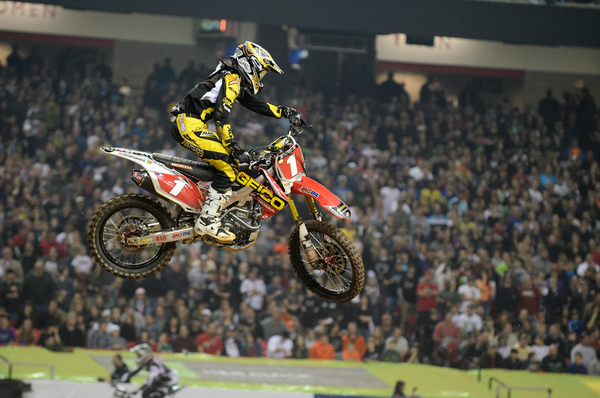 Champion- Justin Barcia Best Finish: 1st (6 times) Worst Finish: 4th
Getting six wins in a nine race series is usually the best way to clinch a championship. You don't have to be Gary Semics to know this. Barcia won his second straight title in sort of an unexpected way. Most of us thought that he'd have some competition but in the end, he was in another class. Was it a case of the other guys not reaching their potential or Barcia just stepping up his game. Well to me, seeing as how Baggett, Roczen, Durham etc couldn't stop the Bam-Bam train, I'm leaning towards it being a case of Justin just elevating his game. Weird how in a title clinching race with a huge points lead we saw Barcia ride his worst at New Orleans. You'd think the pressure was gone and he'd hang it out more or something. No matter, he got the job done and it's onto the 450's for next supercross season. The 'stache was very powerful this year.
Swizzle- The time of Barcia is upon us. We've seen him since he was an amateur phenom in the Honda commercial and now teamed up with Jeff Stanton, he has reached his stride. There was no doubt this title was going home with the current 1E early on. Sure he had that Houston moment which could only be classified as temporary insanity but it was an otherwise dream-season for Justin.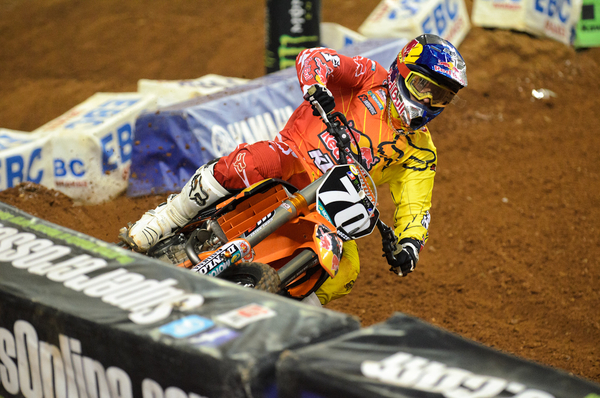 2nd– Ken Roczen Best Finish: 1st Worst Finish: 16th
Roczen was looked at as being Barcia's main problem this year (or Baggett, if you want to say Baggett- I'm ok with that) and as I said above, it was a case of Justin stepping up as to why Kenny couldn't get it together. Having said that though, I thought Roczen was less agro this year, the aggressiveness and scrubbing we saw last year was sort of missing this year. He was sick for one race, got arm pump in another and it was an up and down year for Kenny. No matter, he's 18 years old and will have another shot at this thing. His "down" year was still pretty damm great.
Swizzle- I was pretty underwhelmed with Ken Rox. The fire under his ass from last seasons partial schedule was much more subdued. The fact that Barcia was so impenetrable didn't help Roczen's appearance either. I hope to see him come back next season with a little of that edge that was on a milk carton this year.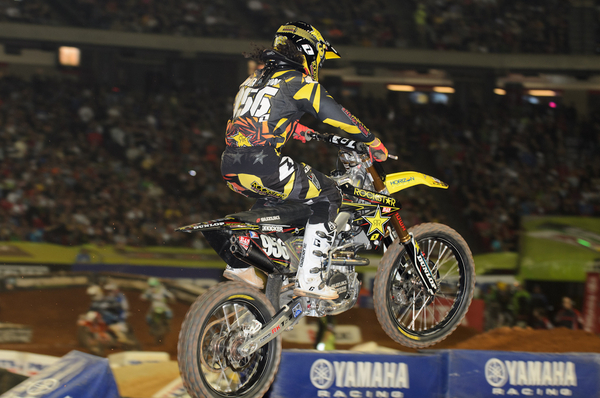 3rd– Blake Wharton Best Finish: 1st Worst Finish: 14th
No matter how he placed in the points, Wharton's season was a success due to his win in Indianapolis. Dropped by the GEICO team after one win and many injuries, Blake's season was unexpected and he was very good. Eight top fives in nine races will get you some pretty good points and for the most part Blake was very good. If everyone was on one particular night I'm not sure he has the speed of the top guys but he was consistent the whole year and as a veteran now in the series, he knows that's what it takes. Good job to Blake and to his team for one of the "cooler" wins this year.
Swizzle- Slash had a great season finishing only 7 points behind Roczen and matching him with 1 win. He looked like the fiery Roczen looked last year, without the crashes. I'm not sure if it's his hair or what but when Blake is on the track he looks like a long-haired version of RV the way he attacks the track. Piss and vinegar-oodles of it I say!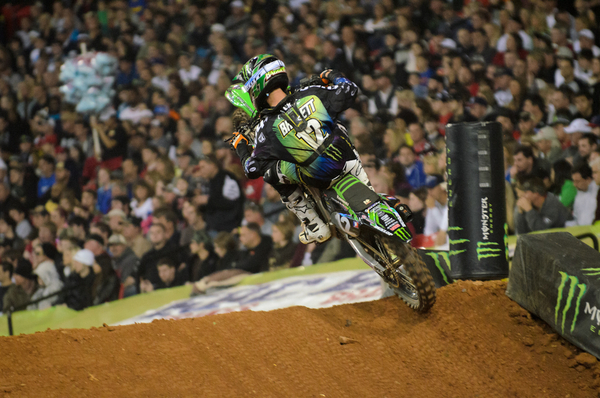 4th– Blake Baggett Best Finish: 2nd Worst Finish: 15th
He salvaged a fourth in the points but at no point would you think that Baggett's year was a good one. Blake was off all season for one reason or another which puzzled his trainer Aldon Baker and his team. Lots of post race meetings with Blake at the Pro Circuit truck to try and figure out what the deal was. A couple of podiums is nothing to sneeze at but it just seemed that Baggett went backwards more than forwards this year. Bad starts, lack of aggression and crashes just didn't add up to a good year. He pretty much started saying "Wait till outdoors" about halfway through the supercross series so maybe it's on outside. We'll see.
Swizzle- Blake made a run at solid consistency in the series but still had two 15th's and a 9th in there. He definitely likes outdoors more but I think we'll see a more mature and consistent Baggett next season in SX.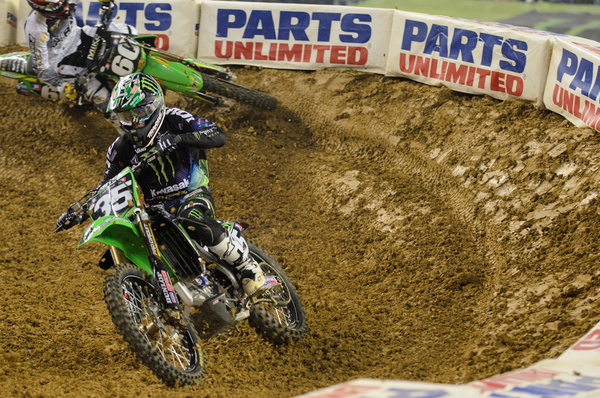 5th Darryn Durham Best Finish 1st Worst Finish- DNS (injury)
Durham would have had third in the series but missed Vegas due to injury which had to suck coming off his first career win in New Orleans. Durham's getting another shot with a top team (he rode for Star Yamaha years ago) and he's making the most of it. I think that while Baggett was worse than many thought, Durham was better. Him winning a race wasn't a huge shock but then again, if he hadn't won one, it wouldn't be a shock either. Durham is also a breath of fresh air off the track with a great sense of humor. He doesn't appear to be feeling any pressure being on Pro Circuit, in fact the opposite is true where he's getting goofier and more comfortable. Too bad about his shoulder injury which is going to keep him out for a while.
Swizzle- I had to pull a double-take when I heard Darryn's best indoor finish was a 5th prior to 2012. It's not often that Mitch signs up a guy who's been in the series a few years and not finished better than 5th. To me, that just solidifies the fact that 2011 was in fact the beginning of Darryn's rebirth. Good thing his #NOLA win erased that 17th in Houston from the memories of everyone. Wonder if Mitch going "1997" on him contributed to the win?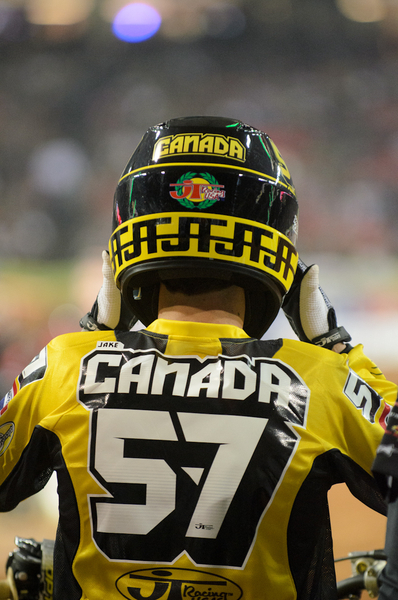 6th Jake Canada Best Finish: 4th Worst Finish 9th
Hands up those that saw Jake doing this well this year. Hands down Mr and Mrs Canada, we know you expected it but that's about it really. Remarkably consistent, Canada's best was a 4th and his worst a 9th. Do you know how hard that is in a nine race series full of 250F riders who shut their brains off for half the race? No big crashes for Canada, just a steady race every time I watched him. He's getting his first shot at having the bills paid for him and is taking advantage of it. He's got talent and he also appears to be in shape. Great ride for Jake and his Motoconcepts Team.
Swizzle- Great year for Jake Canada. He was more impressive in my mind than anyone else on his team. He believes he belongs in the front group of riders now. It'll be interesting to see if he builds on that next year and can reach the podium.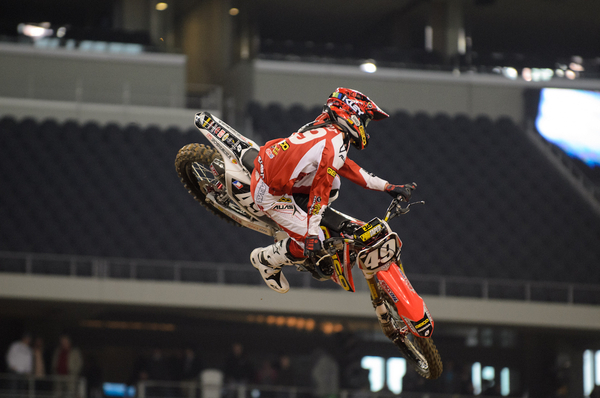 7th Justin Bogle Best Finish: 3rd Worst Finish: 18th
I don't know what to write about Bogle. He was fast and a few turns away from making three podiums in nine races but then again, with his style and speed, on that bike- shouldn't he beat Jake Canada? No slam against Canada but I suppose more was expected of Bogle on and off the track. His attitude was weird because he's a cool kid and funny but at times you wondered what was going on in between his ears. He got a talking to by the bosses at GEICO and seemed to calm down a bit. Then again, he's a rookie in supercross and seems to be an emotional type of kid so why wouldn't he be up and down in racing? He needs to just put in some emo Cure-type music and chill out because with that talent and that bike, he'll go far.
Swizzle- It was a rookie year with lots of lessons for Justin. The most obvious being, showing a little more discipline and control of his emotions when there are eyes on him from every direction. I like to see the emotion but the methods he implements to convey his frustration are a sponsors nightmare. He's young and learning, I'm not going to fault him for not being a consummate professional in his first year under the microscope.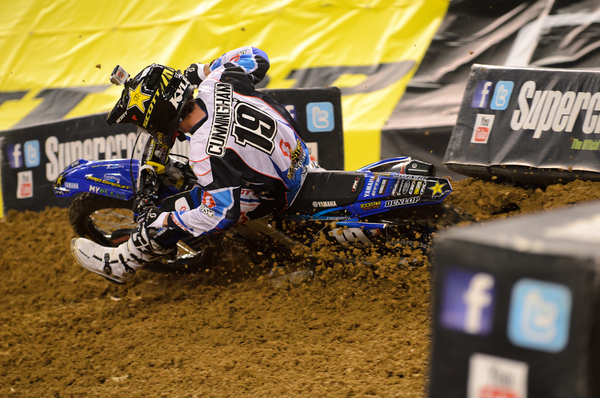 8th Kyle Cunningham Best Finish: 6th Worst Finish: DNQ
Coming off a pretty good indoor season last year (he ended up eighth also but made one podium and got a fourth. He was also in the mix quite a bit), Kyle signed a new deal with Star Yamaha and got even better outdoors last year. But then he did this. Another eighth place in the points- best placing of 6th- is not what anyone thought Kyle Cunningham would do. We talked him up before the series as a guy that could easily win a race if he's "on" but he didn't even get close. It was more crashes (which I thought maybe he had broken his habit of) and bad rides for the #19. Let's hope he turns it around outdoors.
Swizzle- Another rough season for Kyle. He has so much speed but he hits the ground hard and too often. It was so scary watching him lay lifeless in Indy. He looked great in his 450 rides in 2010, maybe he'll see better days in the big bike class?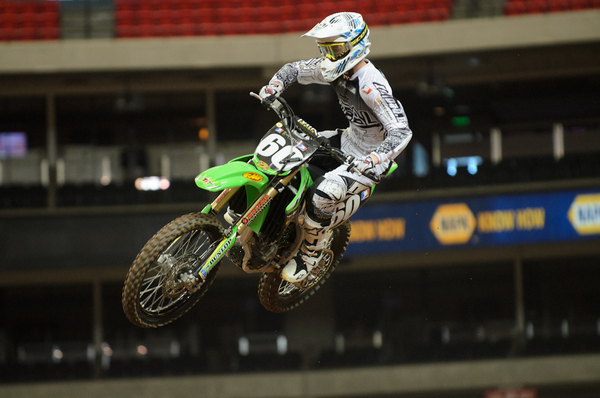 9th Matt Lemoine Best Finish: 7th Worst Finish: DNQ
Lemoine took a step backwards this year which is weird because he was no longer a privateer driving to the races. Last year he was in the mix for discussions of who would get a Pro Circuit ride and this year, there wasn't much there for one reason or another. Last year there were a few times I would say "Hey, look at Lemoine!" and this year, there wasn't much of that. Matt's got great skills on a bike and can really jump things but I didn't see much of that. A first race DNF was probably the worst way to start off a season and it went downhill from there.
Swizzle- Matt had a subpar year. I would have bet money he would have a better finish than 7th but I would have lost. Not sure what the deal was.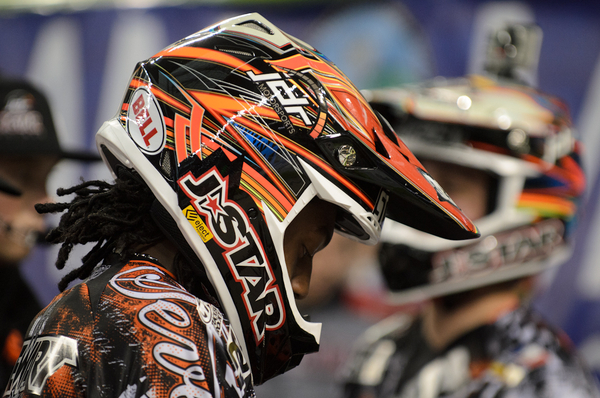 10th Malcolm Stewart Best Finish: 4th Worst Finish: DNQ
Hard to believe that my Mookie Fever, once just pulsating through my body could just calm down and disappear but this year, it did. Also hard to believe that with his skill level and the topsy-turvey 250 class, he's never made a podium in his career. Malcolm, like his brother James, had a rough season. Bike problems haunted him and his team and when that was fixed, then it was crashes. Stewart's without a doubt too big for the 250 class but he's probably not ready for 450's either with the amount he goes down. It's going to be a long frustrating summer for Stewart methinks.
Swizzle- Mookie-fever got treated just like that bird-flu that had everyone worried years ago. It's odd to me how people always comment on how he crashes so much but that was also the knock on him in amateurs. It was always, "yeah he's super fast but he crashes a lot". So it goes.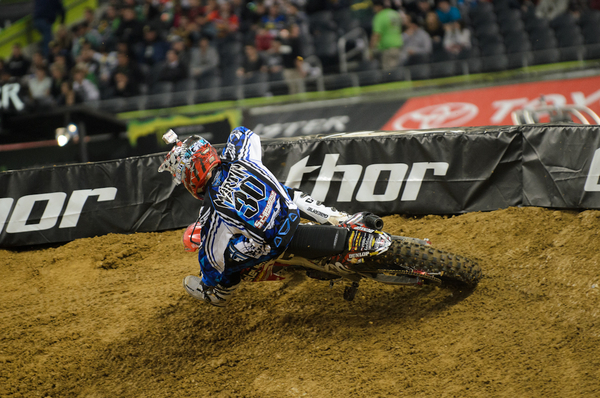 11th Alex Martin Best Finish: 6th Worst Finish: DNQ
Martin gave up tenth in the points when he and his team didn't go to Las Vegas but in the end, 2012 wasn't as good to Alex as last year was and dropping one position in the standings wasn't going to change that. A rough start for Martin with bike problems at one round preventing him from qualifying and after that, it was rough. It seemed that his starts went away for the most part although his season did get better as it went on. A couple of sixths in a row showed that he could do it but in the end, like so many other guys in this class, he wasn't able to stay consistent. About the only guy that could put it together week in and week out (not counting Barcia) was Jake Canada and he benefitted from not having any flameouts.
Swizzle- Man. Alex was so close to getting on the podium in Toronto but other than that, his season was forgettable. He pulled some great starts but not so great finishes. He's capable of more.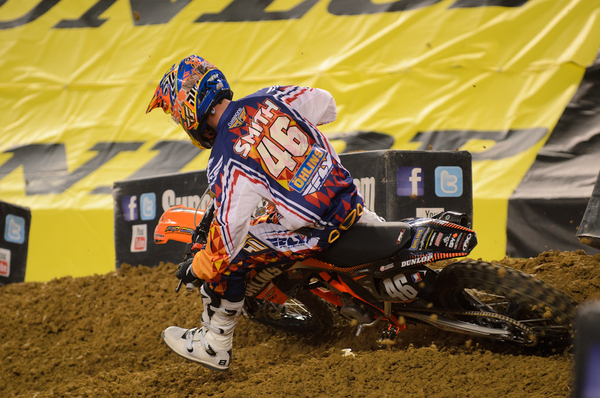 12th Les Smith Best Finish: 9th Worst Finish: DNQ
A member of Grant Langston's KTM team (I say this because you're probably wondering which KTM team out of 43 that Les rode for) Smith had an ok season. He's got good style and is aggressive out on the track but many times it left him on the ground. Smith's a good kid, works hard and hopefully he can take the next step in 2013 to be a consistent top ten guy.
Swizzle- All I have to say about Les Smith is his team's bikes look so good with those flo-orange frames. Matthes is a kook for thinking Topher Ingall's bike looks better.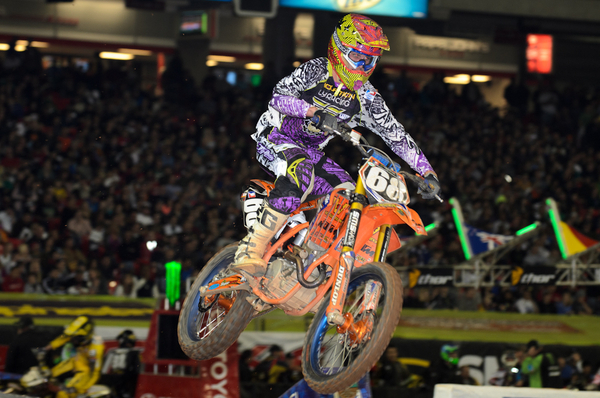 13th Shane Sewell Best Finish: 12th Worst Finish: DNQ
Sewell got a ride this year for supercross while his brother went out and raced the arenacross series. I'm not sure why any manager would take Shane over Travis. To me, they're the exact same rider out there. It seems that pure raw speed eludes the Sewell's but they do seem to be in shape and able to ride pretty good for the whole main event. Just having a ride is an accomplishment for Shane as he didn't have to live out of his van and a 13th in tbe points is great.
Swizzle- For missing 3 mains, Shane did pretty well to end up 13th in points.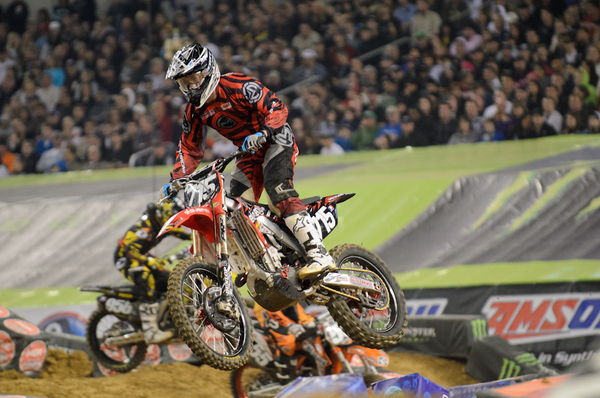 14th Phil Nicoletti Best Finish: 5th Worst Finish: DNQ
"Filthy" Phil had a weird year. Two fifths but also three DNF's with a tenth thrown in there. In short it was either very good for Nicoletti or very bad. He's got to fix that next year whether it was the bike or the team. At least he can look at the fifths and the fact that he was the least supported guys amongst those around him and hang his hat on that. Unfortunately, you've got to back the results up week after week to catch the eyes of the top teams.
Swizzle- Filthy, like Sewell missed 3 mains. Looking at the standings, it's crazy that only 6 guys in the east made every main.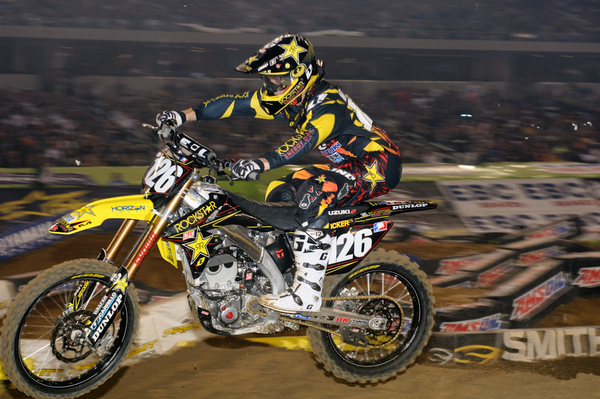 15th Hunter Hewitt Best Finish: 7th Worst Finish: DNQ
After three rounds Hewitt was seventh in the points with 12-8-12 scores and it was looking to be a bit of a breakout for him but then he got hurt. It's tough to make a mark when your on the sidelines but Hunter did show improvement this year, at least to me anyways.
Swizzle- Hunter had a rough year. He missed 4 mains and his best showing was the 7th in Vegas. Injuries seem to be his bugaboo; hopefully he can grab some good mojo in the outdoors.