We didn't know he was going to do it but like a champion, Moser comes through with a column for the nationals.

We didn't know he was going to do it but like a champion, Moser comes through with a column for the nationals.
Shortcomings Vol. 1: A Short look at riders that came up Short of an outstanding performance
By Moser
Photos by James Lissimore
It's Moser and I'm back for the MX Nationals presented by Lucas Oil and yadda yadda yadda. I'm proud to say my list of demands was meet by the powers that be at Pulpmx headquarters and that I'll be coming at you with a Short but great article each and every week for the outdoor season. The Just Short concept wasn't going to work for the outdoors as riders just missing out of the final transfer position in qualifying are generally local guys that I would have no chance of getting any of the hard hitting, introspective and in depth information that you have all no doubt become accustomed too. I'd like to give just the tip to @itsORourke for the Shortcoming concept, each week I'll pick a rider from each class that suffered a DNF, could be mechanical related or injury related, a high profile well known rider or maybe someone you haven't heard of before, it will change every week, depending on my mood and/or how hungover I am. There was no SHORTage of riders to choose from in Hangtown that suffered Shortcomings but I decided to feature Dean Wilson and Ryan Hughes.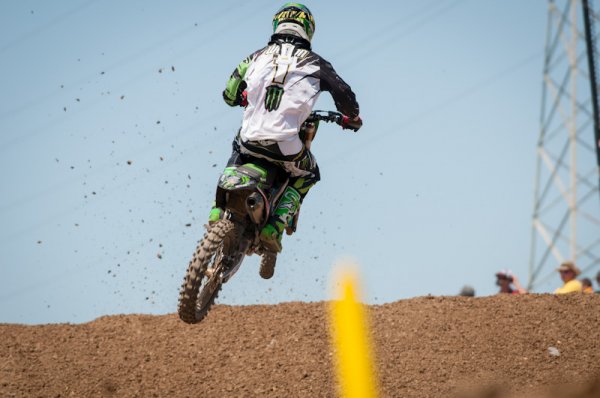 It's more than a wee bit disappointing Deano will be missing the nationals don't ya know
#1 Dean Wilson – Monster Energy l Pro Circuit l Kawasaki
With Deano out for the rest of the season this will be the only time he would have the privilege of getting featured in Shortcomings this year, this will also be the only current champion to get featured this season so I couldn't pass it up. Sure Deano gets plenty of press already but the way he played his injured shoulder was a curious choice and I'm familiar with curious choices. My daughter loves Curious George at the moment and I've seen every episode 29 times. It's no secret or surprise that every rider has to deal with injuries, whether you race or just ride it's only a matter of time before you mimic an ostrich and stick your head into the ground. Chasing the supercross championship and risking further injury was a gamble Deano was willing to take an understandable and respectable one, this was his last shot at the 250F supercross championship and it slipped out of his grasp when he left that Deano sided imprint at the end of the whoops in Salt Lake City.
I was surprised to see him race in Vegas but I'm not a medical doctor so who am I say how his shoulder was but it seemed to raise quite a few eyebrows. He rode solid though and it erased any doubts I had that his shoulder was significantly bothering him although he said that surgery was going to be required to fix in eventually. It's a contract year for Deano but I don't really understand that logic or justification, he's the defending MX champion people know what they're getting when they sign Deano and racing ½ the national series isn't going to change that. Knowing what we know now or in hindsight or whatever terminology you would prefer to use for retrospection, was it the right or wrong thing to do? My knee jerk reaction is there was no valid reason to race the last few supercross's even if he will be moving up to the supercross class to race supercross next season. Why risk further injury? If the shoulder was to poop out (pronounced in a scottish/canadian accent) at an inopportune moment you could really hurt yourself let alone other riders with you, but maybe that's just the responsible angle Moser whispering in my ear on my right shoulder.
One of the sports award winning innovators says you shouldn't be on the track unless you're 100% (he contradicts this with his own actions and letting his riders race while not 100% but regardless he makes a valid point). It's not realistic that riders will be 100% all the time far from it but where do you draw a line or should a line even be drawn? If a rider that suffers a concussion isn't allowed to race why is a rider with a highly questionable shoulder or wrist or knee? I see several holes in this logic and my own points already so it's time to jump over to the devil Moser double fisting beers on my left shoulder and shouting in my ear. Deano had nothing to lose, no harm no foul, his shoulder was already going to require sugery so once that had been determined it's not a matter of if but when, so might as well try and tough it out for a bit. You're only as good as your last race is all to common and true of a phrase in this sport so it's not a bad idea to keep your name out there as long as possible. Just by lining up and putting down lap times on pace with the leaders Deano looks like a hero to his fans and sponsors. He couldn't finish the moto but he got to run the #1 plate and that reward in its own right was probably worth the risk. He may look and sound like a boy but he proved to everyone that he's a man by toughing it out and riding through the pain at least for couple weekends and that's not something people won't forget Some of the most memorable races are when a rider is injured but against the odds puts in a great ride like ummm, well there was the one time that who was that……well it's happened lots of times but nothing is coming to mind right this second.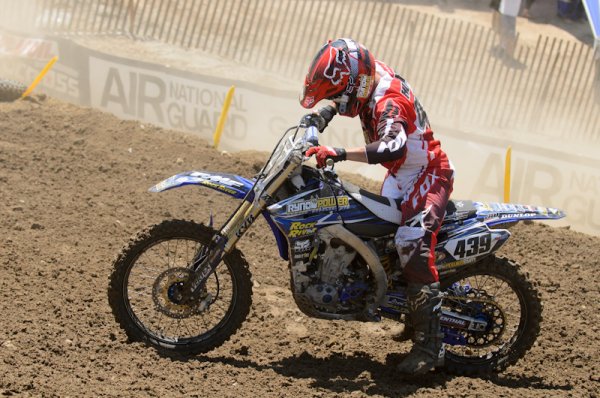 The heart of a lion or perhaps a heart of a Ryno?
#439 Ryno Hughes – RynoPower Racing
What an interesting character, there is no lack of entertainment when it comes to this guy. He's done just about everything in the sport except win a championship, but he came up Just Short, twice. I can't say that anything Ryno does really surprises me anymore having him sign up for Hangtown wasn't really that shocking I thought it was cool he was going to give it the old college try. How would he fare was a fair question though and with all due respect I was glad to see the pace of these guys is at a point now where someone can't just get off the couch and run with them or step out of the sauna while drinking an all natural Ryno Organics smoothie in Rynos case. What I mean is it serves as a bit of validation for the guys grinding it out weekend after weekend. It's not just about the flat out speed for one lap which almost all the riders can manage to pull off but it's duplicating that for 30min plus two.
Ryno qualified 18th which is more than respectable at 41 years old (or is he 38?). I was bummed when he crashed in the first moto but some of the comments that Fro made during the race about talking to Ryno and telling him to take it easy and that he's not as young as he used to be were pretty funny. Then the most shocking thing Ryno did over the weekend happen, he didn't lock his hips or get into a fight with another rider in the pits, he played it safe and didn't race the second moto because he injured his wrist. Ryno and playing it safe and responsible? This guy has had more concussions than my daughter can count to, granted she can only count to ten. Seriously though Ryno is the Chuck Norris of playing it safe he doesn't even know what the words mean they're not in his vocabulary. Maybe with age does come maturity, perhaps there is hope for me yet, if Ryno can become a responsible adult maybe I can. It would have been great to see him race to motos I think he would have been a top twenty guy. I was impressed with how humble he was after the DNF and he really gave a lot of credit to all the current riders on the circuit for how fast they are and how much work they put in to be at that level again a very mature and genuine comment.
There is no question Ryno is a bad dude in crazy good shape and is very passionate about anything and everything he puts his mind to. The picture of him pushing his Pro Circuit Kawi across the finish line at Steel City after breaking a chain and losing the championship is the first thing that comes to mind anytime I hear the name Ryan Hughes. Also to run a "4 Kim" butt patch in support of McGraths wife was a top notch thing to do.
Thanks for reading this Short recognition of the guys that had Shortcumming this weekend, see you next week Moser
Please send any comments to jasonw@racerxill.com who reads all of them while wearing his headphones that are not plugged into anything.