It's not like James Stewart needs a handicap to excel but Freestone did him a favor this year.
It's not like James Stewart needs a handicap to excel but Freestone did him a favor this year.
Photos By: Simon Cudby
Usually round two of the Nationals and Supercross for that matter, is a better gauge as to who's who and where they rank in the pecking order. Freestone this year may have delayed that 2nd round reality check due to a factor out of anyone's control. In my opinion, we still need a few more races as evidence before we will know the reality of James Stewart's capacity in his first outdoor series since a his dominating 2008 campaign.
The race which all riders have grown to fear due to the intense, mind-melting heat was a literal breath of fresh air which when compared to the standard Freestone hell-hole of recent memory. We've seen riders ruin the rest of their season in Freestone, we've come to expect droves of riders receiving IV's to battle the sapping effects of the heat we've even seen a rider forfeit the overall due to heat-confusion. This race separates the men from the boys, the "prepared" from the "oh shit, I thought I was prepared" and the winner builds justifiably domineering confidence.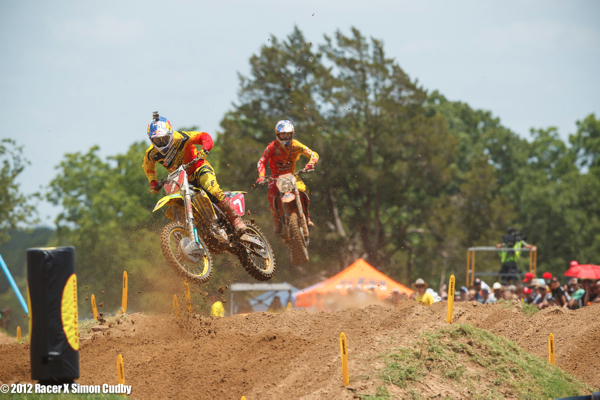 This is how the 450 leaders looked all day.
Back to this years Freestone. When compared to the standard Freestone it was a welcome change, still hot yes but a break from the norm and collectively, the riders benefitted from it. I was certain that the heat of Freestone was going to assure the unflappable Dungey of the win over James Stewart. Sure Stew lives and trains in the insane heat and humidity of Florida, just like Dungey but it's no secret that when it's all on the line, everything changes. When the weather report came in, it was clear, Dungey's upperhand had just been lowered. James' fitness would be tested only marginally more in Texas than it was in Hangtown. If Ryan was to beat James, it was going to come down to the same things it usually does in racing. A good start, better line selection, more throttle and disposing of lappers most efficiently.
And what an effort by the Dunge. Stew was obviously riding his ass off, unlike Hangtown, Stew was pressured in a big way for the most part of both motos, at his capacity. Clearly Dungey is taking a page out of the playbook of those riders who have beaten James more than most in years past.
Pressure. Pressure. Pressure.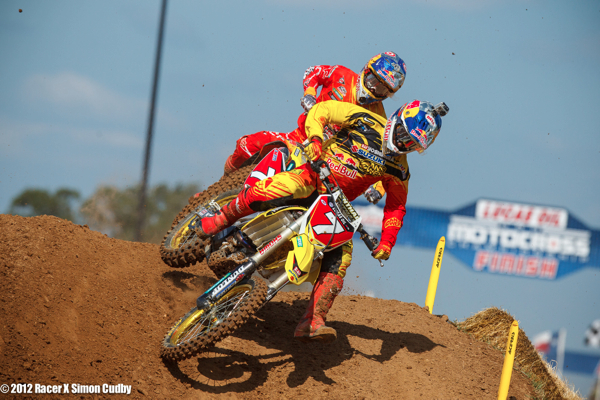 With their gear nearly identical, the term "shadow" took on new meaning in Texas.
It's no small task, I mean think of that concept for a second. How many riders have actually had the skillset and tools to legitimately run with and pressure James Stewart over a season? That list is barely classifiable as a list and Dungey showed in Freestone, that he is taking the steps to do just that.
James got jiggy a few times and when he got crossed up heading into the 12 pack, the first thought in my head was, if he were still on blue, he'd be seeing little tweety birds circling his cranium as he woke up asking what happened? It's not even worth asking anymore; the Yamaha did not agree with him and he is vastly better away from it.
I gotta say, I haven't seen an outdoor race as good as Freestone 2012 since the RC/ Bubba battle at Red Bud in 2007(ok, maaayyybe Steel City last year but it's a total toss up. Red Bud '07 was legendary as early as the checkered flag waving). I can't think of a better compliment to pay Ryan Dungey than that. Dungey was incredibly impressive but even so, it was only good enough for 2nd place to the man who hasn't raced motocross in 4 years.
Does that make James look any more impressive than we already knew he was? I say no. He's got the reputation of being the most talented rider in the sport, ever and it's deserved. Much of that reputation comes from taking chances that often pay off with impressive displays but often too, those chances result in equally spectacular crashes. It's a gamble Ryan Dungey isn't prepared to execute thus far but when your reputation is the definition of consistency and your main opponent is known for winning or crashing, perhaps Dungey's methodology is all that will be needed in the end? Remember, even though James has gone 4-0 thus far, the stigma between these two rivals, is that Stew's bad races will be more detrimental than Dungey's; which remains to be seen.
Mike Alessi agree's that Texas seemed a lot like 2007 when he was a good 30 seconds behind RC and James, only now it's RD and James. Mike may be far off their pace but he's consistently been closer than the field which counts for something. A podium usually. 3rd place is great but I was much more happy to see Mike not darting all over the track trying to delay the inevitable, which benefitted the great race between Dungey and Stewart. If Mike can suppress those brain farts and enable the battle up front to unfold as it should, he will be held in much higher regard than if he blocks lines and plays, "Mike Alessi" each week.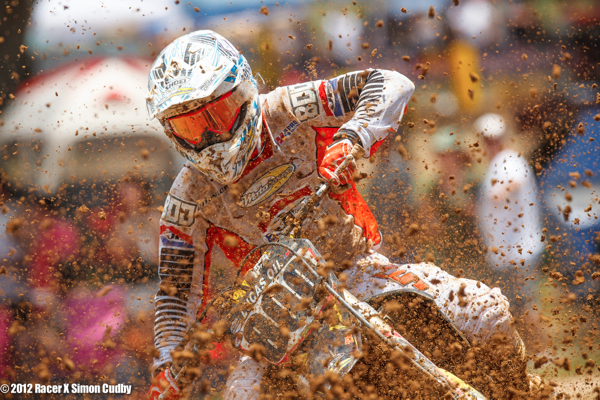 Miek Alessi wasn't "Mike Alessi" in all the good ways at Freestone.
Great to see Jake Weimer in 4th. I really don't see why Jake can't make this his wheel house this outdoors season.
Don't look now but Josh Grant is quietly remaining healthy and hopefully going to continue his re-ascension to the lead pack on a regular basis.
Dreadful second moto's for Lemoine and Tickle, who both suffered from bike failures(Lemoine's due to crash) following strong first moto's.
What is going on with Justin Brayton? Whatever it is, please make it stop.
Looking at the points in the 450 class, inconsistency is running rampant. Once you get out of the top 5, the points from moto to moto are wild. So many zeros all over the place.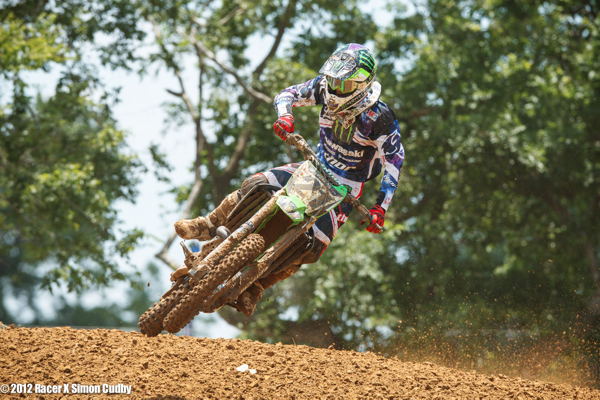 Keep it up Jacob.
MX2
Eli Tomac was reborn in Freestone. The track which claimed his season a year ago, is now his bitch. When he came upon the leaders in moto one, seemingly out of nowhere, it was obvious, he was going to win and win in dominating fashion. The Eli we saw in Supercross has arrived in the outdoors.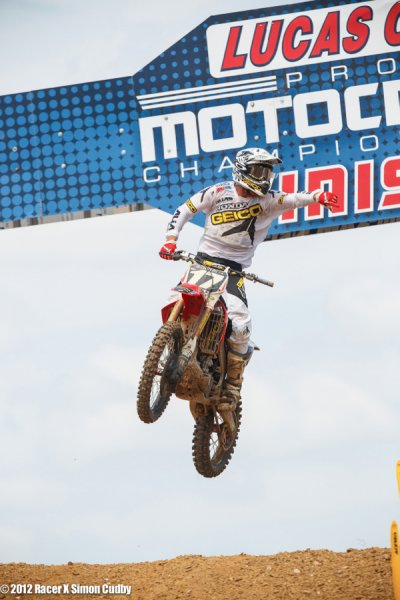 Eli looked a whole lot more "Chuck" in Texas.
Even as impressive as Eli looked in Texas, I'm still not convinced that he has the potion to put Baggett on ice when the two go head to head. Baggett didn't win in Freestone but he did something even more impressive; he finished second. What? That's right, Baggett's second is stronger in my mind than if he had gone 1-1 again. Last year Matthes called me a kook for bringing up Blake Baggett's inconsistency. Sure, I may have been a bit premature at that time but it has proven true that Blake has real issues with finishing either stellar-ly with 1-1's or struggling with far of the pace results. For Blake to finish 2-2 on the day following a mind-blowing 1-1 is a real step forward. BY finishing 2-2 after his Hangtown 1-1, it categorically indicates his "bad race" is a 2nd place. Much better than last years 7th or 8th or his awful second moto at Freestone of 16th. Will he be able to maintain consistency over the course of the series? That's impossible to say at this point but it plays into his favor that his main opponent at this point has also proven to have issues with consistency outdoors thus far.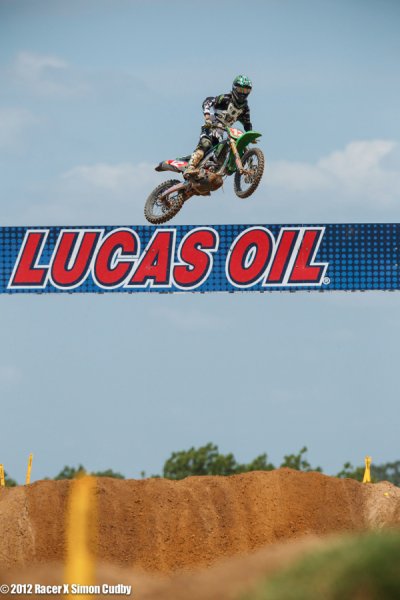 Balls.
A 3-4 is about as quiet a weekend as it gets for Ken Roczen outdoors. Still it was good enough for 3 overall and keeps him healthily in the title-chase. Much like James, I expected the Texas heat to take it's toll on Ken and also just like James, the much closer to "normal" temps in Freestone may have saved Ken from meltdown, ala Eli '11.
Blake Wharton is sleeping better tonight knowing that he just nudged Barcia for 4th in points at Freestone.
Huge props to Jesse Nelson on his two amazing starts, brilliant first moto and 7th overall. Really exciting story for Jesse who was supposed to remain in the amateur ranks until later this year. He looked great out front and should really be proud of the step he took this weekend.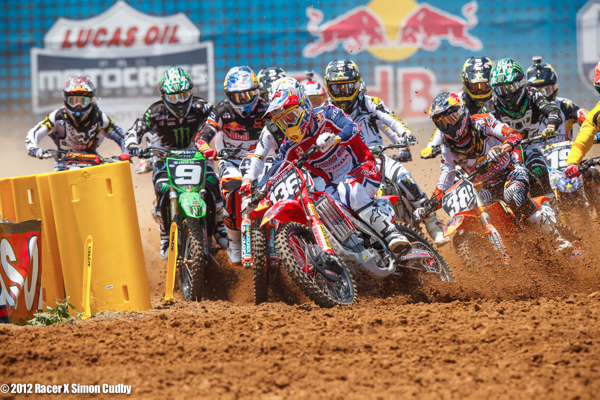 Love the Jesse Nelson story from Freestone Moto 1.
Wil Hahn finishes safely in 8th overall but the important part is the "safely". I can't say that enough. Really want things to keep getting better for Wil so the confidence will build and progress will come.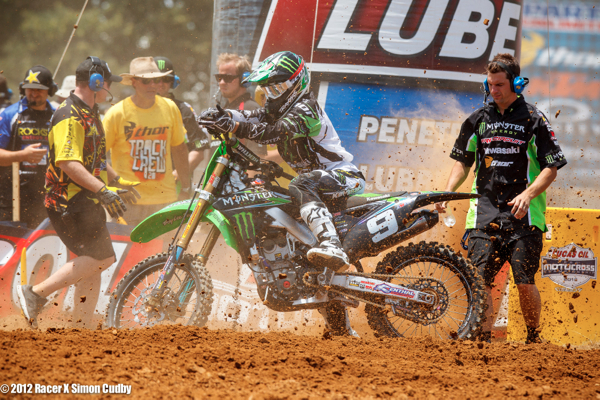 Really bummed to see Ivan have such a bad Freestone, just hope he's not injured.
Can we please do something about Phil Nicoletti's black cloud? Seriously, guy turns a great start in moto 1 and running up front for a good 10 minutes into a bike failure and zero points scored on the season. Such a bummer. How do you build confidence when you just have it built into your head that something is going to end any good fortune without notice? Keep fighting Filthy, it's the only option. Otherwise, why continue to line up. Don't let those justifiable negative thoughts get you down.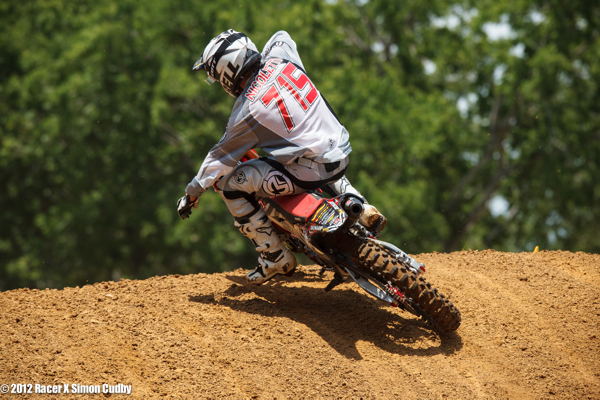 The only thing filthier than Phil is his black cloud.
Two rounds down and I can't wait for Colorado, this is the most exciting two-horse race in a while on the 450's and the 250's are shaping up to be even more exciting.