For as much as we hear people talking about the MXdN and how the US doesn't have a National track that can even be considered prep for Lommel, the reality of Southwick this year was even less of a comparison than any year before.
For as much as we hear people talking about the MXdN and how the US doesn't have a National track that can even be considered prep for Lommel, the reality of Southwick this year was even less of a comparison than any year before.
Photos by: THE James Lissimore
This was the most obvious and compelling argument yet that the US National tracks have begun to blur together in terms of terrain and simple terrafirma. You would think that as dirt wore down and wore out, that it would become more fine and well, more sand like. Not the case apparently. Southwick as a "sand track" is still just that on the surface but that surface is becoming more and more shallow each year. Good luck finding a berm to drive in deep and explode with that four-stroke torque on tap. I mean, there were square edges on portions of the track. Raise your hand if you expect to see square edges at Lommel, scratch that; raise your hand if you can remember a time when Southwick had square edges. Each year the dirt goes away a little more, it's just the law of nature and natural resources eroding. It's just a bummer that the uniquity of a track like Southwick can't be restored but that's a lot of money and work to keep it "natural".
R.I.P. Southwick rollers.
MX1
How about Broc Tickle with the fastest qualifier? I feel about as smug as I care to regarding Broc's season on the 450 outdoors. I don't know if people are grasping the reality of what he was able to overcome as Supercross transitioned into Motocross. Usually when a rider struggles with the mental aspect, especially when it is in a rookie season where first impressions seem to dictate their path, that pressure builds and builds until they are just defeated. Broc was able to cope with that weight, ever-present on his shoulders but just not knowing how to shrug it off and refocus. Then as the outdoor opener approached the gravity of a subpar Supercross season made it clear that his redemption had better materialize in the outdoors, as his future depended on it. He broke it down to the basic essentials and that is, that he has gotten to this level through hard work and total focus to apply himself and improve, just as his competition has. The key was to look at those on the gate with himself as peers, not look up to them as he had in recent years when on his way up to the premier class.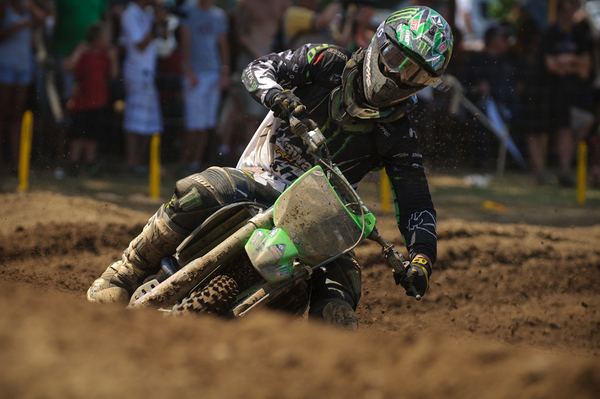 Super proud of the growth of this guy.
Of course there are many other aspects involved in the sport that need to align for the rebirth to materialize and whether through luck, fortune or preparation, Broc has dealt with a little bit of everything this outdoors season. There were the back to back bike failures, his 2-2 at Budds Creek, his 4-6 for 3rd(!) OA this weekend at Southwick and a few respectable, though unsubstantial finishes in there as well. What I like is his focus and ability to take each weekend, one race, one moto, one lap at a time. He's improving, keeping a level head and not falling into that trap of accomplishing his goals and relaxing. We talked a lot about the importance of having and reaching goals but even more important was never, ever becoming satisfied or complacent. It happens too often in this sport and it's the death rattle of more careers than I care to recount.
It's so disheartening to see week after week the struggles continue in many forms for so many of the same names. Just to name a few, Byrner, Matt Lemoine and the impressively fast, early, Nicoletti who of course ran into trouble as the race wore on.
Everytime Byrner has a good moto and starts resembling the Byrner of old, here comes the predictable adversity that just makes you shake your head and wonder how it can always happen and if it's just fated to be that way. A broken off rear brake? I'm still shaking my head as I type this. Thankfully, that happened in the first moto, so of course, he ended the day with a 5th in moto-two. And the pendulum continues to sway to and fro.
Matt Lemoine had an uncharacteristic great start in moto-one. He was a wheel in front of much of the field as they came into the first corner and it all went to hell. I've become so used to Matt just getting bad starts and riding his ass off all moto, so to see him setting up for a moto from the front of the field, I was pretty excited. Then I was the complete opposite of really excited. It's nuts. Matt has serious skills, you know, one of those guys who has a really flowing "sunday cruise" technique but is hauling ass; yet he is constantly dealing with his poor starts, troubles in traffic and now, a broken foot. Matt's got way too much talent to be thwarted by this laundry list of struggles and set backs.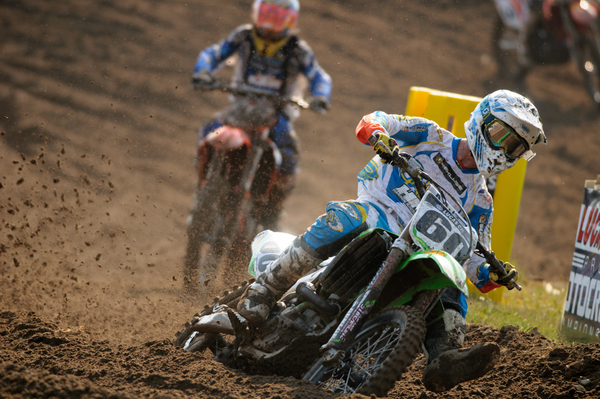 Matt's run of shit luck has to change soon.
How about Filthy Phil!?
I'm sure Matthes is going to spend at least 650 words on his supreme moto sixth-sense and how everyone would rue the day they passed on The Filthy one being added to their 450 effort. Well done boss. I'll give you this one… but of course it ended as it usually does. Tragic because Phil obviously has the skills. Unfortunately, he also rides with a stick of dirt bike kryptonite in his riding shorts each week too.
Mike Alessi rode a great race again. I still gotta say, I don't see him rubber-necking anywhere near as much as he used to but then again, perhaps that is just strategic filming of the 800? That's not to say that he is riding his bike any less wide than in the past but it's gotta count for something that he's not getting whiplash as he bogarts his trailer's lines lap after lap. Right?
Mike is still getting the "wrap-it-up" music with his TV interviews each week. It's great that he has something to say and it's not just reciting a sponsor list but I'm pretty sure the TV crew has actually started cutting a pit report or MMI tech tip from the broadcast due to Mike's podium ramblings.
The ruined-ankled, fresh-fathered, future-Suzuki-mounted Davi Millsaps returned at the Wick and pulled down a 7-6 for 4th OA. That's what you call "livin' right".
This brings me to something that surprised me about the results as a whole at Southwick in the 450 class. There were some highly inconsistent moto finishes and as usual, the inconsistent moto finishes adversely affected those who were consistent. Check out these examples:
Rattray 20-1 for 5th OA
Byrne 40-5 for 12th OA
Hahn 3-35 for 10th OA
Marshal 4-32 for 11th OA
These inconsistencies really screwed over everyone's favorite pint-sized warrior, JT Money who put in consistent 21-22 finishes for 27th OA. Not only did JT ride his ass off and just barely not score a damn point; he is awarded 5 positions worse OA than his worst moto of the day. Battle on JT, battle on.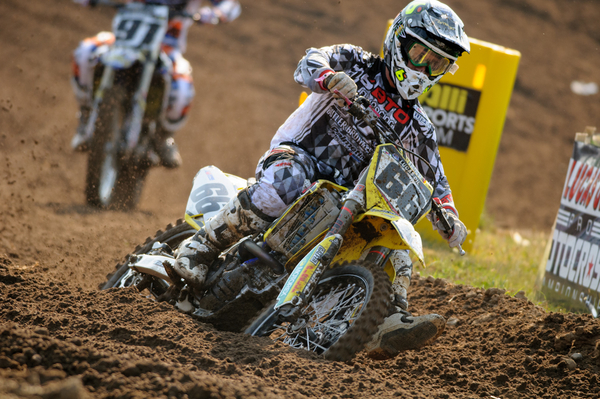 This guy was not rewarded in any way for two consistent rides.
Christian Craig is awarded honorable mention for scoring 15-15 for 15th OA and Josh Grant scored a 8-8 for 7th OA. That's more like it. Being rewarded for your consistency.
The old dudes, Browny and Dowdy (there's a comic book concept in there) both scored points and have officially guaranteed that we will see them both again in 2013, trying to keep the #3 and #16 for another year. It's great to see these vets out there still and they obviously still got it.
MX2
The first of the two Zach's of Geico has landed and yup, the kid is legit. He made a mockery of his classes two weeks ago at Loretta's and he had that all too familiar shot of first race adrenaline that we've seen from Geico riders a few times. Remember Barcia's first National at Glen Helen? He almost cashed it in. Then Tomac's first outdoors race at Hangtown? Cha-ching.
Zach's impressive exploits lasted 5 laps and when teammate Tomac got by him, he proceeded to smack his noggin and thought it better to be cautious and not KO himself in week-one. The kid can handle an interview, even slightly concussed, yup definitely Geico material.
I'm still holding out hope that my speculation of Tomac pulling this title off may still happen. He sits 3rd in points, 32 pts behind leader, Blake Baggett and in my glass is half full world, that's less than two moto's people. Remember 2009 when Pourcel appeared to have it all wrapped up? How about 2010 when Pourcel snatched defeat from the jaws of victory and Trey Canard sealed the title after going down in a corner early in moto one when he was making his move. I still can't believe the emotional swing from that race.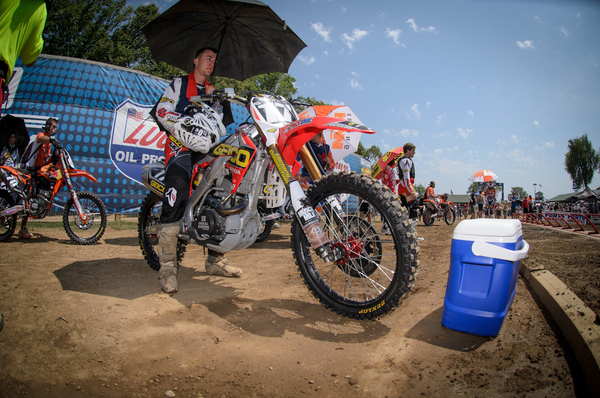 Anything can happen still with 3 rounds to go.
Obviously the story here is, it's not over till it's over.
The good samaritan award of the week, possibly of the entire season… actually, maybe in the history of MX, goes to new Eleven10 Mods' Mike McDade. Good thing too because when he lifted that CRF250 off of Wil Hahn, the smoke coming off the pipe was a tell-tale sign that little Wilbur was in a bad situation. There have been many instances in races when there is a rider in a precarious situation where they are unable to help themselves and a competitor did not lend a hand. It's hard to blame them, after all, there is a track crew there to fill that position but when there's a dude trapped between a sand berm and a 220lb Yoshimura branding iron, it's a little more pertinent situation, y'know?
I would have bet money that Mookie Stewarts KTM would have certainly given up the ghost at Southwick. Don't look now but Mookie has finished 7 moto's in a row. Apparently he either stopped rider it so hard or they figured out what was giving that bike fits for the seven DNF's it earned.
Apparently just discussing the fact that Weege is no longer inquiring what Jason Anderson's mental state is like at the races, is enough to jinx him. Last week on the race review podcast, Matthes asked Weege is he was doing just that with Anderson anymore and Weege said no. Anybody have a bottle of that jinx remover*?(Sorry, Jawbreaker song title)
The Cole Thompson experiment went pretty much like I expected it to. He got a pass in Washougal of course because he hit his head and that was that. In Southwick though, Cole went 13-18 for 15th OA. Not terrible but it's sure not in the realm of where he was in the 450 class on a privateer bike. I'm sure Cole saw this as an opportunity to focus solely on his riding and possibly earn him an indoor ride for 2013 on a good 250 team; but the cards were stacked against him and it's up to him to prove the odds wrong.
He can. But will he?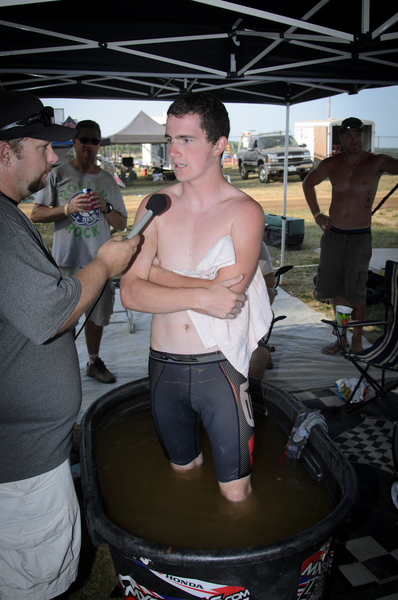 I'm not certain but I think Matthes just asked him about an "out clause".
Martin Davalos has done nothing to dissuade Mitch Paytons concerns of whether he chose the right guy or not. Clearly Mitch has never played fantasy MX, if he had, he would have an aversion to Martin, just like every fantasy MX player in the world ever has. We've all picked he and all been burned by said pick over the years. The most frustrating part is that there's no question if Martin has the skills but there's a huge question, actually the question has been answered time and time again. And that is that he can't keep it all together over the course of a season. Facts is facts.
On to Unadilla people!