We lost and I know it seems weird to USA moto fans but sometimes, that happens.
We lost and I know it seems weird to USA moto fans but sometimes, that happens.
Photos by Ray Archer
Following any motocross race, excuses are aplenty with more fans than racers attempting to justify why "their guy" didn't cash in on what they, the fan, had all but guaranteed prior to the on-track action. It's the same mentality that makes some feel "the asterisk" is a plausible excuse for arguing that the results "don't really matter".
I'm here to tell you, the results are the only thing that really matters. Take all your excuses for why whoever lost, or whoever won and choke on them. All I care about is who got the job done in the results. They all start from the same backward falling gate and know what is on the line from the drop of it. At that point it's all skill, heart, effort, preparation, familiarity and, as always a little bit of unpredictability, that which is, racing.
Yes, Dungey, Barcia and Baggett were the best choices for Team USA. Although Bubba and RV were injured, I honestly don't see them being a trump card that some US fans fashion them to be. Yeah both those guys are from Florida, the same place Dungey and Barcia call home but lets be honest, James doesn't exactly have the best track record when pushing to the extreme as of late and looking at the Euro's on that track, I don't see RV offering up any humble pie to them either. Truth be told, just as we heard incessantly leading up to the race, Lommel is a sand track like no other, that any US rider who hasn't raced it before, could even fathom. With two-weeks to get accustomed to the timezone, way of life and practicing around Belgium, the US team did all that they could to prepare with the time they had. The bottom-line is, two-weeks of preparation starting from zero is laughable when just about every other team out there, more importantly, the US's main threats to their title streak, have years of experience to draw from in preparation for the event. You could see it lap after lap, the US riders didn't have full trust in their bikes response to the treacherous conditions. Is this an excuse? Nope, it's just the facts and I don't use it for a second to devalue what Germany and Belgium did this year. They rode their asses off and won the top two positions, decisively. Congratulations to them.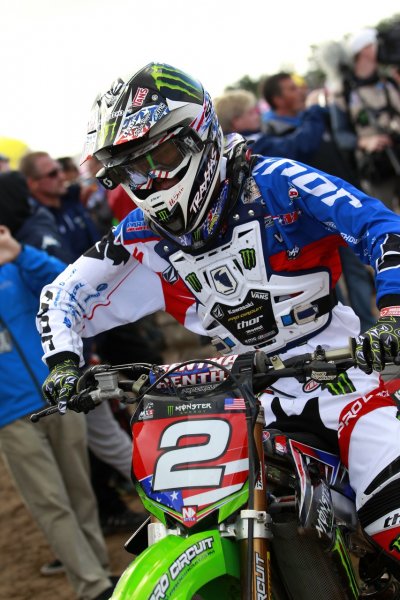 Blake more than made up for his struggles from last year.
Blake Baggett has had some rough outings in his back to back appearances for Team USA. Poor starts, charging forward, crashes… you name it but hey, they kid gives it his all. I had serious doubts about sending our most impressive blue-groove MX2 rider to the deepest sand track in existence but he endured and I can't say with any certainty that Tomac would have been far superior.
Barcia, in my opinion was the hero and over-achiever of the team. Some have argued that DeDycker's contact with Barcia was a blatant take-out. Not a chance. If you watched each moto, the inside-line Barcia was tracking in that section was a ghost town, almost every other rider throughout the day was sweeping the outside, just as DeDycker was. Perhaps that line choice and impending DNF shown as a microcosm of the US Team's unfamiliarity with such a track and the best methods to attack it? It was really unfortunate that happened to Justin though, as he was far mote impressive than I had expected… and I had expected quite a bit. He brought that level of maturity and respect to Belgium that we saw from him all of the outdoor series. That incident in Houston may really have made him shape up for good.
Dungey must still be reeling at what happened in Belgium. He never looked comfortable. Of all three US riders, his bike looked to fight him the most and he simply didn't trust what it was doing under him. If he was shown a moment of compliance and did push it, he ended up off the track, on the ground. That KTM looked better at round one of Supercross than it did in Belgium. He didn't stand a chance.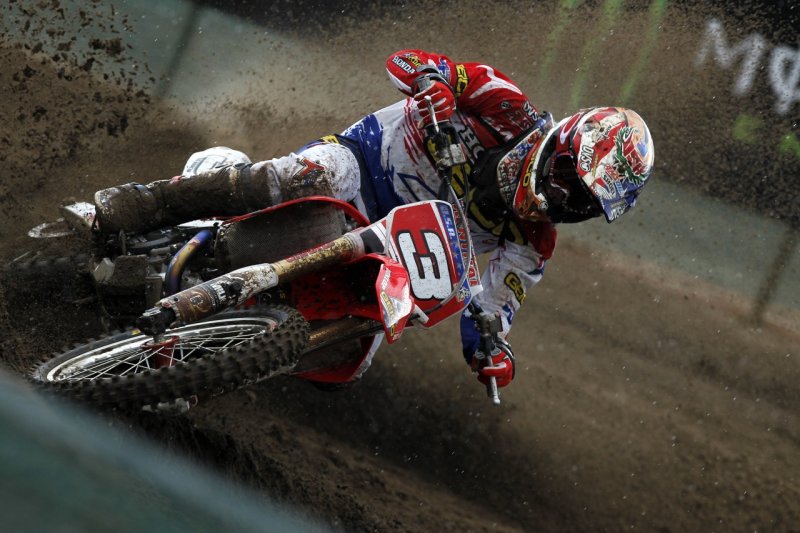 Bummer about the front wheel otherwise, Barcia was the star of Team USA in my eyes.
Was this race a matter of who is the fastest rider in the world? Absolutely not, though it indisputably proved that Antonio Cairolli is one of the baddest dudes to ever race motocross. The way he lead that last race wire to wire, with Jeffrey Herlings reeling him in and shadowing him for the last 5 laps and NOT succumb to the pressure was ridiculous. Rumors of Herlings nursing a broken rib make him and even badder dude in his own right but when comparing the gnarly-ness at that level, it's a wash.
With the announcement that the 2015 MXdN is to be held at Glen Helen, it's pretty clear that the Nations' race is going to be favoring countries who host them, more than ever. For a truly level playing field, they should really look into one-off tracks which are equally unknown to all participants.
Congratulations to Ken Roczen on that sweet taste of redemption-pie after a frustrating and only slightly satisfying AMA MX2 Series. Also congrats to Team Belgium and Team USA as the podium is nothing to scoff at. While watching the moto's I would have called you a liar if you said we would end up on the podium. The USA bikes looked that bad. One last thing, is it just me or does Max Nagl look like the nicest guy in pro racing ever? The German's as a whole look like a bunch of nice guys. Maybe nice guys don't always finish last?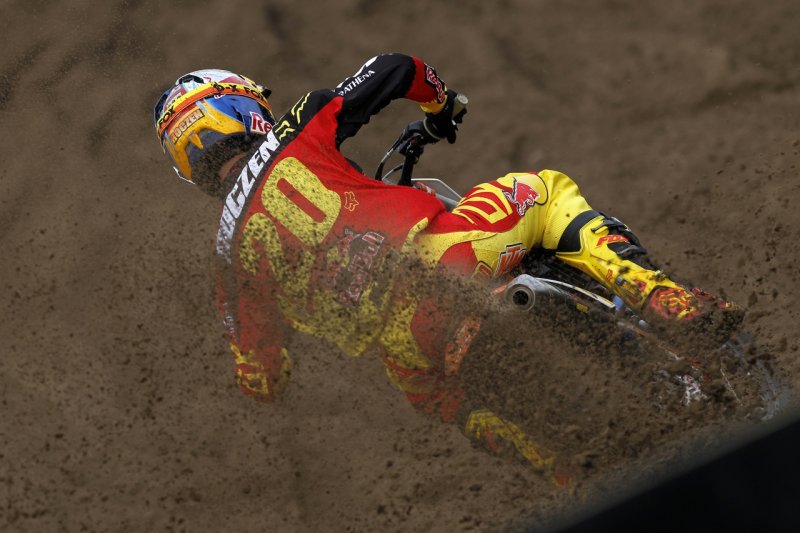 Congrats to Kenny Roczen and Team Germany for the win. That's three years in a row Roczen has won the MX2 class.