Christophe Pourcel falls in the middle-ground on the chart of misunderstood-Frenchmen who come to the US to race.

Christophe Pourcel falls in the middle-ground on the chart of misunderstood-Frenchmen who come to the US to race.It's weird, for all the instances in American moto when we hear, "well, he is French"; it seems more often than not, the French guys typically end up being considered good guys who were merely misunderstood at early points in their career. It's no different than when a rider of any Nationality casts-off from their homeland into a social-order which strays from that which they have known throughout their developmental years. That's development as a person, not as a racer.
Christophe initially came to the US in 2007 to get a taste of American SX in a partial-regional series before heading back to Europe to make a run at the MX2 World GP Title. At Anaheim 1 he finished runner-up to your current and back-to-back Supercross title holder, Ryan Villopoto. At round-two in Phoenix the roles were swapped as Christophe won his first US Supercross ever, setting him up as an intriguing, though relevant title-hopeful for the 2008 season. Unfortunately injury kept him on the sidelines for 2008 in both America and Europe.
2009 though saw Pourcel win five of eight rounds and the title, as well as taking the East/West shootout proving his Supercross prowess shown in 2007 was authentic. Christophe looked equally dominant in the outdoor series in 2009 as well and were it not for a mechanical DNF at Southwick and the ever-consistent riding of Ryan Dungey, he would have wrapped the outdoor title as well. the 2010 race-year followed almost the same script as the prior year though the outdoor title heartbreak came in the form of a badly damaged shoulder in the first moto of the final round.
With two back-to-back SX2 titles, it seemed a foregone conclusion that 2011 would see Christophe graduate to the SX1 class on a great team but a late shoulder surgery in November of 2010 as well as teams shunning his salary requirements ruined any hopes for a full series in Supercross for 2011. This late 2010 silly-season period, when his salary requirements became the main topic of conversation surrounding his inability to get a ride, begat the line of delineation between fans who saw value in a rider's convictions to the belief of their own inherent value and those fans on the other side who saw only a greedy rider with unrealistic monetary expectations in the sport.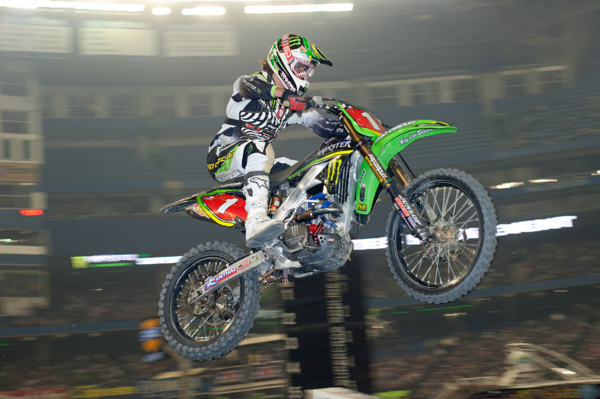 Remember this guy? I'd like to see him with a shot in SX1 in 2013.
James Lissimore photo
When Christophe secured a ride for the outdoor series in 2011, no one expected it to go as badly as it did. After sitting out SX due in high part to Pourcel feeling he was worth more than Team's were willing to pay, he was expected to be ultra-motivated for the outdoor series but he was clearly not feeling the Yamaha 450. In his defense, Christophe may have been the first racer with the balls to walk away from the money and that bike in the name of safety; at least his belief in his safety.
Christophe returned to the GP's for the last few rounds of 2011 on the CLS Kawasaki team and secured two podiums and three moto wins. It was a clear indicator that Pourcel's struggles on the Yamaha were not indicative of where his 450 career was headed.
For 2012 there were rumors of Christophe possibly coming back to the US for Supercross but again it didn't happen. He had a solid showing in the World MX GP Series, finishing 4th but announced at the last round that he was leaving the CLS team and focusing on riding for fun for the foreseeable future(aside from a commitment to give it his all at Bercy). Pourcel showed up for the Genoa Supercross, however, aboard a privateer 350KTM and thanks to some mechanical difficulties, his results suffered.
So now we sit just days away from Bercy, with reports of his bikes being stolen it fits right into the script of racing being one trial after another for CP377 to deal with and overcome.
A handful of US teams have been in contact with Christophe about his plans during the 2013 Supercross series, though it doesn't appear that anything fruitful is coming together and that's a real tragedy. For a two-time SX2 champion, who won convincingly, to never even get a gate drop in the SX1 class in the US, is one of the great losses for the sport in it's history. We all know 2010, the year Pourcel won his last SX2 title, is a lifetime ago in this sport that waits for no one and just look at the monumental accomplishments Pourcel's teammate, Ryan Villopoto, has accrued since 2007 when they swapped positions in the first two rounds; their career paths have gone in drastically different directions. One has been on a consistent incline while the other has been primarily plateau's and assorted valley's to overcome.
It's hard to argue with Christophe's refusal to compete in Supercross, against the best in the world, with the stakes and pace higher than they have ever been, for less than he feels the risk is worth, monetarily of course. He's seen the depths of one of the worst injuries a Supercross racer can endure and the mental anguish that comes with it is likely nearly impossible to forget. He knows what the price to pay is no matter what decision he makes. He can either choose to race for less than he feels this risk is worth and possibly deal with that risk turning into actual detriment, or he can stand his ground and forego racing the SX1 class altogether as he has thus far; leaving us all questioning what could have been.
Including himself.