Anaheim 1 let the bro down begin.

Anaheim 1 let the bro down begin.
By: Moser
Photos by: Jamie Lissimore
We're back with another year of a Short look at the riders that came up Just Short of qualifying for the main events. I attended A1 this year for the first time and that may lead you to believe that I have some great inside information and insight on the featured riders this week and you would be wrong. Although watching the racing action live is a great time it's difficult to keep track of what's going on everywhere on the track. Add in you can't hear the announcers while the race it going on, I'm still trying to remember all the new numbers this year, and phone service dropped to non existent when the stadium filled up I finally gave up on getting the results page to refresh. Before sitting down to type this out and looking up the results I couldn't have told you who didn't make the main, Short of Hanson landing wide and cartwheeling in front of me then going on a seek and destroy mission. The concept of this article from conception was to give the guys a little recognition and credit for getting as close as you can without qualifying for the main and I guess I've just re justified it to myself that's it worth the time to write this every week.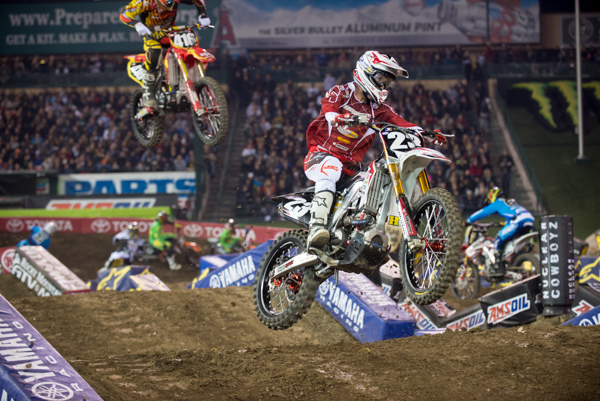 That's Burns there in the background, this was the best that Liss got and he will be reprimanded. If I was Burns I would be wearing the Fly Shorty replica gear stuff is seriously sexy.
#416 Austin Burns – Naveen, Fly Racing, FMF
Lets meet Austin Burns because I can't say I know anything about him. He wears Fly gear so at least I know he's looking good on the track. Burns did a lot of the work for me and actually posted his own post race report go check it out at http://www.burnsracing141.comIt's not often you see riders write post race reports or blogs themselves anymore, remember the ones James Stewart did for awhile? Burns website is well laid out, easy to navigate lots of info it's worth checking out if you want to read up on his rookie sx season.
After browsing Burns website he had some solid finishes in the A class last year in amateurs. His riding coach is J. Whipple who is from my neck of the woods in the Pacific Northwest I even took a riding lesson from him once. Whipple trained Josh Hill for several year as an amateur and I think Watson said he was helping out the H&H team a little last year. I still remember watching Whipple at a fair race take a line around a corner on top of a berm that was maybe 4" wide and basically in the banners, I couldn't believe he hit it perfectly every lap and never got tangled up in those banners. Did you know Naveen is an engine builder in California and the leading sponsor for Burns effort this year, now you do. Also on the long list of sponsors is Subway which makes me think of Sinjin and how I haven't truly enjoyed a $5.00 footlong for over a year now because of his stories.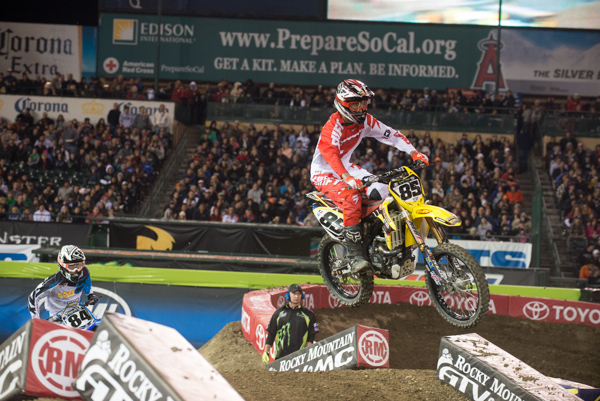 For Kyle's sake I was glad there was no over under bridge at A1.
#85 Kyle Partridge – MB1 Racing, Shift, FMF
I was pleasantly surprised to see Partridge made it this close to making the main event. His injuries from last year seemed nothing short of gnarly, the foot exploding after colliding with the over under bridge and then what sounded like a serious neck injury. I expected more from him last season riding for the H&H team, pre season he talked about how it was the first time since turning pro that he put all of his effort into riding and training without the worries of how he was going to get to the races every weekend and fund the entire effort. Soon after the season started he admitted his fitness wasn't there yet and I really didn't see any excuse as to why it shouldn't have been. I thought this was his big chance to make it and that he hadn't made the most of it.
From what Watson had described on the show it didn't sound like we would be seeing Partridge on the track again but it's hard for any racer to walk away from something that have dedicated their life to. You could hear the concern Watson had for the safety of his friend and the long list of injuries he's endured. I may have told this story last season but I doubt anyone would remember it and nobody really reads this article anyways. At Ponca City in 1999 or maybe it was 2000 Partridge was one of Suzuki's biggest mini stars with 4 or 6 bikes lines up for all the different 80cc classes under the amateur factory box van. He was just blowing the other guys away it wasn't even close, and then he ran out of gas with only the finish line straight left. He was seriously and understandably pissed and in tears.
Partridge was on the #1 rated moto podcast DMXS recently and said he's sinking every dime he has into his own privateer effort this year, and that he's finally serious and ready to give it 100% effort. It's not that I don't like the kid but it took it as a broken record having heard him say this the year before. He couldn't have picked a more stacked year to start to take it seriously but coming up Just Short of making the main at A1 maybe it's not too late. There are some riders that tend to have better results with a privateer effort than when they're riding on a team, Gavin Gracyk comes to mind.
Thanks for reading this Short recognition of the guys that almost made it. See you next week, Moser
Please send all comments to jasonw@racerxill.com