Matt Lemoine gives us the scoop on his entry into the 450 class; one of the deepest in history.

Matt Lemoine gives us the scoop on his entry into the 450 class; one of the deepest in history.
Teams like JAB Motorsports are the lifeblood of our sport. Scott Motorsports and we at PulpMX realize this and we will use this weekly look into the JAB Motorsports Team to make sure they receive a deserved consistent spotlight through the 2013 season. Scott Motorsports is a proud sponsor of the JAB Motorsports Team and keeps team members Matt Lemoine, Gannon Audette and Vann Martin fully equipped from head to toe.

Photo by: THE James Lissimore
Matt Lemoine has been racing professional Supercross since 2007. He rose through the amateur ranks with accolades and entered pro racing with a solid ride on the then Star Racing Yamaha team. Matt has always had speed and skill but he's also had consistency issues due to hitting the ground as well as mechanical failures. Despite the struggles which faced him throughout the six years he competed in the 250SX class, he still loves the sport and has his best days when he's keeping it light and riding loose.
This season on the Jab Motorsports team, he has the surroundings that offer him the best opportunity to keep that fun, though focused and committed mindset and adding a fresh perspective, is the 450SX class.
It's widely known that the 450 lasts longer than the 250 for a multitude of reasons, it's also been considered that the 450SX class is a different breed of racing. Sure the 450 on a Supercross track is a whole new animal to keep in check but it's an exercise in restraint, control and respect. If any of those factors are not managed with great attention, things go bad, fast. Matt is known to be a very smooth and controlled rider. We hear it every year, "I feel like the 450 just fits me better". Maybe that's the case with some, it's certainly wishful thinking for others but with Matt, there's no doubt, his fluid riding style has always looked like it would translate better to a 450 than the flickable 250 four stroke.
Heading into Anaheim 1, Matt was keeping his goals attainable and modest rather than putting unnecessary pressure on himself with lofty expectations. Keeping it fun, as you will. Making it into the main, through whatever avenue presented itself, was goal one. Goal two was finishing the main and leaving Anaheim 1 with a solid 20 laps and his health. That he did and more.
Here's what we talked about after his first 450SX race. What he learned, how he felt and where he expects to to be from here moving on to Phoenix.
Swizcore- Walk me through how it all went for you in your first 450 Supercross.
Matt- All in all, I think it went good.I had a good first practice, got everything dialed and rode the whole practice. I was in the unseeded practice and I really feel bad for those guys because they rely let the track go. Super rutted and beat up. Coming from the 250 class where the track was totally different when you get out there. In the end I had a good practice, I was sitting in 10th place overall, so after the first practice I was super-pumped. I knew my speed was there and I felt good.
My second practice I went out there and floundered around a bit. It took me a while to get into a groove. I think I was over-riding the track for how rutted it was at that time. I ended up getting it together in the end and I finished 16th or 17th overall in qualifying which wasn't too bad and gave me a decent gate pick going to the heat.
The heat went good, I had an inside gate pick and I knew I needed a good start because looking at the line-up in my heat was pretty solid. I got a good start and rode up there with Windham and Broc and got some confidence and had good strength through it.
Then the main event came and I was line up on the outside so I knew it was a long shot to get a good start. I just wanted to finish 20 laps. not being able to ride for the last week hurt me a little bit (they had snow in Texas leading up to A1)–
Swizcore- In terms of strength or arm pump?
Matt- Yeah just in terms of strength and my heart rate was a little high. I just rode tight. You know you get stuck in a pace and it's hard to get out of it. I just pretty much finished it and was able to walk away healthy for next weekend.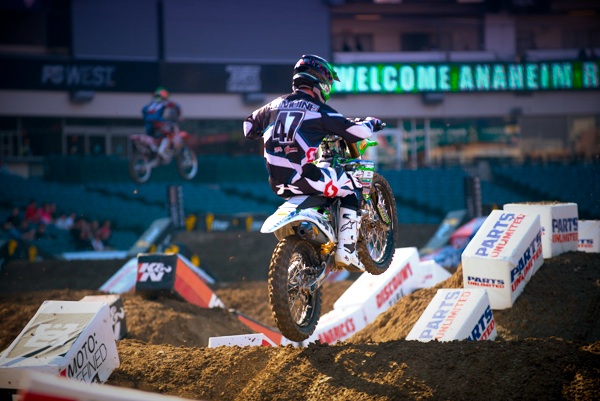 Matt started his 450 career with a totally respectable 15th place finish.
Swizcore- In my eyes, what you did was a little better than what we talked about last week with just getting in and getting out healthy. You weren't on TV much but watching the scroller, your name was always consistent. You could see you were putting in solid laps and staying off the ground and you finished 15th, which is no small feat in this class this year.
Matt- Yeah exactly. The biggest thing was riding the whole race and saying "hey I can build from this". I don't think you can get into race shape for the first race so I think racing and riding with those guys every week, I'll only get stronger. So definitely building on this as a starting place and my next goal is to get indie the top ten. I think we can do that and just consistently make the mains and stay up in contention in points with these guys. This is only the first race and the season is very long.
Swizcore- When you were racing did you find yourself thinking about the difference in the racing compared to the 250 class?
Matt- Well, yes and no. It's pretty crazy in the heat race when I'm just battling with Kevin Windham the whole time. He passed me, then I passed him back and he got me back, then I stayed right behind him for the rest of the race. Just knowing that when I was 8 years old, this is one of my idols is crazy. It's awesome.
Swizcore- I can imagine, you're probably like, "hey there he is" and then a few laps later you're like, "hey, he's still right there".
Matt- Yeah and he's so smooth. It's good to learn from his lines and how he cuts under things. Hands down, he's just a lot smarter than I am when it comes to racing so it's good to learn from someone that much. There's a reason he's still going strong and still a favorite. He's badass.
Swizcore- Yeah I can't imagine a better guy for you, a first time 450 racer, to tag along with and study. You know he's gonna be smooth and as long as you can stick with him, you're gonna learn a lot.
Matt- Exactly. Like I said in that second practice, on a 450 it's so easy to try to go fast and just blow everything out of the water, rather than taking a step back and you can actually go so much faster. And he is like the perfect example of taking it down a notch and just being silky smooth but he's hauling ass.
Swizcore- Did you stick to the mindset of "ok this is going good, I'm just going to maintain this", or did you actually think about stepping it up and pushing it at some point?
Matt- Yeah at one point I got some really bad stomach cramps. The way I spaced out my eating on a 250 didn't work out with the longer wait for the 450 and longer sessions on the track. So I got cramped up at about ten laps and the race is so much longer. 5 laps doesn't seem like much but it really is and the lap times were around a minute, so that was a long track. Phoenix will be around 40 seconds so, that was a long track.
I never really thought "hey this is going good", I was just riding. I just took in the moment and enjoyed racing. I definitely had fun, it was a blast.
I'm looking forward to Phoenix already.
Swizcore- I would say with the field that was out there, taking into account the struggles you've dealt with the last few years in the 250 class and pulling down a totally respectable finish, this was like a home run for a first effort for you.
Matt- Yeah, a lot of people could say "yeah, it's whatever" but as far as me, I met my personal goal for my first race and I want to just continue making main events and take it one race at a time. That's the goal.
Swizcore- Good luck next week in Phoenix and enjoy having a week to ride before the race again.
Matt- Thanks man.