Not since the Mayans just over two weeks ago has a collective group of people been so wrong following the absolute stunner of an underdog win at Anaheim One of 2013.

Not since the Mayans just over two weeks ago has a collective group of people been so wrong following the absolute stunner of an underdog win at Anaheim One of 2013.
Photos by: THE James Lissimore
First things first, I can't possibly overstate how much of a home-run Feld's new 3 hours of online pre-race coverage is for us. For a longtime now we have been inundated with what has become a baseless comparison to Nascar as a sport and finally, with this 3-hour block of essentially "live qualifying" coverage(albeit online), there is finally some substance to the comparison.
If you're a tech-savvy fan of the sport, you can go the extra mile and get this live coverage up on the big screen in your man-cave and be truly in moto-heaven. Honestly, I found myself thinking a few times, "man, aside from missing the comedy of Nick Wey, the shit-talk of JT and the moto-fact ping pong going on between Weege and Matthes, this beats any Press Box seat I've had. There is one big exception which makes actually being there ultra-valuable and that is obviously being able to focus on what you want and not merely where the camera is pointed. And that's a big one, as was the case in the 450 LCQ when Hanny apparently punted some guy long after he had crashed himself out of contention. "Being there" has it's drawbacks( not as comfortable as home, traffic, $$, social-anxiety…) but none of them could ever trump being in control of what you are ingesting with your eyeballs.
That being said, I'm going to be buying Dave Prater and crew a beer when I see them.
Last years track caught every rider off-guard. They hated it and much of the talk in bench racing discussions was that the riders being uncomfortable on a track was a good thing. A break from the cookie-cutter mold the tracks had become. Well, is there anyone out there who would actually argue that last years A1 track made for better racing than 2013's A1 battleground? Not a chance. Last years track brought to the forefront the idea that the early rounds of Supercross are intentionally built to help riders "get through it" instead of challenging them and risking injury at round one. I'd say the 2012 A1 track was a couple degrees too far in highlighting that concept. This years A1 implementation was infinitely better and the racing did not disappoint. From the first 250SX(yup I typed that) heat race, the 2013 Season started off with a bang and it continued on relentlessly through the checkered flag of the 450SX(ouch) main.
450SX
For all the hype, contention and unavoidable predictions coming into this Series, it lived up to and surpassed all of them in ways no one could have dreamed. Everyone just knew that Ryan Villopoto, Ryan Dungey, Chad Reed, James Stewart and Justin Barcia were bound to be the class of the field. There was of course the return of the 41 who has won races but was still a very big question mark coming into A1 following such a traumatic injury and intense road to recovery. Mix in the enigmatic Josh Grant, last years inconsistent, though capable, Jake Weimer, the believed work-anemic Davi Millsaps and the everlasting K-Dub and there were literally 10 guys who under the right circumstances could pull down a win in 2013.
You'd be silly to not pick returning back to back champ, Ryan Villopoto for the A1 win. Same proven program, same hatred for all that is not winning, same focus on a goal and more time to prepare following recovery a new ACL. Judging from his heat where he was man-handling that quad in traffic, I feared a snoozer of a main event with RV crushing the souls and spirits of all competitors. As fate would have it, THAT is why we race all 20 laps, every weekend.
Who would have guessed that RV would hit the deck multiple times following a terrible start where he was pinched off early on the inside and never recover?! RV has never been a crasher but on this night it seemed his sense of urgency was peaking a little too early and it bit him big. His career race-craft has been the fiery, methodical attack we saw in his heat race that saw him come from mid-pack, draw in Justin Barcia and nearly pass him in the 8 lap sprint race. There's no doubt that RV had two prime opportunities in consecutive corners to run it in on Justin but he was wise to forego the opening as it was only one position and a non-points paying one at that. It would be utterly senseless to poke a stick in that hornets nest in the first heat of the racing calendar-year. It's inevitable as it is so why fast-track it?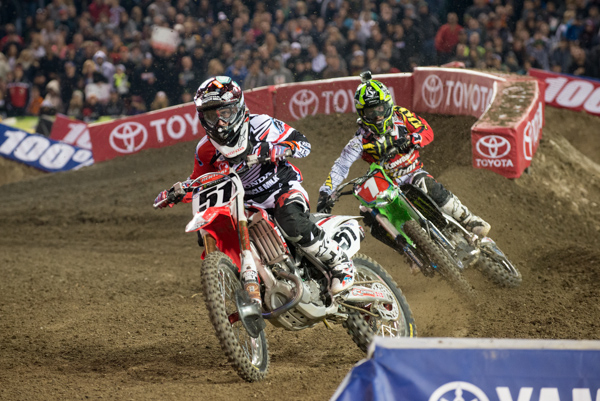 RV was on fire in 450 Heat-One but opted not to run it in on Barcia… just yet.
Lets not forget that RV won his 2011 title without even making the Tampa main and he won his 2012 title without even racing the last three rounds. A 17th at Anaheim 1 is certainly not optimal but far from something to start panicking over given history. As long as he's not injured (and the word on the street is he's ok), this is what you'd call fire in the belly.
Reports of James' tweaked knee came about peculiarly after setting the top qualifying time and making it even more odd was that it happened on the last lap and without a crash. I have to admit, my first thought was, "this has got to be a new Bubba's World script". The possibility of James not lining up for the first race of the year was a gut punch. He just has to be out there. Supreme talent and now more than ever enormous question marks that simply must be answered. For them to blur into the obscurity of injury before lining up with the best would be tragic.
Stewart manned-up and gave it his all but it was clear, this injury was no reality-tv fabrication. He was fighting it and I commend him for putting it all on the line even with a possibly torn ACL. It's really the only thing he could do. For him to pack it in without even lining up at this point in his career, would be catastrophic. If indeed his ACL is torn, lining up and gutting it out will be looked at as commendable although in the scope of the title, fruitless. If it's not torn though, to opt-out of A1 would be only more kindling fueling the fire of all those Stewart-detractors.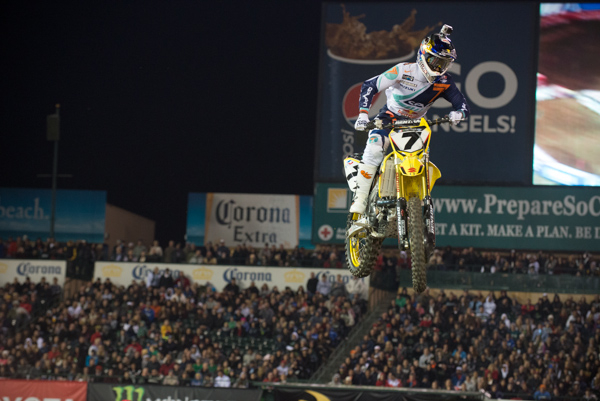 Will Stew line up in Phoenix or will another ACL make this series one-race like 2008?
Barcia was everything that we expected him to be. A great starter and stout laps put him in contention for the win in the main after sealing the deal in heat-two. Unfortunately with only four laps to go, Justin joined the ranks of crash-casualties and gave up four positions to finish 7th. Watching Justin ride, it's clear, there are some guys who can win under ideal circumstances and then there are those who can win any weekend of the series. Justin is the latter. A great addition to the big bike class. It's crazy to think that he is the same kid who was in the CRF150 Honda commercial only a few years ago.
A quiet ride for Andrew Short finishing 6th but with the tumultuous circumstances surrounding the future of his team, I'm thinking he's ok with it. I know Moser is. As an aside, I find it really bizarre that the Chaparral commercial during the broadcast shows a web browser at "www.supercross.com" just before the user types in "www.chaparral.com". I mean, how does the current title-sponsor make a commercial where the prior lame-duck title-sponsor gets a mention? That's some "B to B" I doubt a certain LB would be too pumped on.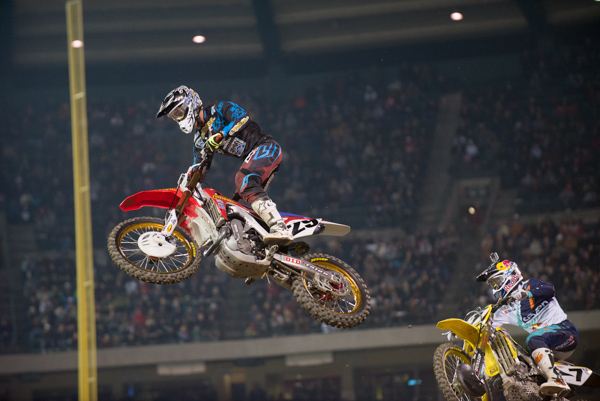 Andrew put team-shenanigans to the side and rode his heart out.
Jake Weimer's day didn't start out well with a 12th place qualifying time but he rode quietly to a solid 5th in the main. Hopefully Jake can stay away from the peaks and deep valleys of 2012 and ring-off a series full of consistency.
If anyone out there still puts any stock into Chad Reeds sub-exemplory qualifying times, when oh when will you learn? Even after qualifying 8th, advancing to the main via a 7th, 15 seconds behind the leaders, you just knew it wouldn't mean squat when the points paying gate drop came. I'll admit, when Erin interviewed Chad after his heat, I was surprised to see him looks as disgusted as he did. The usually unflappable Reed appeared to have doubts and was all business. You just have to know better though. I wrote myself a note in 2003 that said "Chad Reed doesn't care about any finish other than the one that pays points". You should make yourself a note just like it. And never forget it. He'll make you look silly most Saturday nights when you do.
Sure enough he pulled a 5th place start and rode solidly to a quiet, distant 4th. Chad has often been a slow starter in race-series' and starting with a fourth is a damn good way to get rid of that all-business frown he was sporting between the heat and main.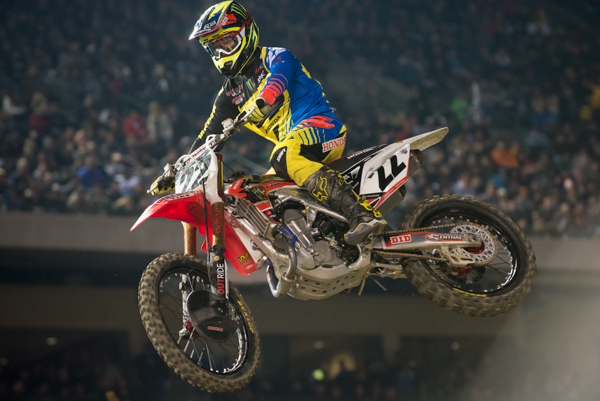 Reed arrived in the Main. When it counts.
Dungey looked good. Better than last year even. His bike setup definitely looks more refined and the fact that he ran it up the inside of Reed, a rarity for Dungey ("Hi, Ryan" anyone?), is probably not only a big reason Chad was fuming but also evidence of maybe a newer, more assertive Ryan Dungey. I sure hope so. He needs to take what he feels is his. There is simply no room for passive guys with the level that the class has elevated to.
The feel-good story of the night came up about 4 laps shy of perfection. Trey Canard is on par with Josh Hill for guys who everyone is pulling for in a major way to put their injuries behind them and truly find redemption and an inspirational tale of triumph over tragedy. Trey's "REvival 41" which came out just days before A1 brought to light much of Trey's struggles and just what he's had to endure to get back to the line in Anaheim. It's safe to say, every fan of the sport was pulling for Trey's return to be victorious but due to the frequency of injuries which have shadowed him over the last few seasons, all of our hopes were marred with, justified, wincing concern.
It was clear early-on though that Trey had indeed prepared adequately and he would once again be a force, battling for wins with the fastest the sport has seen. Trey had a few sketchy moments when he was being challenged for the lead though. It was just so palpable how bad he wanted it and he got jiggly a few times. Enough to trigger the "dial-it down" synapse in his brain and I'm glad he did. Welcome back Trey.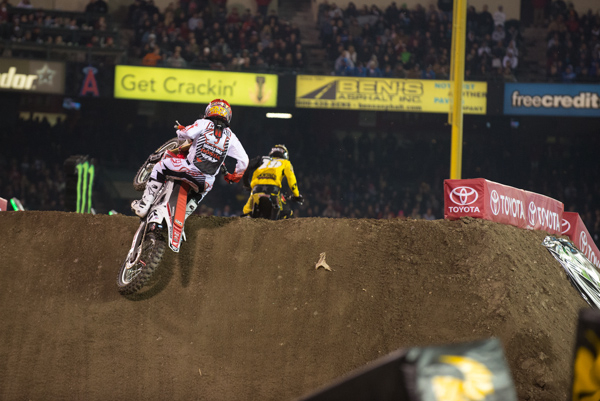 Trey's REvival was one lap short of making Hollywood script-writers jealous.
You gotta love Davi Millsaps following his heat win when he jokes about the difference between this off-season and prior off-seasons is his actually putting in work to prepare. Sure he meant that he was healthy enough to prepare but there was just as smudge of a smirk that let us know he was taking a dig at his reputation as well. Love seeing him giving props to Yogi as well. If he keeps listening to Yogi, it's going to be a great year and with results like this, how could he not listen?
There's no doubt Davi is stoked to be back on Suzuki and he appears to want it more than ever. Call it maturity, growing up, being a Dad; whatever it is, to see the always talented Millsaps finally apply that talent with a mixture of desire and casting aside the content-ness we've seen from him in the past is just a great story.
When Trey finally closed the gap and passed Davi on lap 16 I– scratch that, every fan who has been paying attention for the past 6 years just knew that was that. Davi was done and Trey was writing the final chapter of his REvival. On this night however, Davi was relentless and he threw-down a 20th lap which was 3 seconds faster than Trey's. Pretty sure Davi lost 6 lbs on lap 19 which allowed him to do just that.
Over the last two years Davi has really seemed to come into his own as a person and that has lead to more comfort and peace on the track. It's a great change to see and I hope it continues into the future.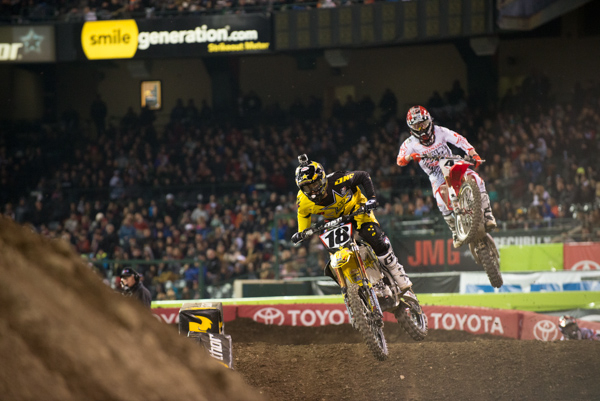 Davi looked more driven than ever at A1. Will it continue?
I know I'm not the only who is once again bummed by the inability for Josh Hill to leave A1 with a result but as bummed as his fans may be, it doesn't even approach how frustrating it has to be for him. It's like a cruel joke at this point and nobody, I mean nobody is laughing. The team is claiming that Hill hit his head and they chose to have him sit it out. I'm going to to ahead and believe that because what I think is really going on only bums me out more.
I feared this would happen to Josh again but even on my most cynical days I didn't believe it would actually happen at round one in practice. This sport.
Matt Lemoine has seen more than his fair share of struggles for years in the 250SX class. He's always had speed but he's also found himself on the ground a bunch as well as dealing with bike failures and he decided 2013 was a good time to move into the 450 ranks. We spoke earlier this week and Matt stated he was taking the move one step at a time and making the main at A1 and leaving healthy were his goals for the first race. He did that and more. First and foremost is he made it through without hitting the ground and turned in a respectable 15th place finish. That's no small feat when you consider the pace that this class is holding down.
Great ride by Matt Goerke. Really impressed with that 12th. I mean REALLY impressive ride. Did I say I'm impressed?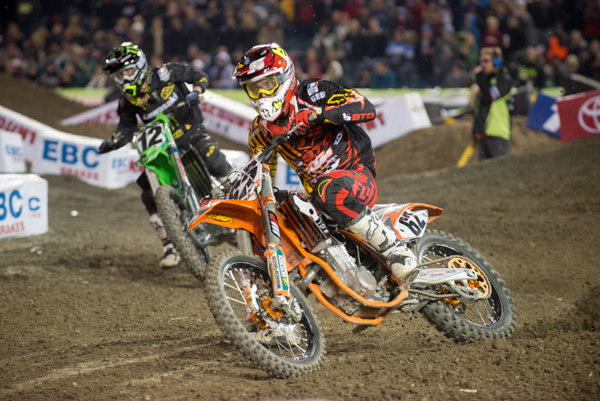 Sand-officianado Matt Goerke rode the wheels off his new BTO KTM to 12th. Impressive.
RCH had a terrible debut race. Broc was putting in a promising ride until one of RV's soil-samples threw a tuff-block in front of him and blew it. He had a terrible start which has to change soon because fighting forward in this class is no way to make a living. It'll leave you with gray hair at a young age. I've seen it happen too many times.
Kyle Chisholm puts in a solid nights work to come from the last rider to qualify for the main, to finish 13th. Damn good ride.
Hanny takes himself of the LCQ by jumping off the track and then T-bones Alex Ray when they are both essentially headed to the hot dog stand. Really? Lolly-gagging around and taking a rider out, he needs to be fined or docked. I prefer he gets docked. PulpMX Show docked, I mean.
250SX
Coming into the West Regional 250SX series, there was little doubt that Eli Tomac was the heir apparent to say… Superman? Chuck Norris? John Tomac? There wasn't a bookie in Vegas who wouldn't slap you silly by the mere mention of odds against Eli Tomac. It's no secret that Eli is not pumped to be riding the little bike again and you just knew he was going to take all his disgruntle-ism out on the track, his bike and his competition.
While Eli did cash that A1 check, he didn't destroy the field like I expected. Ken Roczen kept him honest at a 6 second gap and Cole Seely rode great only 5 seconds back from Roczen.
For sure, Eli could have dialed it up if need be but so can all these guys when it comes down toward the end of the series and the prize is in sight.
While Kenny rode well, I still don't think he can out-pace Tomac when they start head to head. Thus far in his US career Ken Roczen is the metaphorical bridesmaid of moto. While Ken is just hammering out there, there is always a guy or two who are a step ahead of him. The good thing is he is still young, I mean really young, so he'll reach the alter soon enough and he'll be the one chucking the bouquet.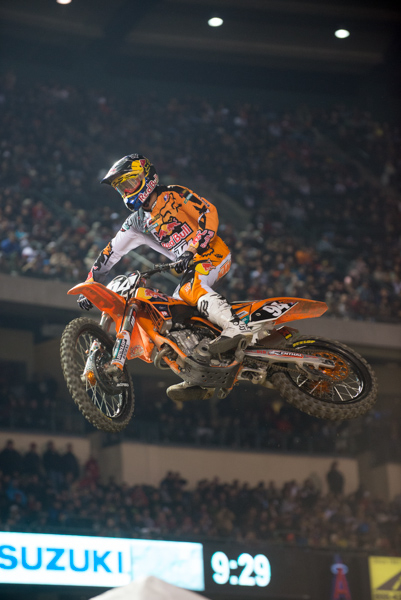 In a strange turn of events, Roczen looked smooth as silk and Tomac was all body english and scrubs.
Glad to see Malcolm Stewart start of the season on the right foot. He had so many DNF's last year, I ran out of appendages to count them on.
Man, I am not a fan of throwing out predictions but I was feeling it right before the 250 main and tweeted "338 FTW". Yup still not a fan of predictions. Zach got his front end pinched off early and came into the first turn legitimately last. I'm no rocket surgeon but that's not good. All night long that inside gate bit the riders who took it. not the typical inside gate that everyone vies for, clearly. Zach uses a lot of body english on the bike and that makes watching hime exciting. I expect we'll see more of it from the front hence forth in the series.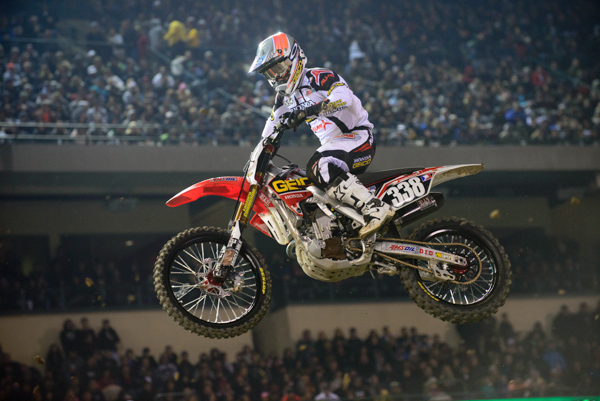 Zach goony-googoo'd his start, much like everyone who took the inside gate, and struggled to make up positions.
To absolutely nobodies surprise, Martin Davalos looked amazing in his heat race on his new Pro Circuit ride, piloting it to a convincing win. Now, are you sitting down? He didn't have a good main event. That pile-up caused by Jessy Nelson catching neutral set off a chain reaction that affected everyone and Martin was, of course, the least lucky of all. His bike lost all it's coolant in turn one and he was "turn-one 'n' done".
As a whole it was not a good night for the Pro Circuit team as following Davalos' early exit from the results-pool, Blake Baggett's Supercross struggles reared their head again and Tyla Rattray had the teams best result, an 8th, though certainly not up to par with what is expected from the green powerhouse. The west coast could very well be a rough series for this half of the Pro Circuit team. On the flipside though, Baggett has won races and Davalos could catch lightning in a bottle as well. Time will tell.
Bummer, on the night Davi has his most memorable win, his bestie receives his most memorable "pep-talk" from his new team manager. Honestly though even though this situation was utterly out of Martin's hands, it just figures that that's how it works for him most of the time.
Thanks for reading everyone! On to Phoenix where I assure you, I will be making absolutely no predictions. The season is off to a great beginning!