The series moved on to round-two and much like round one, there were surprises in many forms. At what point do we only have to pay the "edge of your seat" pricing?

The series moved on to round-two and much like round one, there were surprises in many forms. At what point do we only have to pay the "edge of your seat" pricing?
Photos by: THE James Lissimore
When all was said and done at round one at Anaheim, we had very few questions answered from before the series kicked off. We had an upset win by a (believed to be) historically underachieving prodigy. Trey Canard marked his return from catastrophic injury with a near-win. Back-to-back series Champ, Ryan Villopoto, put on a crash-clinic and seemed to forget the whole "keep calm and carry-on" mindset (very out of character). Chad Reed finished fourth, though he never looked comfortable or pleased. James just persevered (huh?!). About the only thing that followed the script of years past was Dungey, claiming yet another podium.
My point being, with all the oddities which sprang forth from the opening round, this week as we headed into Phoenix for round-two, many of the questions prior to Anaheim One were still very valid. That is exactly the formula that makes a season extraordinary.
Unanswered questions.
Monkey wrenches.
Over-achieving performances.
Mechanical failures and unfortunately, injury.
It was nice to see a sand section in a track design that actually worked for once. I looked in the "books" and they confirm, this was one of three Supercross tracks that had a sand section that wasn't a one-lined bore. Guys were going inside and out all night. It was almost standard operating procedure to never follow the rider in front of you. Even though rarely was a pass made, they never gave up hope and continued their quest for advancement in the sand, throughout the night. Many times they would get sketchy and the lines would converge, with many near misses. The tiny peaked wall exiting the sand was a great addition as well and complemented the sand before it. All in all, the Phoenix track was great. Two rounds in and two pretty stellar tracks. Alert Guiness.
250SX
First things first, everyone keep Nick Paluzzi in your positive thoughts/prayers. Being strapped to a back-board is never a good sign, even when it is precautionary.
I was absolutely certain we would see Martin Davalos back-boarded as well following his Supercross "highlight reel" ejection in his heat race. That was scary! For all the crashes we see which result in injury and leave us asking, "what happened"? This one was plain as day. Martin simply came up short, soaked up the face and was preloaded then ejected into inverted flight. Man did he get lucky! If he were 3 inches lower, he would have caught the inside face of the bowl turn with his dome and who knows what we'd be talking about. Instead, Davalos shocked everyone by not only walking unassisted down the tunnel, he continued racing throughout the night.
Martin has certainly developed a reputation over the years but for him to go through that crash, rebound with a great start from the far outside and pull down a podium? Wow. Respect. Nothing but respect. I don't think anyone would have ever considered Martin soft but his past struggles speak for themselves. They've become almost Homer Simpson-like. No matter how good things appear to be going, in the end they just go sideways… or upside-down. In Phoenix though, he righted that upside-down and certainly redeemed himself in the eyes of many.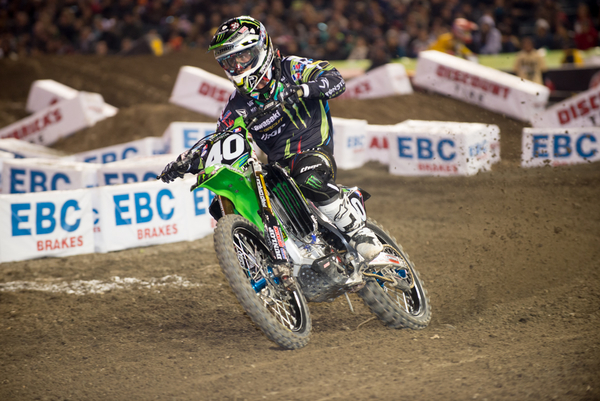 Davalos turned lemons into lemonade in Phoenix.
The feel-good story of Davalos over-shadowed the struggles of both Tyla Rattray and Blake Baggett for the Pro Circuit team. Unfortunately last weeks crash for Blake Baggett wasn't endurable. A fracture and broken bone in his hand was probably aggravated by his very similar ejection to Davalos' crash and he will be forced to have it repaired. The indoor strife continues for el'Chupacabra.
Tyla Rattray has also not been himself through the first two races. Last year Tyla Rattray left Phoenix with the points lead and red plate, this year he leaves seventh in points. Was last year an anomaly or are these two-races just a rough start?
If Tyla doesn't get it sorted and considering Martin's historical "luck", this years West Coast series could turn out to be very long for Mitch and crew.
I have to give major credit to Joey Savatgy for his rides in Phoenix. We've heard his name coming up through the amateurs for a while and now we see why. Kid pulled a great start in the heat and damn near won it. He sits 9th in points and I imagine he'll be moving up from there after this weeks experience out front.
Eli Tomac had absolutely no interest in waiting for a Davalos error in the main event. Simply reel him in, run it in in a corner and click off sprint laps. As impressive as he has been and everyone talks about, he's that and a bag of chips. He's one of about… well, one in that class who can turn a lackluster start into a win on any given week. He's like the RV of the 250SX class but instead of hating everything, he just hates that he has to race a 250 again and wants to just punish the bike, track and competition every week. He might as well enjoy it because it doesn't look like Factory Honda is regretting their 450 roster decisions thus far in 2013.
How about that little "switchover" move Roczen made in the main? It was like the move Stewart made in 2010 which left Kyle Partridge on the ground except this was Roczen altering flight-trajectory to avoid a collision. Roczen makes room where there is none, even in mid flight. Ken Rocks is more comfortable on a bike than I am on my feet.
He's got next level speed to win races so Roger and crew must be frustrated that he's not making it happen now, in his third effort indoors. He's Jeff Emig to Eli Tomac's McGrath of the Supercross class of yesteryear. Sorry Roger but Eli is just better. It's marginal but this sport is dominated by these tiny margins.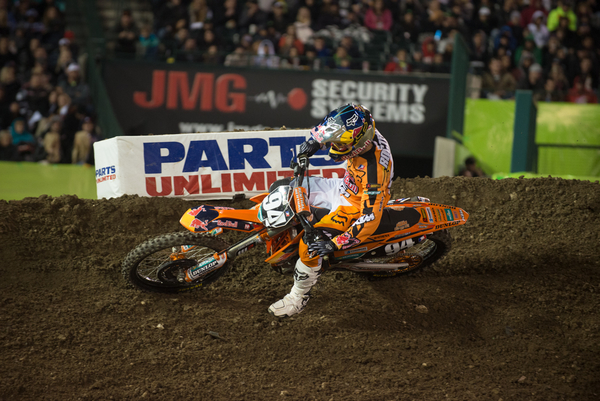 Is Roczen the Jeff Emig of the 2013 West 250SX series?
Jake Canada made a really dumb move by not strapping up that tardy-lid on the line of the 250 main. Of course it was going to end with a black flag… and it should. Adrenaline does weird things and sometimes it makes you do dumb weird things. You're going into the first turn last anyway, why not go into it last and at least be allowed to finish? Live and learn. He's a solid top 10 guy and I expect his focus to narrow and turn his series around next week.
The 250 points are crazy behind the top three after only two rounds.
1. Eli Tomac – 50
2. Ken Roczen – 44
3. Cole Seely – 38
4. Ryan Sipes – 29
Really, how many times have we heard Sipes' name in these first two races? 0? -1? Usually Sipes is amazing us in qualifying and sometimes delivering in the main. So far in 2013, he's simply steady.
5. Zach Osborne – 29
Injury struck Zach's shoulder in Phoenix and he rode through some serious pain but as you'd expect, he's toughing it out. After years abroad, he's not going to let 15 laps of pain sideline him.
In his own words, "Mama didn't raise no b@#*h".
6. Kyle Cunningham – 23
Silently into 6th. Kyle's a ripper and it will be nice to see consistency this year.
7. Tyla Rattray – 22
8. Max Anstie – 22
Pleasant surprise from the young Brit racing an abbreviated schedule before heading back to the GP's.
9. Martin Davalos – 21
10. Joey Savatgy – 20
11. Christian Craig – 20
Consistency still an issue. On-track, Christian mirrors his Dad, the Stingray, quite a bit. So much talent, so many roadblocks.
12. Malcolm Stewart – 19
Fast, inconsistent.
13. Jessy Nelson – 19
Good rebound this week. Fresh start for Jessy.
14. Jason Anderson – 18
Real bummer for Jason. Kid has serious skill- they all do at this level- but at this level it's so much more than skill. "Luck" plays a big role… and by luck I mean putting yourself in the right places at the right times and it seems Jason is in the wrong places at the wrong times far too often.
15. Michael Leib – 15
450SX
It's weird that last weeks Millsaps win was more of a shocker than this weeks wire-to-wire domination by rookie Justin Barcia. Even coming into the season, Barcia was mentioned with the title hopefuls in every bench racing debate, while Millsaps was not. Even though he finished 2nd in the series last year and was moving to a new machine that he was admittedly more comfortable on, Millsaps was not considered a title-threat. That's just what happens when your career track-record paints a particular picture. Millsaps paints a picture of fly-by-night determination, while Barcia's paints a picture of disgust at anything less than winning at all costs. Rookie season be damned.
Barcia clearly loved the track in Phoenix. He was whipping it everywhere and was riding so loose that I considered him sketchy at times when clearly he was riding with 100% confidence and fluidity. Much like Ryan Dungey at Phoenix last year, Barcia dismissed the battling and pulled the holeshot and simply checked out. Impressive.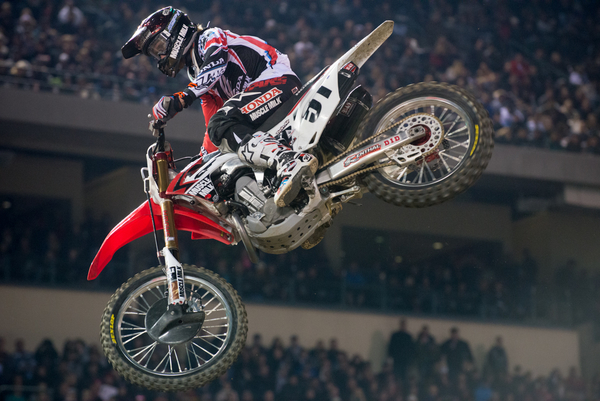 Barcia did at round two what everyone felt was inevitable at some point during the year.
Ryan Villopoto once again did not put on the aggressive and dominating ride we have come to expect, nor seen, since Heat 1 in Anaheim. From the start of the night, beginning with the awkward looking number-one plate with no red background, RV is forced to battle back from a rough starts and work his way through the pack. He had a soil sample, some close calls and in the end made it happen well enough, to work into second place. Not what he wanted but a big step toward that end. He made passes that many were unable to and that is just the result of his insistency on moving forward with force and not waiting for positions to be made available to him.
Millsaps did what we've come to expect of him this season (har). To ride fast, consistently and determined to finish 3rd and retains the points lead. Yes people, this is indeed a new breed of Millsaps and I am really happy to see it.
Chad Reed finishes 4th again and looked more uncomfortable than he did at Anaheim One. He is clearly not happy, nor comfortable, with the current setup of his new bike. Watching him ride, he appears to be riding further back on the bike than I can ever remember. That's not standard Chad Reed positioning. He's a front end rider who needs to trust the feel he's getting from the bike and in my opinion, that is what is missing. He doesn't trust the front of the bike right now and without that trust, you can't be nearly as aggressive with the track or assertive with your opponents.
Compounding the discomfort on the bike is the fact that so many of his main competition have been faltering and he simply can't take full advantage of their miscues due to his setup issues. I mean, he's 4th again, sitting 4th in points, only 3 points out of second in points and he's no where near the comfort he had last year or even in 2011. I hope they find a solution and get Chad and the bike "clicking" again because his discouragement is only going to grow as the typical contenders begin to filter out the miscues that have been ailing them.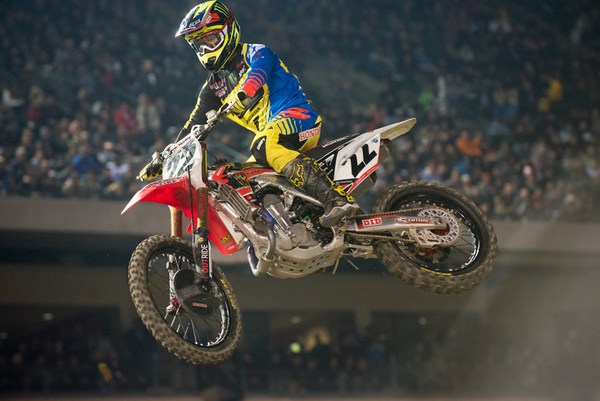 Maybe I'm way off base but to me it looks like Chad doesn't trust the "fore-portion" of his new bike yet.
Poor Trey has another brain fart in the waning laps to cough up a couple spots. He's clearly got the speed needed to secure a win so why fret it? And he's not, Trey is great at being a "big picture" thinker and he, like all of us, knows it's just a matter of time. That brain-fart, though, was the difference between 1st and 3rd in points. Not a big deal now but it very well could be as the series plays out.
Weimer puts in another consistent ride for 2013 and that's a big step forward over 2012. Priority one in my mind.
Stewart gutting it out and keeping it on two wheels. I have one thing to say about Stewart thus far in 2013. It's funny how in years past when James crashes, all we hear about is how he wins 95% (whatever the percentage is) of the races he doesn't crash in. Yet now, two weeks straight, he hasn't crashed or won and nobody recites that stat. I think it's great that James is finishing races under the radar. It shows a level of humility and workmanship we've never seen from James. He's always been the guy to say "I don't line up to finish 6th. If I can't win, I don't want to race". Now he's started looking at it from another view. Utter domination isn't necessary to bring home a title. It can be done through perseverance when the wins don't come. If in the end James does win this title following, this start, it will be a motivational story recited to all riders for years to come.
It's ridiculous that now the secrecy regarding injury in the sport has gone from total secrecy, to now, even though we know he's clearly hurt, we still can't know the extent of the injury. We know he is hurt. We know what is hurt. We just can't know HOW hurt it is. As if knowing anymore about the injury will result in series altering actions by his opponents.
No point in bitching about it. Yes it's dumb but that's the way it's always been played and always will; apparently.
Dungey playing catch up all day. From his freestyle launch off the corner of the triple in his heat race, to a mudpack start in the LCQ and another poor start in the main, The Dunge needs to get his starts figured out, quick. With starts like he has been getting, a guy who won't step on toes to move forward is gonna have a long night… and it was.
I'm not sure which is more surprising, the fact that Roger and crew ran an unproven air-shock to begin the series, or the fact that they would switch back to the conventional shock, after getting a podium with the equipment from the week before.
I need to include this tweet from RC this week:
Hey @Broctickle, one thing to work on this week and its pretty simple..when the gate drops release the clutch and lean forward. LOL?