The JAB Motorsports Team is tackling their inaugural year with a different perspective than most teams filling the pits.

The JAB Motorsports Team is tackling their inaugural year with a different perspective than most teams filling the pits.
Teams like JAB Motorsports are the lifeblood of our sport. Scott Motorsports and we at PulpMX realize this and we will use this weekly look into the JAB Motorsports Team to make sure they receive a deserved consistent spotlight through the 2013 season. Scott Motorsports is a proud sponsor of the JAB Motorsports Team and keeps team members Matt Lemoine, Gannon Audette and Vann Martin fully equipped from head to toe.

Photos by: THE James Lissimore
The JAB Motorsports Team is tackling their inaugural year with a different perspective than most teams filling the pits. It makes sense when your team includes and is built by a father and son. Bruce Lemoine has been a fixture in Matt's career since, well, since it's inception. In this sport there are stories upon stories of poisonous parental relationships with their highly talented racing offspring. The most obvious example being this season's Inside the Outdoors which highlighted a couple mind-twisting stories of parental betrayal. It's unfortunate that a parent in the "program" has an instinctual negative connotation in our sport but it's hard to argue with some of the tales which have come to the forefront.
The relationship between Matt and Bruce on the other hand has remained balanced, with a big picture, broad perspective throughout the years. It's a great mixture of support, motivation and understanding. Notice I didn't say pressure. When the JAB Motorsports Team was being compiled prior to the season, Bruce was opposed to being given the title team manager. It's stale and unfitting of a team structure where ultimately a father and crew are supporting his son. Bruce preferred the title "facilitator" and that's what they went with.
Bruce is the go to guy of the JAB team. If something needs handling, Bruce gets it done. Yes, in the end a team manager really is a facilitator, so why not call it what it is? Facilitator has a kind of "Good Guys" or "Casino" intrinsic muscle behind it as well, which is always cool.
I got The Facilitator on the phone to see how the new team looks from the inside and how he feels about the direction after the first two rounds of the series.
Swizcore- So Bruce, you are Team Manager, correct?
Bruce- Well, I didn't want to use the words "team manager". I kind of was given that title because I'm so involved and I basically put the whole deal together between me and a friend of mine. I gave him the title Team Manager and I have the name Facilitator. He has an important job and it leaves me running the show, I don't mind it. I enjoy doing this, it's fun.
It's got some pros and cons about it but you gotta take the good with the bad.
So through the first two rounds, are you feeling that everything is up to par and headed in the right direction?
Well the first round, Matt's goal was to make it into the night show and be at least top 15. In Phoenix, my concern was that he was going to show up and over-ride and make a lot of mistakes, which he didn't. He did just the opposite, he rode real conservative for the first half of the race. Then the second half he turned it on but with a stacked class like this, you gotta come out of the gate swinging. The first 7 or 8 laps you gotta be jockeying for position and he lost a few positions the first several laps. I don't think we've seen the true Matt yet, he's still on the conservative side. It's taking him a little bit to come out of that shell but she he does, I think we're going to see some pretty decent results.
No doubt, it's a tough class. It's like a roll of the dice, everybody out there is good. There's no slouches. Matt has more in him, we just need to get him up to speed, quicker. It's just going to take a few rounds for him to get there to where he's ready to start attacking more.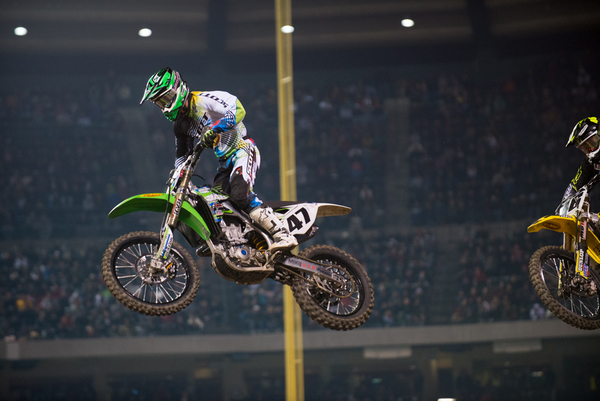 "The Facilitator" talks about the deal put together for this guy.
How high on the priority list is getting better starts after these two races?
In A1 he got a real good start in his heat race but made a few mistakes and dropped back to eighth. Then he spun real bad and got eighth again at Phoenix and knowing that he couldn't beat everybody to the first turn, he knew he was going to fall in and tuck under. If he tried pushing it, he would just end up getting pushed off the track anyway. That's his philosophy being on the outside. He'd rather just tuck under and try to stay on the inside than try to push it and end up off the track in a tuff-block and crash or whatever.
He's actually a pretty decent starter and when the time comes where he feels like he's ready to get in the mix, I think we'll see him do it. It's a confidence thing right now.
Did you notice in Phoenix when they were giving Matt the lapper flag when he was actually beating Brayton late in the race?
Yeah that kinda tee'd me off a bit. I don't know how to approach that but goes back to, I wish the flaggers would know who is the leader because obviously Brayton was behind Matt and they did everything but actually throw the blue flag at him; they about knocked him off the bike trying to get him to move out of the way. So I said, from now don't get out of the way. If you're racing, you're just as important as the guy trying to pass you. If you're racing for 13th or 14th, that's points. You don't block the number one guy but in this case it wasn't the number one guy, it was the 15th place guy, who Matt was racing. It pissed Matt off but, what do you do?
It pretty much throws the whole blue-flag usage right out the window. If they wave it once at the wrong guy, that guy is never going to believe they're doing it right again.
Yeah, he lost two spots because of that. He was slowing down to get out of the way for Brayton (who he was actually racing but was wrongly blue-flagged for), and he lost contact with Weston Peick because of that. We'll live and learn and next time, we won't get out of the way unless we are absolutely certain that it's a leader coming through.
He didn't know it was wrong, he didn't want to be blamed for taking the number one guy out. The flaggers need to pay better attention or schooled a little better.
So how does working with Matt this year differ from previous years?
It's really no different. I've been working with Matt all of his amateur career up till now. There were a few years where I backed way off, there were certain teams where it didn't happen the way we wanted it to. I've always been part of his program one way or another and I don't quit, I always look for ways to get things done. I enjoy doing it and I think we've made a bunch of connections this year that will bring us into several more years and make this whole team better. Matt has way to much talent to let it go to waste and I think it's going to surface real soon.
How did Scott Motorsports become involved in the deal?
I've been talking to John Knowles since about September, just a little bit here and there to see what he was capable of doing for us. John stayed in contact with us and it seemed like a perfect fit for us and Scott and John have been happy with us. It's all about communication. When someone tells you maybe, you just gotta be persistent with them until you actually here a "no", or until you run out of time. I'm pretty persistent, anyone who knows me knows that.
They stepped up and helped us and it's a huge, huge deal for us. The gear, the goggles and everything in between. It's just a great deal for us. Putting this team together would have been a whole lot harder without those guys.
Knowles has been a supporter of Matt for a long time right?
Yeah Johns been working with Matt for several years. I got involved in that side of things over the last few years and it's amazing what you'll find you're capable of when something has to be done. You'll just find a way to do it.
We're happy. There's a lot to learn with all the new people involved but I don't see any reason why we won't be better the second year.
Best of luck heading into A2, Bruce.
Thank you.