Reader Isaac Scoggin is back with a blog about racing fates
Reader Isaac Scoggin is back with a blog about racing fates
By Isaac Scoggin
Photos by James Lissimore
Gambling is considered by many people to be an art form crafted by probability, the ability to bluff, and the intuitiveness to read others mannerisms in order to decipher their bluffs from truths. To the untrained, uneducated gambler, such as myself, it is simply a flip of the coin. Now, in my case it is not due to the lack of ability to bluff or hide my own expressions, but rather in my ignorance to the game of gambling. Maybe it is with this ignorance that I have come to the conclusion that no matter how good of a liar, card counter, or people reader you might be, at some point in time it will always come down to a flip of the coin. I am not saying in any way, shape or form that I could beat an expert gambler. As the old German proverb says, "luck sometimes visits a fool, but it never sits down with him", and it applies to me directly. However, opponents of similar skill levels only make it so far in the game before a flip must be made, and we all know the probability of heads vs. tail is 50/50.
Thus far in the 2013 Supercross series we have had 2 races that have produced 3 winners in 2 classes. We know that each rider has had equal flips at their own coin in these races, but probability seems to settle on 1 side or another without any real consistency. The only true exception in either class is Eli Tomac with 2 wins in 2 races, which makes for 2 heads and 0 tails. Ignorance can even see that Tomac is possibly flipping with a trick coin that contains only heads. Some even believe that you can make your own luck. Is luck being poured into the fuel tank of Eli's Honda before the main event or does he take it like a vitamin? Maybe he has a tree behind his Colorado house that produces luck as if it were fruit and the gentle breeze blows them off and they float so elegantly into an old wooden barrel that lies beneath the tree. Maybe his butt patch should read "Getting Lucky" with a winking smiley face. Quite possibly Luck has indeed visited and decided to sit for a spell. Whatever the truth may be I would appreciate it if it were shared among the 250 class as it is in the 450s. Right now Eli is 2 for 2 and calling all the bluffs. He looks unstoppable.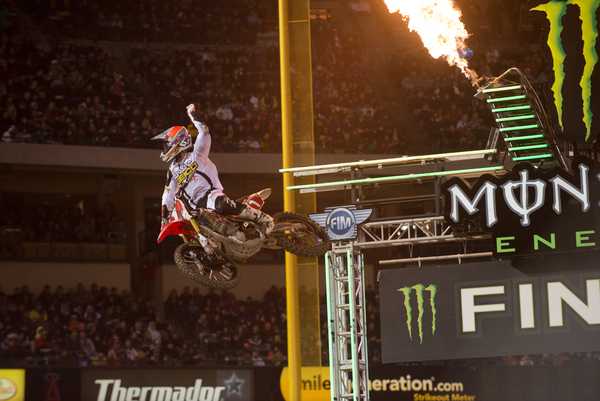 Has Tomac been good or lucky? Probably a bit of both in a crazy sport like supercross.
The other competitors are losing ground quickly thus putting themselves in the red. Not one of these guys likes to lose, and they have worked all during the off-season to come up with a solid base for physical performance, as well as, worked at laying the foundation for a strategy that will ultimately culminate with a number 1 plate. What is ironic is that Roczen and Seely have shown speed in close comparison to Tomac; however, they gamble and lose, where every race 19 others do, on the holeshot. Whether it is gate picks or reaction time it needs to be cleaned up, because the odds are growing by the race, and so is talk of a perfect season. Although he is out of the championship hunt Davalos remains a threat to steal points from possible challengers, and if the wind blows in the right direction (which is downwind from him) maybe the terrible odor that is bad luck will accumulate on another, and allow him to get a win. Obviously, Davalos has lived with a two-sided coin that is exactly the opposite of Tomac and his forever-favorable one. It is clear that Davalos's current hand might be his best, and it appears it has been saved for his last. A solid year of podiums will benefit him as much as any win at this point in his career. For far too long he has been on the drift, and with Mitch's guidance maybe he will bankroll his way onto a powerful 450 program next year.
Speaking of Mitch and his Pro Circuit team, this year is proving once again that the days of his "stacked deck" teams are becoming a thing of the past. Baggett has been racing supercross for three years and has shown raw speed mixed with lackluster results. Everyone focuses on the near past of Blake (meaning the outdoor nationals), but if one widens the scope of view and examines the broad results he has produced over the entirety of his career one will find bewilderment as to why he was a favorite to win the 250 SX crown. He has speed, and he has won some races, but has yet to maintain a level of consistency that even the wilder years of Barcia contained in SX. Even with Aldon Baker at the helm Blake remains fragile. The small cracks in his mentality keep him from producing his strongest results every weekend. He is without a doubt a pure talent, but he must overcome himself in order to become a SX champion in the 250s. Blake is running out of time to prove he is worth gambling on; otherwise the factory teams may not call his number. After all, SX has become the bread and butter for sponsors looking to cash in on their investments, and if you aren't the next big thing they will fold your hand for you.
We are all aware the probability of a coin landing on one of its two sides is 50/50. What is known but mostly forgotten is that the more times a coin is flipped the higher the percentage chance that the outcome is near 50%. Thus, the longer the season goes and the more flips the coin takes the better the odds that the top players will end up with nearly equal amounts of bad luck as good. That is favorable to all the fans that want the series to continue on its twisting spiral of up and down finishes, which will ultimately lead to intense racing and a very tight points race for the title. The bad news is that the next race will more than likely tip the scale towards a slightly clearer favorite as 3 is the magic number. Either the outcome will be 2 heads and 1 tail or 2 tails and 1 head or maybe 3 heads or 3 tails. Of course, certain riders have already limited themselves to the possible classification they can be placed in. Looking at the top 10 in points and deducing their finishes thus far in the series one can clearly see that skill sometimes takes a back seat to luck. Stay with me here. In order from 1st to 10th in the 450 SX class after 2 races: Millsaps goes 1-3, Barcia 7-1 with 1 crash in 2 races, Canard 2-5 with 1 crash and 1 near crash in 2 races, Reed 4-4, Dungey 3-8 with 2 crashes in 2 races, Weimer 5-6, Villopoto 16-2 with 3 crashes in 2 races, Short 6-9, Stewart 8-7 with 1 good knee out of 2, Grant 11-10. Now, read it again without taking a breath!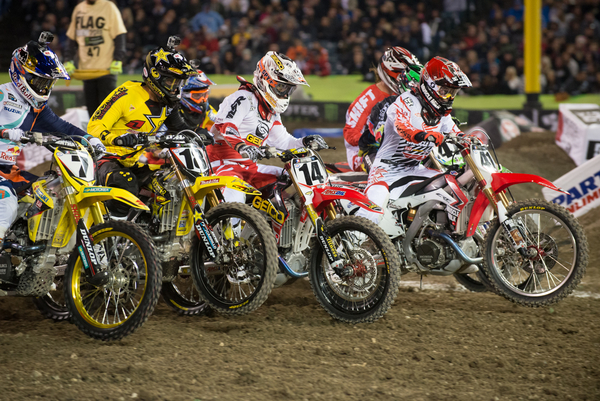 This just in- the start is important.
This year the youngsters are on the loose and the revitalized few are pushing hard early to make their own luck. Canard and Millsaps collectively could be put together to equal a man with a nearly unbroken body, and with some luck, they may even have a spare organ or two. In all seriousness these two have experienced heartbreak more than once, lost organs or parts of them, broken too many bones to count, and in 2013 they are landing all heads so far. I hope they continue to garner the luck they have been lost to for so many seasons. In this sport one wrong move can ruin a race, season, and career. Barcia is the youngster that is pushing the intensity and has the ability to focus solely on himself while the others worry about pressure and their own legacies. Some would argue that he likes to throw caution to the wind, and that he never shies away from gambling, but I beg to differ. I believe that Barcia refuses to flip a coin; he refuses to play by the unwritten rules of the 450 class, this includes etiquette at times. He is a simple man who drinks coffee after a win, has cried after a lapping gone wrong incident, and argues with his mother about bedtime. Justin Barcia, Trey Canard, and Davi Millsaps are shuffling the Supercross deck as we know it, causing us to recall that jokers are wild, and they are in every deck.
The sure bets of the past are the real surprises so far in the series, because they have faltered more than what we have expected. History has shown the big 4 of Villopoto, Dungey, Reed, and Stewart to make some mistakes from time to time, but rarely are they back to back. Villopoto and Stewart have the best odds of winning or crashing, but they are also the ones who bounce back the next race to run the table. Not the case so far this season as they have found tougher competition who see an opportunity to gain valuable points early and establish a must hole shot mentality. Stewart has started so-so in the mains and struggled with his knee causing him to take less risk and consequently receive less of a reward. Villopoto has taken the risks and paid the price with a terrible first round and a nice rebound for the second, but honestly, he is not a safe bet in the slightest at this point. Dungey and Reed always play by watching their opponents intently. They only move when they see a point to it, and rarely do they call a bluff. This strategy has worked for them in years past, but as I have already stated, this year the jokers are in full force. Somewhere in the middle of these two mindsets would be ideal for this season, and as it continues on we will see how the hands play out.
We all know how hard these athletes work to even make it to the level of a professional, and we wish them all the best of luck. Ideally, we would like everyone to have good luck and to see how no mistakes from anyone would affect the series. In reality we are all aware that bad luck is necessary for the series to continue on in a state of perfect chaos that excites the fans and keeps the riders pushing to the last checkered flag of the year. No injuries are required for this; however, they are likely before the season's end. If no bad luck would befall Villopoto and Stewart then Reed and Dungey would rarely win, making the championship less than stellar. I hope the jokers of this year continue to shuffle and reshuffle the deck we have known for years and help us to achieve a series of heads and tails that will be unrivaled by history. Regardless as to if you are a gambler or not, this series cares not, because as of now, the odds are for us as fans. As I said, it is merely a flip of the coin, heads or tails, call it in the air.