Matthes has been wedging this idea of a "new era" into the 450SX class lately. I think he's onto something, though not for the arguments he's been citing.

Matthes has been wedging this idea of a "new era" into the 450SX class lately. I think he's onto something, though not for the arguments he's been citing.
Photos by: Simon Cudby
Farewell
In it's formative years, before Supercross had an identity, tracks were more obstacle course than sections linkable by rhythm, creativity and horsepower. The sport grew legs, technology advanced and familiarity spawned comfort and daring; it's identity was revealed. High flying intensity, linking sections and specific Supercross race craft developed as two strokes and their suspension components did as well. Through most of the '90's that race-craft was fine-tuned, though saw little evolution.
As four-strokes entered onto the scene, their strengths became apparent. Though in their early iterations their weaknesses were also glaring and slowed the transition to them, that transition became reality and the sport was forced to evolve on every level. Track design, race craft, starting technique, preparation, conditioning, mental fortitude and other facets as well. It was no longer the sport it had previously progressed into. This was a whole new level of racing on every conceivable level. Mechanically, mentally and physically; and for riders spanning this paradigm shift, there were few who could make the transition gracefully, even fewer who could excel in it and none who could do so longer at the pinnacle, than Kevin Windham.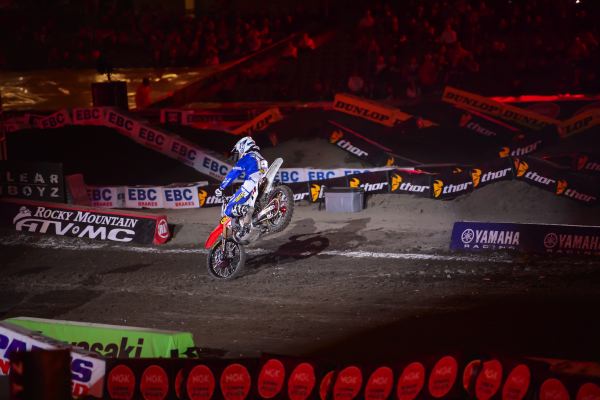 Always a Supercross staple, the K-Dub nose-wheelie.
K-Dub entered into the professional ranks in 1995 when two-strokes were the only game in town. He won two regional titles on a 125cc two stroke and as manufacturers began their transition to four-stroke development, many riders held on to their two-strokes and their comforting familiarity as long as they could. Kevin was by no means in a unique situation as two-strokes disappeared and the gates filled with four-strokes; but as the years pressed on and racers who shared his timeline disappeared, it was apparent that the new era of four-stroke Supercross, presented greater opposition to riders of the old guard.
As the era of four-stroke Supercross came into it's own, in regard to track design and more fine-tuned machinery, all racers were forced to reassess their approach to the sport. As the saying goes, teaching the older dogs of the sport would be considerably more difficult than retrofitting the younger blood of the generations that followed them. Kevin Windham faced that challenge and managed to content for race wins through the 2011 season; 17 years after his debut.
Other riders, most notably Mike LaRocco, were able to bridge these paradigm shifts of the sport over similarly impressive periods of time, though none at a higher sustained level and none, possibly ever, more beloved.
When the news of Kevin's retirement became public just prior to Anaheim 2's opening ceremonies, it sent a ripple through the collective consciousness of the industry and fans alike. Everyone knew the timeline was nearing it's final bullet-point but only a select few knew just how near it was.
We have indeed reached a new era of racing.
Gone are the days when there were only a small few who developed the precisely crafted skill set necessary to win races. Race-craft is more developed than ever, as are the machines and mid-week preparation for Saturday's events. With the "roadmap", as you will, being so well established at this point, really the only separators are commitment, a good bit of luck and who is willing to push it beyond that edge.
Piss and vinegar plays a big part in that last key point and with just over a month before his 35th birthday, with dwindling piss and vinegar and the reality of having far more to lose than win; there is no questioning if this was the right time. It's a different mindset and the moment that question creeps in to your consciousness? Piss and vinegar don't stand a chance.
So while we are all sad to see Special K hang it up, there is certainly no one out there who can question it. That includes Kevin who knows, though bittersweet and difficult to face, he left it all out there and gave it everything he had… Every. Single. Time.
Thank you, Kevin, for being the most positively influential participant and representative the sport has ever seen.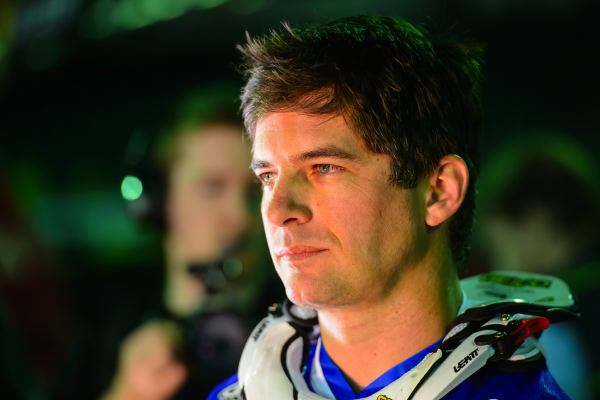 The decision didn't come easy but it was the right time.
Cheers.
Now onto the race.
250SX
On a lighter note, Feld probably wishes K-Dub's announcement had come a few weeks earlier so more tickets would have been sold for the make-up date of Anaheim 2. Seriously, if SoCal knew in advance that A2 was to be K-Dub's retirement announcement, that place would have been at capacity. Never mind the fact that he wasn't going to race, they would have shown up merely out of respect to give him that initial announcement the standing ovation it was worthy of. The saving grace of this attendance faux pas is that they will have about 6 other California rounds where they can make it right and actually show up. I kid.
I really only have one bad thing to say about the track at A2. the first full-length section following the start straight was just useless. An on/on/off triple might as well be a straight away. Tracks can't be designed these days that even allow for the possibility of riders to just twist it more to make any section that irrelevant. Supercross, in this era, is about minimizing air time and just like Fro said on the broadcast, imagine a pulse read-out. The more level that readout is, the more power is getting to the ground and the faster a lap time will be. So obviously, when a section is simply a jump to flat, hop to next flat, front-wheel float over a knuckle into triple face and corner; that is going to be the line every rider takes; barring mistakes. Please, less of that, more gnarly whoop sections, vert walls and obstacles which require some creativity. I'm not talking Enduro-cross now, just options and less obvious fast-lines.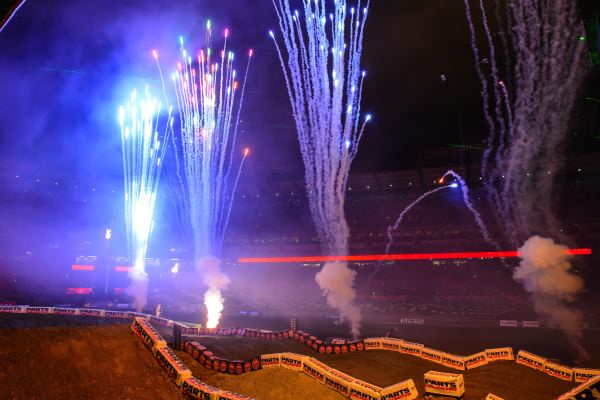 Fireworks are always a big crowd pleaser at the dirt cicle races.
I don't want to get into how impressive Tomac is again this week but when he rides from 3rd in the main, behind his main two opponents, reels them in an disposes of them, with the flu even, he really leaves me no choice.
He really is something special, I mean, not only does just about everyone consider it a foregone conclusion that he will win; people actually go as far to state that they expect him to get a win if he rides a 450 on the East coast! I'm not going that far but in the same breath, it wouldn't surprise me a whole lot if he did just that.
Ping tweeted during the race that Eli has already agreed to terms on a multi-year deal on Red. Will it be with Geico, TwoTwo or the Factory outfit? Who knows but the bike will be Factory and when your program is as proven as Eli's, that's really the only important part. Well, that and how many years and how many zero's are behind the leading digit.
One thing worries me about Eli though. Fate has an evil way of turning just such domination on it's ear. Remember how dominant he looked at San Diego last year, only to go down in that incredible whoop section and jack his elbow? I hope that doesn't happen and I'm actually only noting it here because I am a touch superstitious and I think letting fate know I am onto it, will send it sprawling out of control, into some other situation.
I heard Chuck Norris called Tomac mid-week complaining about flu symptoms and Eli told him to drop it off at his place and he'd take care of it. One of these days I may come up with a funny Norris/Tomac one-liner.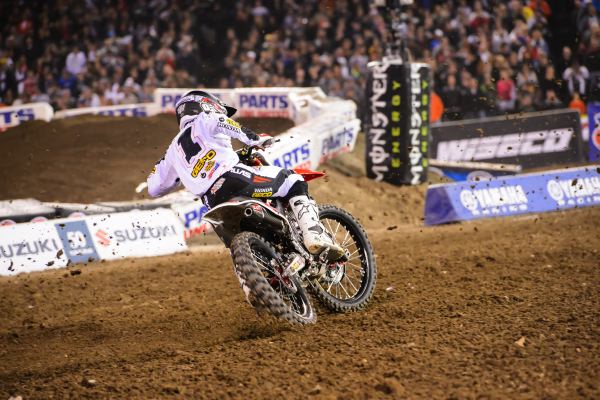 Tomac laying it down out front.
Kenny. Bridesmaid again. He's Batman's Robin, Stern's Baba Booey, Simon's Garfunkle, Conan's Richter… oh yeah, and MC's Emig. Still.
He had that get-off in practice but seemed to shake it off for the night show. Still, Tomac is just clearly THE guy.
Seely looked really great for half of the race, unfortunately it wasn't the second half. I'd say Cole looks as good as he did last year but that isn't good enough when both Roczen and Tomac are both notably better than they were last year.
Zach Osborne had his best finish of the series but he's still better than that. He's moved up to 4th in points even with subpar finishes for himself. If he can get off the gate and avoid the snafu's he's been caught up in in first lap traffic, I think he's capable of a 2nd place finish. He's aggressive and keeps his head when pressured. Man that sounds bad. That's just how dominant Eli looks right now; I'm writing about Zach finishing 2nd like it is a win.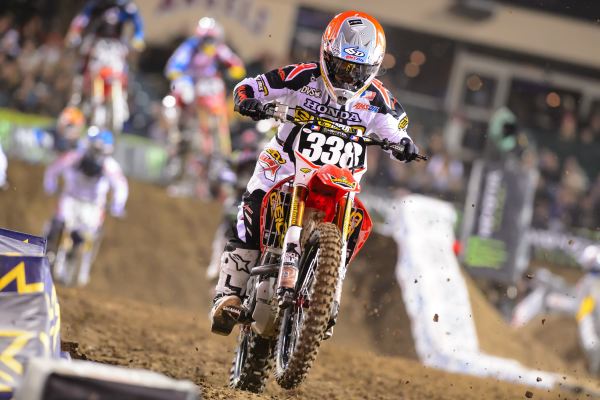 Zach is a proud PulpMX devotee. That's gotta count for something with the karma-police.
Very surprising to see Christian Craig sitting 5th in points. Hopefully he can maintain the consistency.
The third leg of the TLD squad, Jessy Nelson may have carved out a new marketing niche in the sport through the first three rounds. Off the top of your head, where is Jessy in points? 6th? 7th? This kid has pulled every start he's lined up for so far, yet really only has that 5th in Phoenix to hang his hat on and sits 11th in points. Now let me be clear, he's got tons of talent and much like Zach, just needs to avoid the craziness. Still, he's gotten more screen-time during the broadcasts than any rider I can remember who sits in 11th. When contract time comes, his agent would be wise to cite how many mentions he's gotten as well as the screen-time. I'm betting he'll be moving up in points very soon though. Awesome kid.
Super bummed for Travis Baker. He was looking great before his shifter issue sent him backward. He needs some momentum, the forward kind.
Poor Pro Circuit. The West Coast is not going according to plan, though it is going pretty much how history would have suggested it would. It's not often we see the Pro Circuit machine not have dramatic positive effect on a riders results but there is a whole coast of that happening currently.
450SX
The 450 class took a step toward the familiarity we expected to see at the first Anaheim round with Ryan Villopoto locking down the top step. He looked like his old self again with the aggressive, take no prisoners attack which won him back to back SX titles. He did it in heat one at A1 but since then it has bitten him until his Anaheim 2 heat race.
Apparently a simple handlebar switch was a big step toward the comfort he was searching for through rounds one and two. I'll say it every time, this is a sport won or lost by the slimmest of margins, so anything that can expand a riders comfort zone, no matter how minimal, is a big improvement. One that can have drastic effects on the scoresheets.
RV has moved to 4th in points after his forgettable first round and even though he looked like Superman in round 3, there still isn't a safe bet in the class due to, yes, the parity and X-factors of such a deep talent pool.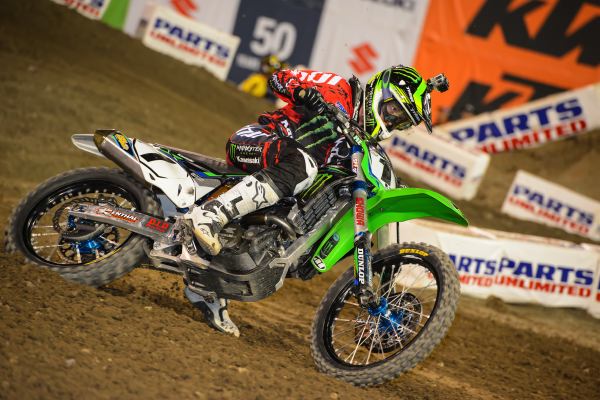 Textbook RV aggression.
TC pulled his second 2nd out of three rounds and finds himself just 3 points out of the red plate. This is a great start to the year for Trey. A year after catastrophe, he indeed is VERY "back". He gets better as the laps wear on and I expect the same will happen to his finishes as the series does as well.
The media blackout that Chad had instated since the frustration began at round one came to an end, whether he wanted it to or not, with that podium finish at A2. He certainly looked better than the did through two races but you can see it's a work in progress. There is finally light in the tunnel but it's more of a candle flame than raging fire. What happens during this week and the coming weeks will determine whether the flame builds into an inferno or merely melts wax and makes a mess.
He was riding aggressively when it called for it and that tells me he finally has at least a moderately good front-end feel. It didn't bite him so even though he's not where he wants to be, he can at least trust that it's a foundation he can build on.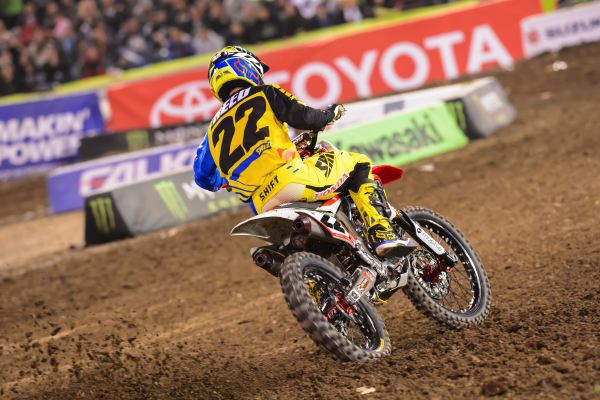 Reed resembled himself a little more at the second Anaheim stop.
I don't see Ryan Dungey being too happy about getting some chin music from Weimer on the vert wall before the whoops but really, what can he expect? I feel like there's no sense in even writing about it anymore. We all know Dungey just isn't going to be assertive or physical. It's the same reason he finished second in the LCQ in Phoenix. If he doesn't make reparations to the way he moves forward soon, he will continue to flounder and not be the model of consistency we have come to expect from him. There are far too many guys in the class now who know his rep and have no fear of ruffling his feathers.
Piss and vinegar people. It has infiltrated the 450 class and the riders who don't assimilate the new order may be eaten alive.
Thanks for reading!