Zach Osborne shocked more than a few in the industry last year when he partook in a partial West Coast SX Series aboard his Bike It Yamaha and remained on the podium during his stay.
Zach Osborne shocked more than a few in the industry last year when he partook in a partial West Coast SX Series aboard his Bike It Yamaha and remained on the podium during his stay.
Photos By: THE James Lissimore
Even more surprising was his sticking to a previously made decision to leave the series to focus on his GP title-chase preparation. The abbreviated stay garnered a two-year deal with the Factory Connection Geico Honda team beginning this year. So far it's been rough. He's had some terible starts, hit the deck, a shoulder injury… and a kitchen sink thrown at him too. He's taken this break from racing to heal up, refocus, remotivate and of course, race a GNCC event yesterday. I checked in with Zach to see where his mind is after grabbing the final podium spot in the GNCC.
Swizcore- This is your 2nd off road race during a SX series. Have you always been a fan of off-road racing or just love ripping in the woods for fun?
Zach- A little bit of both. I've always wanted to do what I did yesterday. I did a GNCC in 2007 and I should have been on the podium then but I made some mistakes and took myself out of contention. Yesterday I was able to push through and stay with the leaders through the first two hours and with two laps to go I was right there for the lead but then Delong got away from me(cough… both riders who beat Zach are EKS Brand riders… cough). It may be risky but you can get hurt anywhere on a motorcycle and you always push yourself deeper in competition, so I feel like in a week my fitness will be on another level just from doing those three hours yesterday and putting myself out there.
Were you on a 250 or 450?
Just my 250 Geico practice bike. I was actually kind of scared to ask for permission because I thought they would laugh at me but they've been really good about it. So I have to say thanks to them for letting me go out there and do it.
Tell me you didn't have SX suspension on it.
No I rode my standard motocross setup all day yesterday. I had some help from Dunlop who was there. They hooked me up with some moose's and the scoop tire for the sand.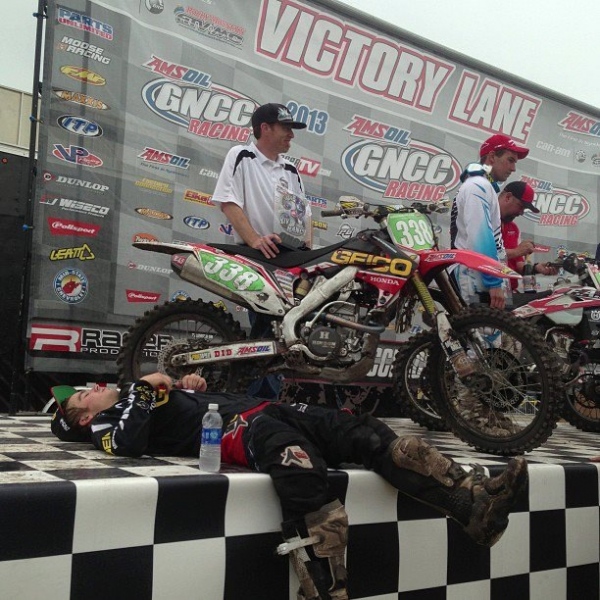 Zach had a blast in the GNCC and see's himself racing more in the future.
Is it just as gnarly as SX/MX, just a different kind of gnarly?
No it's not even a different kind of gnarly. I went into it thinking it would be but it wasn't. I really wish I would have worn my heart-rate monitor because I must have averaged like 160 the whole day. There were some times where we were cruising pretty good but there were also times when I was on the limit of the heat rate being up in my zone. I knew I was in for it on the third hour but it hit me a little harder than I expected. On the last lap I was right there for second and actually passed into second a few times but I just couldn't hold onto it. I was toast.
It's clear you just love riding your dirt bike. Do you see yourself moving to off-road competition after SX/MX or just riding for fun and competing sporadically?
I love to ride still. I've been riding for 16 years now and still love it. I had a blast yesterday even though it was a really hard day. Definitely in my future is an off-road career, I hope. I love to race off-road. I hate Enduro but I like Hare Scrambles. Stuff that's not too tight, I'm a little too erratic to ride Enduro. I did one of those a few years ago and that was probably the worst day of my life.
Lets get to the SX series.
Did you approach the beginning of this years series any differently than last years abbreviated series?
The only difference was I was staying in California with the team but the mindset and everything else was the same. I've just have no good luck so far this year in the series. It's been a "series" of unfortunate events I guess you'd say. With my injuries, I fell in the first turn at A1 and every weekend has been worst case scenario so far. I'm planning on everything turning around for me when we go back. I've been working a lot on the break and my fitness is tip top, especially after yesterday; it's going to step it up another level. I've been at ClubMX for about four weeks now just grinding it out and trying to make it happen. I think when we go back racing I'll have a whole new notch-up in my program.
Are you discouraged at all that your momentum from last year didn't carry over so far?
Yeah, you have to be a little bit but at the same time, knowing that every weekend has been bad and I've still had the results I've had, I can't get too discouraged because it's still been okay.
The first portion of Zach's West Region Series has seen many roadblocks.
Has this break given you a chance to step back and look at the remaining rounds with optimism? It sounds like it has.
Yeah. I took two weeks off after the last round to get my shoulder healthy and that helped me a lot and remotivated me. It's hard to get motivated to go riding when you know you have something that's going to be hurting every lap. But now I'm back to full health and getting to ride a lot and really enjoying myself on the bike. Like I said, even though yesterday was hard, I had a blast and enjoyed racing with those guys.
Do you draw any encouragement from Wil's results in the east? I mean he got knocked down about as far as a guy can for a long time and is finally reaping the rewards of his perseverance.
Yeah definitely. I knew coming into the season that Wil was going to be good. You know I see him at the track all the time and he's a hard worker. I knew it was going to go good for him but yes, I think especially with the bike, the team and program around us, everything is there to do the job so; definitely for me, I know if I just continue on my path it will come to me.
So aside from your hands being chopped liver after the GNCC race, is your shoulder and stuff that were hurting you all good now?
Yup, totally good to go. I raced three hours straight on it yesterday and it was good. I feel like I'm remotivated. I was kind of beating myself up near the end before the break because it wasn't coming to me but now I feel better about it and I'm ready to rip it again.
Ok enough with me beating you up. I'm expecting the old Zach back when the west resumes.
What's this about you being a twitter quitter? Not that I blame you; you pro riders deal with a lot of flaming idiots and assholes. Is it that or was it just distracting you?
Yeah I felt like I couldn't even watch a movie or anything without going on there, so like 3 or 4 weeks ago I just decided I'm over it. I'm just going to use my phone to call and text. I actually considered just getting a flip-phone again! I'm much happier now that I don't have it all. I feel like I have so much more time in the day without it.
Zach is quite content living without social media these days.
Yeah I know what you mean. You can definitely get sucked into it and it can easily seem more impotant that it really is. Gotta keep it in perspective.
Yeah I agree 100%, I don't miss it one bit.
It sucks that you have to police yourself in social media because of the J-Law fan-boys out there beating their "who The Real 338 is" dead horse argument. Without exception, if there is a photo of you in public, some J-law fan has to talk shit. I mean, even the RX instagram of you on the GNCC podium turned into an argument.
I rode down with one of my long time friends from Virgina to the GNCC and his girlfriend was looking at that picture and talking about how crazy it was that people were going on and on about it. I was just like, "nope, that's pretty standard". That whole deal is a joke, I'm over it. Next year I won't be able to run it anyway because even if I get a career number, you can't select a three-digit so this is my last year of it. I'll be past all that.
Will you be glad to see it go?
No, it's been my number since I was 8 years old so I'll be sad to see it go. I'd love to be able to run it forever but I'm sure I'll have to take something else next year.