In individual sports there is always only one winner, one victor, one truly happy participant at the end of the battle. Motocross is no different.
In individual sports there is always only one winner, one victor, one truly happy participant at the end of the battle. Motocross is no different.
Photos by: Tyler Spikman
There are "teams" involved but that is obviously more a case of an outfit trying to saturate the field than a concerted effort for victory.
This weekend in Indy, the glaringly obvious theme I took away from it was; there were truly only about 5 riders who left Indianapolis happy. That's no exaggeration. Marvin Musquin, Kyle Peters, AJ Catanzaro, Ryan Villopoto and Ryan Dungey is about where the satisfaction ended following Indy.
250SX points leader Wil Hahn, who rode impressively from last to third was even displeased with his effort on the night. I was pretty surprised at that but when Wil dismounted his bike, it was clear that he was not happy with something. He wasn't throwing his hands up or stomping his feet but there were no fist pumps or high fives. You could see, he felt like he should have been better. After a start which could have easily ended terribly, he just charged to the podium. He said afterward that he felt he should have been better, earlier.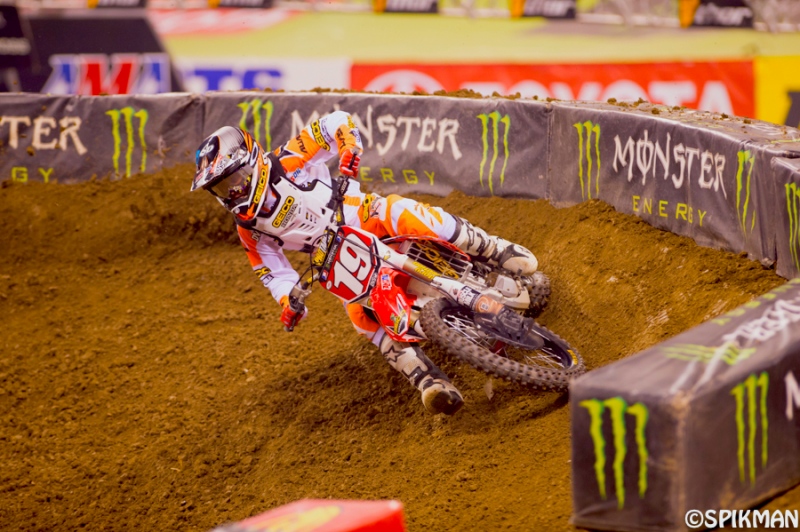 Wil Hahn rode strong from last to 3rd but he expected more.
Dean Wilson's terrible run of bad luck hit it's pinnacle in Indy. His year began with his 450 team and contract absolving right out from under him with only weeks left prior to the start of the 2013 season. He was forced to jump back on the 250 and reassess his game plan for the Supercross series. Every Supercross series Dean has entered, he has been at the top of the list for title hopefuls. This year was no different and following Dallas, it looked like it really could be the foregone conclusion of the series. Who would finish second? Because Dean was clearly going to handle this coast. Crashes during weekly preparation lead to a battered body and struggles during the races. Each week the question was "will Dean regain his rightful spot atop the podium this week?". But the hurdles created by his stressed body and the solid riding by both Wil Hahn and Marvin Musquin of late, made it all for naught. The first lap of Dean's heat race was the proverbial nail in the coffin on his series and 250 career but hopefully not his year. It's crazy to think about Dean Wilson with all his natural skill in Supercross, yet no title after 4 years. He was a favorite and in the fight every year but in the end, no reward when the gavel fell. Cruel.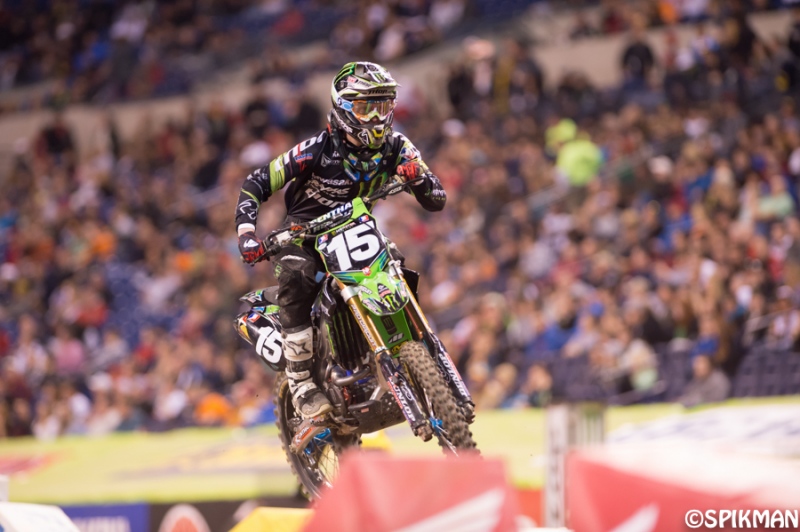 Dean Wilson's final chapter on the 250 went devastatingly wrong.
Blake Wharton was reeling in the last lap of what would have been back to back wins in Indy but he made the mistake of charging that treacherous whoop section one last time. He was on all day, looked great and seemed unflappable. Why change anything on lap 15 when it had worked so well thus far? They always say, "if it aint broke, don't fix it". Unfortunately, that break came at the worst possible moment; when there is no opportunity to right the wrong. I had planned on interviewing Blake before I even got to Indy but when I saw him blaze a trail off the track, through the tunnel following the checkers, I knew the prospects of getting Blake would be slim. Sure enough, there might as well have been a billboard over the Rockstar truck because there were more than a few people reciting the news that "Blake is NOT doing interviews". I can't say I blame the guy. That was a heartbreak and honestly, it's the kind of thing that pushes people toward believing in superstitions. "13". I say resist that line of thought. This was not due to hocus-pocus surrounding an oft considered unlucky number. It was a gnarly whoop section that should have been jumped through on the final lap. Hindsight is 20/20.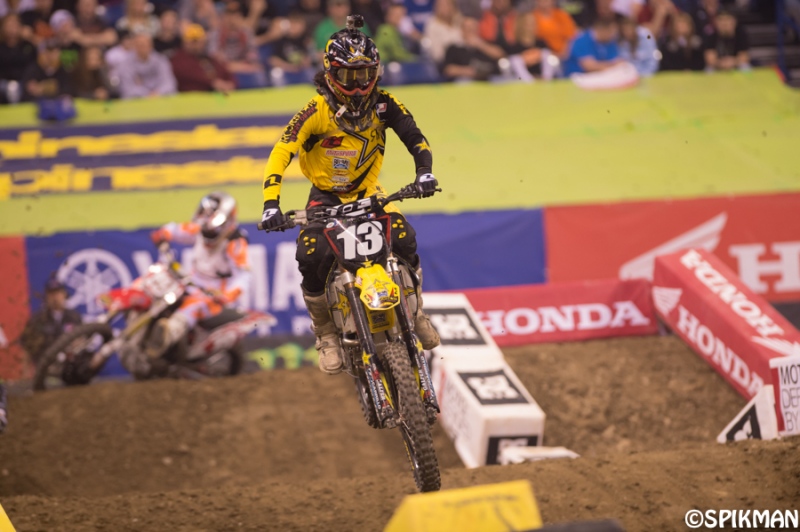 Wharton was flying in the main and he continued flying right out the tunnel and out of sight.
Once again James Stewart dominated his heat race. It's become expected now and that makes it all the more bizarre that it's also now expected that he will falter in the main. The only question being, how? This time it was as simple and silly as stalling his bike as he settled into the off-camber rut. Who knows if something may have happened elsewhere on the track, later in the race. But as you know, passing was not easy on this track if you were on a 450. The parity of competition and equalized inside/outside lines made it great to watch though. What can James do at this point other than shrug his shoulders, roll his eyes and accept it for what it is? Shit happens and is happening week to week during the 20 lap mains for him. Sometimes it's his decision or his inability; and other times, it's forces acted upon him.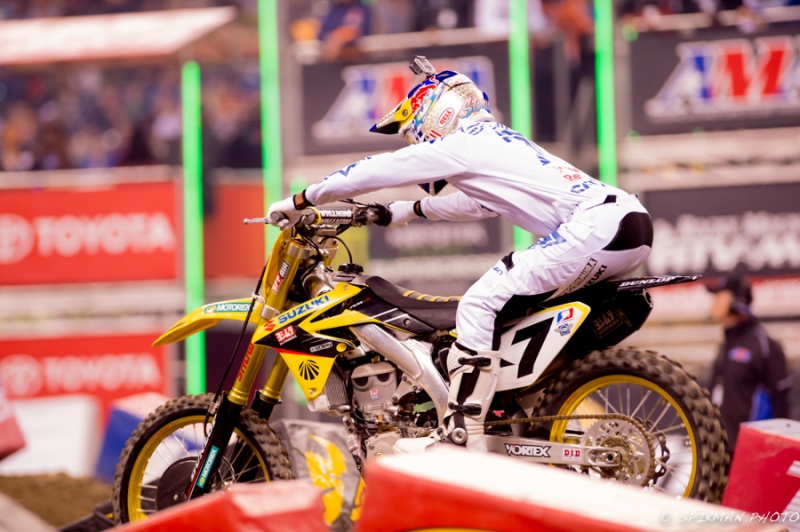 James stalled his bike in Indy last year too.
One interview I really hoped to get in Indy was Chad but I was not at all surprised when he was not into it. For what seems to be the 8th or 9th race out of 11th, Chad had an absolutely terrible start. The scoresheet shows 14th but I swear he was closer to 16th. In a class where it's hard enough to start 5th and move forward, Chad's start left the main looking grim and he no doubt knew how hard it would be to move up on this track. With that being said, I thought he did about as good as could be expected on that track. 14th to 6th isn't so much an indictment on him as it was on the track. We saw it in the heats, faster riders stuck behind guys they would typically move right past. The track had an assortment of lines, yet they all seemed to lead to the same place in time as every other line. This means one thing: Frustration for fast guys. Since Chad's switch back to the forks he likes, he has dealt with poor starts and a case of the crashy's(silly ones). This is not a recipe for a happy racer on the weekends.
If Chad had done the interview, I would have asked if he finds any solace in the fact that his riding has been much improved since moving to last years fork? I would put money on his answer being "no"; because with a seasoned guy like Reed, there's one thing that matters and that is, results. He's not learning, getting his feet wet and looking for "positives" to build momentum off of. He's a multi-time Champion who knows what he needs to win and anything short of that isn't acceptable. So while it is very true that Chad has rode better since getting on his comfortable and proven setup, it's all irrelevant until the results come. It's the only proof that matters to a guy like Chad Reed.
This is all conjecture on my part but it interests me so I'll voice it. I wonder if Chad harbors any frustration or anger toward Honda for forcing him to develop the air fork in a race environment for so many rounds, before allowing him to ride with what he is comfortable with? It was nearly the halfway mark of the season before he was granted the option to switch and at that point, the frustration had built, the series was tainted and the stage had been set for an uphill battle. I really hope and expect Chad to return in 2014 because in my opinion, Honda crippled him at the onset of this series and it would be a tragedy for this series to be his swan song.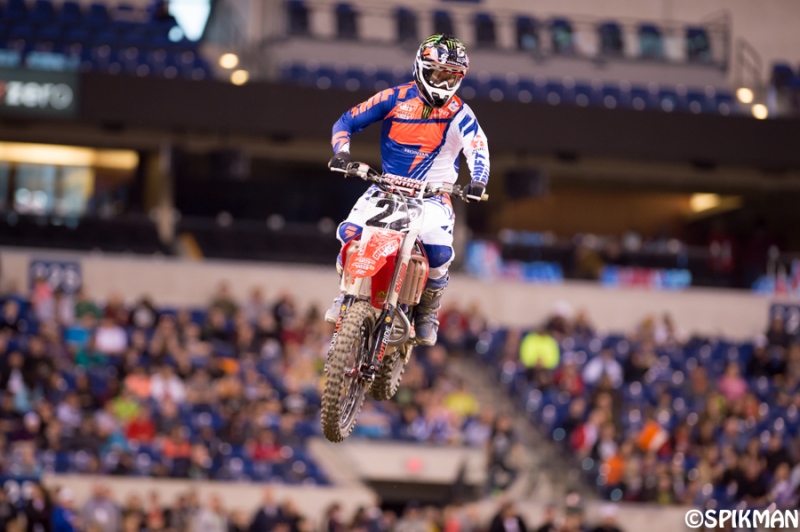 Chad will not put the hood down until the results verify what he feels and that begins with a Start.
Trey Canard made us all short of breath with him for a few moments when he went down hard. His season has been pretty bizarre after starting off at A1 so strong, nearly winning and since then looking a couple steps off of that pace. He's had a few close calls and this was another. Watching his crash, I'm of the belief that Trey and Justin's bikes did not touch in the air. This is what I think I saw: Trey's scrub pitched him toward Justin enough to where his focus became avoiding that contact just long enough to make righting his bike position an afterthought. At that point, it was too late to correct it fully and we saw the result. I saw Trey walking into the Honda truck later and he was smiling so that's a good thing. Of course, Timmy was with him so maybe that's why he was smiling…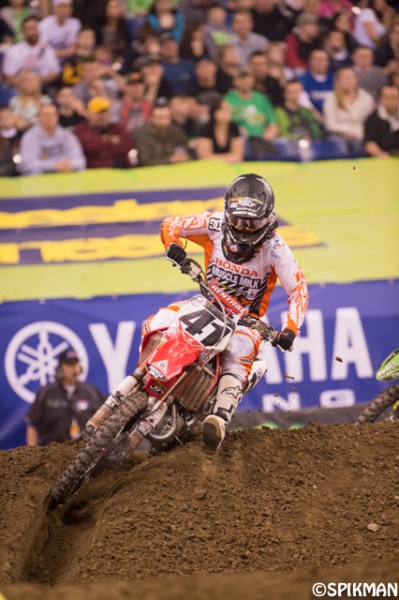 Hopefully Trey has no lasting effects from that hard hit.
Jake Weimer has got to be asking himself what in the hell is going on at this point? I know I am. He's just been dealing with the worst fortune since he was inadvertently center-punched by Matt Lemoine's bike in Oakland. If a piano falls from the sky in one of the remaining rounds, my money is on Jake being under it when it does. It's uncanny how bad his luck has been.
Lastly
In closing I just want to mention, when I was interviewing Stefan Everts and hanging out by the KTM truck long after the pits had vacated, it amazed me how much that team enjoys eachothers company. Let's not forget, they had a banner night with Marvin going from last to first and Ryan Dungey putting in about as great a ride indoors as I can remember of him; so the mood may have been elevated but it was a party atmosphere in a freezing outdoor pit area which had most other teams packed up and ready to get outta dodge.
Thanks for reading.