I have an interview to transcribe, a lunch date with Chiz for another interview, 3 videos to edit AND I wrote Swizcorner… did I mention I'm on vacation?! #FML
I have an interview to transcribe, a lunch date with Chiz for another interview, 3 videos to edit AND I wrote Swizcorner… did I mention I'm on vacation?! #FML
Photos by: THE James Lissimore
Maybe I'm on glue but the flow of the Houston track felt very similar to the Toronto track of two weeks ago. And since that Toronto track was the best track of the year in my opinion, I find nothing wrong with the Houston layout nearly mirroring it. The dirt was even great, just like Toronto. So here we are, two rounds straight with some really good dirt and layouts that were not follow-the-leader type of racing. Nope, the track wasn't to blame for the lack of up-front passing this week, it was the leaders themselves.
It's unfortunate for those of us who don't pull for particular racers but good racing in general when the leader separates themselves from the pack like RV has done over the last few weeks. Although in Toronto Davi Millsaps gave me real hope that he was back to the Davi of rounds one through seven, in Houston that dream looked to be a hallucination. Ryan Dungey is still looking faster than he ever has indoors but it's simply not enough against the superior to all, right now, Ryan Villopoto. This 2013 season is looking more like both 2011 and 2012 as it moves along. At the onset everyone started on level ground, as the rounds clicked off some riders were faced with peaks to ascend while others lowered their heads and gained momentum on the downhills. RV actually created his own hurdles in the early rounds but he quickly righted his mistakes and, initially quietly, began chipping away at the points. That chipping away turned into a jackhammer and he has now clicked off 5-straight wins in convincing fashion.
You have to look back to 2010 to really bring up any questions of RV's superiority. He came off his rookie year in the class where he nailed down two wins, winning two of the last three races of the year. 2010 started with a plump RV where he reeled off an impressive number of wins after the perennial favorites of Chad Reed and James Stewart came together and neutralized each other from the series in round-two at Phoenix. Dungey's consistency through the beginning of the series was the spotlight and with a couple subpar finishes for RV, he seemed to gain steam on the Dungey freight train nearing the end of the series but that terribly broken leg in St.Louis marked the end of the 2010 racing calendar for RV as a whole. It also marked the end of the plump RV and birthed the RV we still see dominating today.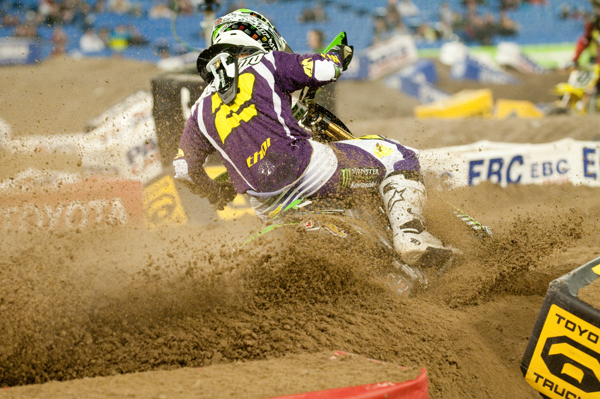 The 2010 RV was fast, though his fitness was Dungey's trump card.
In 2011 we saw our first glimpse of the chiseled RV in racing. It was a stark contrast to what we had last seen of him in the race environment. He looked almost anorexic compared to what we had known of his fitness prior to 2011. I credit this transformation to Ryan Dungey and his ability to push at his 100% peak for the duration of both a 20 lap Supercross and 2 30+2 outdoor mottos. Much like the 90's were known as the "party-era" in moto, prior to Ryan Dungey's mechanical fitness in the sport, it was standard to separate race craft into sprint, pace, last push if need be. Ryan Dungey's strength was not in his outright speed but his ability to sprint at his top speed for the duration of a race. In Recent years prior to Dungey in the premier-class, we would see some incredible battles between Reed, Stewart and Carmichael but those battles often got physical and a crash would end up giving the victor an opportunity to relent toward the end. Ryan Dungey rarely makes mistakes and although not the fastest, he is close enough to the fastest that when he can sustain his top speed for the duration of a race, nearly impeccably, that pushes everyone else to reassess and tighten up their weaknesses. RV did just that. He got fit and though he makes errors here and there, his strength and superior speed allow him to overcome more often than not. In effect, RV's weakness; which I would argue is his intensity which causes error at times, is less than Dungey's weakness; which I believe to be a riding style so technically correct that it hinders his outright speed. As we know, in this day and age of racing, in order to win, you have to be pushing yourself beyond your comfort zone.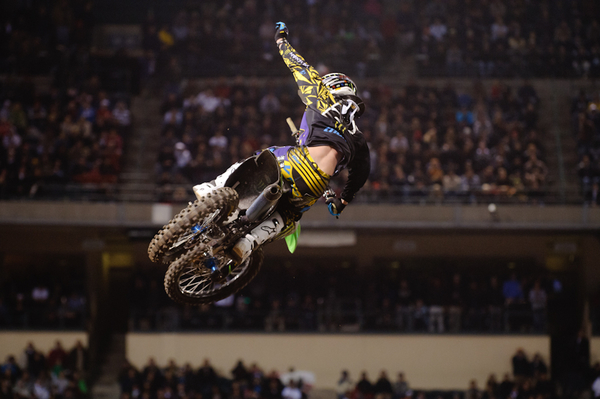 RV started 2011 with a W and a new leaner body.
In 2012 RV was the best we had ever seen. Although he had won the 2011 title having failed to qualify for a main event in Jacksonville, in 2012 he won the title without even showing up to the final two-rounds and only scoring 2 points in the 3rd to last round. While much of his early clinch was due to the loss of Chad Reed in Dallas, the Dungey collarbone and James Stewart throwing in the towel on the JGR experiment, he was clearly the force in the series which everyone was preparing for.
2013 began with the two-time repeating champ looking like he was bouncing off the rev limiter and just way too amped for the first round of the series. Maybe it was pressure, maybe it was adrenaline, maybe it was a bike setup that just wasn't dialed in or maybe it was the typical round-one track design that often throws these guys for a loop? Whatever the case, it was a first round miss-step we rarely see from RV2. He was down right floundering out there and Davi Millsaps and Trey Canard were cashing in on the opportunity. Davi held onto the momentum for the first half of the series before injury threw a monkey wrench into his progress and Trey seemed to kind of hit a wall soon thereafter. It was very peculiar the way Trey just kind of slowed down over the next few rounds. He began making errors and having some scary crashes. Chad Reed never came to grips with the 2013 Honda and a lingering MCL only increased the frustration. James Stewart let on to a torn ACL just before the gate dropped for the main at A1 and since then he has been gutting out top ten finishes, seen a few mechanical DNF's and 1 win. Will we ever see the James Stewart of pre-2010? Even if we don't, the fact he is gutting out finishes does more for his legacy than simply pulling off due to whatever reason.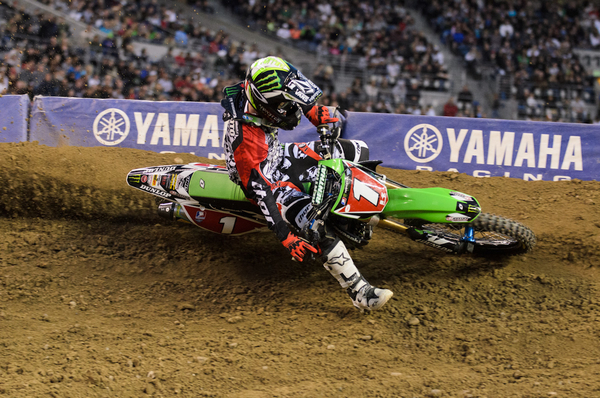 RV was on autopilot near the end of 2012 when the title was clinched with 3 rounds to go.
So sure, 2013 has again seen it's share of riders leave the series due to injury, or even just lose momentum due to it but there is no question when you watch a race, RV is THE guy still. Nobody is willing to risk more for a win than he is. He attacks the track like it is his last lap, every lap. He's very methodical and very focused. If you recall in his CBS special, he plainly stated that when the time comes, he will walk away from the sport with no regrets. He is so focused on this time in his life, on the one goal of winning at all costs. He's not distracted by anything outside of racing. It's 100% focus on the W, all day, everyday. He's young, married to a woman who compliments this focus he has and is truly looking at this time in his life as point A, and maximizing the effort and time to make point B, and beyond, as fulfilling and successful as possible.