Photo time!
Photo time!
Photos by James Lissimore
Captions by Matthes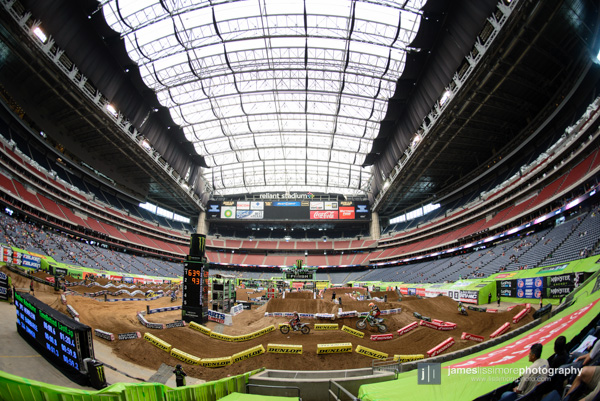 Reliant Stadium in Houston is still pretty new and a pretty nice place. I heard that they're putting a scoreboard in place that will be bigger than the one in Dallas. Of course in Texas, everything has to be bigger.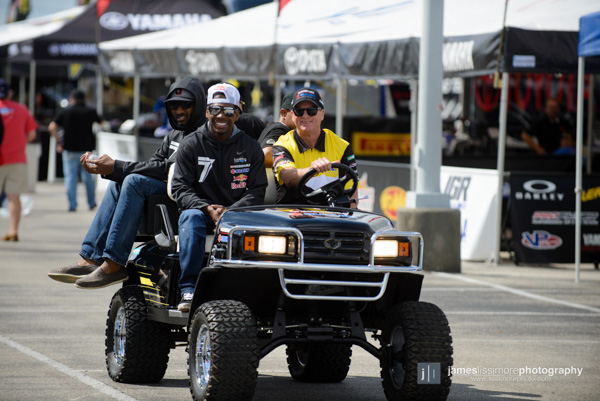 Early on it was all smiles for James Stewart and his Suzuki crew as they went out for track walk.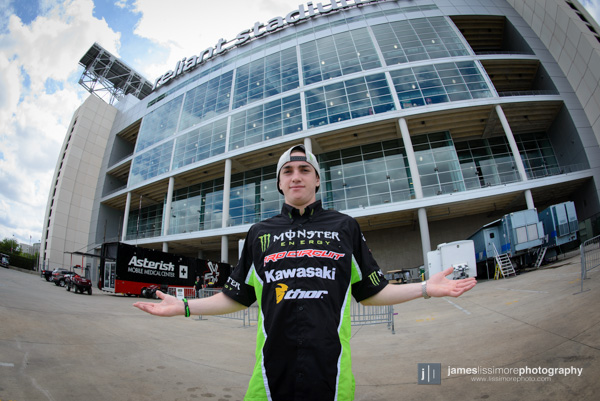 Dean Wilson, unable to fly due to his lung injury, drove with his dad out to Houston to take the festivities in. And pose for Lissimore's camera in a way that makes it seem that he owns the stadium.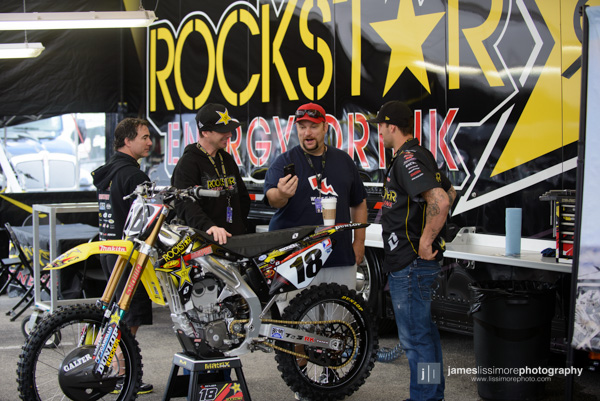 Here I am showing Millsaps and Lusk photos of Tim Ferry getting flat at his house in Florida this past week. No, I'm serious. I really was. Look at how happy I am! And oh yeah, massively dick-ish of me to rest my Starbucks on the fender of of Davi's bike.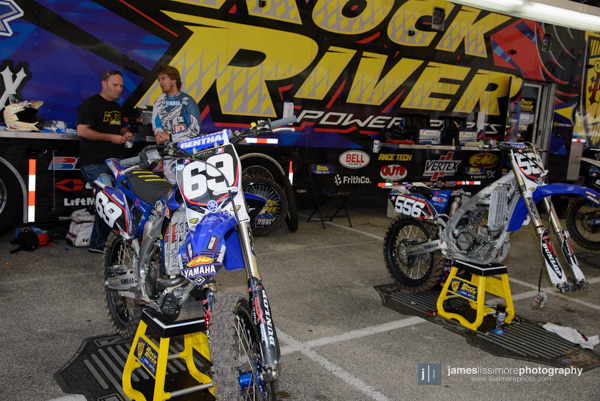 PJ Larsen was with the Rock River guys this week as his team was unable to show up. Don't ask, I still don't get it.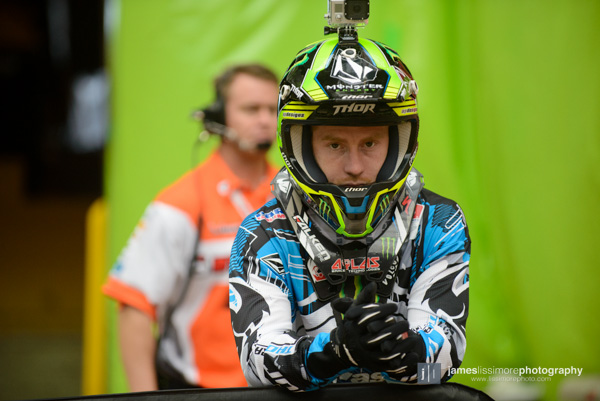 RV pondering how many seconds he wants to put on everyone else in the main event.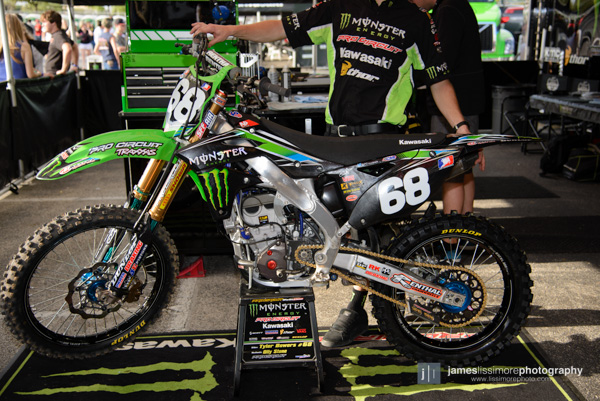 AX king Tyler Bowers filled in for Mitch Payton's team this weekend and rode pretty well to a fourth.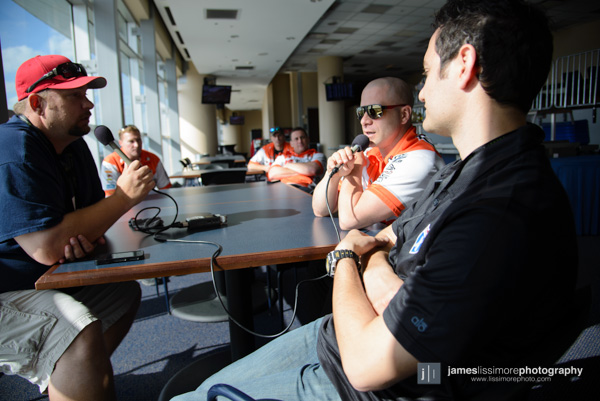 Here's Weege, JT and I doing our pre-race EKS Brand Goggles Pulpcast. Those dudes in the team shirts are JT's VIP's watching three idiots talk into a mic.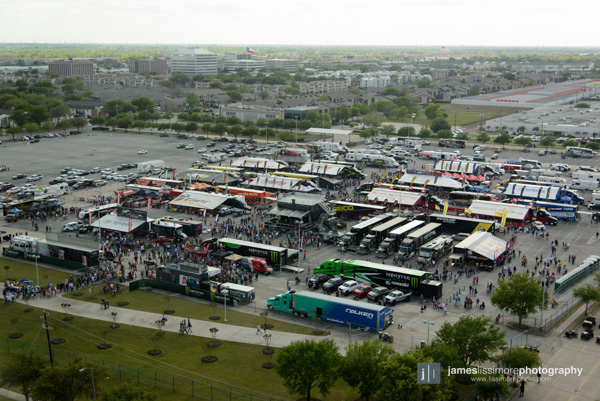 The view from above. Lots of people in the pits and they're all looking for free shit.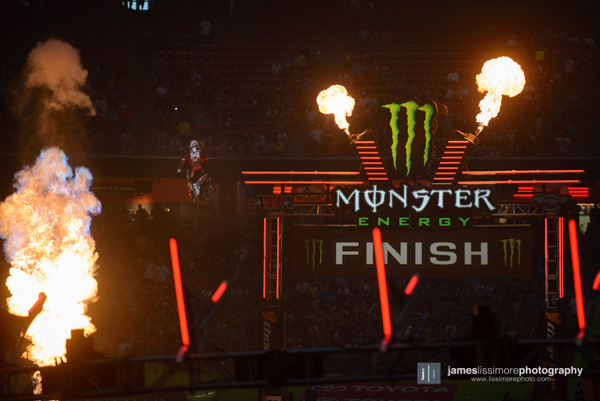 Flames, we all love flames.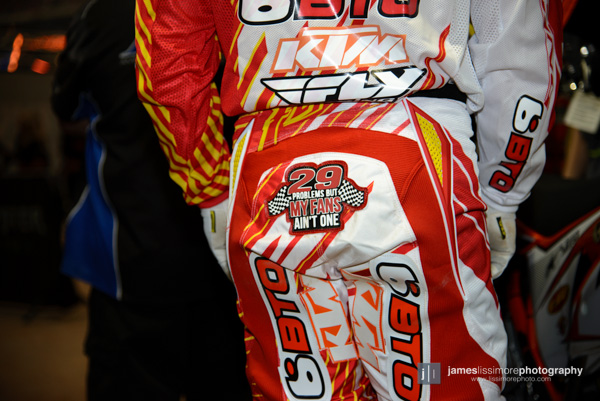 A while back on the Pulpmx Show we had a contest where fans submitted designs for the back of Andrew Short's pants. And to everyone's surprise, Moser didn't win but a guy named Jonathan did win with this design. It was a bit more appropriate when he was going through some team issues but still, pretty sweet. Shorty gave us this gear to give to the winner as well.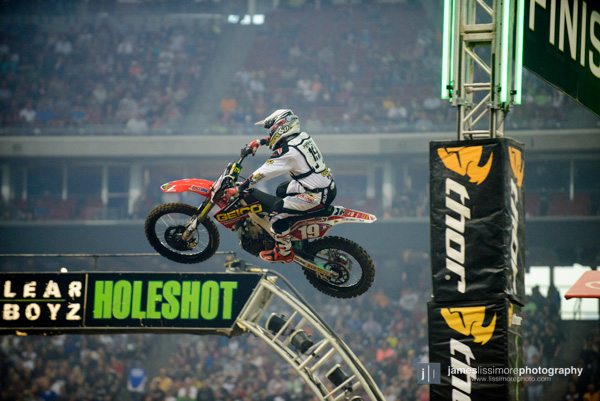 Wil Hahn rode well to a second place, it was almost first!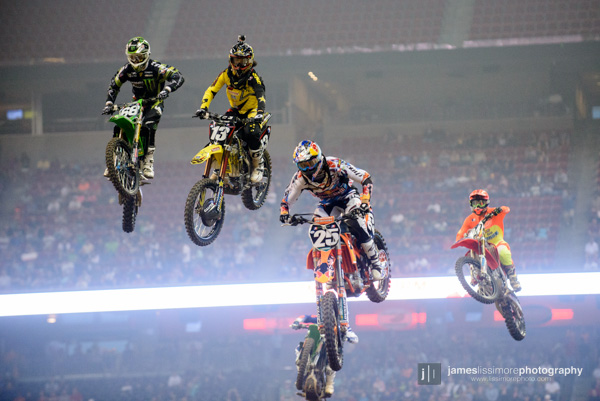 The jet pilots get situated in the air.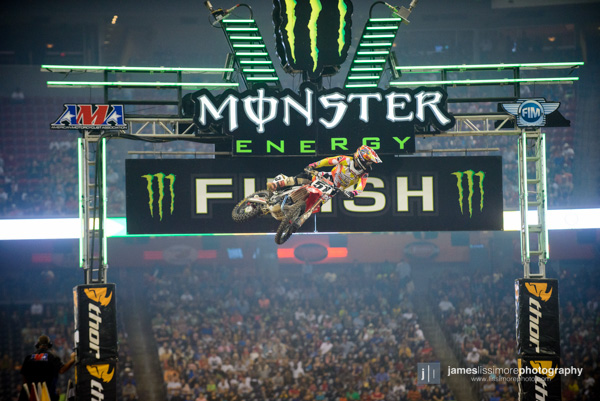 Justin Barcia was pissed after the race for his 4th. I dunno man, seemed pretty good to me.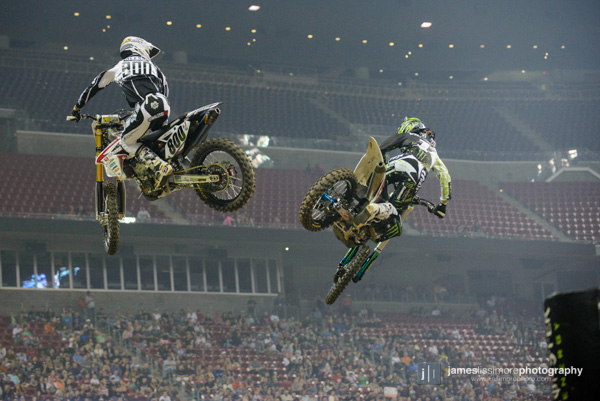 Mike Alessi grabbed the holeshot in both the heat and the main. And both times the first rider to pass him was Ryan Villopoto.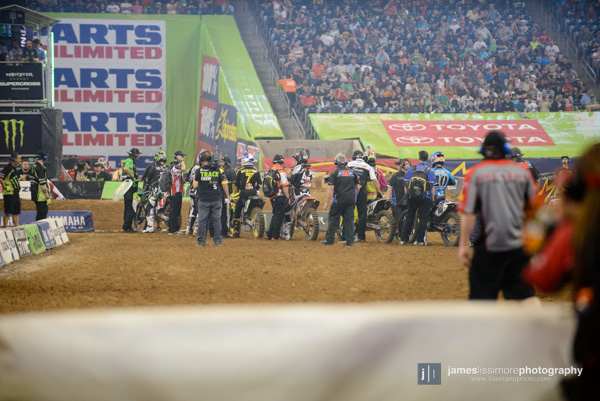 After we had a rider go down who needed medical attention, the single file re-start was used yet again. Seriously, this thing is more in vouge than Madonna's Vouge was back in the day. I like it but it's still weird.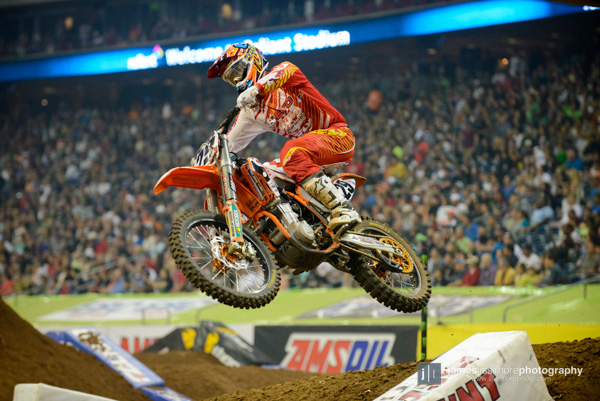 Shorty had his best ride of the year, or pretty close anyways. He ripped through the pack and even nipped Josh Hill in the last turn for seventh. Some changes made to the bike have helped.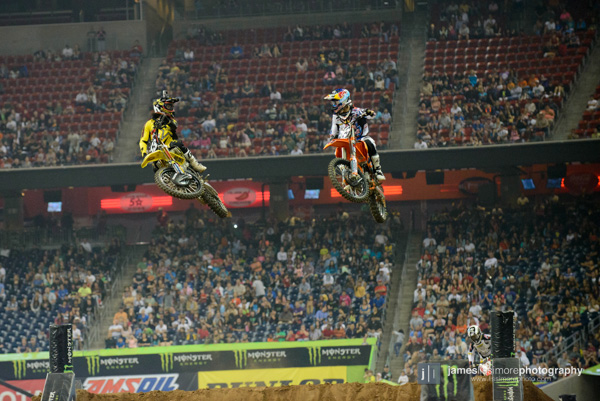 "Bonjour, comme ca va?"… "Dude, you have to get rid of that peanut butter in your mouth."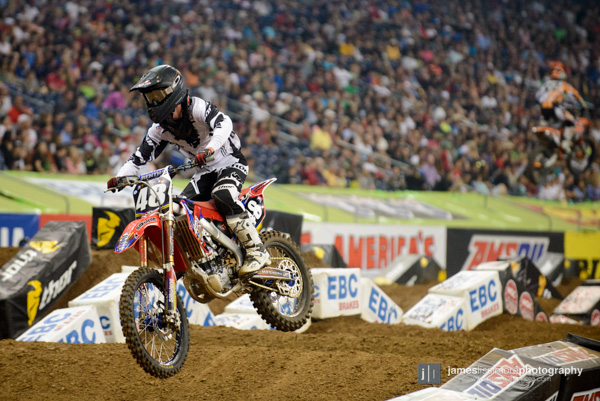 Oh Canada! A couple of weeks after setting a career best in Toronto, Cole Thompson matched it in Houston with another sixth. What's with the flat black helmets man? Ridiculous.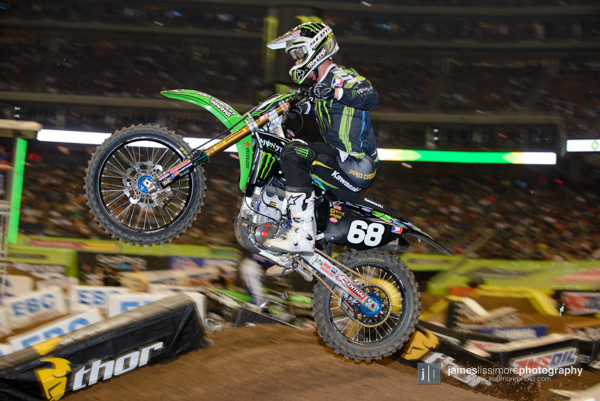 Bowers is a monster riding a Monster Kawi.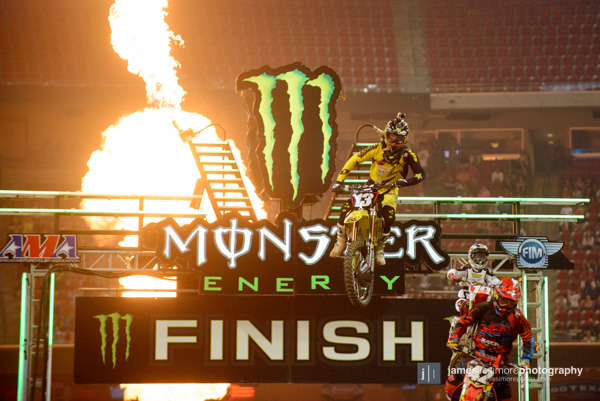 The candles are lit for Blake Wharton. Nice ride by Purple Rain, he showed us all what was up.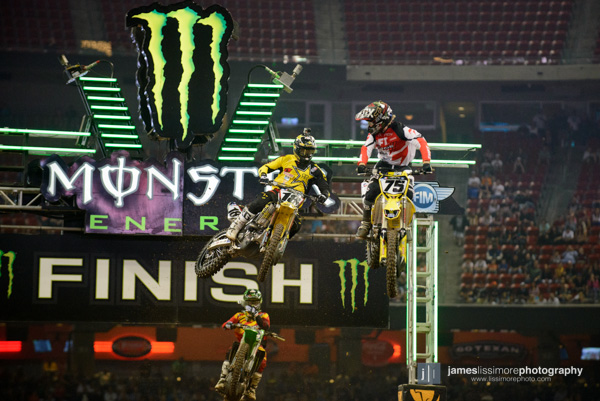 Josh Hill (75) had a great race but he couldn't fight off Davi Millsaps.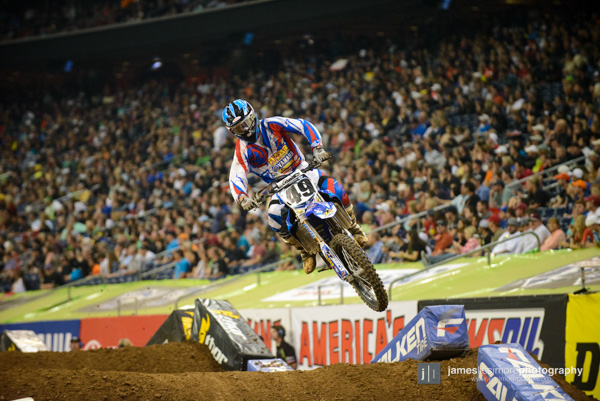 Filthy Phil had a top ten in the bag until the last lap when he fell. He still got 12th in the main which is great but oh what could have been. Phil's probably been the most improved rider from A1 till now.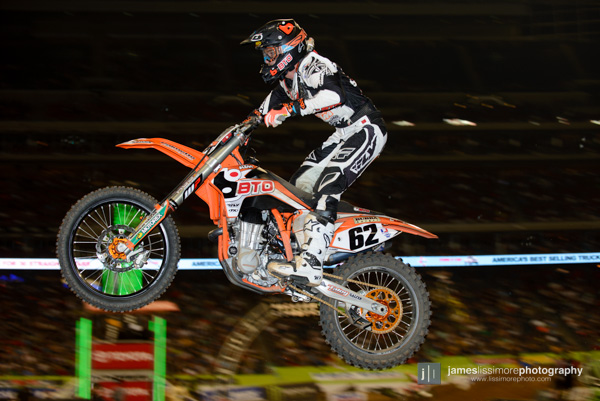 The BTOSports KTM team debuted some new graphics they're running at Houston and at Vegas. Why Houston? I don't know. Pretty cool though.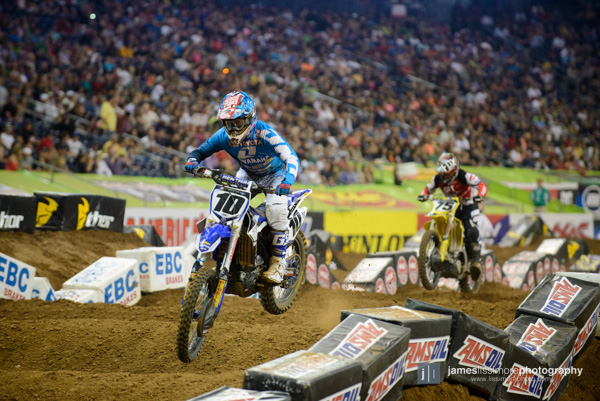 Brayton had his best race in while with a sixth. Gots to be tough for JGR when JB10 doesn't do what we all think he can do.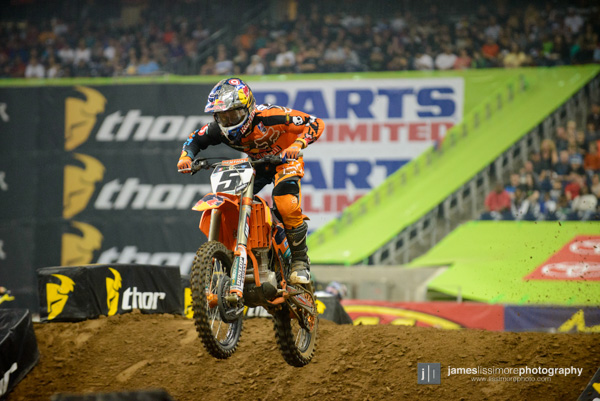 Dungey's been a bit overshadowed with RV's streak but three out of four second's indicates that he's also risen up.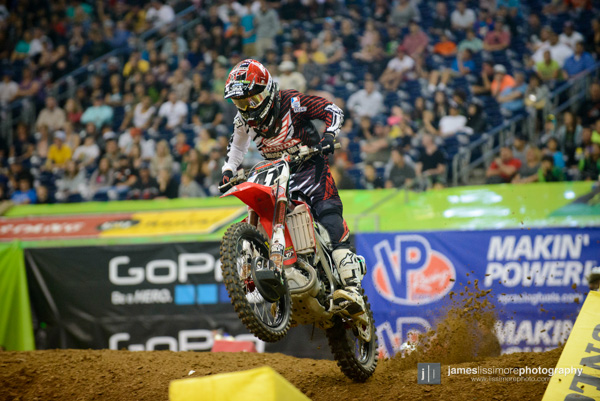 Welcome back to the podium Trey Canard! Maybe it's a Houston thing as he did win his first career 450SX there.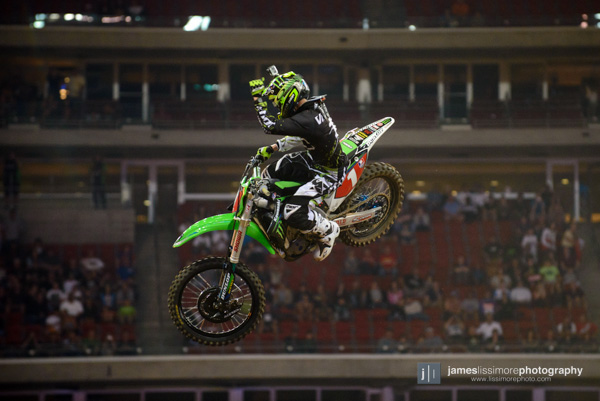 Yep, he won again. Almost has a full race lead in the points also.