Another KTM double sweep
Another KTM double sweep
Herlings and Cairoli win again!

By Jonathan McCready
Photos courtesy of Youthstream
It was another great weekend for the world championship in Italy. A huge crowd came to watch their hero Cairoli on one of the most picturesque tracks in the world. The track was also a throwback to the hard pack hilly terrain of yesteryear and it was nice to see the modern riders try to deal with it.
Jeffrey Herlings delivered yet another pair of fantastic rides. Last to first in race two with a best lap time just over two seconds faster than anyone showed just how far Herlings has come on hardpack in the last two years.
Jordi Tixier though almost held Herlings off in race one but just like Holland Herlings made the pass with five minutes to go. If TIxier gets the start he is very fast and Herlings has to push hard to catch him but, like in race two, whenTixier doesn't get away he just can't come through the field as well. It was another second overall for Jordi and he has now established himself as the second best guy in the series.
Dean Ferris returned to action in Italy but went down in turn one in moto one and had to retire. Thankfully he came back out for race two and rode to a brilliant third just behind an equally impressive Jose Butron who rode to a fine second place and third overall.
Italian Alex Lupino endeared himself to his home fans with two fine rides of his own. Down in turn one Lupino had to call into the mechanics area to check is bike and then rode fantastic with the partisan home crowd urging him on as he climbed all way back to fifteenth.
Lupino finished seventh in race two and was all over Coldenhoff at the end with the crowd hanging over the fences but he just couldn't find a way passed. It was subsequently revealed that Lupino had broken a rib in the first turn crash to make his two rides all the more impressive.
In contrast his new teammate Jimmy DeCotis had a nightmare. The much hyped Jimmy D suffered a fraught weekend where the pin it to win it American style just didn't work on the slick track.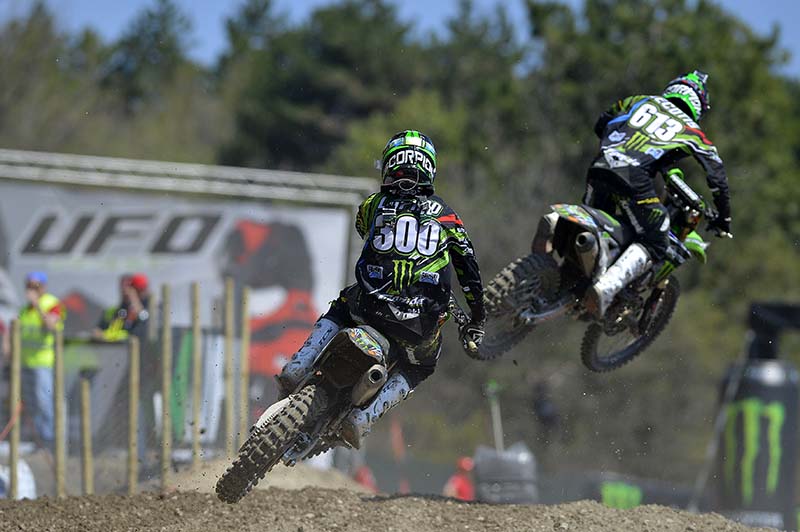 Teammates Lupino and Decotis air it out. Lupino had a good race while Jimmy D did not in his first ever GP.
DeCostis scored no points and worryingly his best lap time in both races was not fast enough to put him in the top twenty and he also mentioned that he had never ridden a track like it. The American is seeing just how versatile you need to be in the world championship and he hasn't got to Leirop yet!
Of course it was all a bit of a rush, getting used to a new bike and adapting back to motocross after a winter of supercross but still both Jimmy and CLS must have expected better.
It was also new track to everyone else except those who competed in the Italian national championship but DeCotis just couldn't get to grips with it. He believes Bulgaria will suit him more and hopefully he can adapt better there but it was a very disappointing start for the American.
But MX2 is deep this year despite what popular opinion seems to suggest.
MX1 was the Tony Cairoli show and he really is a superstar in his home country – he even adapted to the slick track that isn't his favourite and beat the hard pack specialists like Gautier Paulin.
Paulin and Desalle kept Cairoli within sight in race one but they just couldn't close the gap after the Italian took the holeshot.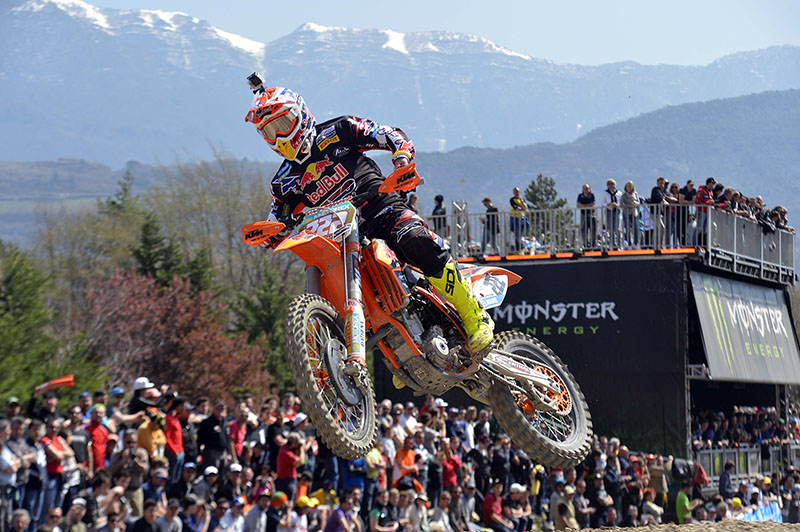 TC222 was, once again, unbeatable.
As usual Cairoli's rivals went into self destruct mode with Desalle taking out both himself and Tommy Searle in turn two and Paulin getting caught up in the mess as Cairoli took off.
Just why the rest can't match Cairoli's consistency is starting to become a mystery but it also shows just how hard it is to do what Tony is doing despite the fact he makes it look so easy.
It may not have looked like it on paper but Tommy Searle's sixth place was the best ride of his season. Coming from the back Searle ride fantastic and if he can do that with a good start he should be on the podium. Searle is so mentally strong that once he does it once he will be there regularly.
125s are back! A full line up of screaming two stroke engines buzzed around the beautiful circuit and just for a moment you would have thought you were back in 1993. It is a brilliant idea by Youthstream to allow the MXGP team to get a good look at the young talent coming up as well as the giving the fans the opportunity to witness two stroke racing again as well as the stars of the future. The name to keep an eye on in that class is Latvian Pauls Jonass who looked very impressive winning both motos.
A special mention must also go to KTM, they won everything this weekend. From the 125 two stroke race to both MX1 and MX2 GPs and the 250 and 450 supercross races – they won them all! That is quite an amazing achievement and everyone involved deserves a big pat on the back. These things don't happen by chance and a lot of people have worked very hard to make it happen.
MX2 Overall
1. Jeffrey Herlings (NED, KTM), 50 points;
2. Jordi Tixier (FRA, KTM), 40 p.;
3. Jose Butron (ESP, KTM), 37 p.;
4. Christophe Charlier (FRA, Yamaha), 36 p.;
5. Glenn Coldenhoff (NED, KTM), 31 p.;
6. Dylan Ferrandis (FRA, Kawasaki), 26 p.;
7. Max Anstie (GBR, Suzuki), 26 p.;
8. Dean Ferris (AUS, Yamaha), 20 p.;
9. Jeremy Seewer (SUI, Suzuki), 20 p.;
10. Alessandro Lupino (ITA, Kawasaki), 19 p.;
MX2 World Championship standings after 4 of 17 rounds
1. Jeffrey Herlings (NED, KTM), 200 points;
2. Jordi Tixier (FRA, KTM), 141 p.;
3. Glenn Coldenhoff (NED, KTM), 128 p.;
4. Jose Butron (ESP, KTM), 111 p.;
5. Christophe Charlier (FRA, Yamaha), 107 p.;
6. Romain Febvre (FRA, KTM), 98 p.;
7. Max Anstie (GBR, Suzuki), 98 p.;
8. Dean Ferris (AUS, Yamaha), 89 p.;
9. Jake Nicholls (GBR, KTM), 82 p.;
10. Mel Pocock (GBR, Yamaha), 77 p.;
MX1 Overall
1. Antonio Cairoli (ITA, KTM), 50 points;
2. Ken de Dycker (BEL, KTM), 40 p.;
3. Gautier Paulin (FRA, Kawasaki), 40 p.;
4. Clement Desalle (BEL, Suzuki), 33 p.;
5. Kevin Strijbos (BEL, Suzuki), 31 p.;
6. Tommy Searle (GBR, Kawasaki), 31 p.;
7. Maximilian Nagl (GER, Honda), 30 p.;
8. Xavier Boog (FRA, KTM), 27 p.;
9. Jeremy van Horebeek (BEL, Kawasaki), 25 p.;
10. Jonathan Barragan (ESP, KTM), 20 p.;
MX1 World Championship standings after 4 of 17 rounds
1. Antonio Cairoli (ITA, KTM), 192 points;
2. Ken de Dycker (BEL, KTM), 155 p.;
3. Clement Desalle (BEL, Suzuki), 149 p.;
4. Gautier Paulin (FRA, Kawasaki), 148 p.;
5. Kevin Strijbos (BEL, Suzuki), 120 p.;
6. Tommy Searle (GBR, Kawasaki), 118 p.;
7. Rui Goncalves (POR, KTM), 89 p.;
8. Evgeny Bobryshev (RUS, Honda), 87 p.;
9. Xavier Boog (FRA, KTM), 83 p.;
10. Maximilian Nagl (GER, Honda), 75 p.;