Check it out, 1987 style!
Check it out, 1987 style!
Ah 1987, what a glorious year. This was the year I graduated high school and I must have read every one of these issues thirty times (and I mean that literally) during study hall that year. For me, this was the heyday of MXA. They really hit their stride in the early eighties and kept the hammer down until the late nineties, when bar graphs and cranky editorials started replacing the witty and biting prose that had been the hallmark of their writing. During the eighties, MXA was THE motocross bible for thousands of riders like myself, who waited every month with baited breath for the mailman to bring us that glorious package. Sure, you could read Dirt Rider, or Dirt Bike (I did), and Super Motocross Magazine (a MX focused offshoot of Dirt Rider) was pretty rad, but if you were hardcore (and what 17-year-old boy isn't) there was no substitute for Motocross Action. It was like crack to a teenage motohead, and I had to have my monthly MXA fix. Here is a look back at the awesome year of 1987, through the eyes of an only slightly less bitter Jody Weisel.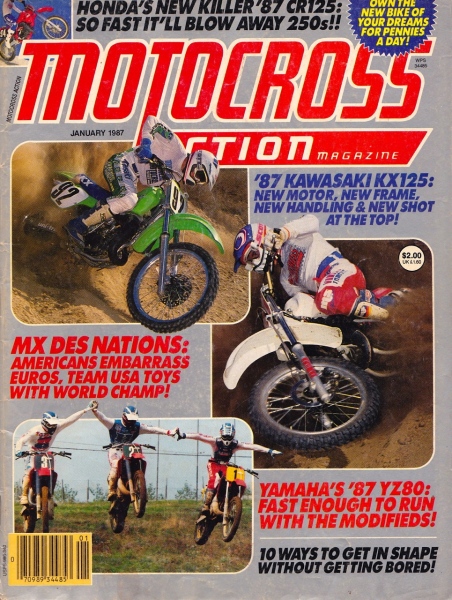 January kicks off with a really classic issue. On the cover, you have one of the all-time iconic images in motocross: Bailey, Johnson and the O'Show playing games with the Euros at the 1986 Motocross des Nations. This was from a practice track before they went over, but I have no doubt, if they had allowed all three of our boys to race at the same time this year, the finish would have looked just like this.
This was an amazing race, full of all kinds of drama. O'Mara was coming off a very solid year (in spite of a nasty knee injury) where he finished just behind his Honda teammates all season. Then just prior to the event, he found out Honda was letting him go after two titles and half a decade on the Big Red Machine. To say this did not sit well with the O'Show would be a massive understatement. The MXdN would be his last ride on a Honda and he was determined to go out with a bang.
Now, I'm sure anyone reading this is familiar with the story of the incredible '86 MXdN, so I won't go into a blow by blow, but needless to say if you have not seen it, you need to. It was an incredible race, with all three USA riders putting on an absolute clinic. O'Mara, in particular, rode the ride of his life on his CR125R and ran down the reigning 500 World champ on an incredibly hilly circuit to finish second behind Bailey. It was an incredible race and MXA nails it with an excellent article.
Besides the incredible drama in Maggiora, Italy, this issue includes several cool bike tests. Interestingly, the only bike of the three tested that is any good, is relegated to a tiny photo in the upper left corner. The Honda CR125R this year was head and shoulders better than the other 125's and while MXA's lead might be a bit of hyperbole,("So fast it will blow away 250's!!") there is no doubt it was a fantastic machine.
The '87 CR was a bit of a gamble for Honda, as the '86 CR125R had been by far the best bike in class. The new bike was a complete overhaul with an all-new motor. In the body of the test, MXA gushes about everything on the bike. In regards to whether you should upgrade from your '86, MXA states, "The 1987 Honda CR125R doesn't just demand it-it simply knocks down your door, grabs you by the lapels, drags you out to a track and makes obsolete every 125 that came before. Should you but one? Heck, buy two. They're that good". In other words, I think they liked it.
The other two tests are not as rousing in their praise. The '87 KX125 was a big step up from the troublesome '86 model, but crummy suspension and so-so power hold it back from contention (I actually owned a '87 CR125 and '87 KX125 and trust me, the CR was way better. Plus, the plastic snapped off the KX every time you sneezed on it). They say it can be a contender, but you will need to do something about its crappy suspension.
The YZ80, likewise, gets a modestly positive review. The bike was all-new for '86, and the '87 is largely unchanged. The new bike is an improvement over the anemically slow '86 model, but no world-beater. Like the KX125, better suspension is needed to make it a threat
Finally, we get some training tips from the stars, which include surfing (hard to see how this will benefit the 95% of the population who do not live in SoCal or Hawaii), Mountain biking (this will never catch on) and Hacky Sack (remember that?). Overall, this is a solid issue to start the year.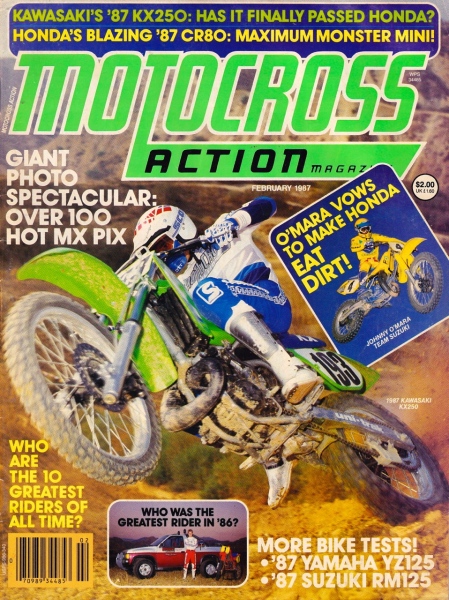 February '87 is another jam-packed issue that really shows how much better this magazine used to be. There are over a dozen cool stories in there to read, including many that are still interesting even today. There are no less than five bike tests including a shootout between the Honda CR250R and Suzuki RM250 (five bucks if you can guess which one wins). The MXA '86 rider of the year (again, can you guess who wins?), an O'Mara interview where the O'Show tells Honda to shove it and an incredible Great Moments in Motocross special. This baby is jam-packed!
The issue kicks off with the presentation of a brand new Nissan Hardbody pickup to Rick Johnson as the "MXA Rider of the Year". Believe it or not, MXA used to actually give away a truck to a lucky rider every year. I have no idea what ever happened to this cool annual tradition (maybe Jody would rather spend the cash on orange helmets and REM entry fees), but it would be pretty badass if they brought it back.
In any case, the tests get started off with a look at the new KX250, which is a pretty good bike. It runs like a tractor and shifts like one to, but many riders like its torquey delivery. Suspension is not in the same league as the cartridge- forked Honda, but it can be raced with careful set up. Good, but not great.
Next up, is the Yamaha YZ125, which was all-new for '86. The '87 model does get some worthwhile improvements, like some additional mid-range and a new coat of white paint, but it does still have some glaring weaknesses, its lack of a rear disc or cartridge fork chief among them. The motor's power is punchy, but short on breadth and the transmission absolutely will not shift under power. Suspension is particularly gruesome, as neither the Variable Damping "VD" (VD? Seriously, Yamaha? VD?!?) forks nor the BASS shock are interested in absorbing anything resembling a bump. Remember that Honda we tested last month? Yeah, you want one of those.
On page 60, smack dab in the middle of the O'Mara interview, Johnny shoots out the RM250 (his new employer) against the CR250R (his bitterly estranged former employer). Amazingly, (and in contradiction of every other publication in known existence) Johnny picks the Suzuki as the best bike for 95% of the riding population (see, now you owe me five bucks). I don't want to say the fix was in, but….
On page 64, the RM125 gets put through the ringer and guess what, it is not as bad at the atrocious '86 model. A new motor gives the yellow tiddler power for the first time in five years, but it is a screamer, that demands to be pinned at all times. The new Full-floater is much better than the eccentric-cam thingamajig that was on the '86 model and a true cartridge fork gives the RM a fighting chance upfront. It is harder to ride than the Honda, but at least it is in the hunt if you can keep that right wrist locked.
The rest of the issue is dedicated to great moments in MX and it is twenty pages of moto awesomeness. There are cool photos, great anecdotes and interesting stories from the golden age of motocross. Great stuff.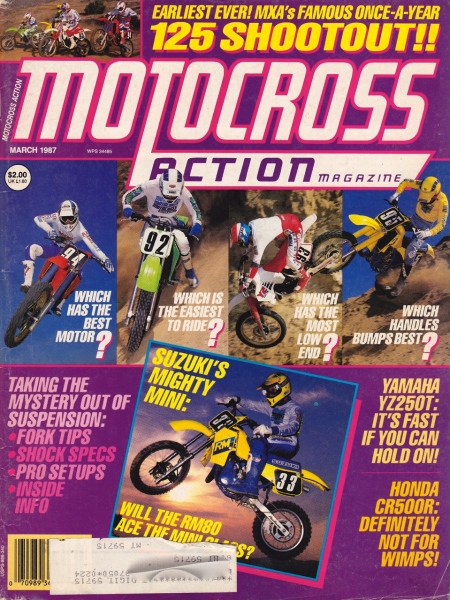 The March issue brings with it a battle royale for 125 supremacy, as well as tests of the '87 RM80, YZ250 and arm wrenching CR500R. If you are into bike tests, this issue has all the bases covered with tests of bikes from every class. If you are into tinkering, there are also loads of info as the MXperts try to take the mysteries out of suspension tuning.
First up is the mighty CR500R, which is "definitely not for wimps" according to the cover. This 60 horsepower brute is a handful and a far cry from the mellow pussycats that would follow it. MXA recommends short shifting the beast to avoid getting swatted off the back like a fly. Again, the cartridge Showa's are awesome and the weird Showa piggyback shock adequate. The CR is a big beast of a bike that demands respect and MXA loves it.
They also run the RM80 through the wringer and it proves to be a solid package. The '86's lackluster motor gets a much-needed horsepower injection, but the mini keeps the problematic eccentric cam thingamajig that the big bikes get to leave behind for '87. It provides so much stiction that the shock's damping is barely necessary. Like the rest of the RM's, the little 80 could use a styling update, but it is a good race bike.
The real disappointment of the issue is the '87 YZ250, which is an '86 YZ, painted white. It has the same God-awful TCV forks and jackhammer shock that tortured riders the year before and MXA is not a fan. The white frame looks better, but handles the same and the motor still won't shift worth a damn. On the bright side, the Yammi's mid-range is excellent and the bike is fast in short bursts. With its craptacular suspension and drum brake, the YZ looks to be bringing up the rear come shootout time.
Now, it is time for the crowning jewel of this issue, the "famous once a year" MXA 125 shootout. In this case, it does not disappoint, as this is the heyday of MXA and these shootouts are chock full of great info from start to finish. Years later, they would digress into crappy bar graphs and reprints of test summaries for their shootouts, but this is '87 and that mediocrity is nothing but a gleam in Jody's eye.
The shootout is a dogfight…actually not really. In truth, the CR wipes the floor with its 125 competitors in '87. The Yamaha is punchy, but suspended like an ox cart. The KX is easy-to-ride, but too soft and mellow and the Suzuki has awesome suspension but a powerband more appropriate to a roadracer. The only category the Honda does not rout is rear suspension, where its odd piggyback shock is prone to fading and less supple than the RM. The Honda is on another level in '87, and is perhaps the best 125 Big Red will ever produce.
Once they are done pinning the laurels on the CR, Jody and the gang spend twenty pages trying to make sense of suspension tuning. Some of the info is helpful (how to set suspension sag), while some of it is less so (the truth about shock fading). In either case, very few readers probably understand half of the info and continue to ride with the rebound and compression turned all the way in.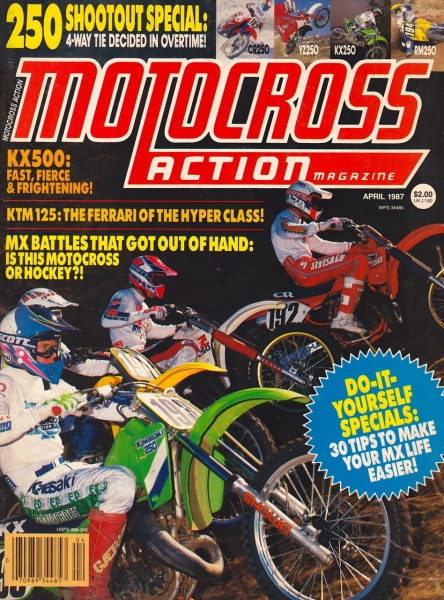 For April, we get many more bike tests, plus reports on the Paris Supercross and Golden State series (remember that?). There are also lots of great setup tips from the Flying Freckle himself, and a handy article on how to repack your silencer (never let it be said that MXA was not informative).
After last month's 125 Honda domination, it is hard to not imagine another red rout in the 250's, but the cover makes you think otherwise. Its claim of a "4-way tie" is horse manure and the CR once again bullies the other 250's. It is actually closer than the 125 whipping, with the Kawasaki keeping it respectable, but the outcome is the same. While its distinctive tractor-like motor is well liked by the torquers of the bunch, the KX's lack of a cartridge fork cost it in the final standings. The Y-Zed is a mid-range only missile, with mid-evil torture devices for suspension, while the RM is awesomely suspended, but powered by a leaf blower. Only the Honda is the total package, with a Saturn V rocket for a motor, razor sharp manners and forks from on high. In '87, if you rode anything but a Honda, you were a masochist, an idiot, or your dad owned a Kawasaki dealership. Either way, you were eating lots of red (technically orange mist actually) roost for your trouble.
The tag line "fast , fierce and frightening" on the cover pretty much covers the KX500 test on page 30. The new KIPS equipped motor gives the Kwacker the widest spread in the 500 class, but its harsh TVC forks (stop me if you have heard this before) make it a handful. The new lower link ('86 KX's still used the "dog bone" style link) Uni-Trak is a real kidney buster and the handling is vague at best. The KX's motor is the best part of the package, but Team Green is still a year away from hitting the Open class sweet spot.
We learn to repack silencers, enough said.
Jeff Ward's setup tips we learn that he likes to use two fingers on the clutch and two layers of socks in his boots. We also learn that he wears a 7 1/8 inch open face helmet (what the hell was with this, anyway? I mean full-face helmets had been around for over a decade at this point and guys like Ward still insisted on riding 500's with no face protection. Too much New Coke, maybe?), and prefers to date blondes (Just kidding, I made that up to see if you were paying attention. Actually, maybe this is true, but the Wrecking Crew does not specify). We also learn that Jeff likes to run a lot in extremely short shorts and enjoys stretching and lifting heavy pieces of iron (600 pound squats according to Larry Huffman).
In the race coverage, we get a sweet and very rare picture of the great David Bailey on a '87 CR250 (Bailey would be paralyzed shortly after the photograph was taken) taking the overall victory in Paris. The Little Professor wins only one of the three nights, but is the most consistent of the competitors.
In a Golden State recap, we get an epic recounting of a muddy season opener and interviews with all the pre season contenders. Who says it never rains in California? Lechien and Johnson have an epic dual in CA, but once the season starts, the Honda ace will have the Dogger covered 90% of the time.
In the last test of the issue, MXA takes a hard look at the '87 KTM 125 and finds it wanting. It is slow, has a worthless clutch, notchy shifting, and is poorly suspended and too expensive. They basically say it is a "fixer-uper" by stating a prospective owner needs to be a "tinkerer" to buy a KTM. At least they will know how to repack the silencer.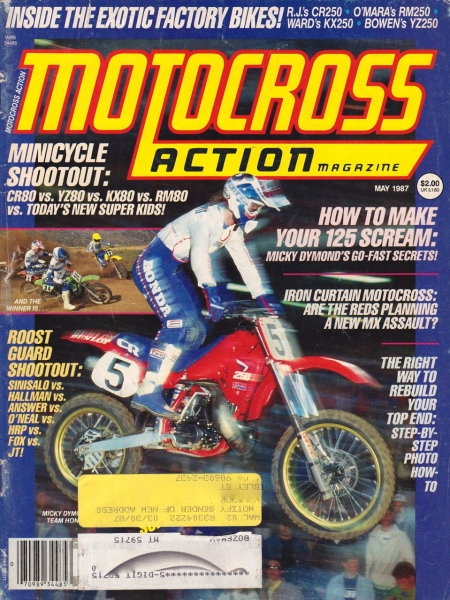 The May issue brings us a cool picture of one of the most underrated champions in the history of motocross: 2- times 125 National champ Micky Dymond. Dymond promises to make your 125 scream (here's a top tip, do what Micky did and buy a Honda). There is also the highly anticipated minicycle shootout, and a guide to roost guards!
This issue kicks off with some blathering by Jody about Crazy Dave and lovely Louella (Am I the only person that finds it amazing that 25 years later, he is still writing the same column every month?) and an incredible picture of Dymond hucking a mega leap that only he, Johnson and Ward were able to clear before it was taken out for safety reasons.
There is also an ad on page 21 for the greatest motocross movie of all time, Winners Take All. This incredible piece of advertising gold informs me I need to be tough, smart and fast to win (I'm not sure which one of the magic triumvirate I was lacking, but I was definitely missing at least one of those in my career). At this point, one could probably just stop reading and spend the day basking in the glory of Winners Take All, but I am a professional, so I plow on.
On page 28, the fun really starts with a test of everyone's favorite paint shaker, the '87 Yamaha YZ490! The 490 has barely changed in half a decade and it is the same air-cooled handful it has been since the lamented retirement of the YZ465. Power is odd for a 500, as it is soft down low and fast on top. It burbles, blubbers and pings if not set up exactly right and vibrates like someone loosened all the motor mounts. It is no match for the CR or KX (although, it does beat out the RM500 by default) in any test of power, but some testers appreciate its simplicity.
Suspension is predictably grim, as it shares the same miserable TCV cartridge-less forks and BASS-omatic shock with its little brothers. Only this time, it has 20 more horses and 15 more pounds to deal with. The drum brake is also a bit of a downer on a 60 horsepower brute. The YZ is in need of a major overhaul, which unfortunately, will never come.
Next up is a mini shootout, that Honda once again dominates (what is this, Honda-cross Action?). To say Big Red was on a role in '86 and '87 would be a massive understatement. They were literally smoking the competition in every class imaginable and the littlest CR just kept that rolling. It is the powerhouse of the class and it is that motor that makes the difference. The RM has better suspension, but lacks the CR's ponies and the YZ gets the nod as the best bike for beginners. The KX is an afterthought this year, as it is neither the best nor the worst at anything, and most riders prefer the others.
The KTM500 gets the Wrecking Crew treatment on page 56 and predictably, it is just as bad as the 125 was the month before. It is decently fast, but poorly carbureted, with a worthless clutch and crummy transmission. Suspension is pitiful both front and rear with way too soft settings and harsh action. Amazingly, they actually like the handling, but the rest of the bike is a mess. In 1987, KTM still had a ways to go to catch the Japanese.
On page 71, we get a how-to on doing a one hour top-end job (don't try this at home on your KX450F). Then on page 76, there is a sweet look at all the '87 Factory racers. None of them are as cool as their '85 works counterparts, but there is still a lot of unobtanium to drool over. On page 94, RJ gives us some tips on jumping that include the new technique of tapping the rear brake to lower the front end in the air. There is no mention of the Bubba Scrub, however.
Race coverage in this issue includes a report on the January Anaheim SX season opener (keep in mind, this is the MAY issue) where Rick Johnson gives away the '87 Supercross title with a massive crash and DNF. RJ loses control off a gnarly double and knocks himself into next week, handing Ward a 25 point lead, and in effect, the title. Suzuki's big gamble on O'Mara pays off for all of one lap as the notoriously fragile-kneed pilot once again twists them in the whoops and pulls off (cue sad trombone). The Dogger backs up Ward with a solid second to open the year with a 1-2 finish for Team Green.
The night cap of this issue is the chest protector shootout, which MXA refers to as "roost guards". The test includes icons like the Fox Roost 2, JT V-1000 and HRP Attack Jak. In this vaunted field, the winner turns out to be the… Answer AC-III (huh !?!). I don't even remember this boring AXO Pentagon looking thing, but apparently it goes well with Jody's leathers, so it wins.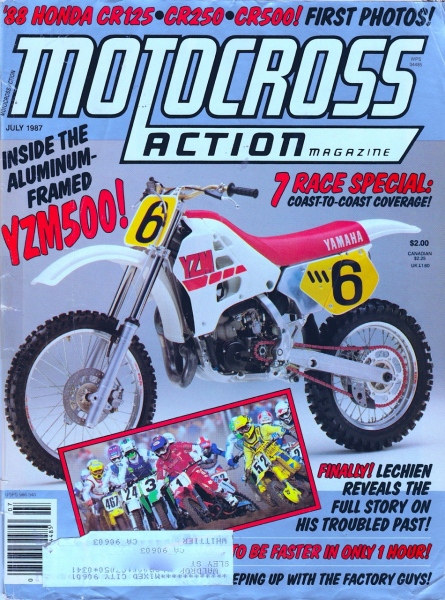 The July issue is light on the bike tests, but there is still a ton of cool stuff to read, including lots of race coverage and a GP preview. There are also some black and white spy photos of the '88 CR's that don't really do the new bikes justice. Without color, it is impossible to tell just how radically different they will appear, and only the CR250 looks appreciably different.
The incredibly exotic Yamaha YZM500, soon to be raced in Europe and the star of all the pre-season hype, graces the cover of the issue. For Yamaha fans, this incredible piece of moto-exotica promised a long anticipated liquid-cooled YZ490 replacement, which, unfortunately, would never come.
The focus of this issue is race coverage and we get breakdowns of the Daytona Supercross, as well as the Gainesville and Hangtown Nationals. Daytona is a real shocker, as privateer hero Ricky Ryan pulls the greatest upset in Supercross history in the Florida mud. Literally, every Factory rider in the field suffers problems, and Ryan walks away to a historic victory, followed by a little known privateer from Michigan by the name of Jeff Stanon.
In Gainesville, Ryan is once again the center of attention as he and Larry Brooks (yes, the guy who loves his family time) split moto wins, but loose the overall to a consistant 2-2 of George Holland. In the 250's, Bob Hannah makes a rare appearance and takes an impressive fifth ahead of a certain Canadian's favorite rider, Ross Pederson. At the front, it is the Bad Boy in a walk, with a dominating 1-1 over a surprising Keith Bowen (Bowen would back this up a week later by nearly winning the Dayton event, only to have his YZ give up the ghost before he can make it to the finish).
In Hangtown, on the track drama is matched by off the track melodrama, as Johnson and several riders are unhappy with the state of the notoriously crappy track and demand that changes be made. Johnson is heard yelling out during the rider's meeting, "Those aren't obstacles, they're hazards!" As a result, one jump is added and part of the track is rerouted. This, of course, makes the riders happy, but pisses off the fans, who proceed to throw rocks at the guy running the dozer. Stay classy, Sacramento!
As to the actual racing, it is more of the same as RJ and Holland score back to back victories to open the season. This time, it's Wardy who comes home second in the 250's, followed by Roller Ball with a career best third place. In the 125's, it is Kehoe who trails his teammate to the finish, followed by Australian export Jeff Leisk in third.
For July, the pièce de résistance has to be an interview with the Dogger where MXA claims he is going to reveal the full story of his troubled past. The irony of this, of course, is that Ronnie has not even begun to kick the partying into high gear yet. At this point, his days of running from the cops on mopeds are still a few years away and the worst is yet to come. Still, it is an interesting look at one of the true personalities in the sport of motocross.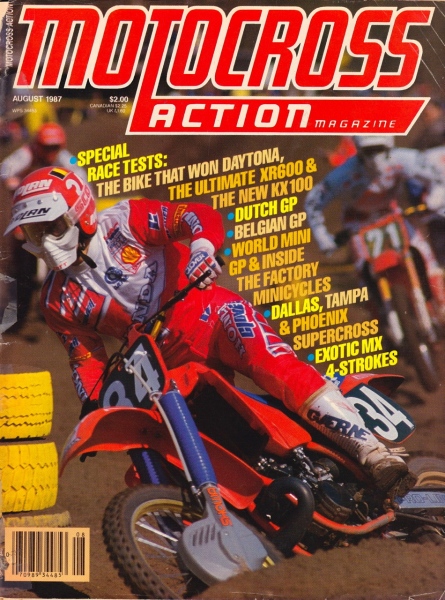 These days, you would never see a picture of a Euro like Eric Geboers on the cover of MXA (Unless, of course, there happens to be a GP at Glen Helen, in which case the GP's are awesome and the US series sucks balls. That is, until Luongo pulls the Glen Helen USGP, and then the GP's suck again. Actually, now that I think about it, do we hate the GP's or love the GP's this week? Oh well, never mind.). In the eighties, however, the Grand Prix's were still getting a fair amount of respect. They were definitely on the prestige downswing, but it was not unusual for the Wrecking Crew to devote a whole issue to GP coverage.
Luc Verbeke (a staple of MXA's GP coverage at the time) handles the race coverage and gives a full accounting of the Dutch and Belgian GP. Pekka Vehkonnen upsets the hometown boy Geboers in Belgium and Davy Stribos takes the 125 glory in Holland.
On page 40, the MXA gang takes Ricky Ryan's Daytona winning CR250R for a spin and come away truly impressed with how close Ryan's Pro Circuit CR is to the Factory-production race bikes of Johnson and Dymond. We also get a look at those cookie racing thumpers from the Four-Stroke Nationals (these cobby things will never catch on) and a test of a XR600/ATK hybrid. The ATK is still heavy, but it handles great and the Wrecking Crew loves it.
There is a huge selection of mini race coverage in this issue as they go to the Kawasaki Race of Champions and World Mini Grand Prix. These stories are an absolute who's who of nineties moto and we see riders like Jeff Emig, Jimmy Button, Kyle Lewis, Brian Swink, Jimmy Gaddis and Buddy Antunez dicing it out in the desert sun. At the KROC, the most amazing part is who actually wins. In this incredibly stacked field, it is John Kitsch (John Kitsch?) who smokes everyone to a dominating three moto sweep. I have no idea what happens to derail John's date with pro stardom, but on this day he is king of the mini's.
In Vegas, it is another roll call of future stars as Jeff Emig, Ezra Lusk, Brian Swink, Kyle Lewis, Mike Kiedrowski and Damon Bradshaw all take class victories. Bradshaw gets an interview, where he informs us he gets eight YZ's a year plus over $35,000 to cover expenses! That is before win bonuses and outside sponsor money, both of which will pay him handsomely. It is not hard to see that a 14-year-old Bradshaw is making more in '87 than probably half of the AMA pros out there do today. It is sad, but true.
On page 50, we get an ad for the technological marvel of the 80's- the Roost Boost. A generic Dyno chart shows TEN horsepower gain across the board (Ten horsepower, holly shit this thing must be awesome!). This apparently applies to whatever bike you plug this incredible little gizmo into (Somewhere, right then, there is very naïve 17-year-old Tony Blazier ordering one of these babies for his '87 KX125, and let me tell you from experience, ten horsepower feels a lot like no horsepower). At $52.95, this seems like a steal for a 30% gain in horsepower and I'm sure it is money well spent.
This issue wraps up with a look at a new kind of bike called the "super-mini" that has a slightly larger motor and bigger wheels. They are not sure if it will catch on as a race bike, but it seems to make a great play bike or machine for a girl (no, I am not making this up). In any case, it is fun bike and that counts for something.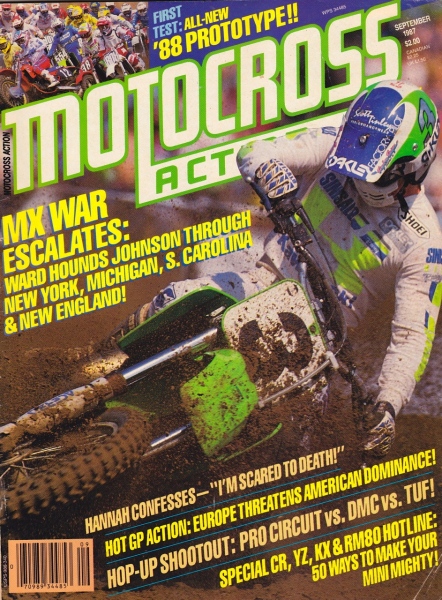 The September issue brings with it race coverage from Southwick (and a nice cover shot of Wardy destroying a Southwith berm) and South Carolina (I don't even remember there being a South Carolina National). There is also an interview with the Hurricane where he apparently admits to being a coward and "Hot GP Action" for the Europhiles amongst us.
The '88 prototype mentioned on the cover is an early version of the air-cooled ATK 406 motocrosser. This bike is labeled as a pilot production machine and ATK is apparently not sure if they are going to sell it at this point. The bike is super light and simple and MXA thinks it is a neat concept. Whether anyone will buy it is another matter.
In Southwick race coverage, a well past his prime Bob Hannah pulls out a shocking and very popular second moto victory over eventual overall winner Ricky Johnson. Also of note, is a picture of a local hotshoe wearing the number 776 by the name of John Dowd. Apparently "insiders" think the New England native will be making waves within a few years.
In their coverage of the South Carolina National, there is a heartbreaking tale of woe involving up-and-coming star (and MXA wrecking crew member) Larry Brooks. Brooks apparently has the second moto win (and overall) in the bag, when the top end bearing on his CR125R decides to go on vacation. The DNF snatches the win from Brooks and ends what will be his best chance at a National victory. After Brooks' misfortune, the overall goes to Minnesota native Donny Schmidt (his 1st) on a Factory RM125. Larry would also proceed to fire his mechanic after he didn't read the Honda bulletin stating to not use the wrist pin bearing that he did use.
In the 250's it is more of the same as Rick Johnson and Jeff Ward trade moto victories, with RJ getting the tiebreaker for the overall. With the victory, Johnson wraps up his second consecutive 250 Motocross title.
In Supercross coverage (remember, back then the SX and MX series actually alternated back and forth, instead of waiting for one to finish before the other began) we travel to the Meadowlands (I think you can see a 15-year-old Jason Weigandt in row 10 behind Ward in the main story shot) for the New Jersey Supercross. What looks like a promising Ward vs. Johnson duel, turns into a RJ rout, as Wardy once again damages his fragile ankle on a huge triple and is forced to salvage a fifth. At the end of the night, he still has a 39-point lead and looks to be a shoe-in for the '87 Supercross championship.
In the Hannah interview, the ever candid Hurricane pulls no punches and lets everyone know his thoughts on the state of the sport. He believes that today's tracks (1987) are too dangerous and things like triples should be removed from Supercross. He does indeed admit to being afraid of the modern track obstacles and advocates that the riders should get together to demand changes (riders union, now there is a novel idea). He also talks about his role as a development rider for Suzuki and suggests that the RM's will be the best bikes in the sport by '89 (he is not far off, as the '89 Suzuki's are a huge step forward).
For me, the highlight of the issue is a rundown of the 10 worst motocross bikes in history that is a rogues gallery of terrible machines. All the usual suspects are represented, with the Can-Am Black Widow and '82 YZ250 thrown in for good measure. The winner is, of course, the infamous TM400 Cyclone, a bike it appears Suzuki shall never live down.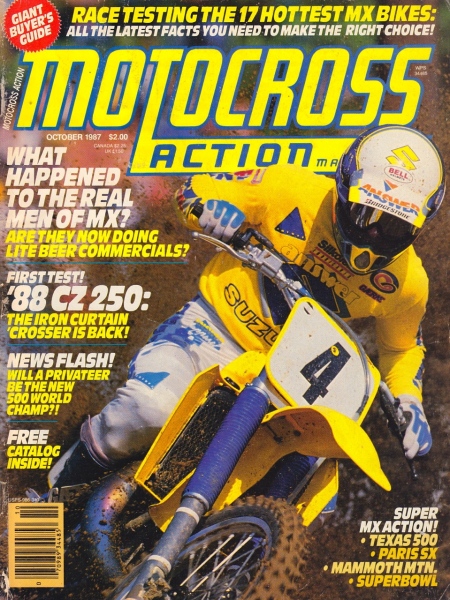 October brings with it a huge pic of the O'Show on his new RM250. I remember seeing this picture and just feeling sorry for Johnny (I know it is hard to feel bad for a guy getting paid millions to race a dirt bike, but still). The guy was sooooo cool and stylish on those Honda's, and now he was being relegated to riding that sorry looking, platapus-fendered, poor excuse for a racing motorcycle. He went from badass to sadass overnight, when he left the Big Red Machine for team Yellow Magic. For 'O'Show fans, '87 and '88 were just painful to watch as Johnny struggled on the craptastic RM's. Of course, that made his '89 renaissance all the more enjoyable (At least until his fragile RM snapped in half while he was checking out on everyone at Anaheim. Stupid Suzuki).
Interestingly, O'Show is on the cover, but there is no mention of him in the magazine. This issue is more of a recap and update one, as the Wrecking Crew republishes mini breakdowns of all the bikes they tested in '87 (here's a hint, the ones with the wing on the shroud win everything). The sole new test in this issue is of a hot new CZ that you can buy for half the cost of a CR250R! The incredible "new" '88 CZ Type 513 and 514 are 250cc and 400cc "racers" in the absolute loosest sense of the word. The bikes are essentially 1976 CZ's, rebranded and offered for sale in 1988 (I do an in-depth review of this classic piece of Cold War history HERE in GP'S Classic Steel #3). In the intervening 12 years, there has been a quantum leap in technology in the world of motocross, but this fact is lost on the Ceske Zavodny factory and the 513 and 514 seem better suited for Ake Johnson than Ricky Johnson. Performance is predictably abysmal and even at $1998 they are woefully overpriced (unless, of course, you consider them vintage bikes, in which case some dude will probably pay you $4000 for one).
On page 33, Jody and the boys wrap up the '87 250 National title with Ricky Johnson claiming the prize. The victory does take some of the sting away from the 250 Supercross title that RJ lost to Ward earlier in the year. The surprise of the series is Yamaha support rider Jeff Stanton, who turns a lot of heads on his way to a solid fifth overall. MXA quite prophetically warn us all to "Watch this kid!". History would of course bear this out, as only two years later Stanton would be the Supercross and National champ.
On page 48, there is an interview with the late Georges Jobe where Luc Verbeke asks if he has a legitimate shot at becoming the 500cc World Champ on a privateer Honda. The interview is very interesting and Jobe recounts his many tumultuous years on the GP circuit. History would prove that the fast Belgian was more than up to the task of upsetting the powerful Factory teams. Jobe would claim the '87 500 World Motocross title on a privateer CR500R, before making a disastrous run at the 125's in'88. The dude may have had terrible style, but he could really haul the mail on a motorcycle. RIP George.
The coolest feature in this month's issue is probably the "Where are they now?" piece on page 79. We get updates on everyone from Brad Lackey to Jimmy Ellis and it is interesting to see what the stars of the seventies are up to. My favorite is Gary Denton, who I actually remember as an early Quad Racer guy, and do not remember racing dirt bikes at all. Apparently, he was pretty good on two wheels before he started trying to kill himself on flying couches. I wonder what Gary is doing now?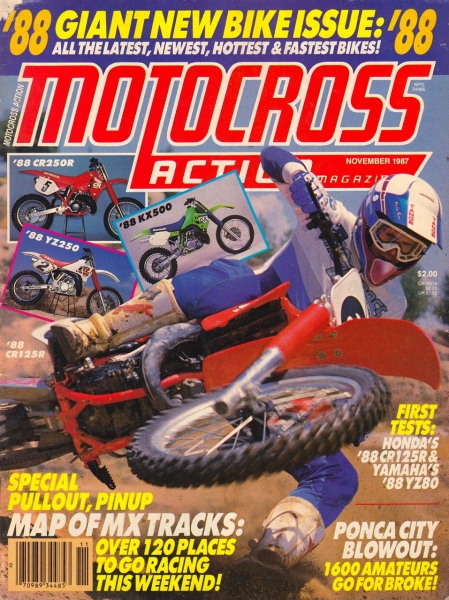 November brings with it a first look at the '88 models, and man, are there big changes. Unlike today, where budgetary constraints mean the manufacturers have to squeeze more time out of each new design, in the eighties it was not uncommon to have complete redesigns every other year (and sometimes even every year, in cases like the '84 CR500R). This meant that every one of the '88 250's were radically updated and in some cases, clean sheet redesigns.
While none of them are tested, history has taught us that Honda pulls a massive boner in '88 and gives away its 250-class title to a much-improved competition. The new CR is radical in design, featuring a works-like "low boy" layout and Supercross inspired suspension, but the previously loved HPP motor is too mellow and suspension settings are all wrong. For '88, the Kawasaki goes from the slimmest layout, to the porkiest, but it does finally get a cartridge fork and a rocket-fast motor. The Suzuki still looks like a '82 model, but is hugely improved with a much more powerful motor and the best suspension in the class. The new YZ250 is the star of the field in '88 and combines sexy YZM inspired looks, very good suspension (Finally a decent set of forks, Hallelujah!) great handling and a fast and punchy motor to win the class.
In race coverage, we get a look at the New Jersey State Championship from Englishtown (paging Jason Weigandt), as well as a breakdown of the 250 USGP from Hollister in CA (RJ Smokes them again). There is also coverage of the Dutch 500 GP (Jobe looks to have the title wrapped up) and Axton 125/500 National (RJ and Kehoe lay down the lay in Bailey's back yard).
On page 40, we get our first test of a '88 machine, the Honda CR125R. The new blood red CR appears little changed beside color, but runs very differently than the bike that was "so fast it will blow away 250's!!" Like the CR250R, the new 125 has given up its hard-hitting ways and converted to a mellow and lethargic brand of horsepower. The bike is still fast, but feels slow and the Wrecking Crew wants their old powerband back. Thankfully, Honda does not screw up the suspension like they did on the 250, and the tiddler still craves the bumps. In the end, the CR is still a good bike, but it is a step back from the World beating '87.
The other '88 model tested is the Yamaha YZ80. The little Y-Zed is exactly the same bike it was in '87 (and will remain so until '93, when it will finally be put out to pasture) and remains firmly aimed at smaller and less advanced riders. The motor is easy to ride, but the suspension is undersized and too soft for faster or bigger riders. It makes a great novice mount, but little else.
On page 78, we get an interview with up-and-coming star Mike Fisher. In the interview, Bad Fish expresses his desire to someday holeshot the San Diego Supercross and then solidify his name by cartwheeling thirty feet over a bowl berm while dominating the race. He also unveils a secret plan to undermine Team Kawasaki by pitting long time sponsor Pro Circuit against upstart FMF in some kind of ridiculous power struggle. It all seems a little Dr. Evil to me, but hey, a kid can dream, right?
In just the sort of interesting piece that has made Jody lots of friends over the years, MXA rates the "Star Power" of the riders on page 96. Predictably, outgoing (and successful) riders like RJ and Micky Dymond top the list. The real surprise is MXA's rating of guys like Jeff Stanton-high star power (in spite of having the personality of a Michigan tree-stand) and Jeff Ward- medium star power (WTF? The guy is the reigning SX Champ for God's sake!). Guys with their star on the decline include Bob Hannah (ok, the dude is 90% retired at this point) and Johnny O'Mara (I blame Suzuki and their stupid platypus-mobile for this).
This issue wraps up with a recap of Ponca City. Emig and Antunez steal the 80cc glory, while LaRocco, Dubach and Matiasevich take home big bike trophies. The biggest disappointment of the event is for Doug Dubach, who is disqualified from the victory in the 250cc Stock class (handing the win to Chicken). Dubach's Race Tech YZ250 is deemed illegal after a rider complains about the special Race Tech shift linkage the Doctor is using to get his recalcitrant YZ to shift (I had one of these on my '88 YZ and oh boy did it make a HUGE difference). The other bummer is Bradshaw, who was expected to dominate, but has to pull out with a damaged wrist (oh well, its not like this kid is going to go anywhere anyway).
Thus ends my wrap up of 1987 through the eyes of MXA. It was the best of times (for Honda), it was the worst of times (for KTM), but most of all, it was a great time to be a motocross enthusiast. Catch you next time, as we once again go into the way back machine to look at another great year in motocross.