A few weeks ago I texted Matthes with a simple question, "Who's going faster, RV in this era, or RC in his prime?" His answer surprised me.
A few weeks ago I texted Matthes with a simple question, "Who's going faster, RV in this era, or RC in his prime?" His answer surprised me.
Photos by: Simon Cudby
Obviously his answer was, "RC". My surprise stemmed from a few things, the first being the wedge between Matthes and RC. The deference which resides to this very day is as strong and consistent as gravity or trying to get opposing magnetic surfaces to attract to one another. Sure, Matthes is very objective but I was still a little shocked for his answer to not only come but come quickly and seemingly without trepidation. The second reason I was surprised is we're always talking about the progression of motocross. Matthes' boss, Jason Weigandt makes mention of it pretty regularly. When he does mention it it is usually in relation to a rider coming back from some type of racing hiatus, due either to injury, illness or, ahem, complications due to life-style choices. The reasoning is always the answer to the question, "will "so and so" have anything for the leaders?" This sport waits for no one and while rider "A" has been recovering, training and preparing; rider "B" has been racing, winning and progressing.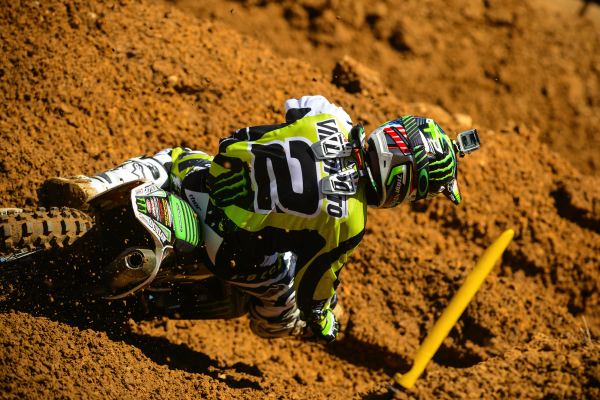 RV. Not afraid to ride the ragged edge of control in pursuit of the W.
Naturally when I hear Matthes or anyone argue that RC was faster in his day than RV is now, nearly 7 years later; 7 years of progression that is, I have to ask, "how?" I clearly don't have the answer, no matter which opinion is correct. It's always been a silly notion to compare riders from different era's and though the approach to race craft hasn't changed that much in 7 years, bikes have progressed immensely and even if the machines are only 30% of the equation, that's 30% of improvement which makes it easier for the remaining 70% to be more comfortable and poised to go faster. There's really only two people who can offer a legitimate opinion on the debate in my opinion and they are Chad Reed and James Stewart.
While recent results certainly point to a decline in their prodigious race skills, both of these racers have battled with both RC and RV when the two gingers were in their primes. Due to the mind games which come in to play between racers, I don't think you'd get a truly objective opinion from either of them until at least a few years after each of their retirements.
I don't mean to make Ryan Dungey seem like a lesser racer than RV because lets face it, he legitimately keeps RV honest moto after moto. The reason I pit RC against RV in this question is because they are similar in so many ways. Dungey races with a "big picture" mindset, while both RC and RV appear to approach each lap of each race as the last lap of their lives. 100% intensity with nothing left to chance. It appears as reckless abandon and the nearest thing I've ever seen to controlled chaos. And, it's damn inspirational to watch. Injury bit both of them more than it has Dungey thus far but when they reach the checkered flag first, even the fans exhale deeply. It's as though we just witnessed death being defied after 30+2 of tempting it.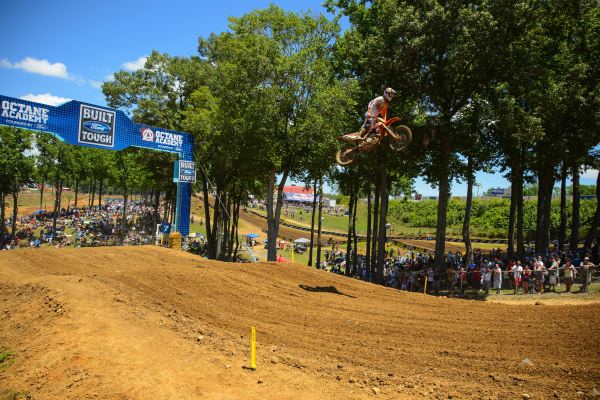 Dungey wins with calculated, steady consistency.
So this brings us to Budds Creek 2013. The very track where RV blew every fans mind by not only holeshot-ing the 2007 MXdN on a 250F but taking that lead all the way to the checkers. Yes, even beating teammate Ricky Carmichael, though RC had to remount dead last after a first turn crash. RC himself stated after the race, "I think everybody is going to be scared to death of him (Villopoto) until he gets into my place, and I think they should be." A fortune from the GOAT which has proven true since 2010 when RV truly committed his focus to utter domination on a 450. A moto-one win by 10 seconds short of a minute? Dungey gave him some breathing room with that late moto crash but what about 3rd place? Mike Alessi, a full minute and five seconds behind RV. Scared? No. Defeated? Yes.
If Ryan Villopoto is the death defying enigma, Ryan Dungey is the status quo. He is consistent as death and taxes. RV knows that if he falters, Dungey will capitalize and make it count and that's just what happened in moto-two. Ryan Dungey is a whole different kind of progression. Instead of teaching himself to become comfortable with riding at the razor's edge of disaster, he continues to exhibit picture-perfect form while maintaining a nearly mirror-like capacity for speed as RV. It's not even close to the flash of RV but it can very easily equate to the same spoils of victory. Scoreboard. Nothing else matters.
In news that shocks absolutely nobody, Trey Canard is living right. You know how I know that? 6-4 for 3rd OA.
Look at Mookie Stewart. Far more impressive than his 4th overall which is incredible in itself, is his 3rd in moto-two. It's not like he worked his way into 8th and rider-attrition lender itself to him. Nope, he started 9th and confidently made moves until lap 9 when he grabbed 3rd and secured it for the next 8 laps. You just always knew, if someone could build a bike that Mookie couldn't break, he'd see success. Third though, is another level. Just think about a few short years ago when all the talk was of how Malcolm was much more interested in fishing than moto. Remember how everyone just knew that James was going to lay out the red carpet for Mookie and give him everything on a platter to grant him success? Yeah, well none of that happened and here we are a few short years later with tons and I mean, TONS of disgruntling mechanical failures and humbling lessons and he earned that podium and 4th overall in legitimate fashion. I'm very interested to see if he can build on this finish and the feeling it brings with it. Really great story.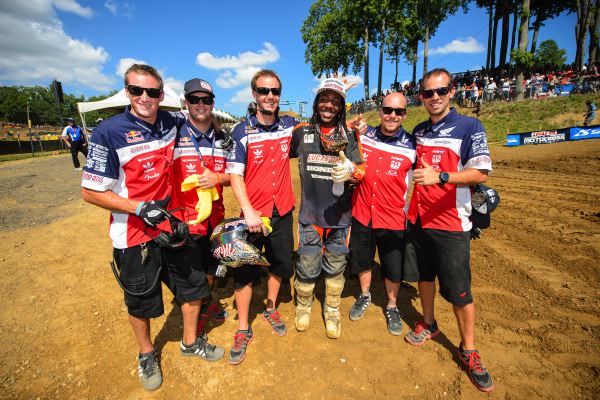 What a great day for Malcolm and the TLD team.
Justin Brayton 7-7 for 6th OA?! Where is the real Justin Brayton and what have you done with him? Seriously though, I gotta know what happened on the week off to cause this turn around. He nearly doubled his series points thus far in one weekend. Get this guy on a PulpMX Show, I want the scoop.
Broc Tickle nabs his best finish of the series, a 7th, at the track where he finished runner-up to Dungey last year. It's no secret that Broc is better on the east coast tracks but I also think Broc is capable of more than he has shown overall this series. As is usually the case, Broc's starts have been the issue. I don't think Broc is riding worse than he was last year but he did figure out his starts by Budds last year, so it's time to buckle down on them and see what he can do starting closer to the front.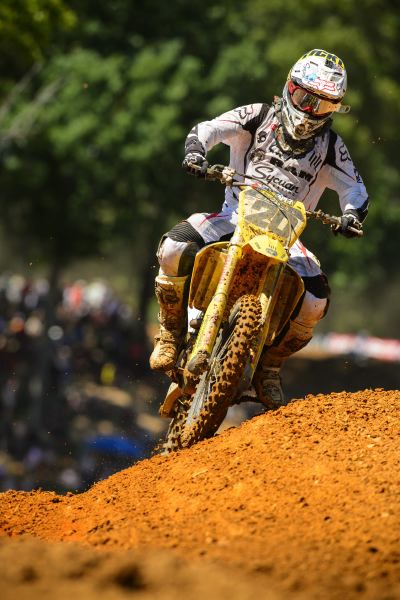 A step forward for Broc. Hopefully some better starts follow.
Matthes' decision to "spray the triples with pump" has worked out in the case of Phil Nicoletti. The guy has been legitimately impressive. I really can't wait to see who picks him up next year. He strikes me as a new era Meathead. He doesn't need the bells and whistles, just a bike with a decent setup that finishes races.
At 14th OA, Chad Reed's week off clearly wasn't what his fans or he had hoped for. It's a bummer to see but I'm not putting much stock into it. There isn't going to be any bankable momentum heading into 2014 at this point and you know the 22 isn't interested in "salvaging" this dismal series. You know he'll put forth max effort before 2014 SX and that means making sure he's got a setup he is confident with. The loose ends regarding bike setup coming into 2013 didn't pan out and it turned into a snowball rolling downhill. The illness which continues turned that snowball into an avalanche. In my opinion, Chad has never looked better than in '09 on the Suzuki, he came damn close in 2012 but that was abbreviated by injury. We all benefit by Reedy being confident and aggressive and we haven't seen that once in 2013.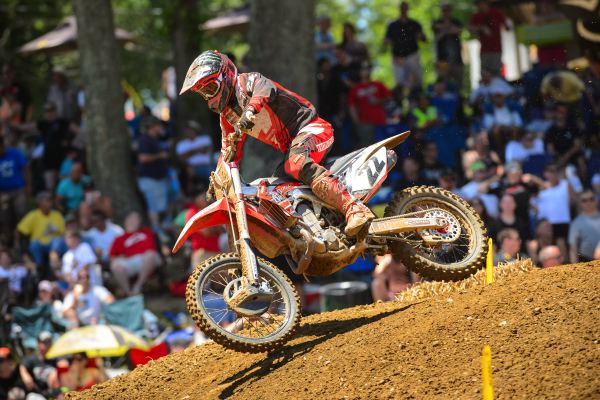 Chad hasn't looked himself all year. He just hasn't looked comfortable; he's honestly looked like he's been riding a KX500 motor crammed in an aluminum frame.
250
Budds Creek marked the 2013 MX debut for Wil Hahn fresh off his broken hand and though Wil has been a stronger Supercross rider, he did something no one else has in 2013. He broke into that top 5 group in his first race. Ken Roczen, Marvin Musquin, Eli Tomac, Blake Baggett and Zach Osborne have nailed down the top 5 in every race leading into Budds Creek. Thanks (or no thanks to) Zach's two soil samples in moto-one, the door was open for a newcomer to the "Fab-Five" and Wil Hahn grasped and secured it. While scrolling my twitter timeline during moto-one, Wil was running 5th after starting 2nd and I caught a TWMX tweet that said "Hahn a bit off the pace, understandable after weeks off the bike". I stared at the tweet and re-read it about 5 times, shook my head like I had been slapped, then slapped myself across both cheeks and read the tweet again. I still didn't understand it. It was his first race back, he's a "Supercross-guy", nearly holeshot, dropped a few positions and leveled off. Perhaps they thought he was going to keep dropping back but he didn't. He put in two great rides to garner 5th OA. Very impressive.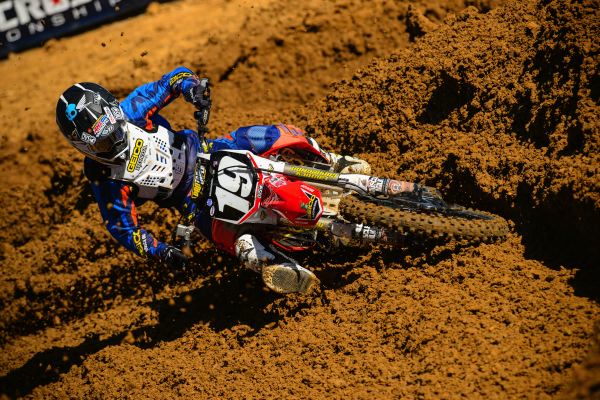 Wil debuted from his broken hand and cracked the stronghold in the top 5. So much for Wil being just a "SX guy".
Adam Cianciarulo made his debut at Budds Creek after recovering from a debilitating bout with Salmonella poisoning. Although I took the "nay" side of the PulpMX Point/Counterpoint argument on his entry to Pro racing prior to the series, I was very excited to see Adam make the jump. I wasn't surprised at all to see him holeshot in moto-one. He's on a PC bike and probably weighs about as much as Baggett or Bell who have also owned the starts with their power to weight ratios. I also wasn't terribly surprised by Adam's finishes. Lots of pressure, nerves and learning. He's going to be great. I'm not going to wast a bunch of words here on my interpretations of his first two motos ever, just do yourself a favor and listen to his post-race Pulpcast Matthes did with him. In typical Adam-fashion, he is honest, introspective and realistic with his thoughts and experience in his pro debut.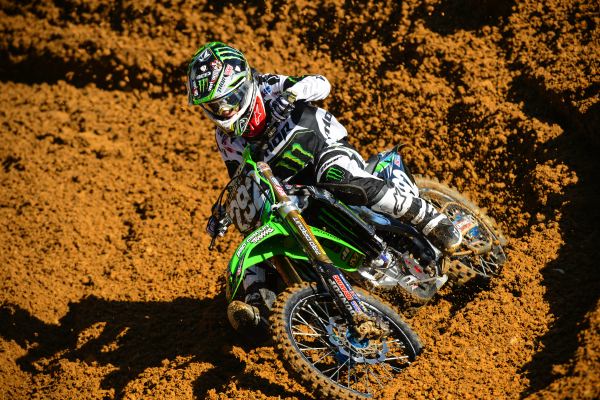 Adam had what I believe to be an ideal pro debut for a guy with his attitude. He had tons of expectations placed on him by fans but even with the roadblocks which arose and the results posted, he took it for what it was; a lesson and merely the beginning of his career.
One last thing, how about Kyle Cunningham? 8th OA and 8th in points. I believe he's better than this but what I'm really bringing it up for is, how quietly he continues to finish so consistently. He's like the Justin "Real-tree" Brayton on 2012. No fan-fare, just results.
Viva la 338!