The banner waves in the early July breeze, it is not a normal day for the stars and stripes that reside on this proud banner.
The banner waves in the early July breeze, it is not a normal day for the stars and stripes that reside on this proud banner.
By: Isaac Scoggin
Photos by: Simon Cudby
Today, all eyes across the entire 3,400 miles (at the widest point) of this Nation stare meaningfully into it. Perhaps no symbol in the United States has more power than that of the stars and stripes. Certainly an argument could be made for a particular lower case letter, often times in reference to a man among men, but we won't go there. A National Holiday such as this can become diluted as time passes, and with each and every generation we become farther and farther removed from the events that brought us into this Country. The truth is that most of us don't even know that the 2nd of July 1776 was to be celebrated as the 4th is now. In fact, John Adams wrote to his wife that,
"The second day of July 1776, will be the most memorable epoch in the history of America. I am apt to believe that it will be celebrated by succeeding generations as the great anniversary festival."
Well, as we like to say in America in regards to the 4th vs. the 2nd…"It's good enough for who it's for." The exactness of it all may be diluted, but ideals, morals, and general rebellious nature of all still resides in every generation. We are a proud Country and no day shows it more than the day when America celebrates everything American we can think of: Baseball, pie, picnics, fireworks, parades, barbeques, carnivals, fairs, concerts, family reunions, and RED BUD! That's right, and as much as well look towards our history on this day, we also keep a hopeful watch on the future.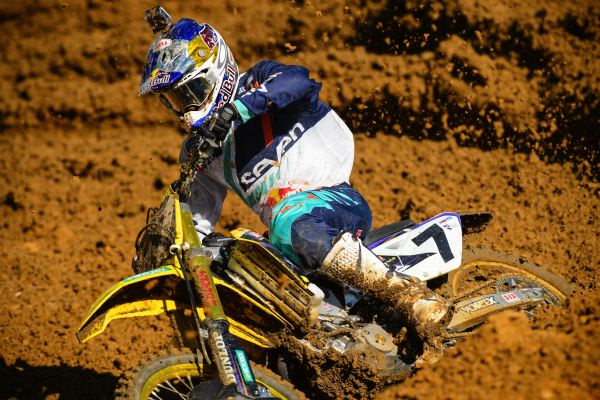 Stewart is held to a higher standard by himself and fans alike.
James Stewart has earned his stars and stripes through years of dominating wins, unrealistic passes, jump combinations unfathomable by most, and incredible style while doing it all. It must be hard to be a supreme champion fighting what seems, from the outside, to be demons inside his own head. Make no mistake about it, no matter how diluted our current vision of Stewart becomes, he is still and always will be a standard in which all upcoming racers will be subject to. To be clear, no one will measure up quite like he did. I know, it sounds like he is dead and gone. For now it does seem that way when watching the gap between the leaders and him. But winning is a state of mind and James lived in that state longer than almost anyone. I was never a fan of James Stewart, nor Ricky Carmichael; however, there is always something about a fallen hero that makes them seem comparable to an underdog, and we all love underdogs! It isn't fair to the real men who fight tooth and nail for a dream they will never achieve, but life is not fair.
In honor of the theme of Patriotism and while using James as the standard, we will categories who have earned their stripes thus far in the series. In my mind this distinction goes to underdogs, those who have taken the lemons of life and turned it in lemonade. As of right now there is no better representative of this than Zach Osborne. He was dead in the water over here in America, his stripes from a successful amateur career ripped from his uniform, and with nothing left he chose exile in Europe. For many that would have been worse than hanging up their boots altogether, but resilience resides in the mind of a winner. Not destined for glory, not destined for success overseas, just a promise that he can reapply himself and find the faults of a wounded warrior. Essentially, he headed back to the source of America and found himself welcomed. Soon he was not a traitor, not an exile, but a hope for an American to win on foreign soil week-in and week-out. By the time he entered the United States preparing for his Honda days that lie ahead he had already received a stripe. Now, he has earned another for the rides he has put in this summer. What a day it would be for Zach if he could put in the ride of his life and win at Red Bud? What a turn around it would be for a constant underdog that pushes hard every lap of every moto, even with arm pump in the first motos all year. He has certainly earned respect, stripes, and is on his way to a few stars of his own if he keeps it up.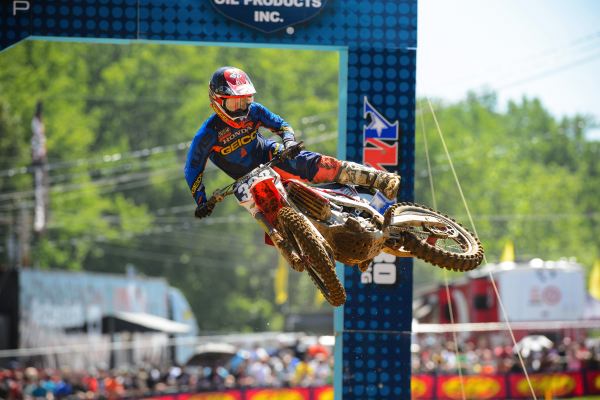 Zach Osborne is making a mark in his return to the US Nationals.
The theme of Red, White, and Blue is becoming a constant one with Phil Nicoletti. His Moose gear is almost always spackled with those colors and he rides with the determination of an average blue collar American man. Initially, Steve was the reason for the attention Phil was receiving, but now he has proven over and over that he is worth a stare. His results show of hard work, dedication, drive, and talent that resound in the American man's lunchbox. If they interview him he is never satisfied with the result of the day. That is the state-of-mind of a workingman trying to achieve his dreams, and that is Phil Nicoletti. He does not care who is in front of him or on his rear wheel, he has the ability to forego the "wow factor" that the stars of the sport bring and focus on himself. It is becoming a normal thought that he is pushing himself too hard during the week, wanting more and more from himself, and if he gets the right amount of rest he will do even better. The thought alone is patriotic…a man working himself to the bone to prove he has what it takes to succeed in his dreams…welcome to America!
As much as we like to picture the ideal American as a hard working, never say die, less talent and more determination type of man, it is unrealistic. The truth is that talent possessed is one of the most critical parts to any racers program, and a major factor in scouting a rider for any team. Having talent makes no man less of an American and Malcolm Stewart is earning his stripes the hard way; through the 450 class outdoors where it is gnarly rough, fast, and the men are men, and strong in race craft and endurance. Consistency is hard to teach, but speed is even harder. Malcolm has plenty of speed, and you can chalk that up to his upbringing, or just natural talent. It must have helped and hindered the growth of Malcolm on the bike as he was constantly pushing to outdo the Great James Stewart. He knew the pace it would take to win from day one. He also knew the dedication it would take, plus the facility was ripe for the berm blasting. The downfall was the massive beat down handed out to him daily by James, and the shadow hovering over his every whip and scrub. Going forward from here he has exited the shadow and earned himself the respect of many by riding with heart and the same intensity in which brother James exudes on his best days. If Malcolm learns to control the sporadic moments from causing him problems he will soon become a star.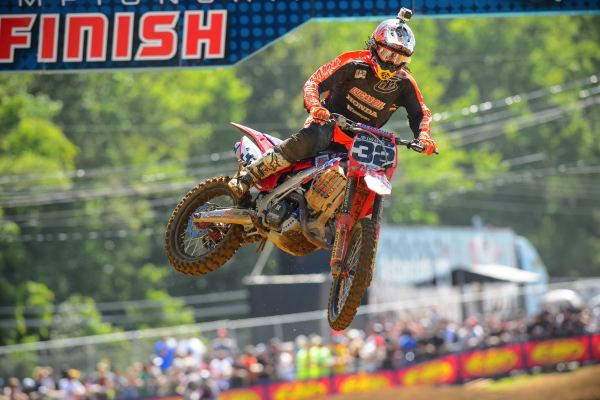 Malcolm is doing a fine job stepping outside of his brothers shadow.
Not unlike life, there is a comfort zone with Motocross and Supercross, and when you exit it you are no longer bearing the stars or stripes. It can be hard on an individual to feel out of their element and no longer feel the glory of success but rather the agonies of a dream unfulfilled. Such is the life of Cole Seely, as he attempts to earn his stripes outdoors after being a star in Supercross. He is beginning to gain ground in the MX series and you get the feeling that if he could get the base outdoors that he needs he will be a top 5 guy consistently. The talent is there, and he does not often talk of strength or endurance, but more often than not he speaks of flow. The true vocabulary of a rider suited more for the bright lights of a stadium then the rough tracks of the outdoors. Yet, he labors on and in the sand of Southwick he made impressive gains in consistency and speed. No one wonders at his talent, no one questions his technique, but most question his fitness and overall drive outdoors. For a man to let something go and then realize he needs it again, as Cole did with racing, it makes for a strong will to be successful at all components of it. I believe his stripes will begin to appear on his uniform as he races towards the coming SX season where he will once again be a star.
Obviously, many men fall into the category where they push the limits in an attempt to blur the line between dedication and talent. Justin Brayton is a perfect example of a man producing beyond what he was expected to as is evident in his performances as a rookie till now. Even look at where Blake Baggett was a few years ago under the Rockstar team. He got beat out by Dean Wilson for the spot on Pro Circuit and broke his arm early in the nationals, but speed was already shown. He was overlooked as a rookie and now he is a question mark because he has only won a moto this summer.
Stars and stripes are earned the hard way but taken so easily with so few mistakes. Many riders have had their stars taken away with a few bad races, but they deserve more than that. They deserve our attention, our admiration, our support, and our faith, just as the flag gets it at least one day a year. Stewart is one of these riders that has had his stars ripped from his uniform with a (bit more than a) few mistakes. He may not be the James of yesteryear, but he will always be a standard, a waving flag we all look to with hope in our eyes. His riding demands the respect many refuse to give, whether in 1st or 10th there is no other James Stewart in the World. If you watch him long enough you will see the glimpses of what truly lies within a permanent star of this sport. At this point it hard not to look at him as a fallen hero, but that is not fair either. He is just held to standards above all else, and even the fans that hate James can appreciate what he is; a symbol of pure talent, a man who has lived as a champion so long that he knows nothing else. Even if he is a fallen hero though, it does not mean he can't get back up.