It's 4th of July weekend and that means one thing, well, actually it means much more…
It's 4th of July weekend and that means one thing, well, actually it means much more…
Photos by: THE James Lissimore
There's a reason that Red Bud is considered the crown jewel of the MX Sports National Motocross circuit. Firstly and foremost is the fans. The Red Bud rowdies, primarily comprised of and infamous for the shenanigans of the fabled "B Lot". At Red Bud you have "A Lot" and "B Lot". "A lot" is mostly racing families and people who value at least a marginal to decent nights sleep, whereas B Lot is the breeding grounds (pun may be interpreted as you wish) for the true rowdies. "B Lot" is of course where a few years back J-Law went all Mike Tyson on his buddy who shared a nickname with a McDonalds breakfast sammy. In "B Lot" it is completely acceptable to know nothing about motocross (though most do and would be more than happy to fight you to prove they love it more than you). They live through the night with an intensity that usually leaves them in a rough place through practice, possibly even a first moto… the true champs of "B Lot" may even miss both first moto's. When the time comes to represent and show the OA podium finishers respect, Red Bud's "B Lot", "A Lot" and those from the nether-regions come together and put on an awe-inspiring display of affection for the victors.
There are other tracks which certainly have strong numbers and passionate fans but the fact; and it is a fact, that Red Bud holds the crown is deserved and an impressive sight to behold.
When questioned about the fan turnout at Red Bud in the press conference, James Stewart noted that "50% of them are drunk and the other 50% are just loving life". For sure both of those percentages are low but the end result is the same; crazy, crazy fans who have probably the most terrible moto-inspired tattoo's in the country but their passion is incomparable and that keeps us all united in the end. Dirty, smelly and intoxicated… with moto.
The other reason Red Bud is so revered is of course the track. The native soil is just awesome and although they've added to it to keep it the best of the Nationals, they may need to dial it back a notch. I tend to think it's more the prep than the introduction of new substrates to keep the soil tractable. Were it not for the incredibly deep ruts, the track this year may have been the best National race-surface ever. I expect 2014 to be just that. The guys who run the gear in Buchanan know what they're doing and strive to keep the reputation they've created, on lock.
Chad Reed went down early in moto-one which left him essentially battling with those who went down on the start and he bulldogged his way to 13th. It's still far short of where he should be but it was a hard-earned charge. Moto-two wasn't much better in terms of the result, even with a much better start but this ship doesn't look like it's going to be righted this series. I give him respect for forging on which, even though he isn't "right", is still a bit of a pride swallowing affair. His charge from 38th to 13th doesn't happen if you're heart isn't in it.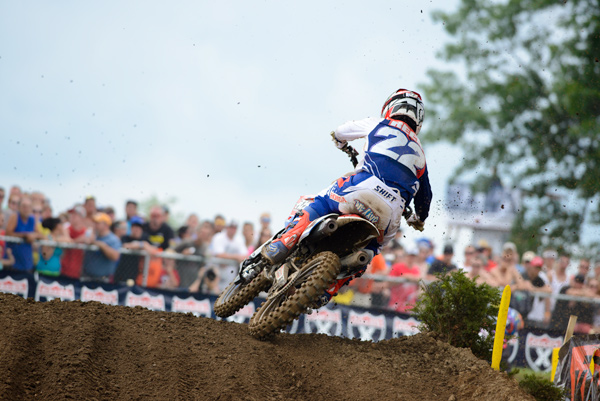 Chad looked good and rode good but the results are still lacking.
The only chink in Dungey's armor, struck again this weekend. It seems he cannot escape mechanical failures at some point during every series and it's his machine-like reliability as a racer that makes these failures so tragic. Of course everyone around him is putting their heart and soul into his success but just like RV said following the race, "it's outdoors and this stuff is hard on equipment". These mechanical's sting even more when it's Dungey just because he rarely ever makes a dire error himself. With just about every other racer on the track, it is pretty standard to see errors here and there that add time to their laps. Dungey is usually so technically in-check that the mechanical failures are really a kick in the nuts and you can see that kick in his face in every occurrence.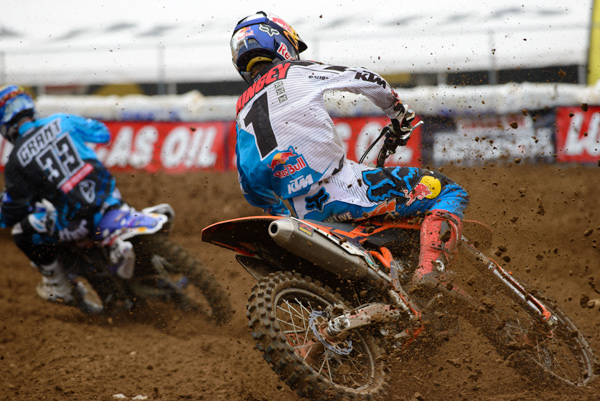 Dungey's mechanicals are harder to swallow than other riders' mechanicals.
Jake Weimer finally got a start that he could do something with and although he didn't do a lot with it, he hung in there long enough to get a gauge on what he needs to focus on. He'll be better again. Maybe not this series but it will happen. I think Jake is one of those guys who is a little too intelligent to just "go faster". He's like Nick Wey, they think about stuff too much. That sounds silly but it's true. The guys who are flat-ripping out there are only mentally ingesting and processing the bare essentials to set that blistering pace. The intellectual guys are constantly fighting their own analytical mind as they consider and process even the things which only slow them down. I've always been the same way on a track. It's probably some kind of ADD. I'm just hypothesizing here, I didn't stay at a Holiday Inn Express last night or anything. I have faith in Jake but I'll have more faith in him in 2014. Hopefully he does too.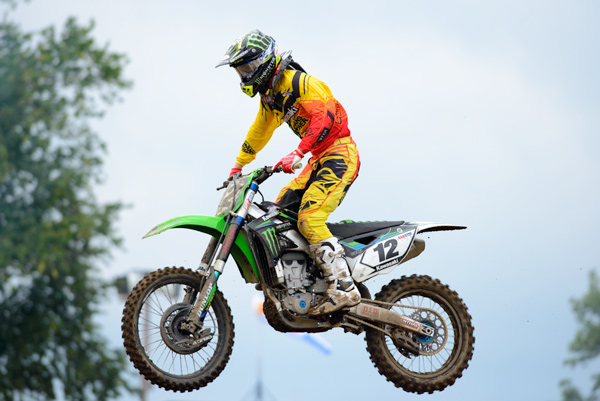 Weimer is lacking confidence right now and that's a big issue.
Malcolm Stewart has made me a fan. I wasn't biting on all the "Mookie Fever" hype when he entered the pro ranks and showed flashes of potential but now that he's found a motorcycle that can go the distance with him, wow! Lap after lap I watched him just moto-down and he was steady and consistent all day. To just jump up to the 450 class and pretty much immediately be a steady top-10 guy when you were striving to just finish races on a 250 is a big deal. There's no way he can drop back to a 250 in 2014, is there?!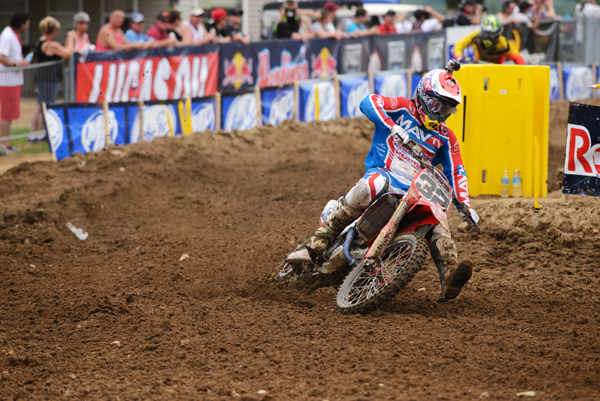 I don't have any fever but I am legitimately impressed with Mookie.
It was great to see Josh Grant have a breakout ride at Red Bud, a track he's always loved and even won at before. In the press conference he spoke about how great it feels to finally be approaching 100% health again for the first time in a long time. Hopefully that stretch continues because we all know Josh is one of those enigma's of racing where they sky really is the limit… when he's healthy.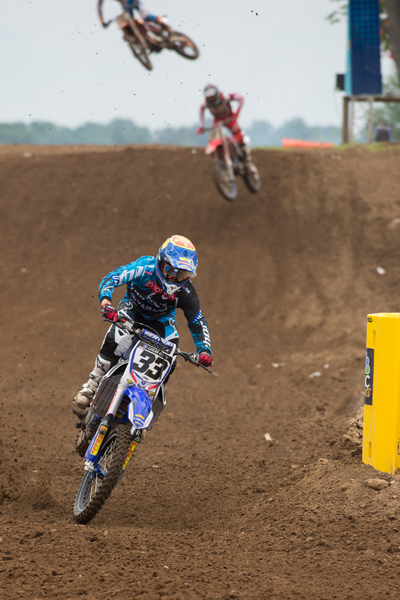 The old, healthy-ish, Josh Grant was back at Red Bud.
What a day for JS7. Sometimes you need a little luck to turn everything around for you and James took it and ran with it in both motos. Dungey's mechanical in moto-one moved James up one spot and he rode damn good in moto-two, leading RV for 5 laps before being passed by both RV and Dungey nearly simultaneously. The real excitement came when RV attempted to get a wheel on James when James already had control of the rut just before Larocco's Leap. There were giant screens on both sides of the track so all of Red Bud got to see the nudge and the crowd just went banana's when RV got bumped over the banners. Man, we love that kind of racing! It was all fair-game and great to see James look solid all day. He looked better than he has in a while and with a week off, maybe that confidence will lead to more great battles at Washougal?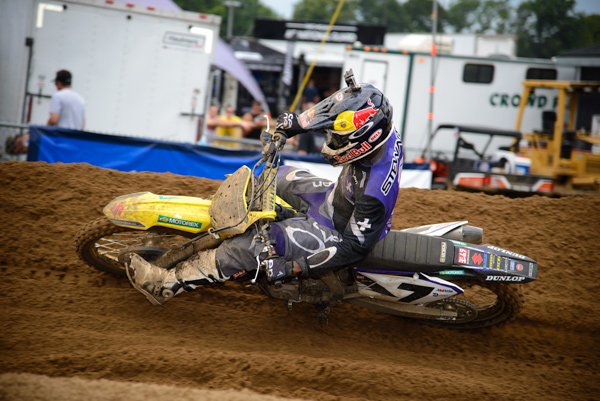 James looked great, lets hope this turns into a continuing trend.
Ryan Villopoto rides Red Bud like it's in his own backyard. Barring a serious rider error or mechanical, you could watch RV in any section and come to the conclusion that he was going to win and win convincingly. What more can be said that hasn't been already? This is his time. He's in his prime and not taking anything for granted, it's much the opposite. He's become and even more focused worker and surprisingly, in my mind, has begun appearing to really appreciate it more than ever. Not only appreciating the fruits of his hard work but voicing genuine respect for Dungey, whom in my opinion, RV didn't really have a lot of respect for in, say 2010/2011. RV appears more comfortable in his own skin and cognizant of his capacity than he ever has. It comes with maturity and a perspective that few people pick up in while in the midst of it all and that's very admirable.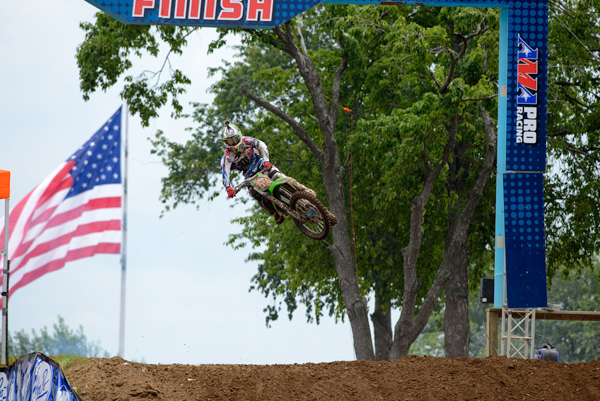 An RV2 win and the 4th of July. #Merica #"RED"whiteblue
250
It was a rough day for Adam Cianciarulo. Getting into the sidewall heading into the back section in moto-two was scary to watch and happening at the front of the pack on the first lap, of course meant he would have to stand aside until everybody passed. He rode his ass off after that and very nearly avoided being lapped, which happened on the last lap. The results don't really show it but Adam rode pretty well.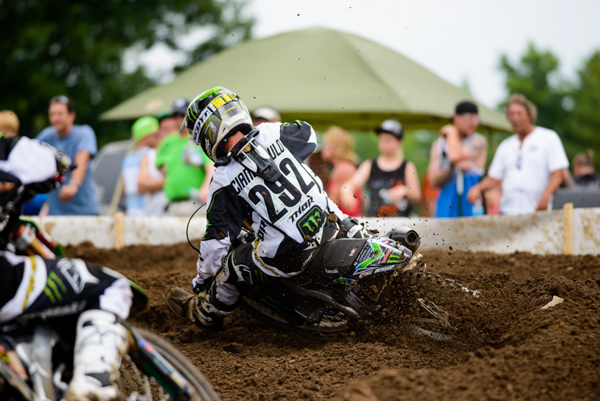 Adam earned his big-boy pants a little bit in moto-two.
If I told you Wil Hahn started 6th and 2nd, you'd expect he finished on the podium OA, but you'd be wrong. Wil just had an off-day, those solid starts turned into a 9-12 for 11th OA. He was pissed but I am more mystified. He didn't look bad out there at all, he was just getting eaten up by the guys who were going faster that day. Maybe it was a brain-fade? That's what I'm going with because Wil is usually solid as can be in Buchanan.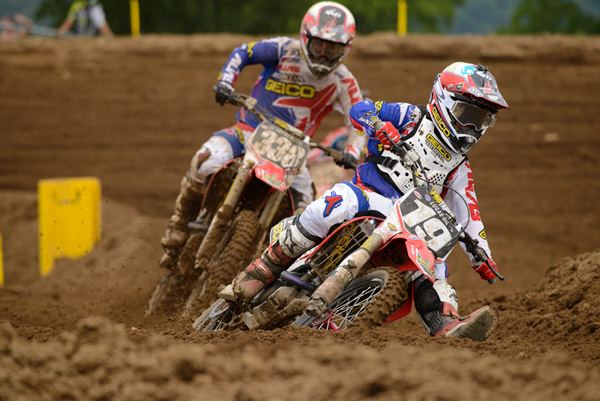 Wil looked better than he rode. Call it a mulligan.
Oh Zach. I put my faith in Zach in the pre-race podcast because I felt Red Bud was right up his alley.Unfortunately, the tight arms affected Zach in both moto's this weekend. Even a righteous start in moto-two couldn't turn it around for Zach. To add insult to injury, he let Tomac by after Roczen had passed him and the moto-gods smited both of the Geico riders. The moto-gods hate team tactics, even as innocent as that was. Forearm pump affects many riders to a debilitating level, others it's a total non-issue. I'm one of those who it affects and it sucks to feel like you're ready to excel everywhere were it not for feeling paralyzed by your arms.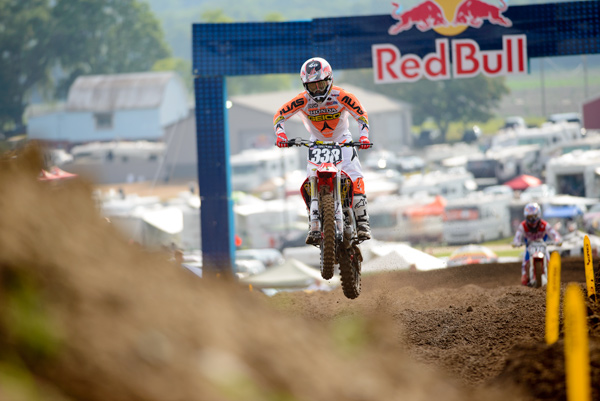 Zach had my hopes up early in moto-two for a few laps.
Jeremy Martin blew me away. The kid was like the Mike Kiedrowski of old. He. Just. Kept. Coming. In all honesty, I think his style is pretty bad but he gets the job done and who cares how it looks. Mike Kiedrowski, though he was one of my favorite riders back in the day, also had pretty blah style. He man-handles that Yamaha and isn't afraid of anyone who comes to battle. I don't think this will be his only podium this series.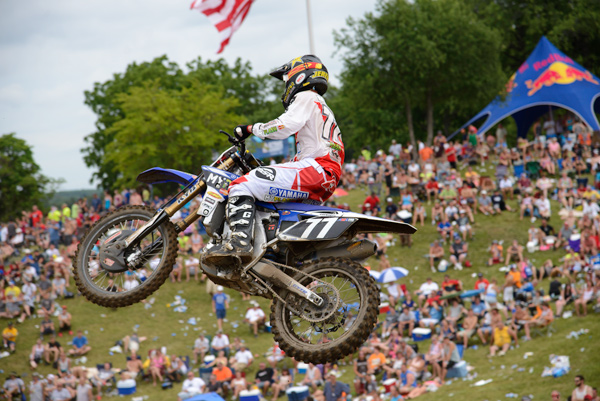 I may have been more impressed with Martin than anyone else at Red Bud.
Eli finally threw his first-moto blues to the wayside and cleaned house at Red Bud. The flip side of the coin is that little issue with the moto-gods which left him laying under his bike before the sand rollers. In the end he didn't lose any points to Roczen but if that race had 2 more laps, he would have been latched onto Ken's fender. He was putting in a serious charge the last 6 laps when Ken was dialing it back a bit. Eli's speed is still his biggest advantage, it's just too bad his bad starts and errors are trumping it so many motos.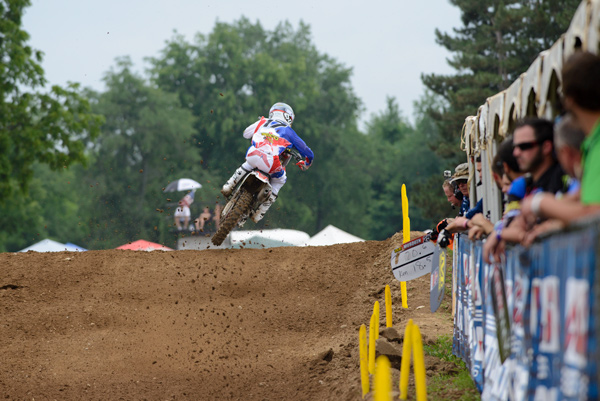 This is all anyone saw of Eli in the first moto.
The number 94 has won half of the 250 motos of this series and his relaxed approach to training with his mixture of fun and work, is working. He says he's sticking to it but you just know, if Eli cuts out the errors and bad starts and his speed can really shine; the pressure may be on for Kenny to put away the surfboard before it's too late.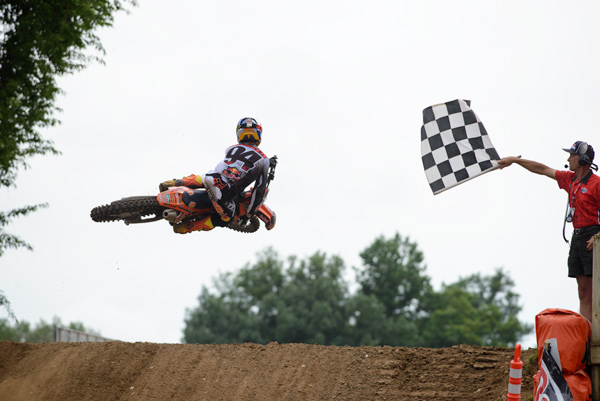 Roczen's been looking stellar all year.
Hey this is my corner and I'll write about what I want to and that includes local, James Earl Roberts. A friend of mine is wrenching for him in the Canadian Nationals and they made a trek back to the states for an unplanned trip to Southwick and Red Bud. James finished out of the points in 31st and 33rd but the goal for these unplanned races was simply to make the gate via qualifying, which he did. They're headed back to Canada for more experience and hey, wearing EKS Brand and Alias, he looks stellar out there. #mafia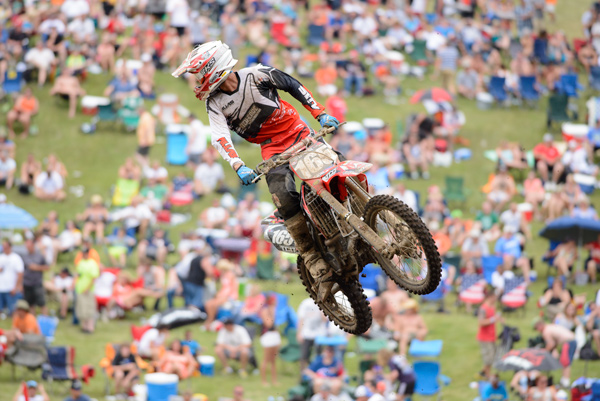 I'm hoping James is looking back to make sure he's getting out of the leaders way. The only time looking back is acceptable. You know he can see perfectly of course.
See you in a couple weeks!